LOVEBUG Yacht Description
LOVEBUG yacht is a 122.00 ft long motor yacht monohull and spends the winter season in the Bahamas. It was built by San Lorenzo in 2010. A refit was done in 2021. The yacht layout features 5 cabins and accommodates 11 guests. The cabin arrangement is following: 2 king cabins, 2 queen cabins, 4 double cabins, 1 twin cabin, 1 pullman cabin.
The motor yacht features 2 x Caterpillar 1,622hp engines .
Accommodation
There are five exquisite staterooms offering the best of rest and relaxation. A full-beam master suite is located on the main deck forward inclusive of an office and en suite master bath with a large shower, separate tub, a double vanity and an private head.
Four additional staterooms below deck include an aft VIP with King bed, two forward staterooms with modified queen beds and amidship is one stateroom with twin beds. All are en suite with heads /showers.
Pullman available to use for a small child as the eleventh guest.
LOVEBUG Yacht Details
$125,000 - $125,000
Weekly price low-high season
Price Details
High season rate: $125,000
High Rate applies to Thanksgiving, Christmas, New Years and other major events. Please confirm before presenting.
** EFFECTIVE JULY 1, 2022 - 10% VAT will need to be quoted for all Bahamas charters in addition to the 4% Charter Tax **
High Rate applies to Thanksgiving, Christmas, New Years and other major events. Please confirm before presenting.
** EFFECTIVE JULY 1, 2022 - 10% VAT will need to be quoted for all Bahamas charters in addition to the 4% Charter Tax **
Price Terms
Plus Expenses
LOVEBUG Yacht Charter Locations
Winter Season
Bahamas
Features
BBQ: 0
AC: Full
Cruising Speed: 12
Max Speed: 17
Diving Yacht offers Rendezvous Diving only
Communication:
WiFi (pepwave) 2 x AT&T
VSAT-BER (Bit Error Rate) of 5x12 with constant bandwidth 3MB.
*Upgrade is possible for full streaming. Additional surcharge as used.
Air Compressor:
Not Onboard
Scuba On Board:
Yacht offers Rendezvous Diving only
Other Entertainment
DirecTV
AppleTV
Outdoor Shower
Outdoor head
Crew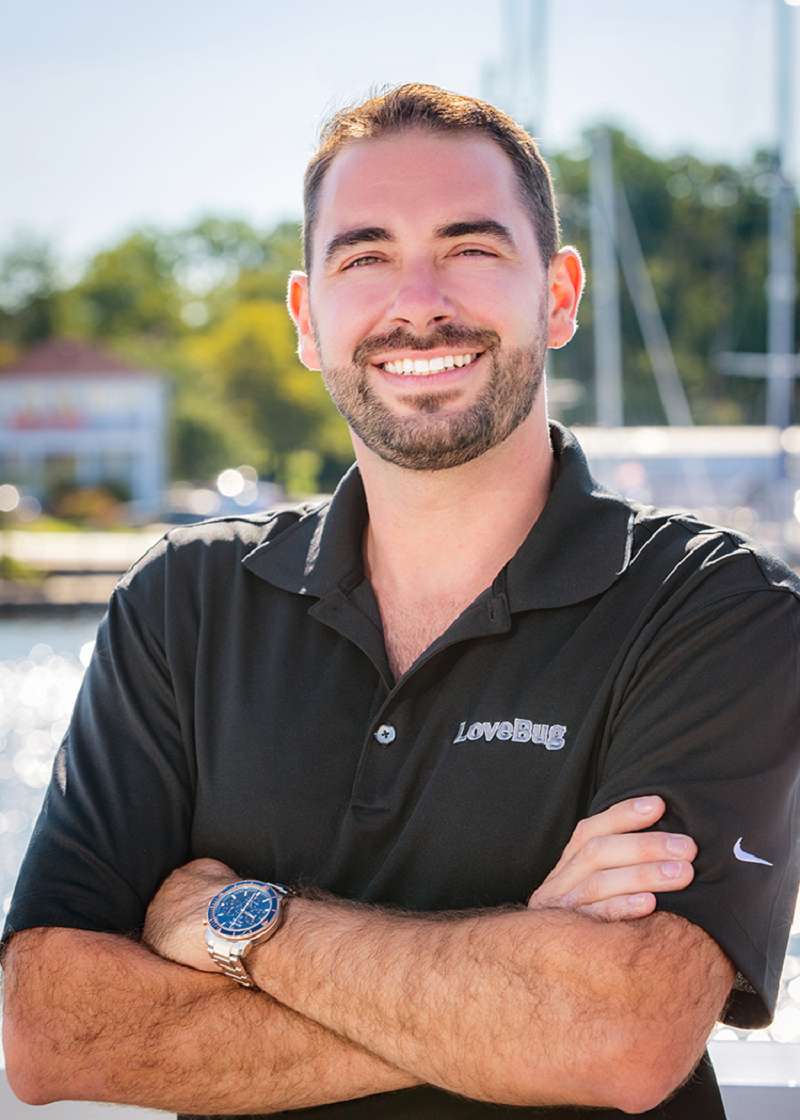 Captain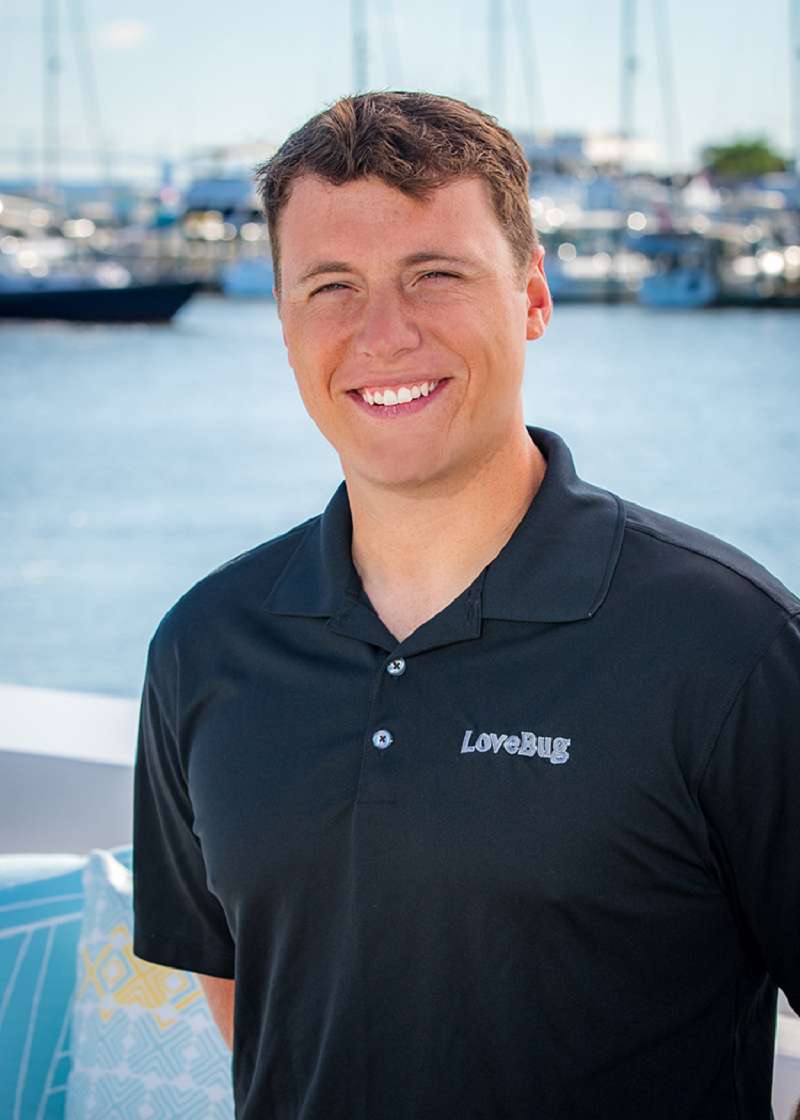 Deckhand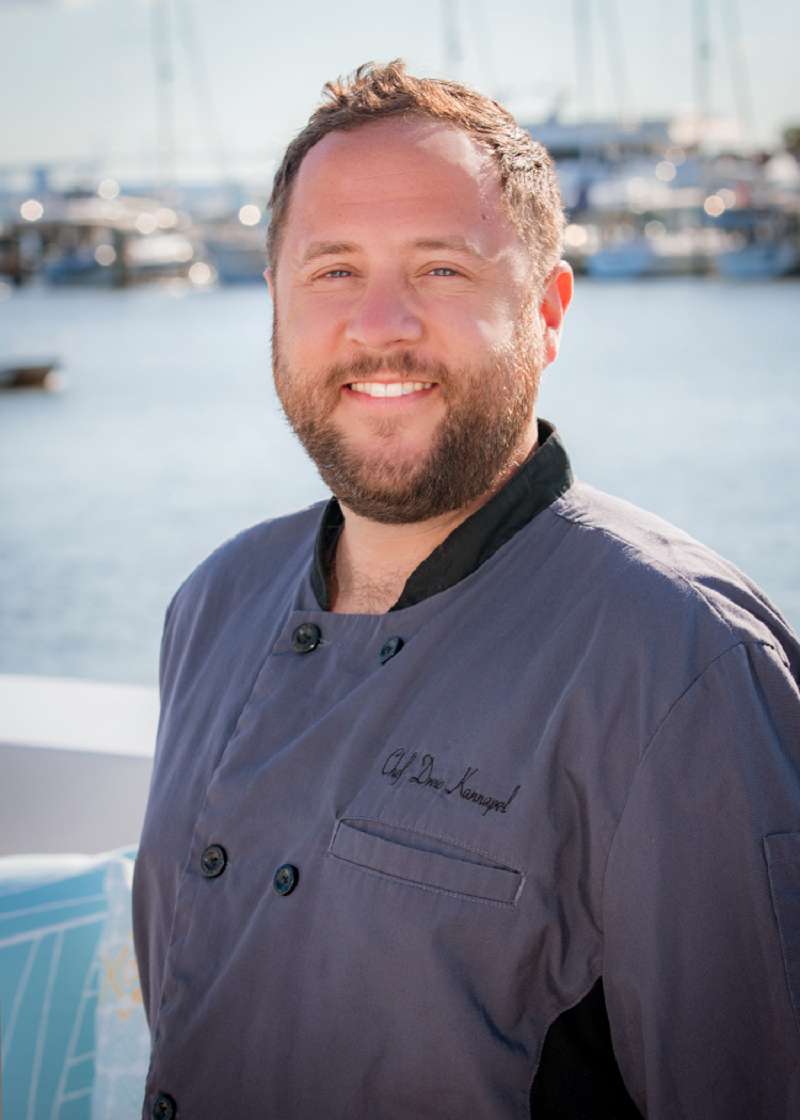 Chef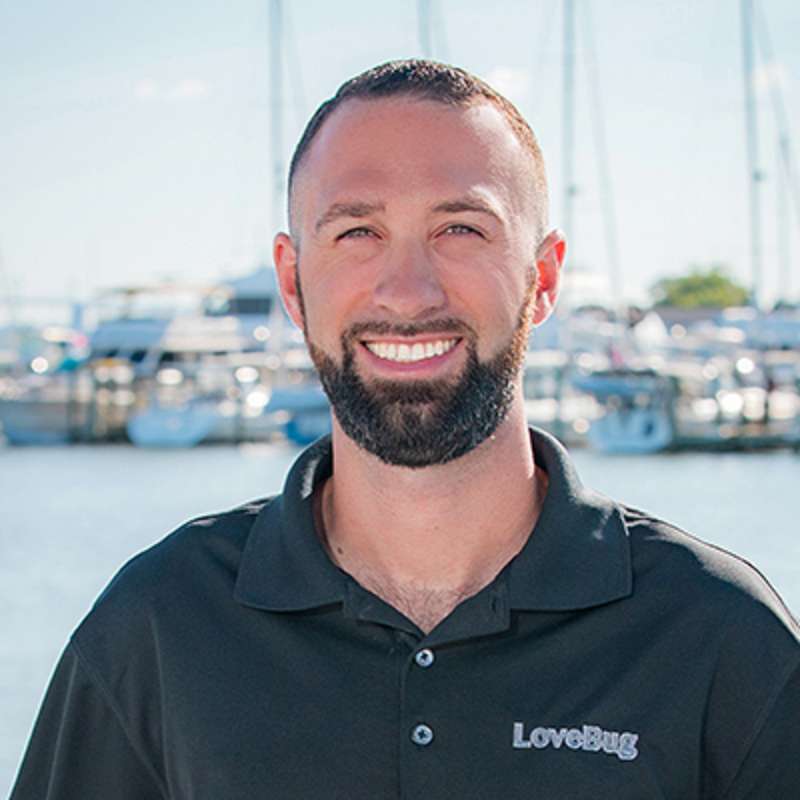 First Officer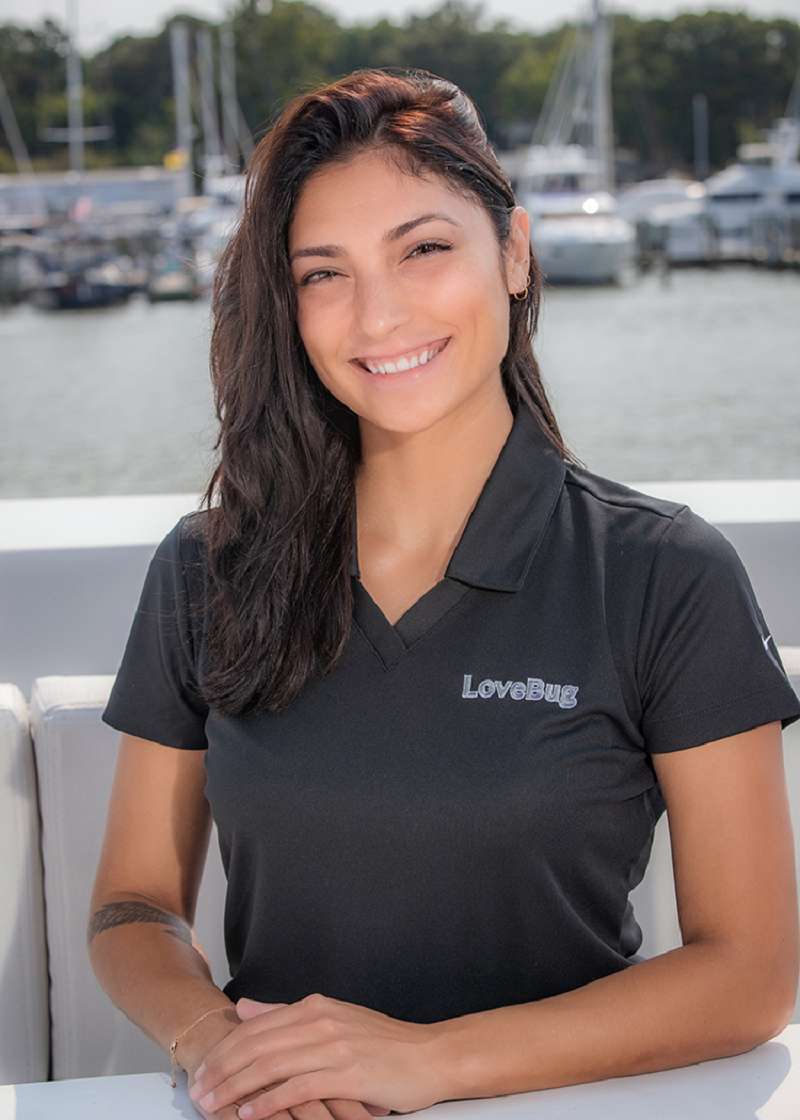 Chief Stewardess
CAPTAIN: Rob Saunders
BIO: Captain Rob began his love for boating at the age of 5 with his family on Buzzards Bay. Fishing, sailing and wakeboarding were his favorite activities through the years, which expanded his knowledge of New England and its surrounding waters. In his early teenage years his family owned a boat building, transport, and upholstery company, where he continued his education of systems onboard. Through his later teenage years he began working at the Beverly Yacht Club as a tender driver, where he became enthralled by close quarters maneuvering and sail boat racing. He attended North East Maritime Institute in Fairhaven, Massachusetts, which helped him make his decision to work on private yachts as a professional crew member. Attaining his Master's License in 2011, he has traveled and gained cruising experience from the East Coast to Main region, New England waters, the East Coast of Florida, the US West coast waters, Central America including the Panama Canal, the Gulf of Mexico and the Caribbean. With this experience he has gained the knowledge and skills to be a confident Master. Rob was also involved with the major refit of a 94' Ferretti Motoryacht that was successfully brought to charter. His extensive yacht handling experience and cruising experience has evolved to providing a seamless and luxurious experience for guests aboard.

Previous Yachts: 98' Princess "LADY COPE", 94' Feretti "SEA SPRAY", 95' Broward "GOLDEN RULE", 64' Azimut "FLTX"
Waters Cruised: New England, Bahamas, Florida, US West Coast, Central America including the Panama Canal, Gulf of Mexico and the Caribbean
Licenses/Certificates: US Master 200/500 ITC, Divemaster, Medical care provider
Hobbies: Sailing, Diving, and Wake-Surfing

FIRST OFFICER: Brandon Wilson
BIO coming soon.

DECKHAND: TBC

CHIEF STEWARDESS: TBC

CHEF: Drew Kannapel
Nationality - American
BIO: Drew grew up in the true south - Louisville, KY where he started off earning a Bachelor's degree in Psychology from the University of Kentucky. He has always loved being on the water and felt a yearning for traveling to more exotic places, so by 2017 he set off for adventures throughout Europe including Austria and Italy where he eventually obtained a "Master of Italian Cuisine" at the Italian Culinary Institute for Foreigners. Although Drew is somewhat new to the yachting industry, he is well versed over 10 years in the hospitality industry at home and abroad.

STEWARDESS: Noelle Rollim
Nationality - American
BIO: Noelle is a Florida native by heart but was born in Virginia and raised in Maryland. For as long as she could remember she's had a love of the beach and the ocean, which was passed down from her father. From a young age she always dreamed of a life that had her living and traveling on the water. Growing up she has travelled and lived in Hawaii, California and Florida. She loves to be outdoors, exploring and looking for the next adventure. Thanks to the encouragement of her friends, Noelle began her career in yachting at the beginning of 2021, taking a chance as a stewardess. In her free time she likes to go off-roading in her Jeep or heads to the nearest beach to soak up the sun.

ENGINEER: James Gatchell
BIO: Coming Soon!

Gallery
molon35314string(0) ""
7385
http://www.centralyachtagent.com/snapins/json-ebrochure.php?idin=7385&uid=2395&user=2395
5
Power
N
11
Bahamas
122.00
26
8

14' / 4.5m Williams Jet Tender
2 x Sea-Doo Spark (Black & White)
1 x YuJet Surfer
1 x Inflatable Dock (13x7)
4 x Paddleboards
2 x Kayaks (single person)
Free weights (up to 50 lbs.)
Yoga mats
TRX
Rollers
32' Worldcat
a:35:{s:12:"salon_stereo";s:1:"0";s:8:"salon_tv";s:1:"0";s:6:"sat_tv";s:1:"0";s:17:"multimedia_system";s:0:"";s:4:"nude";s:3:"Inq";s:5:"books";s:0:"";s:9:"crew_pets";s:2:"No";s:8:"pet_type";s:0:"";s:10:"guest_pets";s:1:"0";s:9:"camcorder";s:1:"0";s:14:"number_dine_in";s:0:"";s:11:"water_maker";s:0:"";s:14:"water_capacity";s:0:"";s:9:"ice_maker";s:1:"0";s:14:"number_of_dvds";s:0:"";s:13:"number_of_cds";s:0:"";s:11:"board_games";s:1:"0";s:10:"sun_awning";s:1:"0";s:6:"bimini";s:1:"0";s:13:"special_diets";s:3:"Inq";s:6:"kosher";s:3:"Inq";s:3:"bbq";s:1:"0";s:12:"gay_charters";s:3:"Inq";s:17:"yachtNudeCharters";s:3:"Inq";s:10:"hairdryers";s:1:"0";s:22:"number_of_port_hatches";s:0:"";s:7:"smoking";s:0:"";s:11:"crew_smokes";s:3:"Inq";s:11:"children_ok";s:1:"0";s:17:"minimum_child_age";s:0:"";s:9:"generator";s:0:"";s:8:"inverter";s:0:"";s:8:"voltages";s:0:"";s:7:"hammock";s:0:"";s:10:"windscoops";s:0:"";}
Full
0
2 x Caterpillar 1,622hp
2010
San Lorenzo


Four additional staterooms below deck include an aft VIP with King bed, two forward staterooms with modified queen beds and amidship is one stateroom with twin beds. All are en suite with heads /showers.

Pullman available to use for a small child as the eleventh guest.
There are five exquisite staterooms offering the best of rest and relaxation. A full-beam master suite is located on the main deck forward inclusive of an office and en suite master bath with a large shower, separate tub, a double vanity and an private head.
USD
$
125000
125000
125000
High Rate applies to Thanksgiving, Christmas, New Years and other major events. Please confirm before presenting. ** EFFECTIVE JULY 1, 2022 - 10% VAT will need to be quoted for all Bahamas charters in addition to the 4% Charter Tax **

BIO: Captain Rob began his love for boating at the age of 5 with his family on Buzzards Bay. Fishing, sailing and wakeboarding were his favorite activities through the years, which expanded his knowledge of New England and its surrounding waters. In his early teenage years his family owned a boat building, transport, and upholstery company, where he continued his education of systems onboard. Through his later teenage years he began working at the Beverly Yacht Club as a tender driver, where he became enthralled by close quarters maneuvering and sail boat racing. He attended North East Maritime Institute in Fairhaven, Massachusetts, which helped him make his decision to work on private yachts as a professional crew member. Attaining his Master's License in 2011, he has traveled and gained cruising experience from the East Coast to Main region, New England waters, the East Coast of Florida, the US West coast waters, Central America including the Panama Canal, the Gulf of Mexico and the Caribbean. With this experience he has gained the knowledge and skills to be a confident Master. Rob was also involved with the major refit of a 94' Ferretti Motoryacht that was successfully brought to charter. His extensive yacht handling experience and cruising experience has evolved to providing a seamless and luxurious experience for guests aboard.

Previous Yachts: 98' Princess "LADY COPE", 94' Feretti "SEA SPRAY", 95' Broward "GOLDEN RULE", 64' Azimut "FLTX"
Waters Cruised: New England, Bahamas, Florida, US West Coast, Central America including the Panama Canal, Gulf of Mexico and the Caribbean
Licenses/Certificates: US Master 200/500 ITC, Divemaster, Medical care provider
Hobbies: Sailing, Diving, and Wake-Surfing

FIRST OFFICER: Brandon Wilson
BIO coming soon.

DECKHAND: TBC

CHIEF STEWARDESS: TBC

CHEF: Drew Kannapel
Nationality - American
BIO: Drew grew up in the true south - Louisville, KY where he started off earning a Bachelor's degree in Psychology from the University of Kentucky. He has always loved being on the water and felt a yearning for traveling to more exotic places, so by 2017 he set off for adventures throughout Europe including Austria and Italy where he eventually obtained a "Master of Italian Cuisine" at the Italian Culinary Institute for Foreigners. Although Drew is somewhat new to the yachting industry, he is well versed over 10 years in the hospitality industry at home and abroad.

STEWARDESS: Noelle Rollim
Nationality - American
BIO: Noelle is a Florida native by heart but was born in Virginia and raised in Maryland. For as long as she could remember she's had a love of the beach and the ocean, which was passed down from her father. From a young age she always dreamed of a life that had her living and traveling on the water. Growing up she has travelled and lived in Hawaii, California and Florida. She loves to be outdoors, exploring and looking for the next adventure. Thanks to the encouragement of her friends, Noelle began her career in yachting at the beginning of 2021, taking a chance as a stewardess. In her free time she likes to go off-roading in her Jeep or heads to the nearest beach to soak up the sun.

ENGINEER: James Gatchell
BIO: Coming Soon!
";s:5:"photo";s:0:"";s:4:"size";s:1:"7";s:12:"captain_name";s:12:"Rob Saunders";s:14:"captain_nation";s:8:"American";s:12:"captain_born";s:1:"0";s:15:"captain_license";s:0:"";s:18:"captain_yr_sailing";s:1:"0";s:21:"captain_yr_chartering";s:1:"0";s:17:"captain_languages";s:0:"";s:9:"crew_name";s:14:"Brandon Wilson";s:16:"crew_nationality";s:0:"";s:12:"crew_license";s:0:"";s:15:"crew_yr_sailing";s:1:"0";s:18:"crew_yr_chartering";s:1:"0";s:7:"crewimg";a:5:{i:1;a:2:{s:3:"url";s:73:"https://www.centralyachtagent.com/yachtadmin/yachtimg/yacht7385/7385crew1";s:4:"desc";s:7:"Captain";}i:2;a:2:{s:3:"url";s:73:"https://www.centralyachtagent.com/yachtadmin/yachtimg/yacht7385/7385crew2";s:4:"desc";s:8:"Deckhand";}i:3;a:2:{s:3:"url";s:73:"https://www.centralyachtagent.com/yachtadmin/yachtimg/yacht7385/7385crew3";s:4:"desc";s:4:"Chef";}i:4;a:2:{s:3:"url";s:73:"https://www.centralyachtagent.com/yachtadmin/yachtimg/yacht7385/7385crew4";s:4:"desc";s:13:"First Officer";}i:5;a:2:{s:3:"url";s:73:"https://www.centralyachtagent.com/yachtadmin/yachtimg/yacht7385/7385crew5";s:4:"desc";s:16:"Chief Stewardess";}}}
a:16:{s:4:"info";s:3423:"CAPTAIN: Rob Saunders
https://www.centralyachtagent.com/yachtadmin/yachtlg/yacht7385/7385brochure1.jpg
a:18:{i:2;a:2:{s:3:"url";s:80:"https://www.centralyachtagent.com/yachtadmin/yachtlg/yacht7385/7385brochure2.jpg";s:4:"desc";s:0:"";}i:3;a:2:{s:3:"url";s:80:"https://www.centralyachtagent.com/yachtadmin/yachtlg/yacht7385/7385brochure3.jpg";s:4:"desc";s:0:"";}i:4;a:2:{s:3:"url";s:80:"https://www.centralyachtagent.com/yachtadmin/yachtlg/yacht7385/7385brochure4.jpg";s:4:"desc";s:0:"";}i:5;a:2:{s:3:"url";s:80:"https://www.centralyachtagent.com/yachtadmin/yachtlg/yacht7385/7385brochure5.jpg";s:4:"desc";s:0:"";}i:6;a:2:{s:3:"url";s:80:"https://www.centralyachtagent.com/yachtadmin/yachtlg/yacht7385/7385brochure6.jpg";s:4:"desc";s:0:"";}i:7;a:2:{s:3:"url";s:80:"https://www.centralyachtagent.com/yachtadmin/yachtlg/yacht7385/7385brochure7.jpg";s:4:"desc";s:0:"";}i:8;a:2:{s:3:"url";s:80:"https://www.centralyachtagent.com/yachtadmin/yachtlg/yacht7385/7385brochure8.jpg";s:4:"desc";s:0:"";}i:9;a:2:{s:3:"url";s:80:"https://www.centralyachtagent.com/yachtadmin/yachtlg/yacht7385/7385brochure9.jpg";s:4:"desc";s:0:"";}i:10;a:2:{s:3:"url";s:81:"https://www.centralyachtagent.com/yachtadmin/yachtlg/yacht7385/7385brochure10.jpg";s:4:"desc";s:0:"";}i:11;a:2:{s:3:"url";s:81:"https://www.centralyachtagent.com/yachtadmin/yachtlg/yacht7385/7385brochure11.jpg";s:4:"desc";s:0:"";}i:12;a:2:{s:3:"url";s:81:"https://www.centralyachtagent.com/yachtadmin/yachtlg/yacht7385/7385brochure12.jpg";s:4:"desc";s:0:"";}i:13;a:2:{s:3:"url";s:81:"https://www.centralyachtagent.com/yachtadmin/yachtlg/yacht7385/7385brochure13.jpg";s:4:"desc";s:0:"";}i:14;a:2:{s:3:"url";s:81:"https://www.centralyachtagent.com/yachtadmin/yachtlg/yacht7385/7385brochure14.jpg";s:4:"desc";s:0:"";}i:15;a:2:{s:3:"url";s:81:"https://www.centralyachtagent.com/yachtadmin/yachtlg/yacht7385/7385brochure15.jpg";s:4:"desc";s:0:"";}i:16;a:2:{s:3:"url";s:81:"https://www.centralyachtagent.com/yachtadmin/yachtlg/yacht7385/7385brochure16.jpg";s:4:"desc";s:0:"";}i:17;a:2:{s:3:"url";s:81:"https://www.centralyachtagent.com/yachtadmin/yachtlg/yacht7385/7385brochure17.jpg";s:4:"desc";s:0:"";}i:18;a:2:{s:3:"url";s:81:"https://www.centralyachtagent.com/yachtadmin/yachtlg/yacht7385/7385brochure18.jpg";s:4:"desc";s:0:"";}i:19;a:2:{s:3:"url";s:81:"https://www.centralyachtagent.com/yachtadmin/yachtlg/yacht7385/7385brochure19.jpg";s:4:"desc";s:0:"";}}
http://www.cyabrochure.com/ebn/2395/pdhaX/7385/1
http://www.cyabrochure.com/ebn/2395/pdhaX/7385/3
a:24:{s:4:"tube";s:1:"0";s:6:"guests";s:2:"11";s:8:"maxspeed";s:2:"17";s:11:"pref_pickup";N;s:12:"other_pickup";N;s:5:"draft";s:1:"8";s:14:"cruising_speed";s:2:"12";s:7:"helipad";s:2:"No";s:2:"ac";s:4:"Full";s:8:"ac_night";s:2:"No";s:5:"built";s:4:"2010";s:10:"turnaround";s:0:"";s:6:"cabins";s:1:"5";s:4:"king";s:1:"2";s:5:"queen";s:1:"2";s:6:"double";s:1:"4";s:6:"single";s:1:"0";s:4:"twin";s:1:"1";s:7:"pullman";s:1:"1";s:7:"showers";s:1:"0";s:6:"basins";s:1:"0";s:5:"heads";s:1:"0";s:14:"electric_heads";s:1:"0";s:7:"jacuzzi";s:3:"Yes";}
a:7:{s:4:"flag";s:3:"USA";s:8:"homeport";s:12:"Unavailable ";s:13:"resort_course";s:0:"";s:12:"yacht_permit";s:1:"0";s:13:"yacht_license";s:1:"0";s:9:"yacht_mca";s:1:"0";s:15:"yacht_insurance";s:0:"";}

AppleTV
Outdoor Shower
Outdoor head
DirecTV
a:22:{s:11:"dinghy_size";s:0:"";s:12:"kayaks_1_pax";s:1:"2";s:12:"kayaks_2_pax";s:1:"0";s:9:"dinghy_hp";s:0:"";s:13:"floating_mats";s:1:"0";s:10:"dinghy_pax";s:0:"";s:13:"swim_platform";s:0:"";s:16:"water_skis_adult";s:1:"0";s:15:"boarding_ladder";s:0:"";s:15:"water_skis_kids";s:1:"0";s:14:"sailing_dinghy";s:0:"";s:8:"jet_skis";s:1:"0";s:11:"beach_games";s:1:"0";s:12:"wave_runners";s:1:"2";s:9:"kneeboard";s:1:"0";s:10:"windsurfer";s:1:"0";s:12:"snorkel_gear";s:1:"0";s:17:"underwater_camera";s:1:"0";s:7:"scurfer";s:1:"0";s:16:"underwater_video";s:1:"0";s:10:"wake_board";s:1:"0";s:11:"paddleboard";s:1:"4";}
2
2
0
4
1
1
2021
0
0
Greece
12
17


Four additional staterooms below deck include an aft VIP with King bed, two forward staterooms with modified queen beds and amidship is one stateroom with twin beds. All are en suite with heads /showers.

Pullman available to use for a small child as the eleventh guest. ";s:14:"yachtHighPrice";s:12:"$125,000";s:13:"yachtLowPrice";s:12:"$125,000";s:21:"yachtHighNumericPrice";s:6:"125000";s:20:"yachtLowNumericPrice";s:6:"125000";s:19:"yachtCurrencySymbol";s:5:"$";s:13:"yachtCurrency";s:3:"USD";s:17:"yachtPriceDetails";s:237:"High Rate applies to Thanksgiving, Christmas, New Years and other major events. Please confirm before presenting. ** EFFECTIVE JULY 1, 2022 - 10% VAT will need to be quoted for all Bahamas charters in addition to the 4% Charter Tax **";s:14:"yachtTermsType";s:13:"Plus Expenses";s:17:"yachtTermsTypeNum";s:1:"0";s:11:"yachtVcrDvd";s:1:"0";s:16:"yachtSalonStereo";s:1:"0";s:11:"yachtNumDvd";s:0:"";s:11:"yachtNumCds";s:0:"";s:15:"yachtBoardGames";s:1:"0";s:13:"yachtNumBooks";s:0:"";s:14:"yachtCamCorder";s:1:"0";s:14:"yachtNumDineIn";s:0:"";s:14:"yachtSunAwning";s:1:"0";s:12:"yachtHammock";s:0:"";s:15:"yachtWindScoops";s:0:"";s:15:"yachtDeckShower";s:1:"0";s:11:"yachtBimini";s:1:"0";s:17:"yachtSpecialDiets";s:3:"Inq";s:11:"yachtKosher";s:3:"Inq";s:8:"yachtBBQ";s:1:"0";s:16:"yachtGayCharters";s:3:"Inq";s:17:"yachtNudeCharters";s:3:"Inq";s:14:"yachtHairDryer";s:1:"0";s:13:"yachtNumHatch";s:0:"";s:15:"yachtGuestSmoke";s:0:"";s:13:"yachtGuestPet";s:1:"0";s:20:"yachtChildrenAllowed";s:1:"0";s:16:"yachtMinChildAge";s:0:"";s:14:"yachtGenerator";s:0:"";s:12:"yachtEngines";s:25:" 2 x Caterpillar 1,622hp ";s:9:"yachtFuel";s:0:"";s:13:"yachtInverter";s:0:"";s:13:"yachtVoltages";s:0:"";s:15:"yachtWaterMaker";s:0:"";s:18:"yachtWaterCapacity";s:0:"";s:13:"yachtIceMaker";s:1:"0";s:11:"yachtDinghy";s:0:"";s:13:"yachtDinghyHp";s:0:"";s:14:"yachtDinghyPax";s:0:"";s:15:"yachtAdultWSkis";s:1:"0";s:13:"yachtKidsSkis";s:1:"0";s:12:"yachtJetSkis";s:1:"0";s:12:"yachtWaveRun";s:1:"2";s:14:"yachtKneeBoard";s:1:"0";s:18:"yachtStandUpPaddle";s:1:"4";s:13:"yachtWindSurf";s:1:"0";s:16:"yachtGearSnorkel";s:1:"0";s:9:"yachtTube";s:1:"0";s:12:"yachtScurfer";s:1:"0";s:14:"yachtWakeBoard";s:1:"0";s:14:"yacht1ManKayak";s:1:"2";s:14:"yacht2ManKayak";s:1:"0";s:11:"yachtSeaBob";s:2:"No";s:15:"yachtSeaScooter";s:2:"No";s:17:"yachtKiteBoarding";s:0:"";s:24:"yachtKiteBoardingDetails";s:0:"";s:15:"yachtFishPermit";s:0:"";s:14:"yachtFloatMats";s:1:"0";s:17:"yachtSwimPlatform";s:0:"";s:19:"yachtBoardingLadder";s:0:"";s:18:"yachtDinghySailing";s:0:"";s:15:"yachtGamesBeach";s:1:"0";s:16:"yachtFishingGear";s:1:"0";s:17:"yachtFishGearType";s:0:"";s:16:"yachtNumFishRods";s:0:"";s:18:"yachtUnderWaterCam";s:1:"0";s:20:"yachtUnderWaterVideo";s:1:"0";s:19:"yachtGreenMakeWater";s:0:"";s:21:"yachtGreenReuseBottle";s:0:"";s:15:"yachtGreenOther";s:0:"";s:17:"yachtScubaOnboard";s:35:"Yacht offers Rendezvous Diving only";s:17:"yachtResortCourse";s:0:"";s:15:"yachtFullCourse";s:0:"";s:16:"yachtLicenseInfo";s:1:"-";s:15:"yachtCompressor";s:11:"Not Onboard";s:17:"yachtNumDiveTanks";s:1:"0";s:11:"yachtNumBCS";s:1:"0";s:12:"yachtNumRegs";s:1:"0";s:16:"yachtNumWetSuits";s:1:"0";s:15:"yachtNumWeights";s:1:"0";s:14:"yachtNumDivers";s:1:"0";s:13:"yachtNumDives";s:0:"";s:18:"yachtNumNightDives";s:1:"0";s:18:"yachtNumDiveLights";s:1:"0";s:13:"yachtDiveInfo";s:0:"";s:14:"yachtDiveCosts";s:0:"";s:9:"yachtPic1";s:80:"https://www.centralyachtagent.com/yachtadmin/yachtlg/yacht7385/7385brochure1.jpg";s:10:"yachtDesc1";s:0:"";s:9:"yachtPic2";s:80:"https://www.centralyachtagent.com/yachtadmin/yachtlg/yacht7385/7385brochure2.jpg";s:10:"yachtDesc2";s:0:"";s:9:"yachtPic3";s:80:"https://www.centralyachtagent.com/yachtadmin/yachtlg/yacht7385/7385brochure3.jpg";s:10:"yachtDesc3";s:0:"";s:9:"yachtPic4";s:80:"https://www.centralyachtagent.com/yachtadmin/yachtlg/yacht7385/7385brochure4.jpg";s:10:"yachtDesc4";s:0:"";s:9:"yachtPic5";s:80:"https://www.centralyachtagent.com/yachtadmin/yachtlg/yacht7385/7385brochure5.jpg";s:10:"yachtDesc5";s:0:"";s:9:"yachtPic6";s:80:"https://www.centralyachtagent.com/yachtadmin/yachtlg/yacht7385/7385brochure6.jpg";s:10:"yachtDesc6";s:0:"";s:9:"yachtPic7";s:80:"https://www.centralyachtagent.com/yachtadmin/yachtlg/yacht7385/7385brochure7.jpg";s:10:"yachtDesc7";s:0:"";s:9:"yachtPic8";s:80:"https://www.centralyachtagent.com/yachtadmin/yachtlg/yacht7385/7385brochure8.jpg";s:10:"yachtDesc8";s:0:"";s:9:"yachtPic9";s:80:"https://www.centralyachtagent.com/yachtadmin/yachtlg/yacht7385/7385brochure9.jpg";s:10:"yachtDesc9";s:0:"";s:10:"yachtPic10";s:81:"https://www.centralyachtagent.com/yachtadmin/yachtlg/yacht7385/7385brochure10.jpg";s:11:"yachtDesc10";s:0:"";s:10:"yachtPic11";s:81:"https://www.centralyachtagent.com/yachtadmin/yachtlg/yacht7385/7385brochure11.jpg";s:11:"yachtDesc11";s:0:"";s:10:"yachtPic12";s:81:"https://www.centralyachtagent.com/yachtadmin/yachtlg/yacht7385/7385brochure12.jpg";s:11:"yachtDesc12";s:0:"";s:10:"yachtPic13";s:81:"https://www.centralyachtagent.com/yachtadmin/yachtlg/yacht7385/7385brochure13.jpg";s:11:"yachtDesc13";s:0:"";s:10:"yachtPic14";s:81:"https://www.centralyachtagent.com/yachtadmin/yachtlg/yacht7385/7385brochure14.jpg";s:11:"yachtDesc14";s:0:"";s:10:"yachtPic15";s:81:"https://www.centralyachtagent.com/yachtadmin/yachtlg/yacht7385/7385brochure15.jpg";s:11:"yachtDesc15";s:0:"";s:10:"yachtPic16";s:81:"https://www.centralyachtagent.com/yachtadmin/yachtlg/yacht7385/7385brochure16.jpg";s:11:"yachtDesc16";s:0:"";s:10:"yachtPic17";s:81:"https://www.centralyachtagent.com/yachtadmin/yachtlg/yacht7385/7385brochure17.jpg";s:11:"yachtDesc17";s:0:"";s:10:"yachtPic18";s:81:"https://www.centralyachtagent.com/yachtadmin/yachtlg/yacht7385/7385brochure18.jpg";s:11:"yachtDesc18";s:0:"";s:10:"yachtPic19";s:81:"https://www.centralyachtagent.com/yachtadmin/yachtlg/yacht7385/7385brochure19.jpg";s:11:"yachtDesc19";s:0:"";s:11:"yachtLayout";s:0:"";s:18:"yachtFullEbrochure";s:48:"http://www.cyabrochure.com/ebn/2395/pdhaX/7385/3";s:14:"yachtFullRates";s:48:"http://www.cyabrochure.com/ebn/2395/pdhaX/7385/4";s:14:"yachtOtherToys";s:291:"32' Worldcat
14' / 4.5m Williams Jet Tender
2 x Sea-Doo Spark (Black & White)
1 x YuJet Surfer
1 x Inflatable Dock (13x7)
4 x Paddleboards
2 x Kayaks (single person)
Free weights (up to 50 lbs.)
Yoga mats
TRX
Rollers";s:19:"yachtOtherEntertain";s:64:"DirecTV
AppleTV
Outdoor Shower
Outdoor head";s:16:"yachtCommunicate";s:175:"WiFi (pepwave) 2 x AT&T
VSAT-BER (Bit Error Rate) of 5x12 with constant bandwidth 3MB.
*Upgrade is possible for full streaming. Additional surcharge as used.";s:15:"yachtSummerArea";s:0:"";s:15:"yachtWinterArea";s:7:"Bahamas";s:12:"yachtShowers";s:1:"0";s:15:"yachtWashBasins";s:1:"0";s:10:"yachtHeads";s:1:"0";s:18:"yachtElectricHeads";s:1:"0";s:14:"yachtTpInHeads";s:0:"";s:15:"yachtSampleMenu";s:0:"";s:13:"yachtMenu1Pic";s:0:"";s:13:"yachtMenu2Pic";s:0:"";s:13:"yachtMenu3Pic";s:0:"";s:13:"yachtMenu4Pic";s:0:"";s:13:"yachtMenu5Pic";s:0:"";s:13:"yachtMenu6Pic";s:0:"";s:13:"yachtMenu7Pic";s:0:"";s:13:"yachtMenu8Pic";s:0:"";s:13:"yachtMenu9Pic";s:0:"";s:14:"yachtMenu10Pic";s:0:"";s:9:"yachtCrew";s:1:"7";s:14:"yachtCrewSmoke";s:3:"Inq";s:13:"yachtCrewPets";s:2:"No";s:16:"yachtCrewPetType";s:0:"";s:16:"yachtCaptainName";s:12:"Rob Saunders";s:18:"yachtCaptainNation";s:8:"American";s:16:"yachtCaptainBorn";s:1:"0";s:15:"yachtCaptainLic";s:0:"";s:18:"yachtCaptainYrSail";s:1:"0";s:19:"yachtCaptainYrChart";s:1:"0";s:16:"yachtCaptainLang";s:0:"";s:13:"yachtCrewName";s:14:"Brandon Wilson";s:14:"yachtCrewTitle";s:13:"First Officer";s:15:"yachtCrewNation";s:0:"";s:15:"yachtCrewYrBorn";s:1:"0";s:12:"yachtCrewLic";s:0:"";s:15:"yachtCrewYrSail";s:1:"0";s:16:"yachtCrewYrChart";s:1:"0";s:13:"yachtCrewLang";s:0:"";s:16:"yachtCrewProfile";s:3423:"CAPTAIN: Rob Saunders
BIO: Captain Rob began his love for boating at the age of 5 with his family on Buzzards Bay. Fishing, sailing and wakeboarding were his favorite activities through the years, which expanded his knowledge of New England and its surrounding waters. In his early teenage years his family owned a boat building, transport, and upholstery company, where he continued his education of systems onboard. Through his later teenage years he began working at the Beverly Yacht Club as a tender driver, where he became enthralled by close quarters maneuvering and sail boat racing. He attended North East Maritime Institute in Fairhaven, Massachusetts, which helped him make his decision to work on private yachts as a professional crew member. Attaining his Master's License in 2011, he has traveled and gained cruising experience from the East Coast to Main region, New England waters, the East Coast of Florida, the US West coast waters, Central America including the Panama Canal, the Gulf of Mexico and the Caribbean. With this experience he has gained the knowledge and skills to be a confident Master. Rob was also involved with the major refit of a 94' Ferretti Motoryacht that was successfully brought to charter. His extensive yacht handling experience and cruising experience has evolved to providing a seamless and luxurious experience for guests aboard.

Previous Yachts: 98' Princess "LADY COPE", 94' Feretti "SEA SPRAY", 95' Broward "GOLDEN RULE", 64' Azimut "FLTX"
Waters Cruised: New England, Bahamas, Florida, US West Coast, Central America including the Panama Canal, Gulf of Mexico and the Caribbean
Licenses/Certificates: US Master 200/500 ITC, Divemaster, Medical care provider
Hobbies: Sailing, Diving, and Wake-Surfing

FIRST OFFICER: Brandon Wilson
BIO coming soon.

DECKHAND: TBC

CHIEF STEWARDESS: TBC

CHEF: Drew Kannapel
Nationality - American
BIO: Drew grew up in the true south - Louisville, KY where he started off earning a Bachelor's degree in Psychology from the University of Kentucky. He has always loved being on the water and felt a yearning for traveling to more exotic places, so by 2017 he set off for adventures throughout Europe including Austria and Italy where he eventually obtained a "Master of Italian Cuisine" at the Italian Culinary Institute for Foreigners. Although Drew is somewhat new to the yachting industry, he is well versed over 10 years in the hospitality industry at home and abroad.

STEWARDESS: Noelle Rollim
Nationality - American
BIO: Noelle is a Florida native by heart but was born in Virginia and raised in Maryland. For as long as she could remember she's had a love of the beach and the ocean, which was passed down from her father. From a young age she always dreamed of a life that had her living and traveling on the water. Growing up she has travelled and lived in Hawaii, California and Florida. She loves to be outdoors, exploring and looking for the next adventure. Thanks to the encouragement of her friends, Noelle began her career in yachting at the beginning of 2021, taking a chance as a stewardess. In her free time she likes to go off-roading in her Jeep or heads to the nearest beach to soak up the sun.

ENGINEER: James Gatchell
BIO: Coming Soon!
";s:14:"yachtCrewPhoto";s:0:"";s:13:"yachtCrew1Pic";s:73:"https://www.centralyachtagent.com/yachtadmin/yachtimg/yacht7385/7385crew1";s:13:"yachtCrew2Pic";s:73:"https://www.centralyachtagent.com/yachtadmin/yachtimg/yacht7385/7385crew2";s:13:"yachtCrew3Pic";s:73:"https://www.centralyachtagent.com/yachtadmin/yachtimg/yacht7385/7385crew3";s:13:"yachtCrew4Pic";s:73:"https://www.centralyachtagent.com/yachtadmin/yachtimg/yacht7385/7385crew4";s:13:"yachtCrew5Pic";s:73:"https://www.centralyachtagent.com/yachtadmin/yachtimg/yacht7385/7385crew5";s:13:"yachtCrew6Pic";s:0:"";s:13:"yachtCrew7Pic";s:0:"";s:13:"yachtCrew8Pic";s:0:"";s:13:"yachtCrew9Pic";s:0:"";s:14:"yachtCrew10Pic";s:0:"";s:14:"yachtCrew1Name";s:12:"Rob Saunders";s:14:"yachtCrew2Name";s:15:"Ethan Caballero";s:14:"yachtCrew3Name";s:13:"Drew Kannapel";s:14:"yachtCrew4Name";s:11:"Colin Woods";s:14:"yachtCrew5Name";s:16:"Samantha Eastman";s:14:"yachtCrew6Name";s:0:"";s:14:"yachtCrew7Name";s:0:"";s:14:"yachtCrew8Name";s:0:"";s:14:"yachtCrew9Name";s:0:"";s:15:"yachtCrew10Name";s:0:"";s:15:"yachtCrew1Title";s:7:"Captain";s:15:"yachtCrew2Title";s:8:"Deckhand";s:15:"yachtCrew3Title";s:4:"Chef";s:15:"yachtCrew4Title";s:13:"First Officer";s:15:"yachtCrew5Title";s:16:"Chief Stewardess";s:15:"yachtCrew6Title";s:0:"";s:15:"yachtCrew7Title";s:0:"";s:15:"yachtCrew8Title";s:0:"";s:15:"yachtCrew9Title";s:0:"";s:16:"yachtCrew10Title";s:0:"";s:9:"yachtFlag";s:3:"USA";s:13:"yachtHomePort";s:12:"Unavailable ";s:14:"yachtWBasePort";s:0:"";s:8:"yachtRig";s:0:"";s:14:"yachtGrossTons";s:0:"";s:12:"yachtAcNight";s:2:"No";s:16:"yachtAcSurCharge";s:0:"";s:9:"yachtTubs";s:1:"0";s:20:"yachtLocationDetails";s:0:"";s:10:"yachtTerms";s:5:"+ ALL";s:13:"yachtCaptOnly";s:0:"";s:15:"yachtSpecialCon";s:0:"";s:14:"yachtContracts";s:0:"";s:21:"yachtConsumptionUnits";s:9:"Litres/Hr";s:10:"yachtRange";s:7:"2400 nm";s:11:"yachtPermit";s:1:"0";s:12:"yachtLicense";s:1:"0";s:8:"yachtMca";s:1:"0";s:16:"yachtDeepSeaFish";s:0:"";s:10:"yachtSatTv";s:1:"0";s:9:"yachtIpod";s:0:"";s:10:"yachtVideo";s:0:"";s:17:"yachtSailInstruct";s:0:"";s:13:"yachtInternet";s:0:"";s:16:"yachtCaptainOnly";s:0:"";s:16:"yachtBrokerNotes";s:523:"Disclaimer: All the particulars of this charter vessel are correct at the time of writing and given in good faith but cannot be guaranteed. Inventory and toys lists are subject to change at short notice and do not form part of a formal charter agreement. Any interested party should confirm such details of concern to them by inspection or by requesting verification. This vessel is offered subject to price change, prior sale or withdrawal without notice.

*Toy Indemnification Form to be provided aboard. ";s:15:"yachtInsCompany";s:0:"";s:11:"yachtPolicy";s:0:"";s:14:"yachtLiability";s:0:"";s:18:"yachtEffectiveDate";s:0:"";s:17:"yachtContractName";s:56:"AYCA (Recreational Bareboat + Vessel Services Agreement)";s:18:"yachtCoverageAreas";s:0:"";s:12:"yachtInsFlag";s:0:"";s:16:"yachtInsHomeport";s:0:"";s:11:"yachtRegNum";s:0:"";s:14:"yachtConPhone1";s:0:"";s:14:"yachtConPhone2";s:0:"";s:14:"yachtConPhone3";s:0:"";s:11:"yachtConFax";s:0:"";s:17:"yachtWaveConEmail";s:0:"";s:13:"yachtConOther";s:0:"";s:12:"yachtManager";s:22:"Ocean Independence USA";s:16:"yachtManagerName";s:14:"Daphne d'Offay";s:17:"yachtManagerPhone";s:10:"9545249366";s:16:"yachtManagerToll";s:0:"";s:17:"yachtManagerEmail";s:19:"[email protected]";}
O:8:"stdClass":290:{s:7:"yachtId";s:4:"7385";s:9:"yachtName";s:7:"LOVEBUG";s:17:"yachtPreviousName";s:4:"Kaos";s:9:"yachtLogo";s:0:"";s:9:"yachtType";s:5:"Power";s:11:"yachtLength";s:3:"122";s:13:"yachtPowerCat";s:1:"N";s:8:"sizeFeet";s:9:"122.00 Ft";s:9:"sizeMeter";s:7:"37.00 m";s:9:"yachtBeam";s:2:"26";s:10:"yachtDraft";s:1:"8";s:10:"yachtUnits";s:4:"Feet";s:8:"yachtPax";s:2:"11";s:11:"yachtCabins";s:1:"5";s:9:"yachtKing";s:1:"2";s:10:"yachtQueen";s:1:"2";s:17:"yachtSingleCabins";s:1:"0";s:17:"yachtDoubleCabins";s:1:"4";s:15:"yachtTwinCabins";s:1:"1";s:18:"yachtPullmanCabins";s:1:"1";s:10:"yachtRefit";s:4:"2021";s:12:"yachtHelipad";s:2:"No";s:12:"yachtJacuzzi";s:3:"Yes";s:8:"yachtGym";s:3:"Yes";s:16:"yachtStabilizers";s:2:"AU";s:14:"yachtElevators";s:2:"No";s:21:"yachtWheelChairAccess";s:2:"No";s:7:"yachtAc";s:4:"Full";s:15:"yachtPrefPickUp";s:0:"";s:16:"yachtOtherPickUp";s:0:"";s:15:"yachtTurnAround";s:0:"";s:14:"yachtYearBuilt";s:4:"2010";s:12:"yachtBuilder";s:11:"San Lorenzo";s:14:"yachtBrokerWeb";s:32:"http://www.viewyacht.com/lovebug";s:12:"yachtUserWeb";s:48:"http://www.cyabrochure.com/ebn/2395/pdhaX/7385/1";s:13:"yachtVideoUrl";s:0:"";s:12:"yachtV360Url";s:0:"";s:16:"yachtCruiseSpeed";s:2:"12";s:13:"yachtMaxSpeed";s:2:"17";s:19:"yachtAccommodations";s:559:"There are five exquisite staterooms offering the best of rest and relaxation. A full-beam master suite is located on the main deck forward inclusive of an office and en suite master bath with a large shower, separate tub, a double vanity and an private head.
No
37.00 m
Litres/Hr
2400 nm
High Rate applies to Thanksgiving, Christmas, New Years and other major events. Please confirm before presenting. ** EFFECTIVE JULY 1, 2022 - 10% VAT will need to be quoted for all Bahamas charters in addition to the 4% Charter Tax **
Plus Expenses
0
Ocean Independence USA
http://www.cyabrochure.com/ebn/2395/pdhaX/7385/4
Inq
a:3:{s:16:"green_initiative";s:0:"";s:16:"reusable_bottles";s:0:"";s:19:"other_green_efforts";s:0:"";}

VSAT-BER (Bit Error Rate) of 5x12 with constant bandwidth 3MB.
*Upgrade is possible for full streaming. Additional surcharge as used.";s:11:"full_course";s:0:"";s:14:"air_compressor";s:11:"Not Onboard";s:3:"bcs";s:1:"0";s:11:"weight_sets";s:1:"0";s:16:"number_of_divers";s:1:"0";s:20:"registrations_number";s:1:"0";s:11:"dive_lights";s:1:"0";s:10:"dive_costs";s:0:"";s:14:"scuba_on_board";s:35:"Yacht offers Rendezvous Diving only";}
a:15:{s:5:"tanks";s:1:"0";s:9:"wet_suits";s:1:"0";s:15:"number_of_dives";s:0:"";s:11:"night_dives";s:1:"0";s:9:"dive_info";s:0:"";s:13:"communication";s:175:"WiFi (pepwave) 2 x AT&T
a:4:{s:12:"fishing_gear";s:1:"0";s:17:"fishing_gear_type";s:0:"";s:4:"rods";s:0:"";s:16:"deep_sea_fishing";s:0:"";}
USA
American
1
Yacht offers Rendezvous Diving only
1657659770
a:2:{s:7:"updated";i:1657925887;s:5:"links";a:0:{}}