Top 10 Verified & Recommended – Bahamas Motor Yacht Charters
The Bahamas is a popular destination for private yacht charter holidays, as it has the perfect setting for a relaxing and luxurious vacation – courtesy of the clear turquoise waters, pink beach of the Harbour island chains, and lush tropical islands. The peak season (December-April) offers the most comfortable weather, with temperatures ranging from 70°F to 80°F (21°C to 27°C), gentle winds, and low chances of hurricanes.

The versatile vessel collection makes the Bahamas archipelago the ideal location for crewed and bareboat charters. From comparatively sailing yacht charters to catamaran charters and luxury yacht charters, guests can pick anything they wish for on this charter vacation.
Top 10 Luxurious Bahamas Yacht Charters
10. Enterprise| 125 FT
Enterprise gives off the megayacht vibe through the high ceilings, window walls, and expansive common zones. Previous guests spent most of their time onboard at the upper deck, featuring a spacious sundeck with a bar, sunbeds, and an infinity jacuzzi. Enterprise's master suite possesses an office space with a soundproof door – perfect for an emergency meeting or pending work.

Enterprise's crew (7 people) will cater to every need of the guests. Captain Andrew has over 200,000 nautical miles of experience and will do everything to make your voyage safe and comfortable. Guests can make the best use of the beach club gym thanks to First Officer Wihan, a Certified EMS (Electro Muscle Stimulation). In case you are interested in Molecular gastronomy and fusion, Chef Natricia will surprise you with her creativity and use of local produce.
Amenities and water toys
Apart from the glass-enclosed jacuzzi and fully equipped gym, the Enterprise boasts a 46ft Maori chase boat and fishing gear- suitable for deep-sea fishing. She is also equipped with a 16.6ft Williams 505 tender– appropriate for island hopping or water sports. Enterprise's water toy collection includes jet skis, SeaBobs, surfboards, wave runners, SUPs, kneeboards, tows, and snorkeling gears.
9. Emocean | 125FT
Emocean's range of 5,000 nautical miles and a fuel consumption of just 60 liters per hour make her a highly sustainable yacht- perfect for long-distance Bahaman cruising. This multiple award-winning superyacht boasts 350 square meters of deck space featuring a massive sundeck, infinity pool, jacuzzi, beach club, and a well-equipped gym. She was built for peak entertainment; her 150-bottle crystal wine cellar and a 75″ screen home theater system are prime examples.

Even the suites are epitomes of luxury- the master suite has a private balcony and generous office space with a computer. A crew makes a charter experience better- rather than the amenities. Emocean's certified RYA instructor, Captain Scott, helps the guests to make the most of the water toys and swimming.
Amenities and Water Toys
Emocean can keep her guests entertained for days thanks to the water toys, diving gears, and party tools: RIB tender, Waverunners, Seabobs, Kayaks, SUP, Wakeboard, Waterski, Snorkeling Sets (Adults and kids), Rendezvous diving, Beach BBQ set up, and Various inflatables. Additionally, the guests can capture their water activities and create lasting memories with the DJI Drone.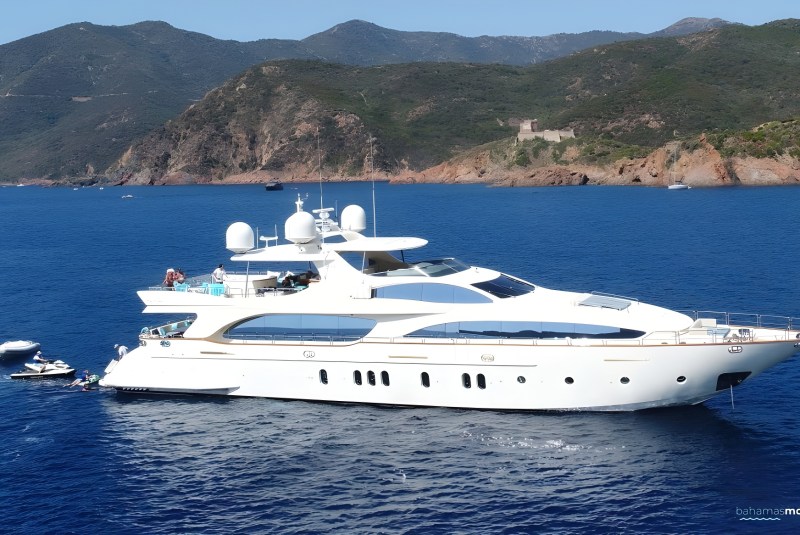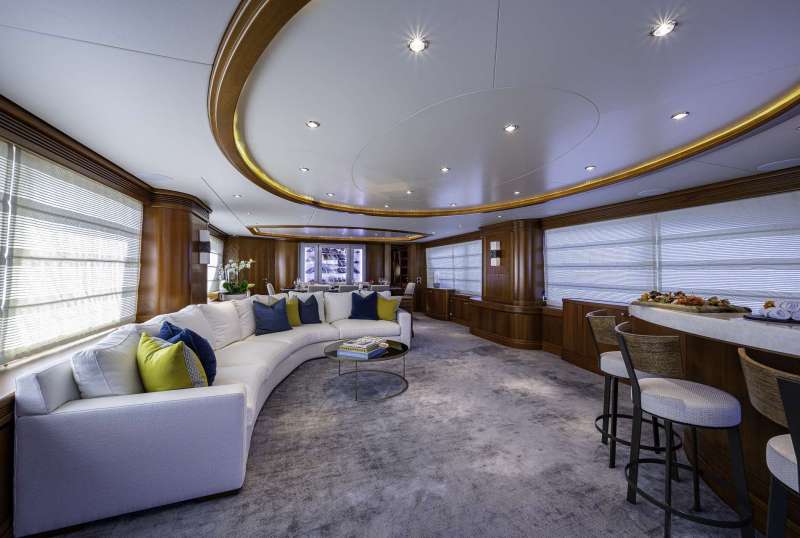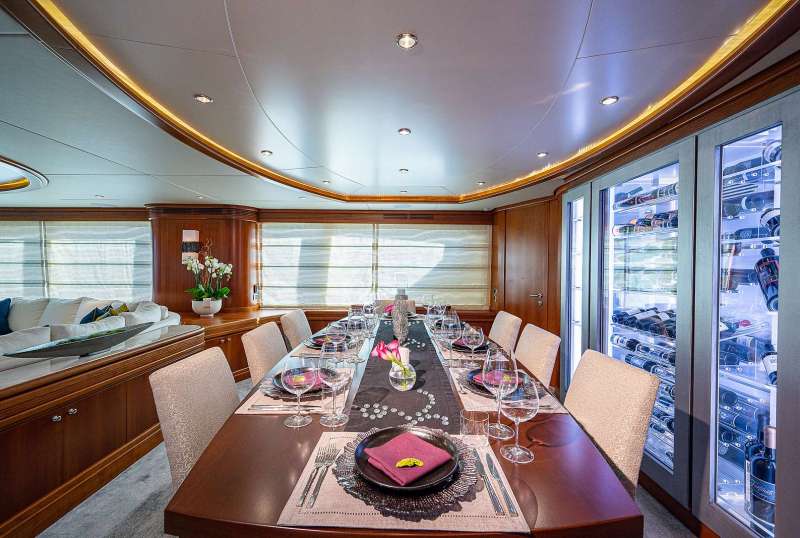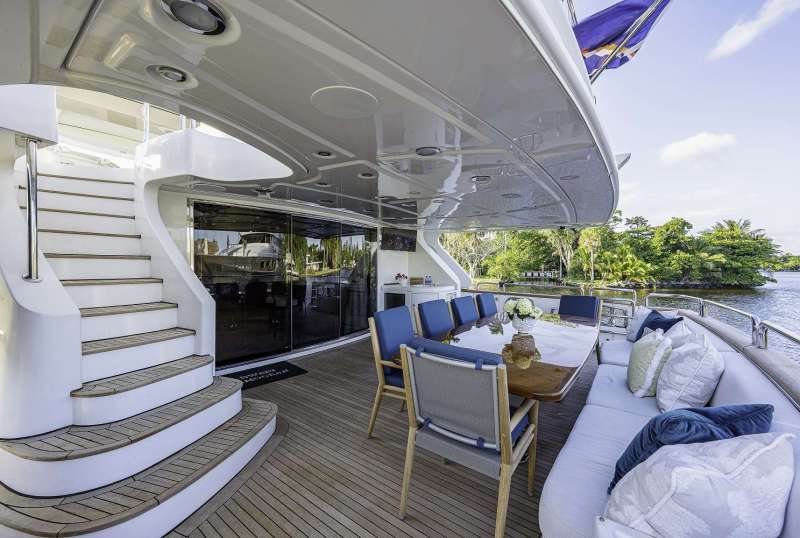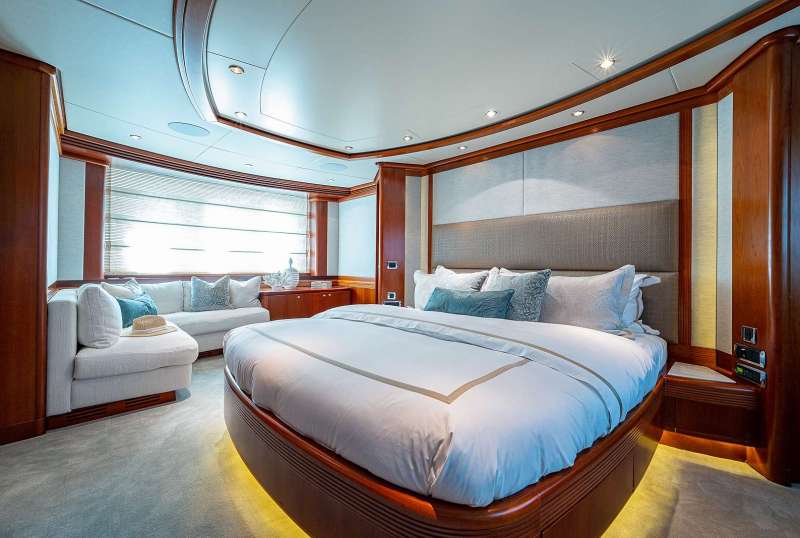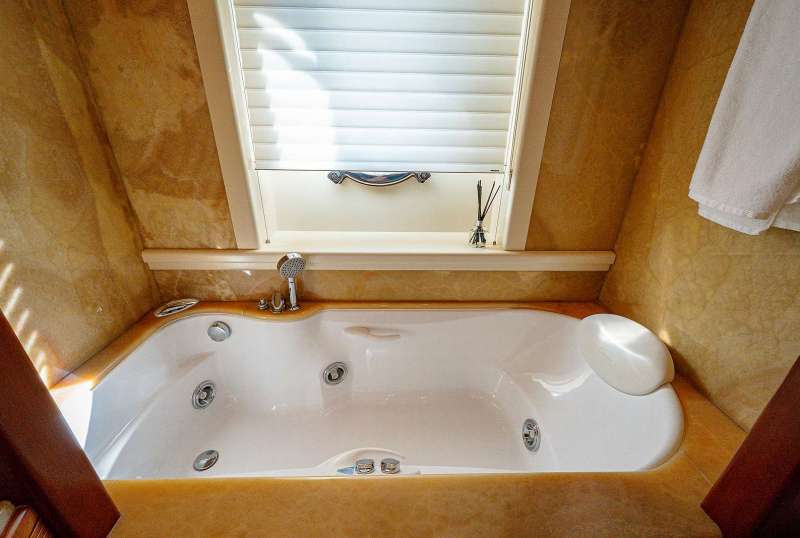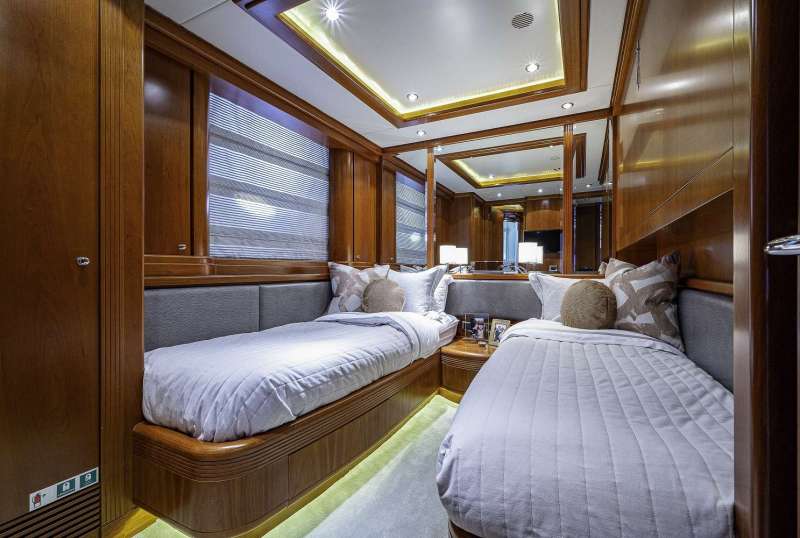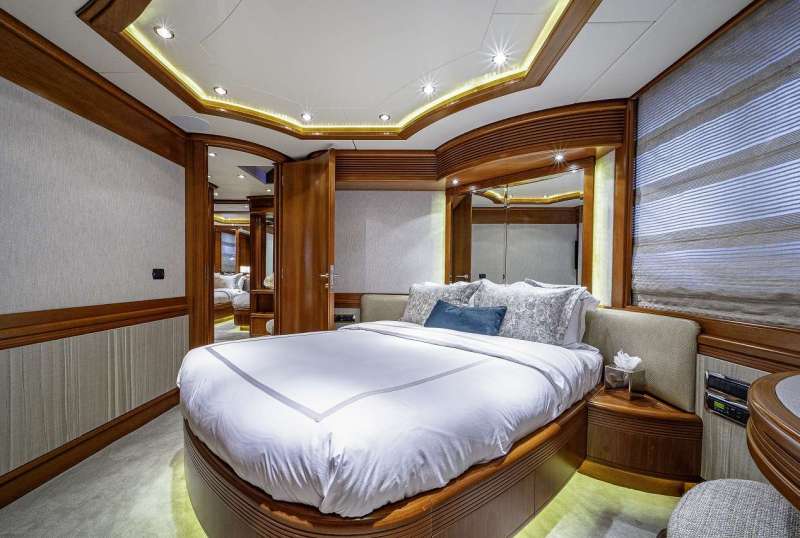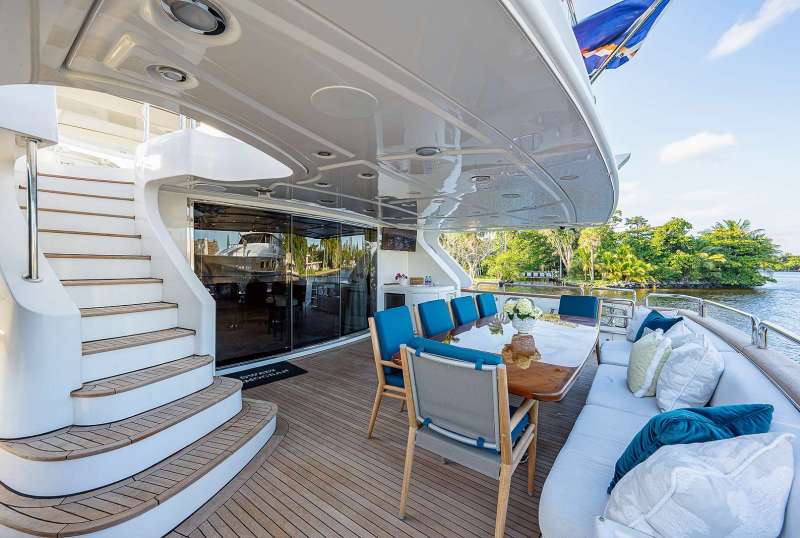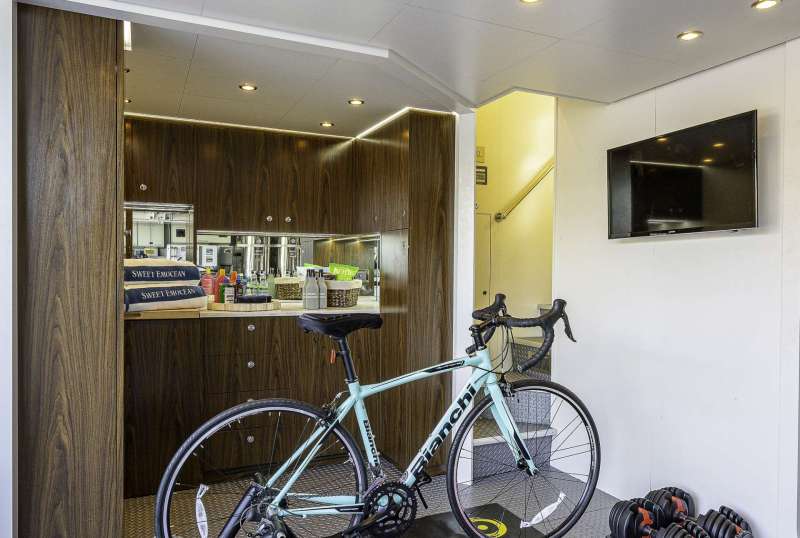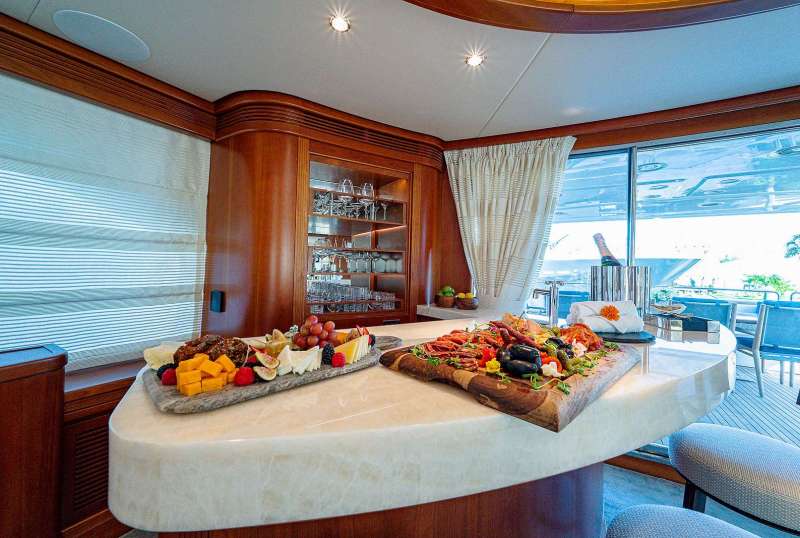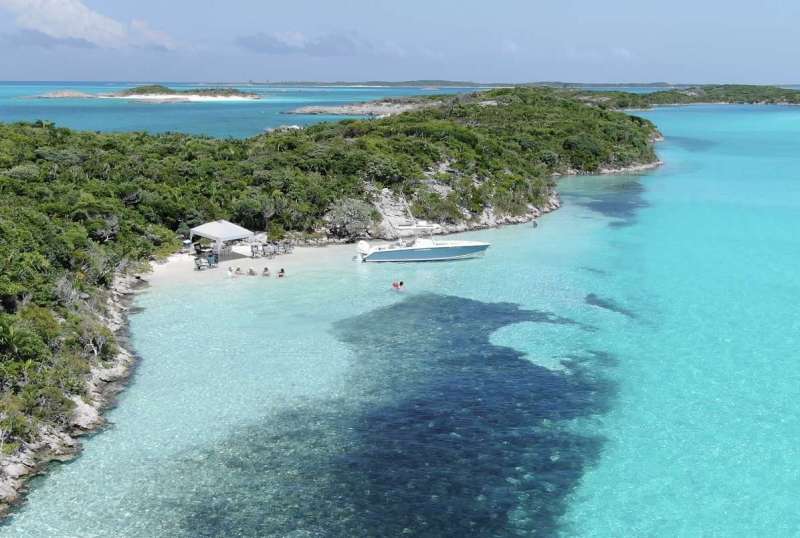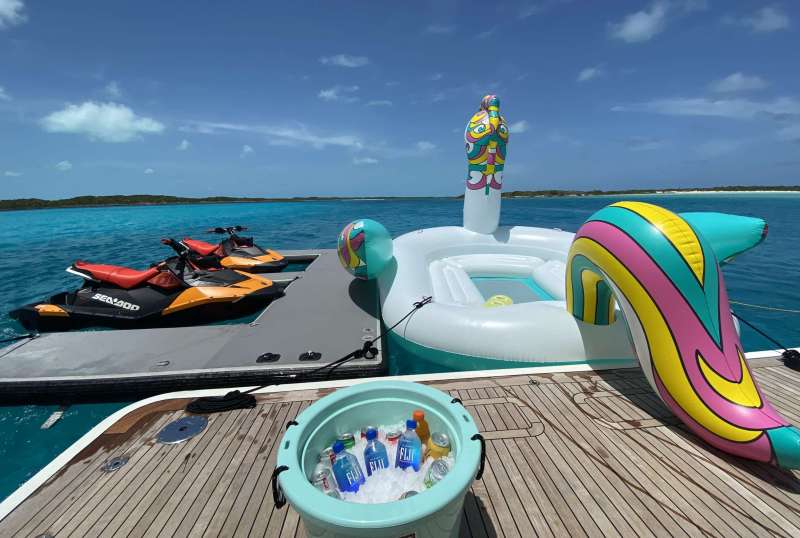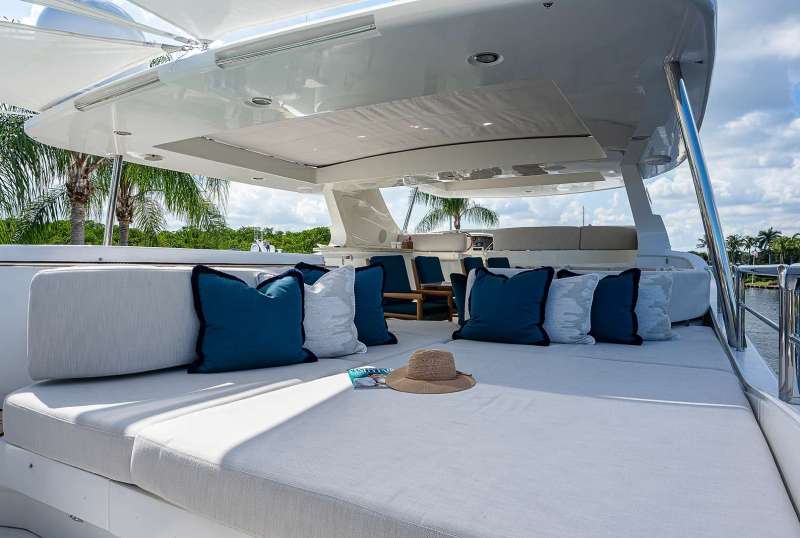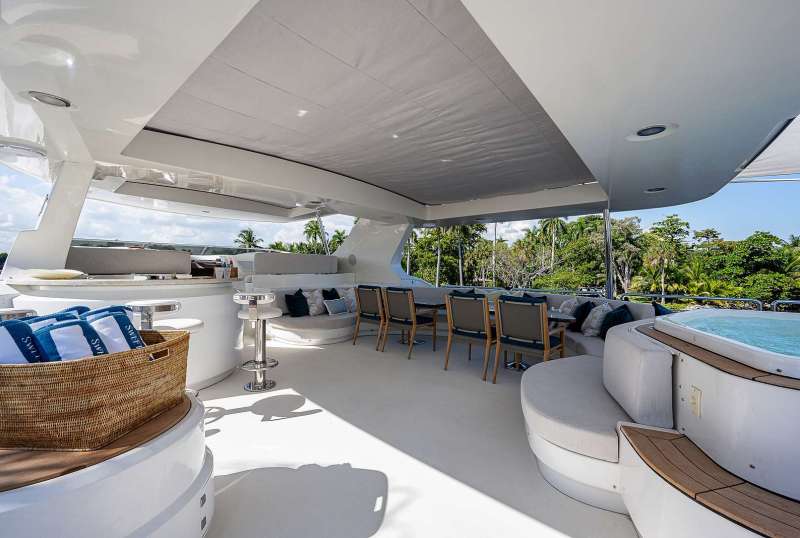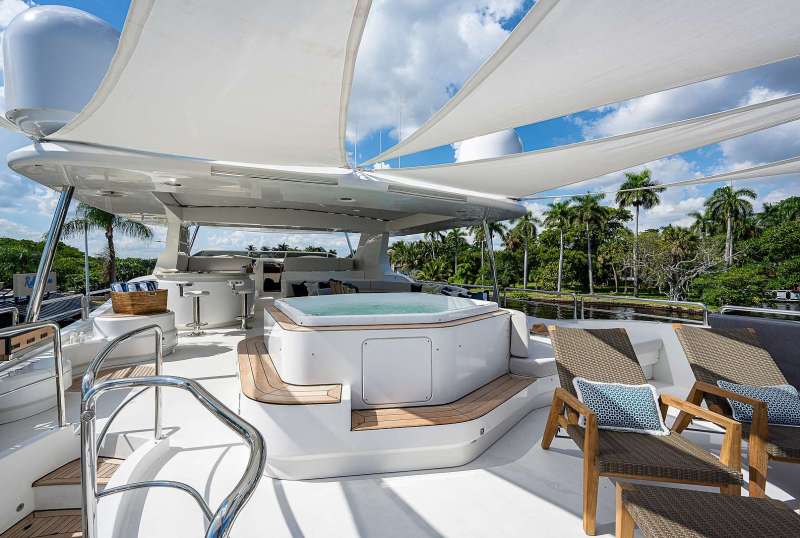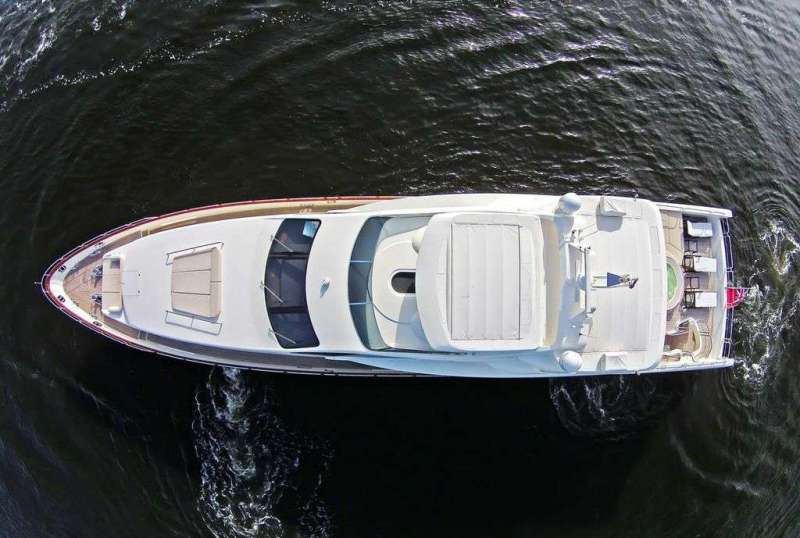 Sweet Emocean
From $85,000/week

5 cabins

116 ft

Azimut

10 guests

Refit: 2020
8. BORA GORA|125 FT
BORA GORA's chartering range is 1,700 nautical miles– guests can easily explore the Bahamas' main attraction and hidden gems. Similar to the luxury yachts of 2023, her sleek curved interior and innovative lounging spaces (4 decks) ensure the utmost privacy and shoreline sighting. BORA GORA's round seating arrangement is perfect for a family or friends who want to strengthen their bond through games and conversations. Moreover, the generous beach club provides additional couch space at the edge of the water.

BORA GORA's crew of 7, hailed by Captain Kevin, is dedicated to going above and beyond to make you feel at home. Captain's 18 years of experience and PADI Advanced Diver certification keep the guests safe during water activities.
Amenities and Water Toys
BORA GORA has 2 tenders ( 38ft Boston Whaler and 18ft Williams Jet) to land on any beach and take the fishing enthusiasts for deep sea fishing. Her grand water toy collection includes Waverunner, Seabob's, SUP, Knee Boards, Wake Board, Kayak, and Inflatables (Mat, Donut, Sofa).

While conversing with your dear ones at the adjacent loungers, you can wash away all the stress and tiredness from fishing or water sports at the deck jacuzzi.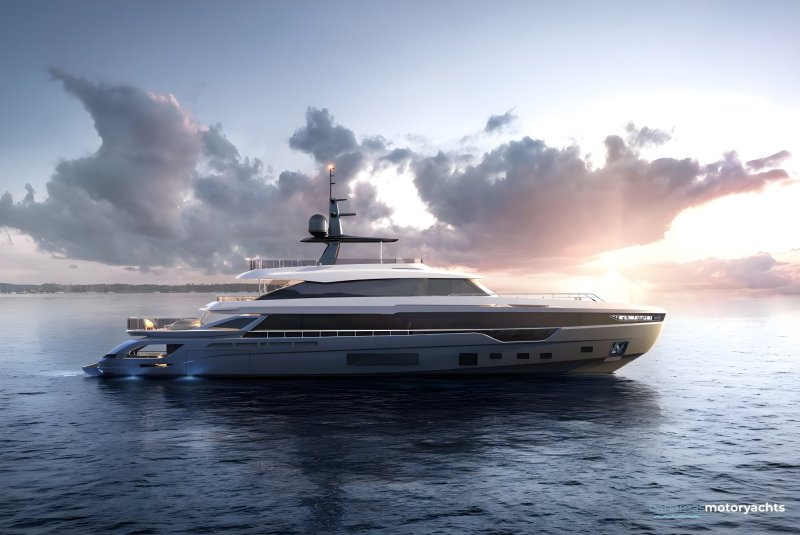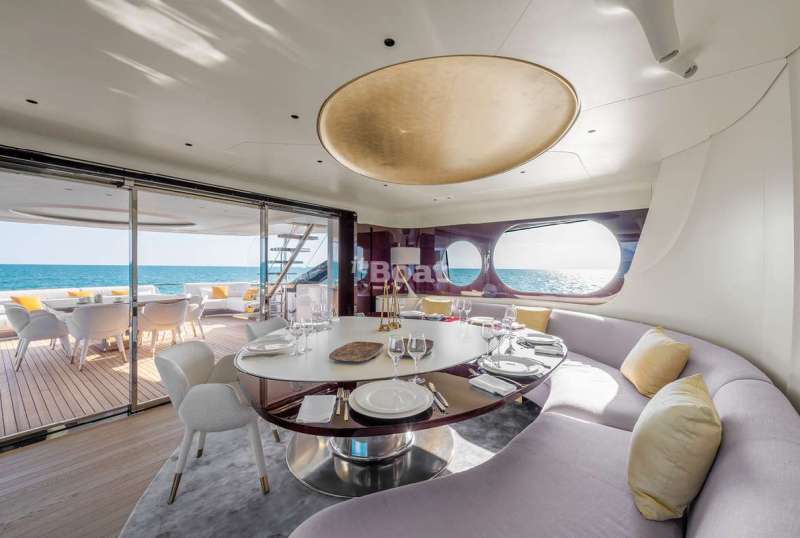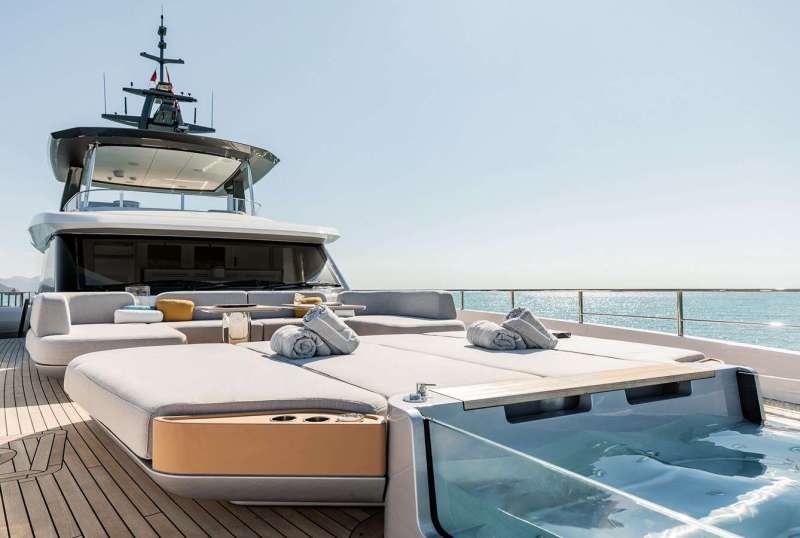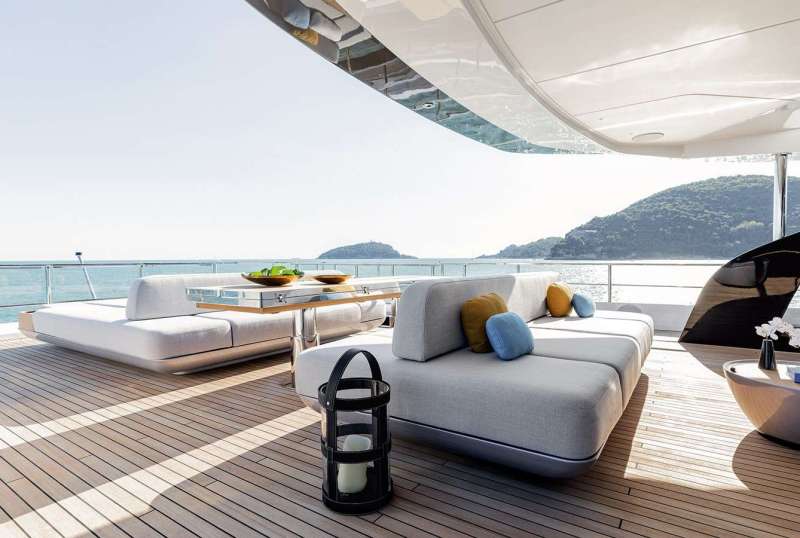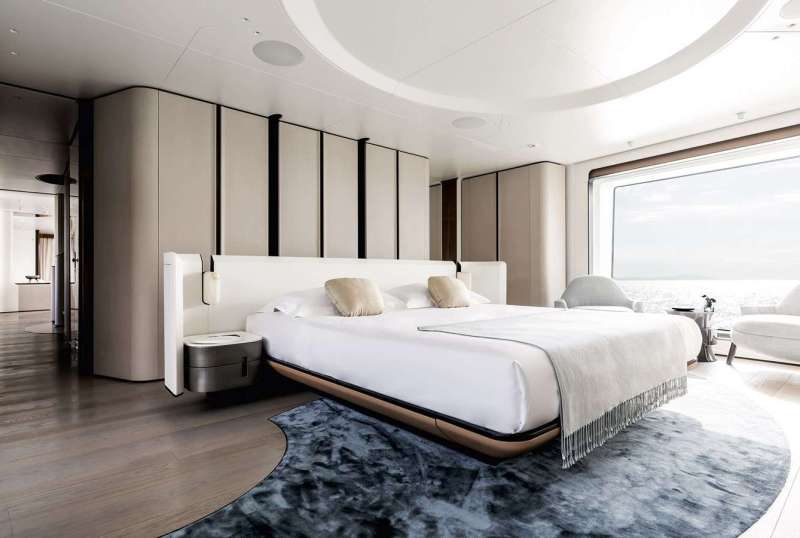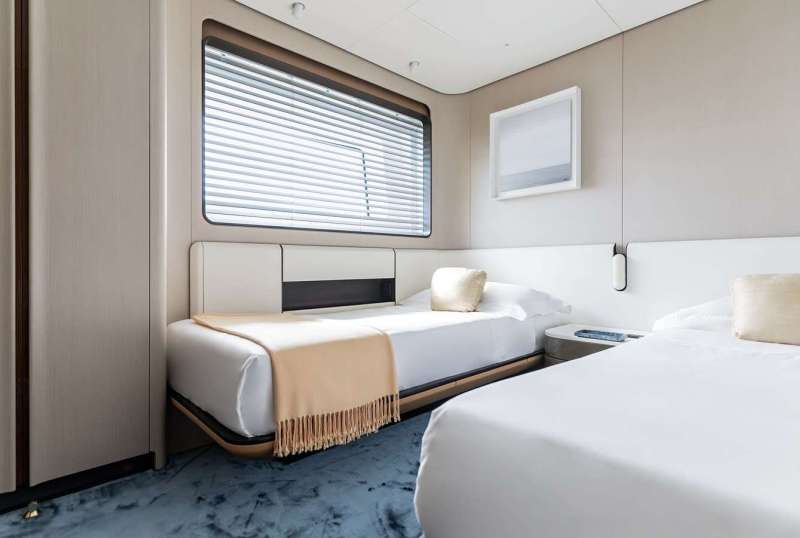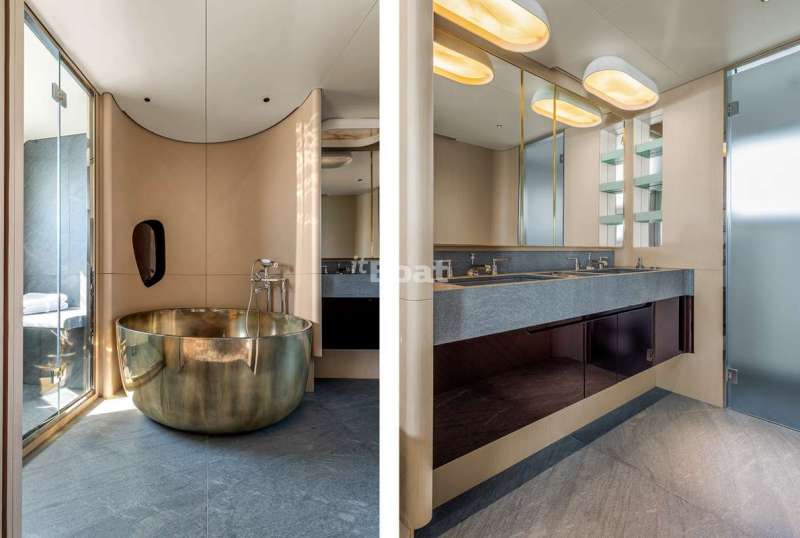 Bora Gora
From $120,000/week

5 cabins

125 ft

Azimut

12 guests

Built: 2022
7. MUCHOS MAS | 144 FT
MUCHOS MAS's striking stardust metallic silver hull sets it apart from the regular motor yachts. Her main deck welcomes the visitors with an inviting U-shaped seating area forward of the bar– creating the perfect conversation pit. The bridge deck aft is ideal for al fresco dining, accompanied by well-placed seating vignettes and a cooling misting system to enhance the guest experience. You will never have a dull moment onboard, thanks to the multiple sun pads and game table.

The crew of the yacht MUCHOS MAS consists of experienced and passionate professionals- especially Captain Eric, whose primary focus is safety and letting the guests visit the enchanted unpopular Bahaman destinations. If the guests are newbies at water sports, the staff can teach them the basics at the RYA water sports center.
Amenities and Water Toys
MUCHOS MAS's 20ft "beach lander" ensures effortless beach landings to explore hidden marine life, while the 32ft tender provides an exhilarating island-hopping experience. Apart from these two water vehicles, she has an extensive water and beach sports collection featuring jet skis, SUPs, Seabobs, towables, snorkeling Gear, full sport fishing and bottom fishing equipment, and a beach party setup.

At MUCHOS MAS, the guests rejuvenate themselves at the moon Jacuzzi, while the Gym is perfect for someone who follows a strict workout routine.
6. LADY ELAINE| 163 FT
LADY ELAINE's elegant interior and amenities -comprising a private balcony, avant-garde artwork, six spacious staterooms, and an Elevator- make it the perfect boat for families or groups with an elderly person. She was designed for onboard entertainment, featuring sun pads, a 10-stool Bar, a propane grill, a day head, and plenty of space for gatherings and karaoke parties. Also, the yacht's underwater lights beneath the swim platform cast a mesmerizing glow for evening relaxation.

LADY ELAINE's master suite can please any king- full of dark timber furnishing, office space, a huge tub, and private access to the elevator. The yacht is serviced by nine crew who provide guests comfort and safety. Captain David and Chief Officer Tom can handle any challenging situation and keep the voyage comfortable.
Amenities and Water Toys
LADY ELAINE's 10-person Jacuzzi is a rarity for a yacht of this size. Also, her full-fledged gym can amaze anyone with a strict exercise routine.

LADY ELAINE can be the perfect luxury fishing charter as she has a 37-foot tender and fishing gear. Her water toy collection includes jetski, waverunner, snorkeling equipment, wakeboarding, inflatable paddleboards, kayaks, and rendezvous diving apparatus.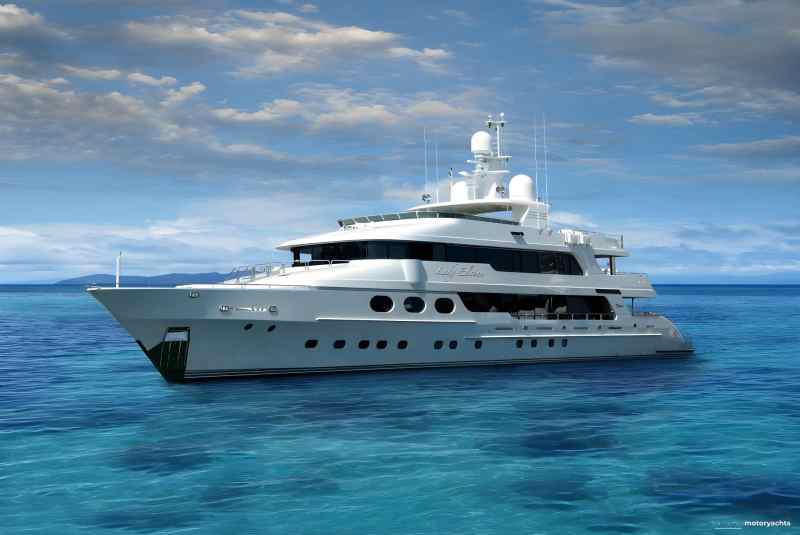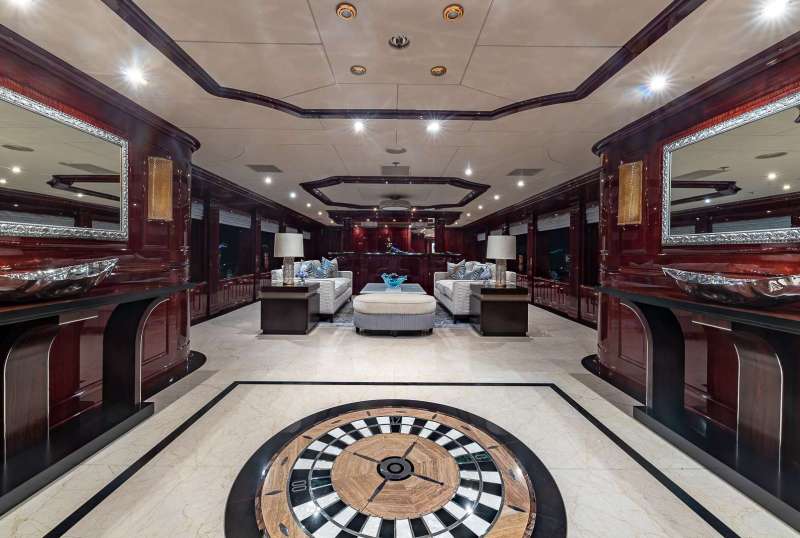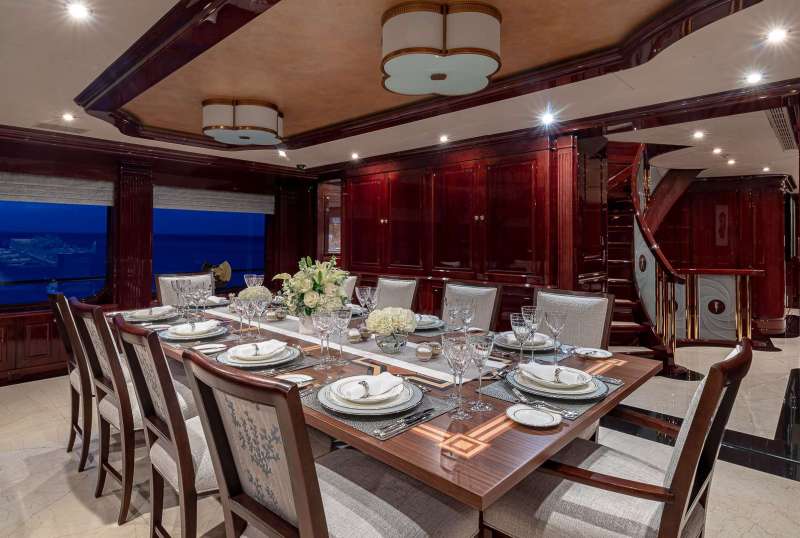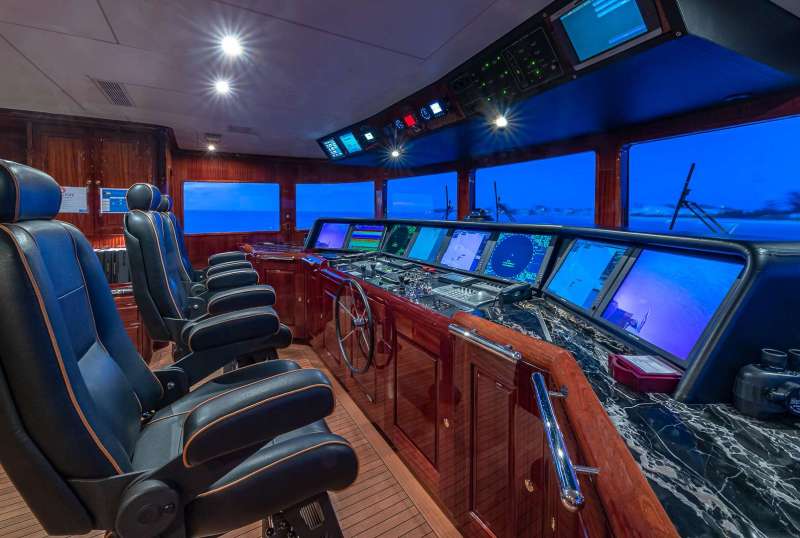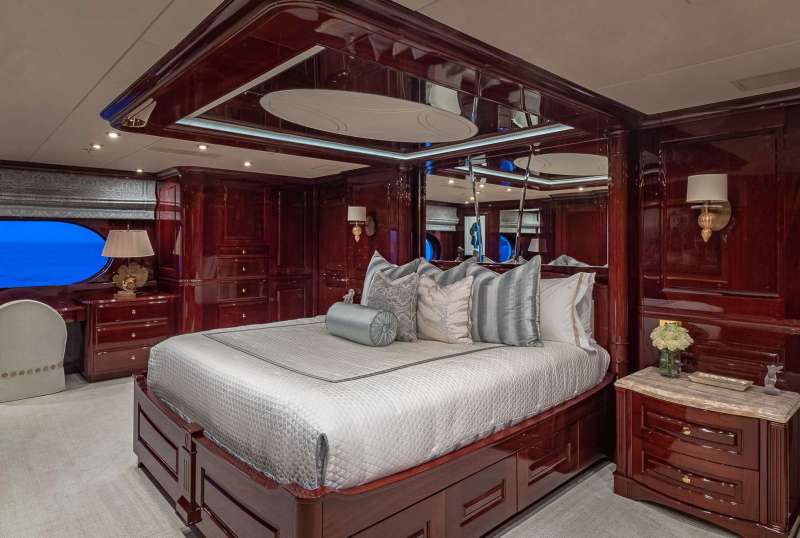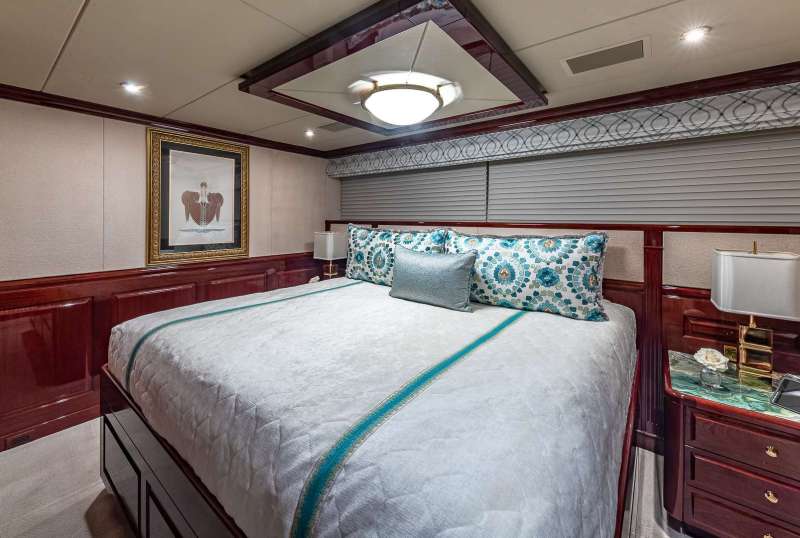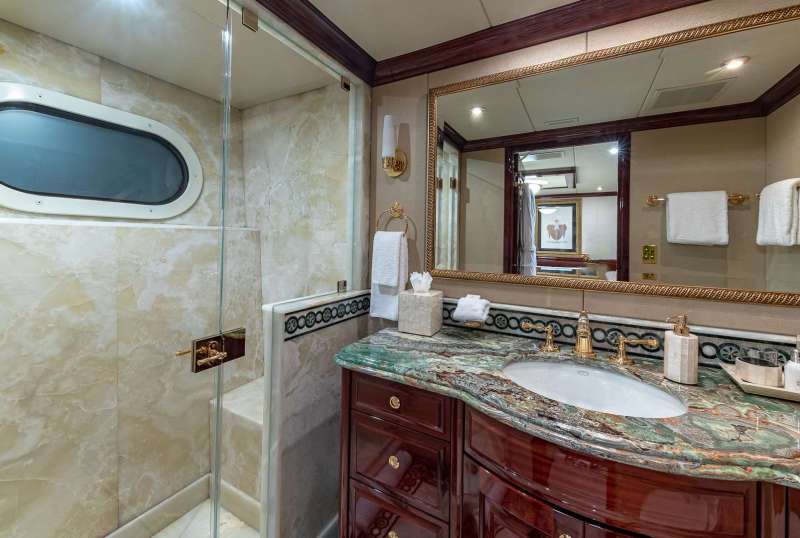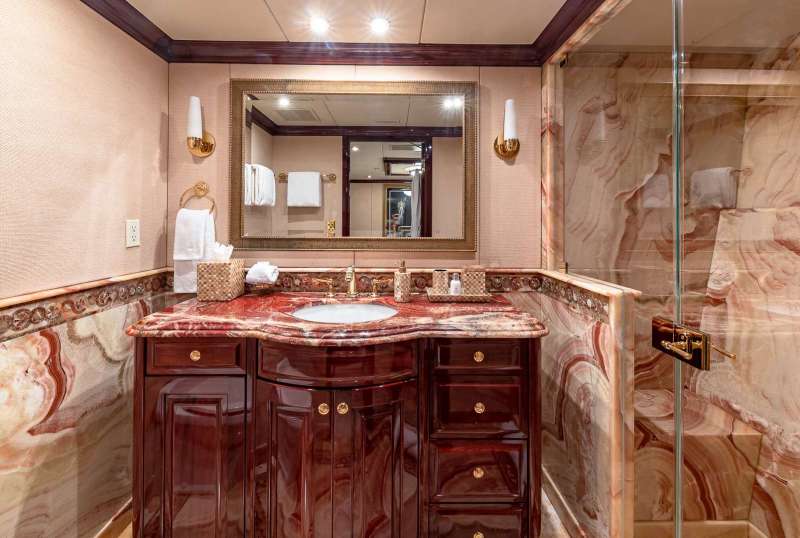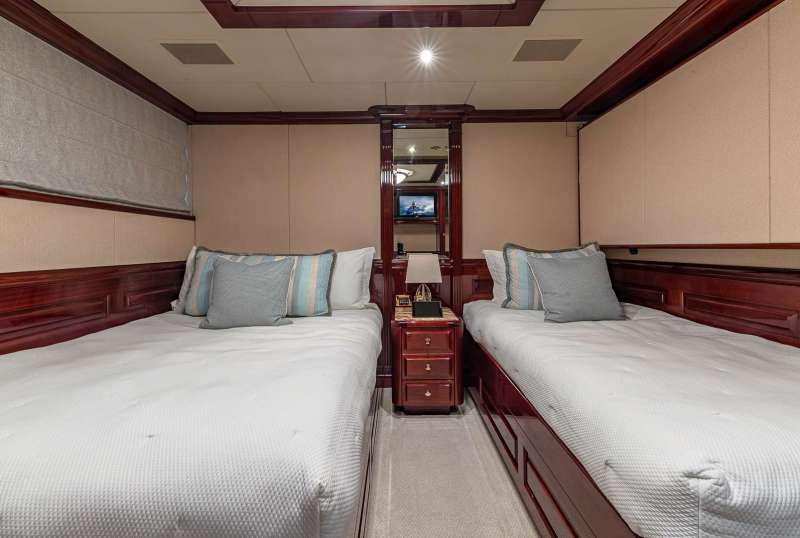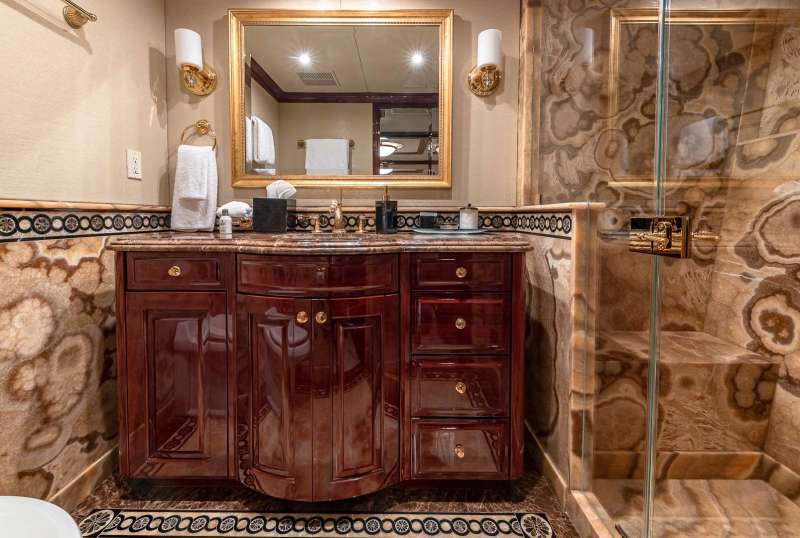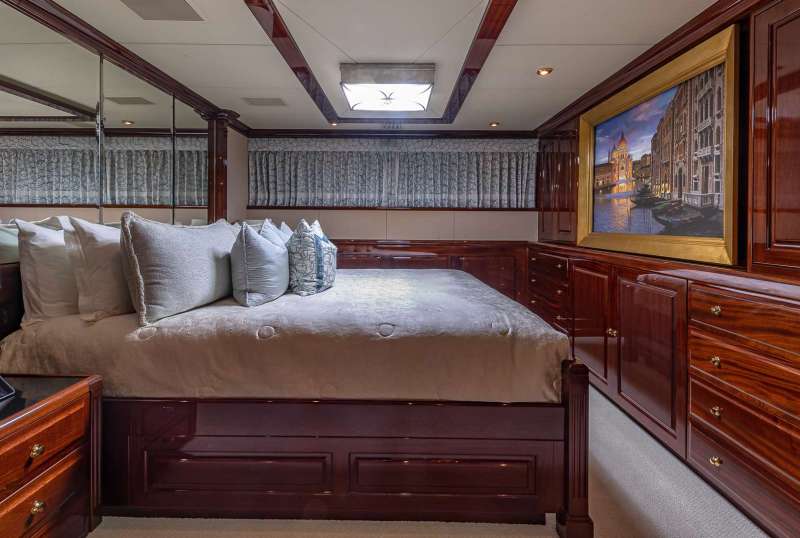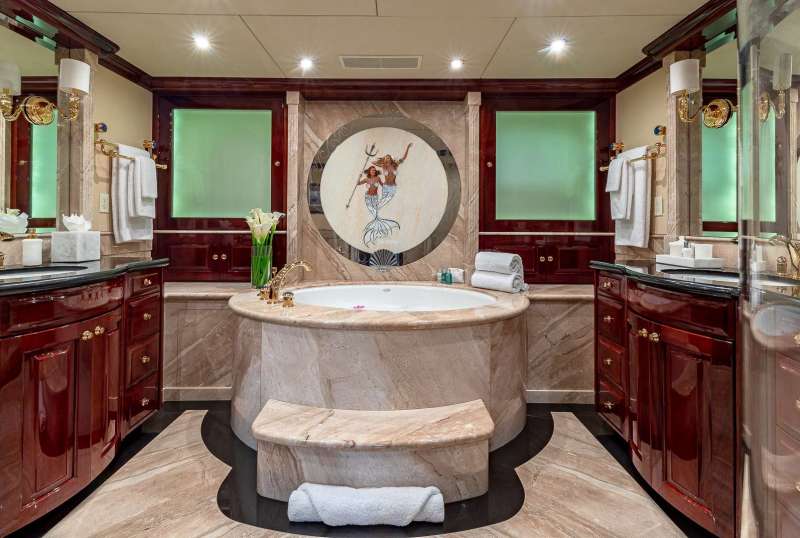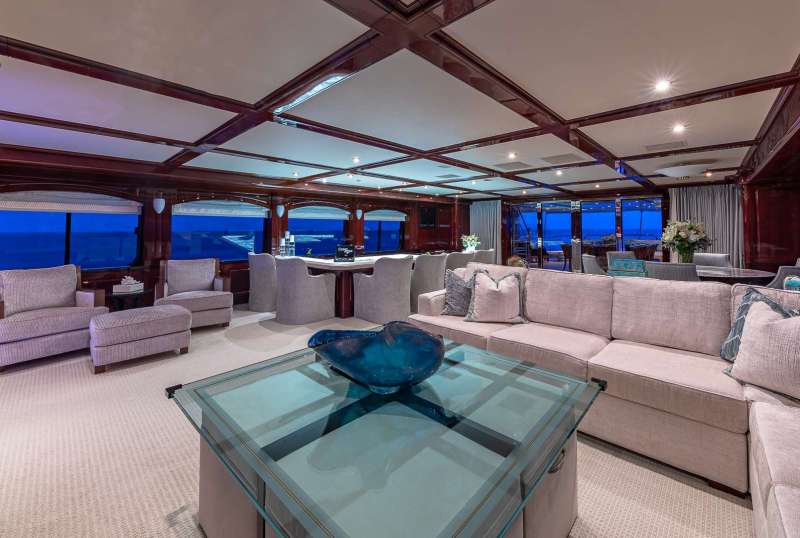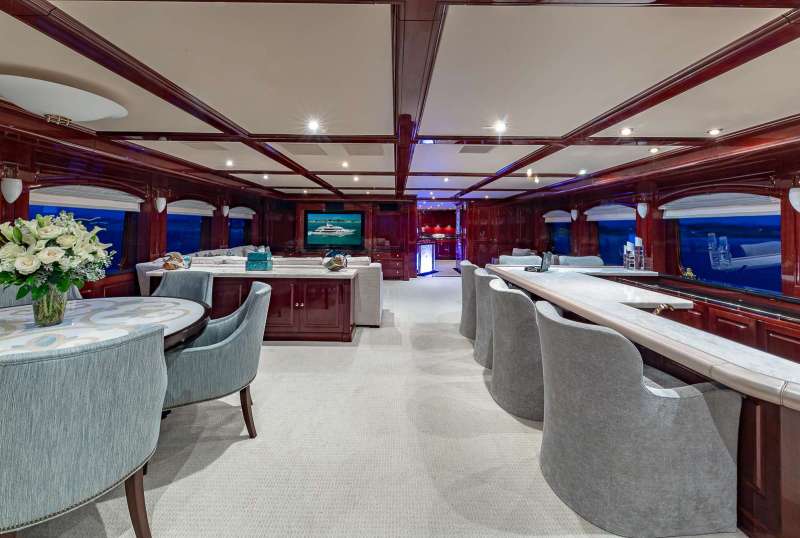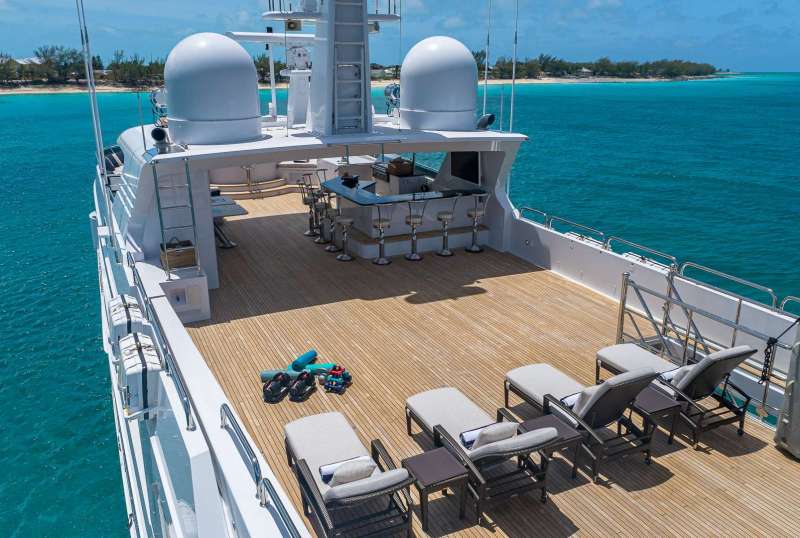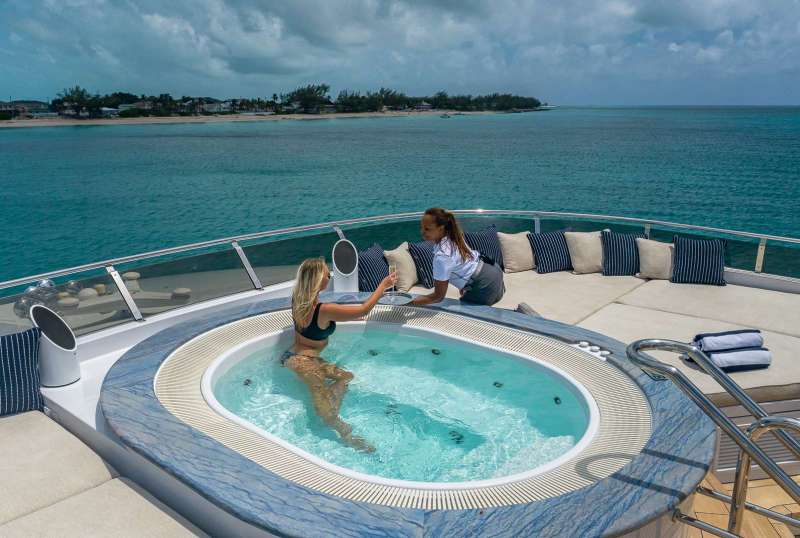 LADY ELAINE
From $195,000/week

6 cabins

163 ft

Christensen

12 guests

Refit: 2018

100 US Gall/Hr
5. BLUE MOON| 198 FT
What sets BLUE MOON Yacht Charter apart from others is her wheelchair accessibility along with an elevator. Her master stateroom is spacious and luxurious, with a large walk-in closet, a private balcony, and a Jacuzzi. BLUE MOON's spacious sun deck features a second Jacuzzi, sun loungers, and a bar. Also, the movie theater and spa keep guests relaxed and the kids entertained at night.

The dedicated crew of 10 is led by Captain Emile Bootsma, who has over 27 years of experience in the yachting industry. He can keep guests mesmerized by the stories from his long marine career- even teach the basics to sailing enthusiasts. Chef Andrew hails from the shores of Vancouver Island, and his 25 years of experience in the culinary industry need no introduction. His experience and creativity will let the guests taste the best of Bahaman cuisine and fresh sea fishes.
Amenities and Water Toys
BLUE MOON serves as the perfect vessel for athletes and celebs, boasting three Gym Areas: One al fresco, one on the Main Deck adjacent to the Owner's Suite, and one on the Lower Level. Charterers more into fishing and island hopping can have the time of their lives thanks to two powerful tenders– the 1972 Riva Super Aquarama tender and the 27' Catalina tender. Additionally, certified scuba divers can explore the sea bed with the high-tech SCUBA gear.

BLUE MOON offers a variety of water toys and beach set-up to make your stay as enjoyable as possible; these include Kite Board, Towable Wake foil, Kayaks, snorkel gear, wakeboard, waterski, kneeboard, inflatable tube, SUP, Fighting Chair, heavy tackle rods, Beach Umbrella, and Chairs.
4. LOON 221 | 221FT
LOON 221 luxury yacht charter stands out for her spectacular owner's suite and beach club. The suite spreads across two decks and has a private staircase that leads to the upper-level study/lounge. LOON 221's beach club is maximized with comfortable sun loungers, a bar and seating area, a dedicated gym, and a sauna room. The beach club will host hours of fun throughout the day and can be a tranquil spot on board to take in the beauty of the cruising grounds and sunset.

LOON 221's minimalist and inviting interior is filled with natural light- offering seamless movement between indoor and outdoor spaces. Her upper-level lounge has complete blackout blinds; it can transform into a cinema room. The crew is always eager to help the guests with Michelin-star-level food and the history of the islands. Don't forget to learn kitesurfing from Captain Paul, who loves his time kitesurfing- a pro in this thrilling and athletic sport.
Amenities and Water Toys
A one-week charter isn't enough to enjoy all the amenities of LOON 221. Her spacious jacuzzi can fuel the guests to do extreme water sports, while the main deck aft Swimming Pool provides water fun without the salty water. Also, this megayacht charter provides SCUBA Diving to certified guests.

LOON 221's water gear collection doesn't disappoint; it includes jet skis, Seabobs, wakeboards, kayaks, SUP, water trampolines, donuts, and banana boats. Also, there is a dinghy for exploring the coastline or fishing.
3. ARBEMA | 236 FT
Refitted in 2023. ARBEMA is built for entertaining- featuring spacious lounging areas, a piano, and a 100-square-meter beach club. The beach club is a versatile space with a gym, bar, and sun loungers. Its class's most oversized sun deck consists of a swimming pool and Jacuzzi, a relaxed lounge area aft, and covered dining midships. It's the perfect setting for soaking up the sun and taking in breathtaking views of small islands.

ARBEMA boasts a full-beam master cabin with a fold-down balcony, private TV, and massage room. Her crew of 24 members will ensure the guests are having the time of their lives. Since Captain Matt has explored the world's most captivating destinations and is a nautical genius, he is ready for all sorts of unplanned excursions and adventures.
Amenities and Water Toys
ARBEMA is a great way to enjoy the beautiful waters of the Bahamas. The inflatable climbing wall is a great way to get some exercise and have fun at the same time. She has 2 tenders, a 48 feet Chase boat, and a vast toy collection: SeaDoos, Jetsurf, E-foil, water ski (adults and kids), slalom skis, SUP, Inflatables, Seabobs, Wakeboard, Seapool (4x5m), and Playground.

ARBEMA's snorkeling and diving equipment are perfect for exploring the underwater world. The collection includes RDV DIVING – BCD, Tanks, diving compressors, fins, masks, and snorkels. She boasts a practical jet ski dock platform aft for easy launching. Also, the beach setup and shoreline elements are suitable for both adults and children.
2. ELEMENTS | 263 FT
ELEMENTS' motor yacht charter experience will leave you in awe as the interior seems like a luxury resort– not a vessel on the water. This charter in the Bahamas is well recognized for her soundproof movie theatre, elevator, Wheelchair accessibility, and lavish spa area, with a massage room and Turkish bath. This motor yacht also features an expansive beach club and side balconies– perfect for sunbathing and refreshments from the bar.

The Captain of the yacht – Peter Carlsson, has extensive experience at sea, including his background in the Swedish Royal Marines, providing a disciplined and leadership-driven approach to cater to the guests' needs. The large staff of 25 members can care for a mixed group from diverse demographics. Also, Chef Pania can adapt to the client's needs, offering a wide range of cuisines from Mediterranean, Asian, Modern European, and Persian.
Amenities and Water Toys
From the Gym equipment to the serene jacuzzi, ELEMENTS yacht charter does its best to pamper the guests. If the water sports seem bothersome, you can enjoy the sea-swimming pool or have fun at the large inflatable slide from the top deck and float around with the Crazy couch.

For water enthusiasts, she has an enormous toy and gear collection: Water-Ski, Kneeboard, wakeboards, SUP, Flyboard, Jet-Ski, Windsurf, Flyboard, 'Stingray,' Seabobs, Kayak Canoe, Wave Runners, Scuba Diving, snorkeling Equipment, and Dive Compressor. In case you want to catch Bahama's coveted Tuna, Mahi Mahi, and Marlin, the yacht charter has 3 tenders and enough Fishing Equipment for deep-sea fishing.
1. MAN OF STEEL |282 FT
MAN OF STEEL is one of the larger sailing yachts of the Bahamas, boasting a massive 282-foot size. She is the perfect yacht for a luxurious and unforgettable Bahamas charter experience with fold-out balconies, two pools, a spa, an elevator, and multiple dining arrangements. Her port side door provides access to the Owner's pool deck, a cozy place for an intimate cocktail hour or a personal early morning dip.

MAN OF STEEL is designed to host guests with disabilities (Wheelchair accessibility) and watersport newbies (through the Approved RYA water sports center). Also, her crew (28 members) – led by two captains, Wayne Neale and Jack Parnwell, who have over 30 years of experience in the yachting industry– provides exceptional hospitality to the visitors.
Amenities and Water Toys
Apart from the jacuzzi and two stunning pools, MAN OF STEEL's full-functional Wellness Center attends to every guest's health desires with a gym and full spa. The steam/ shower centrally positioned opens into a choice of sauna or hammam, while the exercise equipment is well spaced for several guests to work out without being crowded.

MAN OF STEEL has two large tenders and a rescue boat. Her variety of water toys includes Jet skis, Seabobs, Flyboard, Kayaks, e-Foils, E-wave, Electric Jetboard, Radinn Explore Sentinel Board – electric freeride board, Jobe inflatables, inflatables, SCUBA diving setup, Snorkeling equipment, and many more.

The Bahamas is an excellent destination for boat charter holidays, offering a versatile yacht collection to fit every budget and need. To fulfill guests ' desires, these ten charter yachts have common elements, such as spacious suites, jacuzzis, professional crew, multiple lounging spaces, and many water toys. From megayachts to superyachts, something is available according to your preferences for your next charter yacht vacation in the Bahamas.