Bahamas Luxury Fishing Yacht Charters
Bahamas Yacht Charter: Luxury Fishing Yacht Charters
A convenient luxury yacht charter is the ideal way to Explore the 700 Island Paradises of the Bahamas and do the regular yacht charter things: water activities, swimming pigs, trying exotic food and drinks, or gambling at the Atlantis resort. However, you can do all these things in a British Virgin Islands yacht charter or across the Mediterranean Sea. The Bahamas yacht charter can be the most unique, enthralling, and fun voyage if you try a motor yacht charter revolving around fishing.
The Bahamas have world-class fishing facilities and unique fishes only found in these island chains. Most of the fishing in the Bahamas archipelago consists of fly fishing, bone fishing, bottom fishing, and deep sea fishing which would also include the major, exciting pelagic trophies such as marlin, mahi mahi, wahoo, barracuda, and tuna.
Rather than a boat rental promising a day or half a day fishing excursion, a luxury motor yacht can take you near the fishing ranges, and you can cover the rest with a chase boat. The larger motor luxury yachts come equipped with the so-called "chase boats', which are in essence shallow draught motor yachts designed to detach from the main yacht and explore shallower water, suitable for high-end fishing. These boats feature outriggers and all the fishing gear needed, and the guests who don't fish can entertain themselves with water toys and onboard amenities.
Why should you join a luxury fishing charter in the Bahamas?
The Bahamas have a fishing option for beginners, advanced fishermen, and even individuals into competitive fishing. There are three main types of fishing: groundfishing, bonefishing, and deep sea fishing. The novice guests can try groundfishing to catch grouper and snapper by dropping the anchor and catching fish along the tide.
Bonefishing, famously known as flyfishing, means catching fish from the deep waters to the sandy and flat shallow waters. It might sound easy, but you will need a great sense of tricking the fish as they run 40 miles per hour after sensing the slightest change in the water.
Worth noting is the island of Eleuthera ("free", in a rough translation from the Greek language), and it provides indeed a free-f0r-all fishing paradise. Off Eleuthera's Northern shores, the shallow waters give way to steep drop-offs, with depths of over 3000 meters, where the really big fish are such as the Marlins– the Marlin is so important that Bahama has it printed on the money!
A Guide to Bahamas Yacht Charter Holiday: Nassau to Harbour Island Chains
Even though the Bahamas Nassau is the starting point of the fishing boat charter, the fishing starts from the Paradise Island chains. Known for tuna, snapper, barracuda, and wahoo, you can catch something as a beginner angler. You can also try bonefishing in Nassau sandflats or Groundfishing by dropping anchor near the private beaches.
If you want to spend another day bonefishing, sail to Exuma islands the next day to bait the fish with squids. The long stretch of Exuma Islands beaches (300 miles to be exact), famed for swimming pigs and marine life, can be an excellent detour for the non-fisher guests of the charter. Also, guests can island hop to Thunderball Grotto or Staniel Cay, accessed by a private yacht only.
You can try flyfishing and catch bonefish and tarpon all around Grand Bahamas and in the shallows of Andros. Andros, the capital of bone fishing with a fly rod, is also home to the Andros barrier reef, full of marine life, coves, and hidden beaches- making it a hotspot for diving and snorkeling.
There are many types of Charter yachts in the Bahamas, but only a few motor yachts have the boat and stability to reach Eleuthera, where the biggest Marlin in the world was caught in 1993. You must sail to Eleuthera's very shallow and steep Northside for a genuine Marlin fishing experience full of lures, technicalities, and competition.
Advantages of Luxury Yacht Charter with Motor Yachts
Large yachts have the right equipment- entrapments, fishing rods, lures, chase boats, and many more (unlike smaller yachts or catamarans)
Motor yachts have enough toys (Jet skis, snorkeling gear, diving gear, etc.) to keep guests -not into fishing- entertained.
Luxury Motor yachts are big enough for a week's charter. Big fishes are often caught at night, and no set boundaries for returning to the dock every night give the guests enough freedom to fish.
The latest charter yacht upgradation and stability are great for deep sea fishing. The soundless power yachts make it easier to lure rare fishes.
Luxury yacht charters provide deep sea fishing in Eleuthera and Harbour Island with 3,000 ft deep water.
Top Bahamas Yacht Charters for Luxury Fishing Experience
1. LADY JOY |157 FT
Larger boats, such as the LADY JOY, are perfect for guests who want an uninterrupted fishing experience of 8+ days and don't want to return to the port. She is one of the largest motor yachts in the Bahamas- perfect for a weekly fishing charter. Her shallow draught can take pro-fishers near Eleuthera, while the 38'/12m Custom SACS Stratos Tender dinghy work as a chase boat for fishing.
Featuring a multinational crew of 11 (among which a yoga instructor, a ski instructor, a rescue diver and a famous chef), LADY JOY can accommodate 12 Guests in 6 cabins. Refitted in 2020, her interior design is modern, spacious, and well-lit. Also, the jacuzzi tub and steam room will cleanse the stress and toil of visiting the attractions or fishing.
Water Toys and Amenities
Marlin fishing is similar to a sporting competition; time pressure is often less important than landing a quality catch. Keeping guests entertained with various activities while maintaining focus on fishing will ensure an enjoyable experience for everyone on board.
LADY JOY boasts a wide range of toys: water skis for adults and kids, tubes, floating mats, wave runners, surfer, swimming platforms, kayaks, windsurfers, scuba diving equipment, and snorkel gear. These toys are enough to keep guests occupied for a one-week charter.
Fishing Gear
The SACS Stratos Tender is large enough to fit 23 people. So, the charter guests, guides, and anglers can reach the fishing points together. The yacht charter provides fishing permits upon request and fishing gear for fly and deep sea fishing.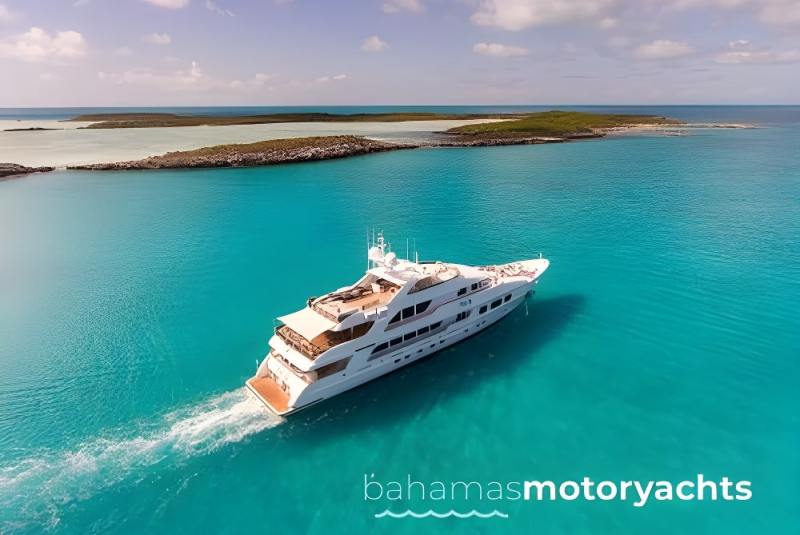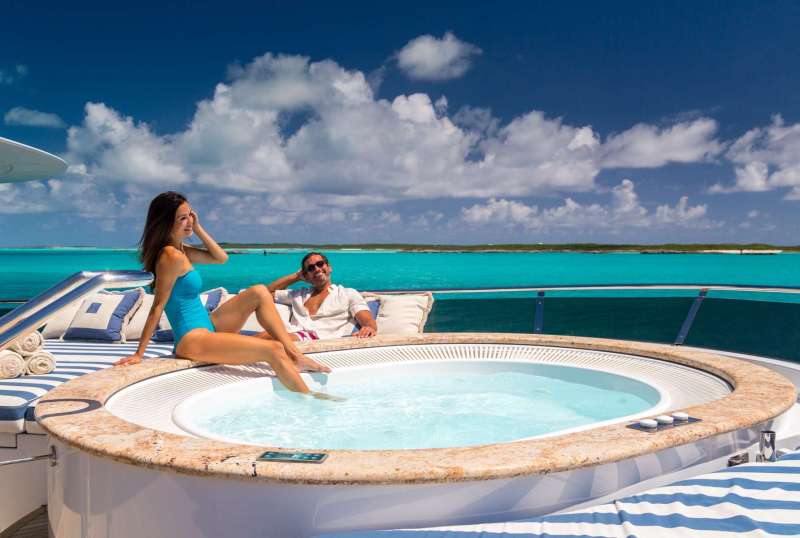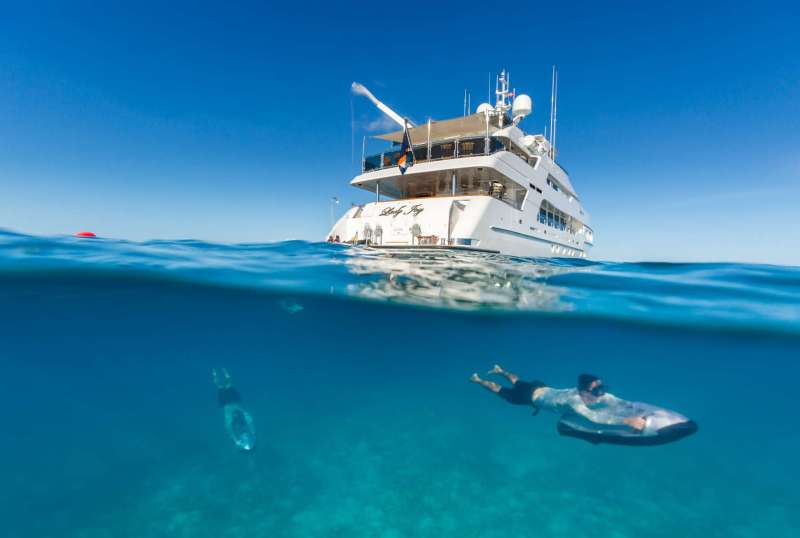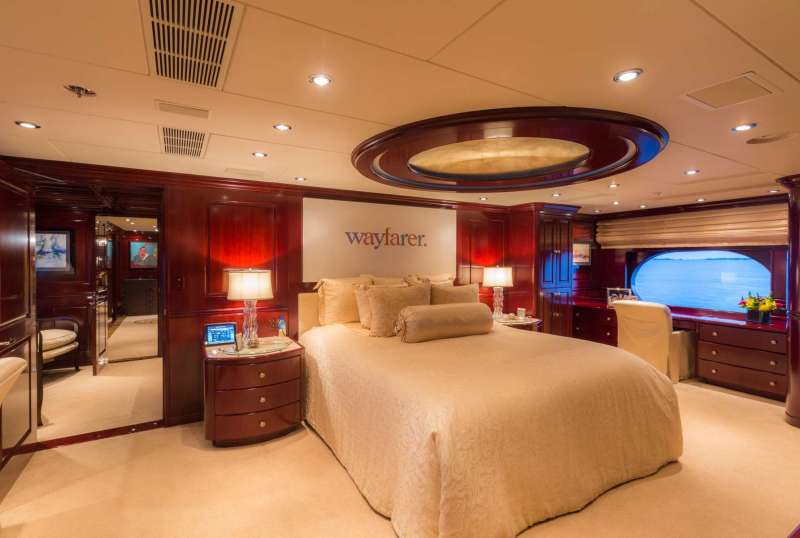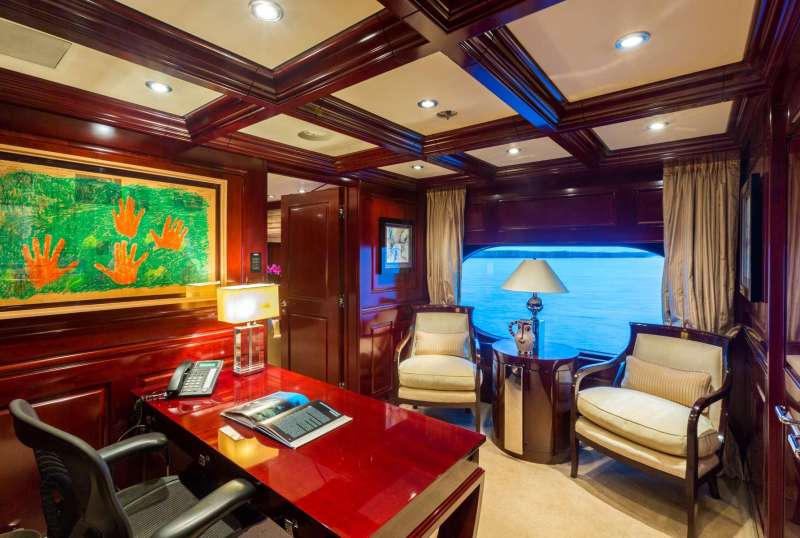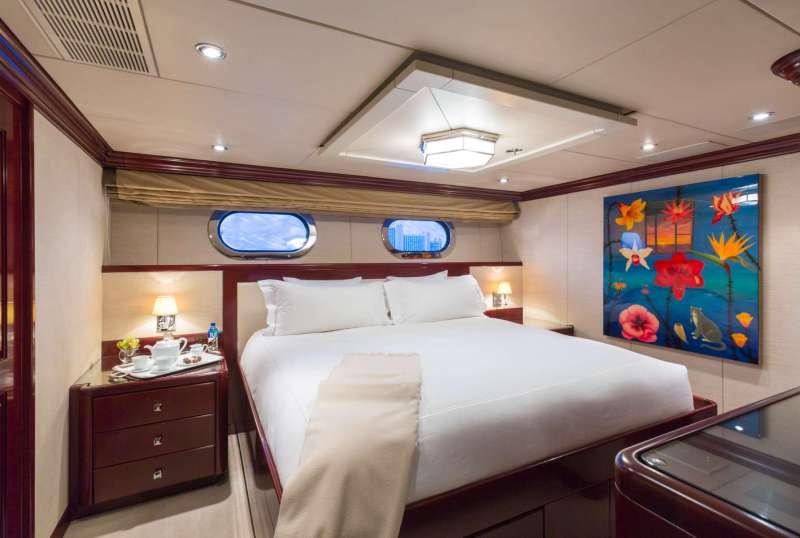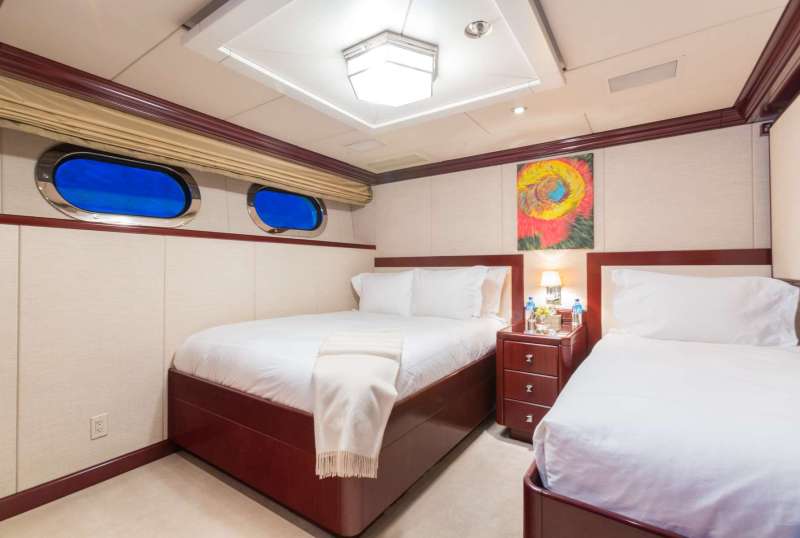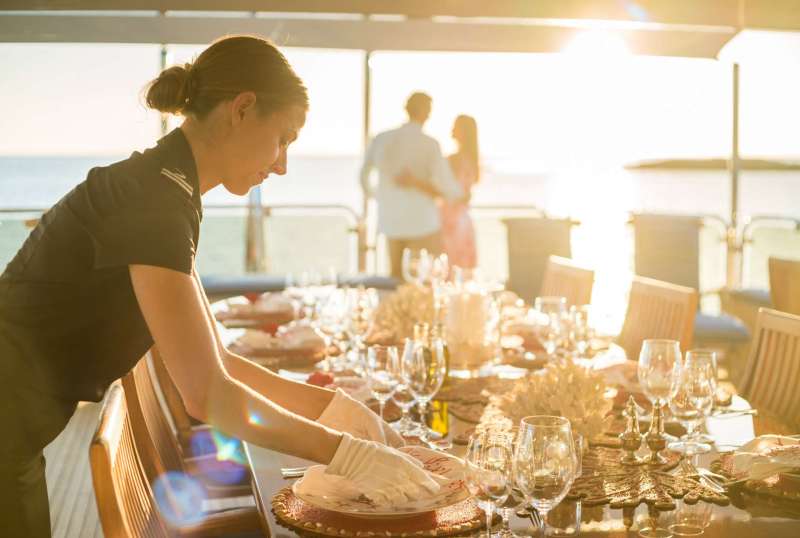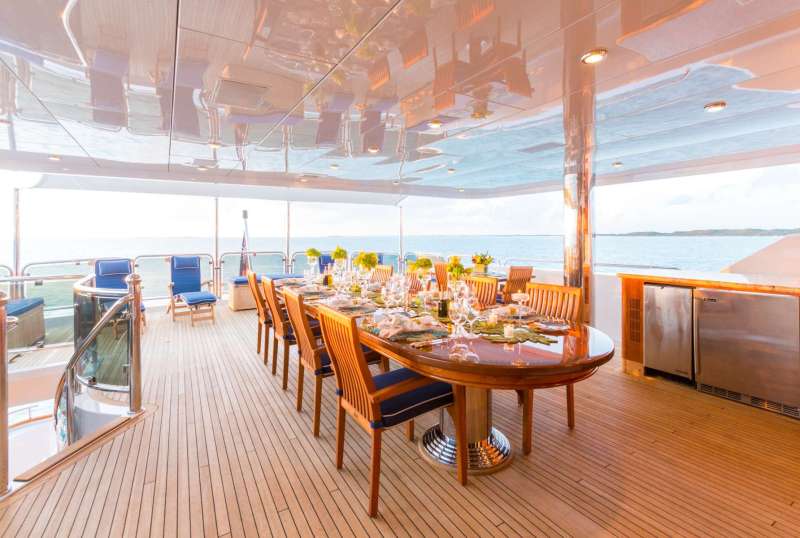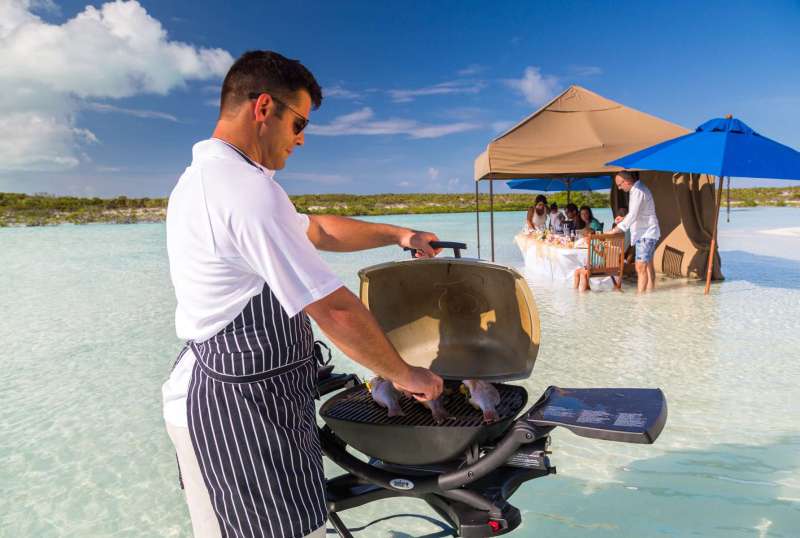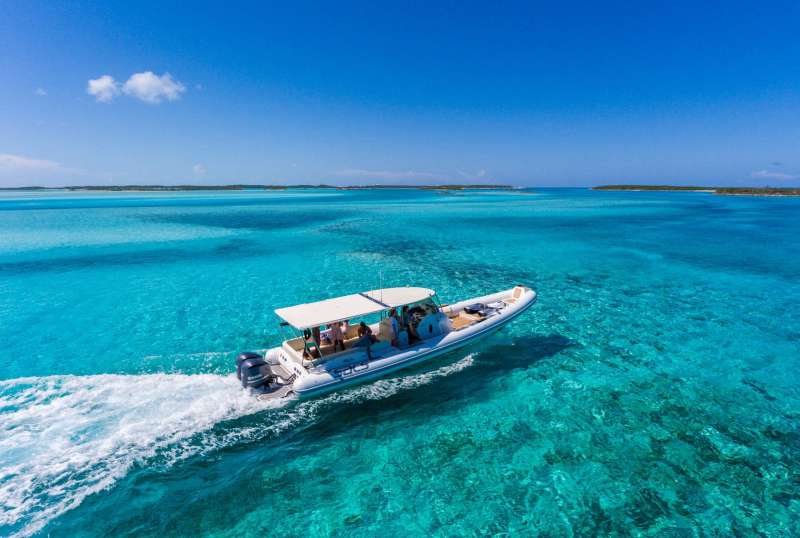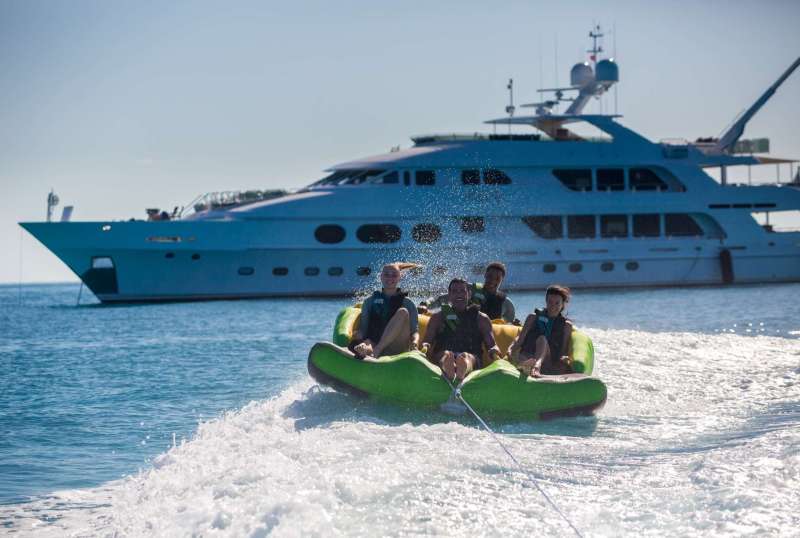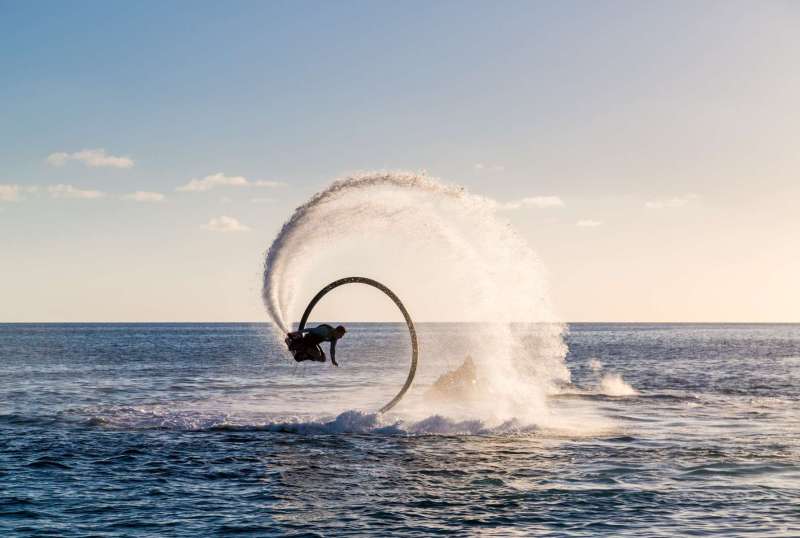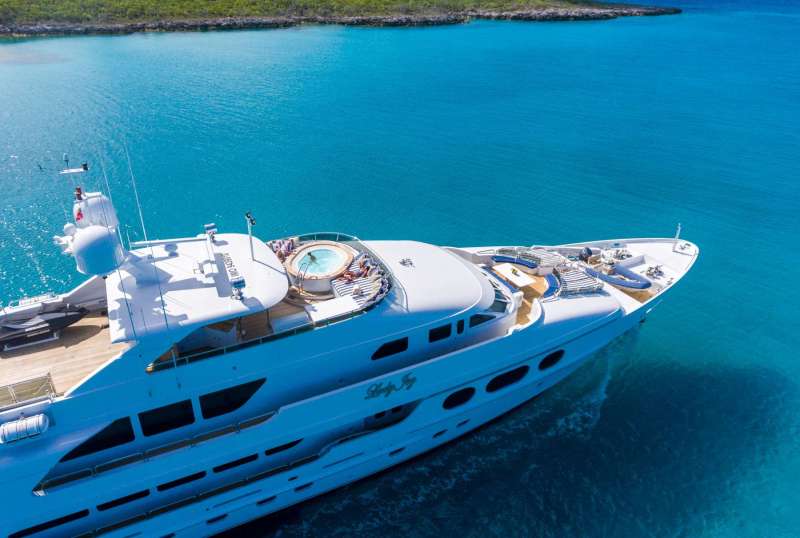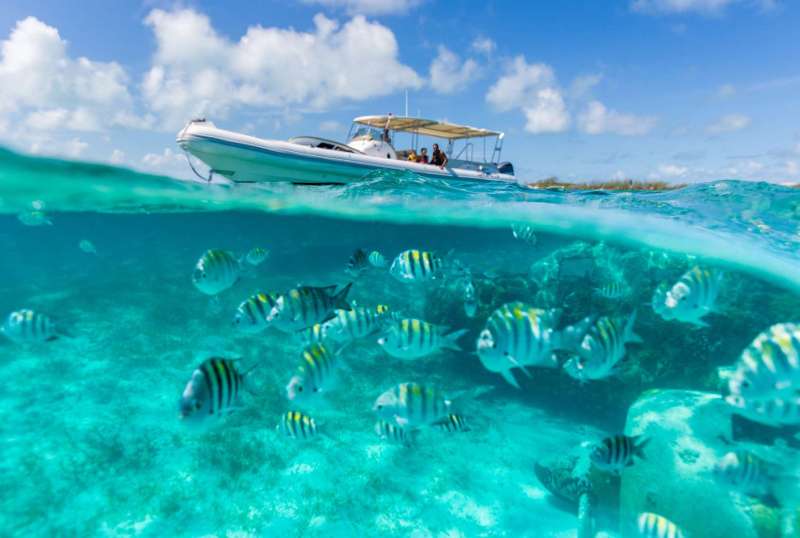 Lady Joy
From $199,000/week
6 cabins
157 ft
Christensen
12 guests
Refit: 2020
80 US Gall/Hr
2. AT LAST |145 FT
AT LAST has a crew of 8 and a lot of luxurious features, such as a sun deck with a jacuzzi, a Master stateroom with en-suite bathroom complete with a jacuzzi tub, and a separate rain shower. With the generous design to charter 11 Guests in, AT LAST is the ideal bone fishing charter. She is a perfect choice for fishing and water activities. The availability of X-Box and TVs in the lounges and suites ensure that children have entertainment options to keep them occupied onboard.
Water Toys and Amenities
AT LAST can have enough water toys to enjoy for a week charter or more: Beavertail Flat Bottom Skiff, 4 2015 Yamaha GP 1800R wave runners, 36′ Waterslide, 2 x Single Ocean Kayak, 2 Donuts, 2 SeaBobs, Hydrofoil, Slalom ski, Wakeboard, 4 Paddle boards, and Snorkeling equipment.
You don't have to wait for your turn for fun water activities, as there is more than one of each toy. Also, Marcel de Villiers, her Bosun, can teach all about water sports to the guests who don't want to go fishing.
Fishing Gear
Since larger sailing yachts like the AT LAST can't reach shallow waters, you can take the 39′ SeaVee Tender to reach shallow waters and steep reefs. The vessel has assorted fishing gears, rods, and deep-sea fishing gear. Also, Captain Cam can give fishing tips while the experienced chef can whip up a meal from your catch.
GUEST EXPERIENCE:
"We had an AMAZING time! Captain Cam and the whole crew were all FABULOUS. So calm, cool, and welcoming. Incredible service, great food, fabulous water toys. We enjoyed every minute. Would recommend it highly and we hope to Yacht again in the future. What a treat."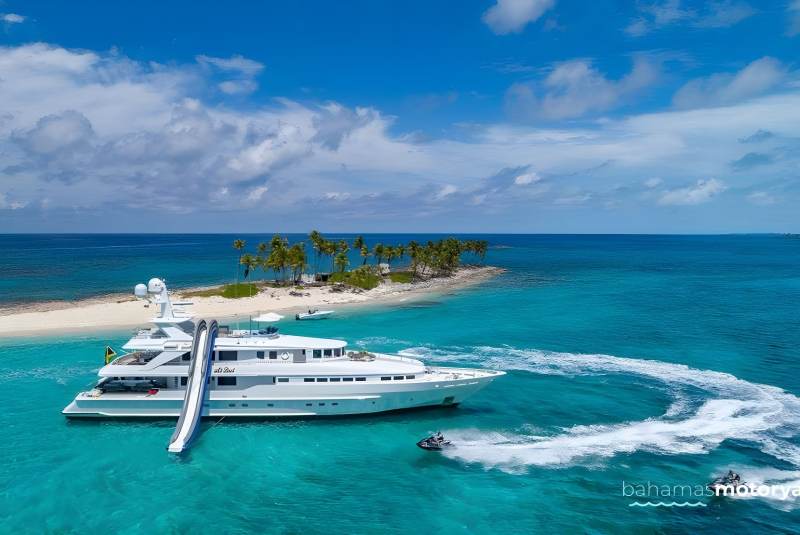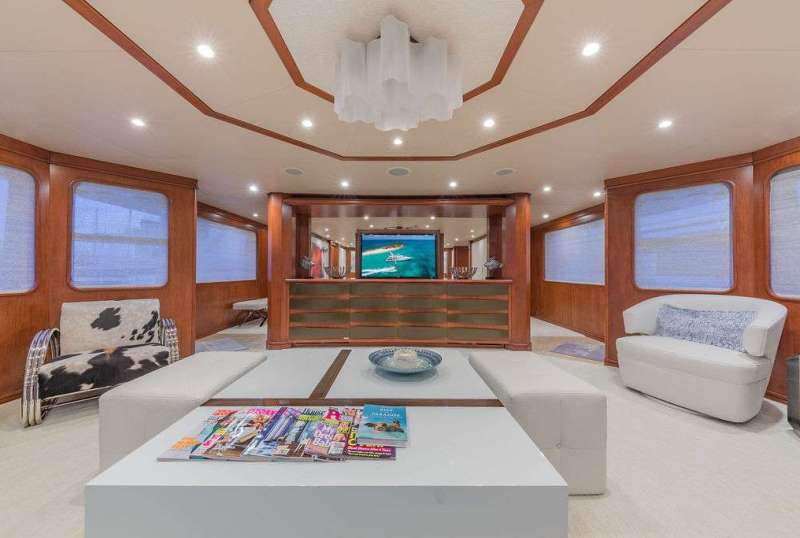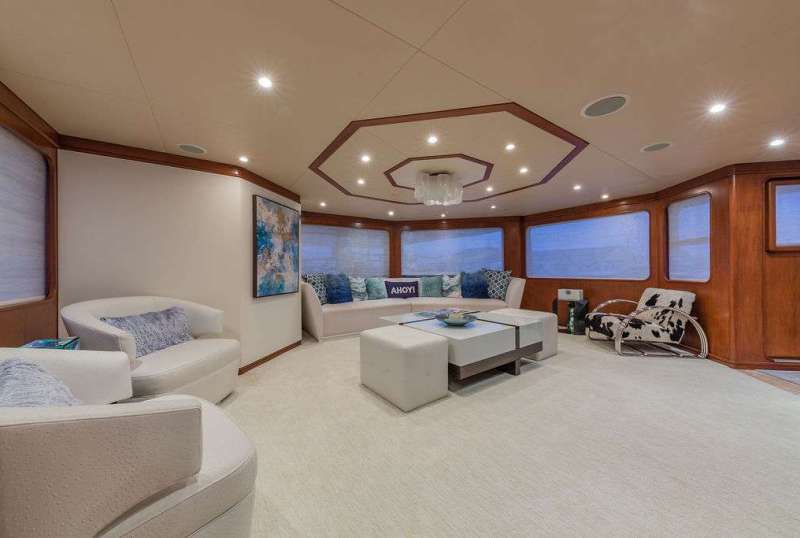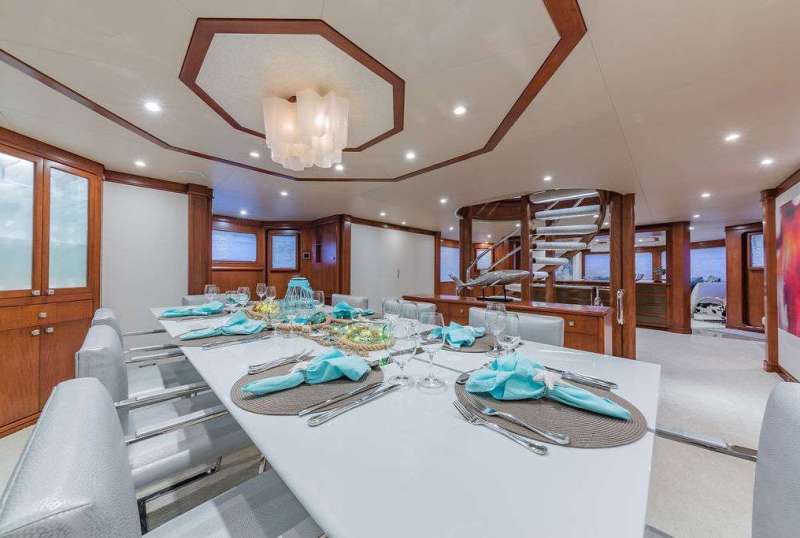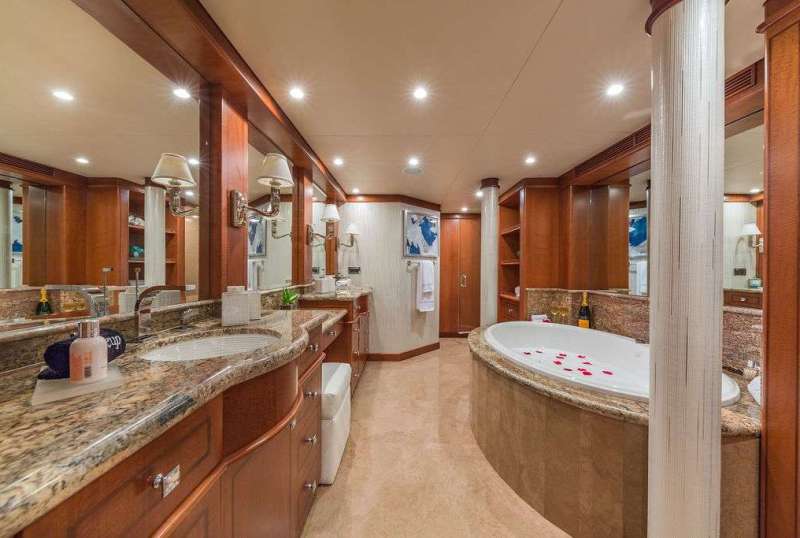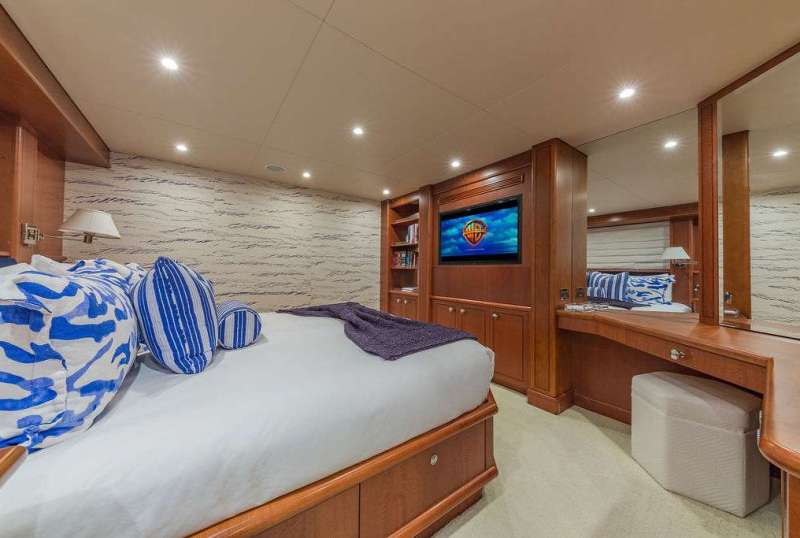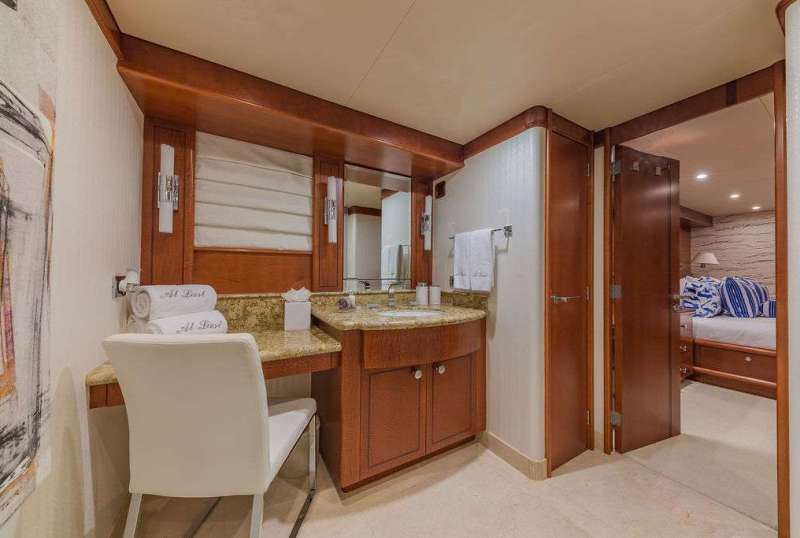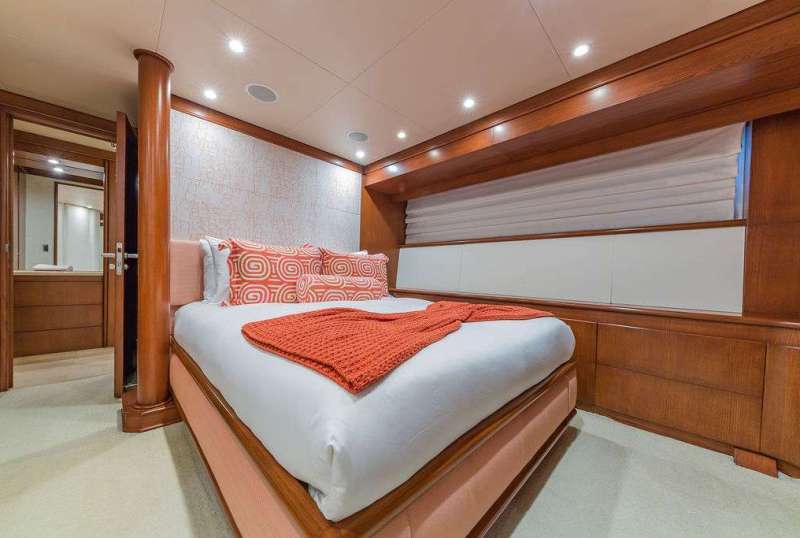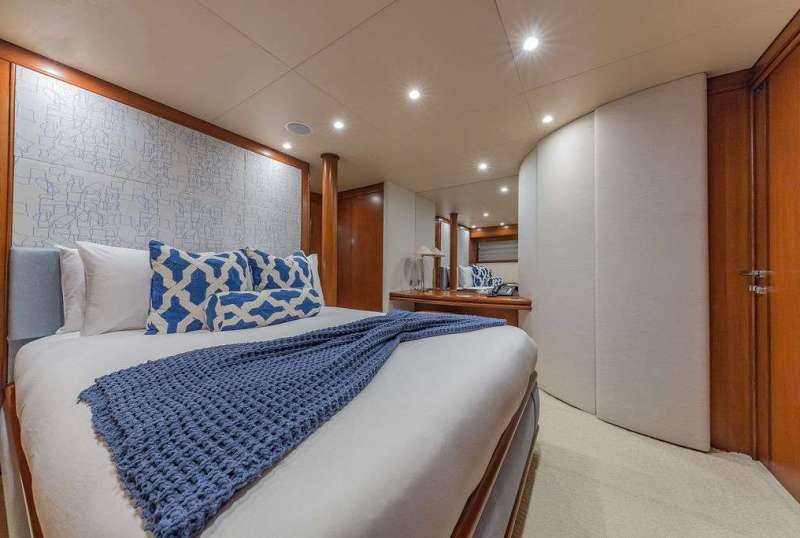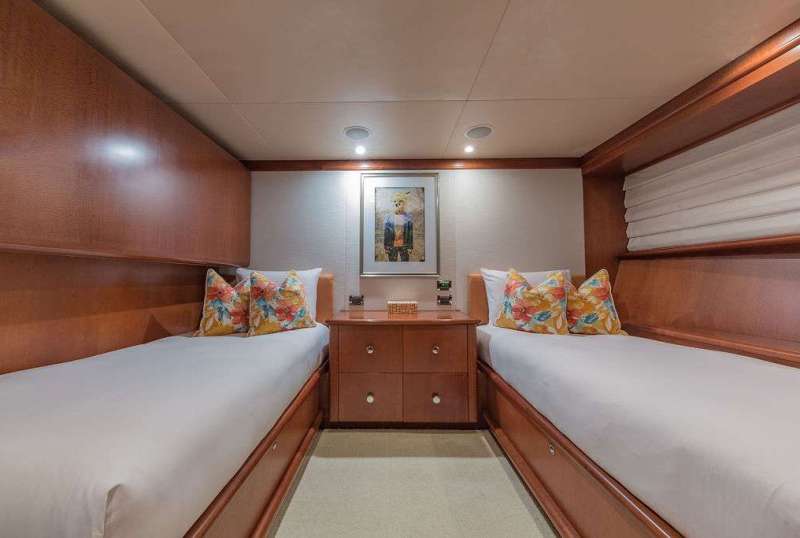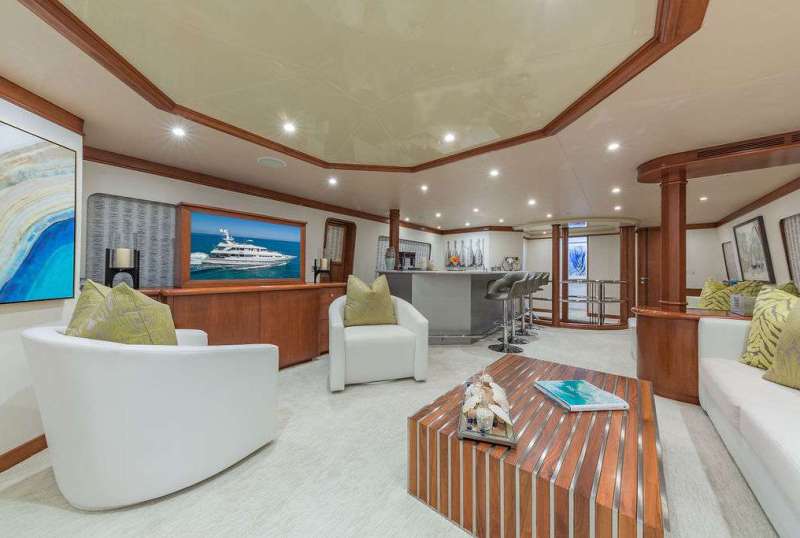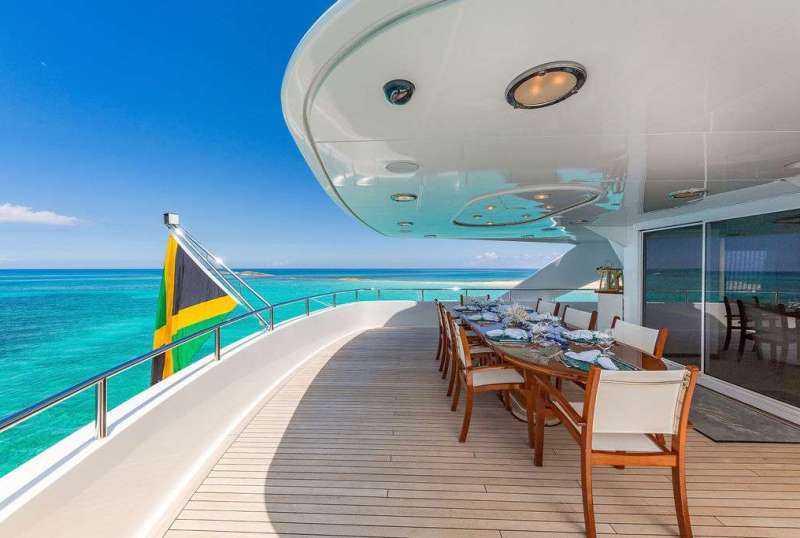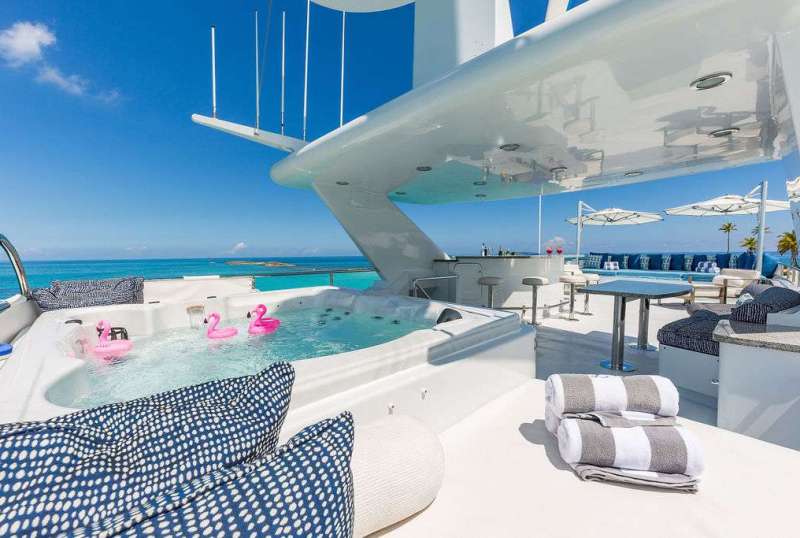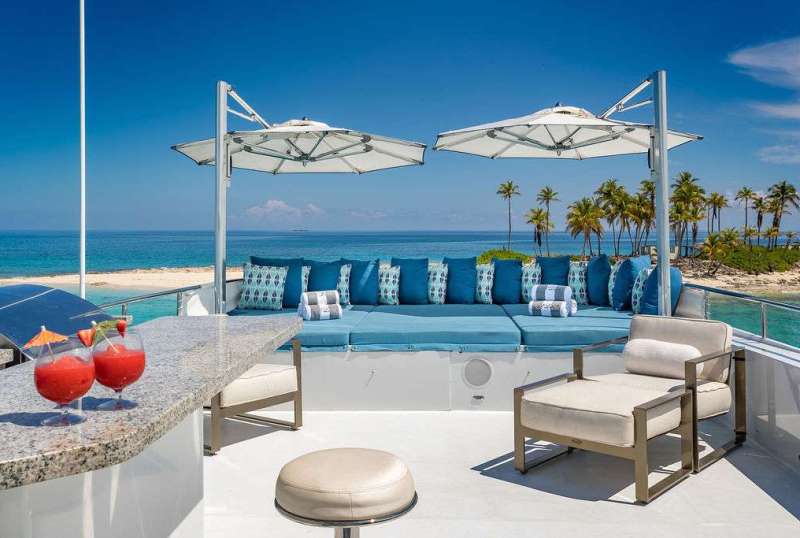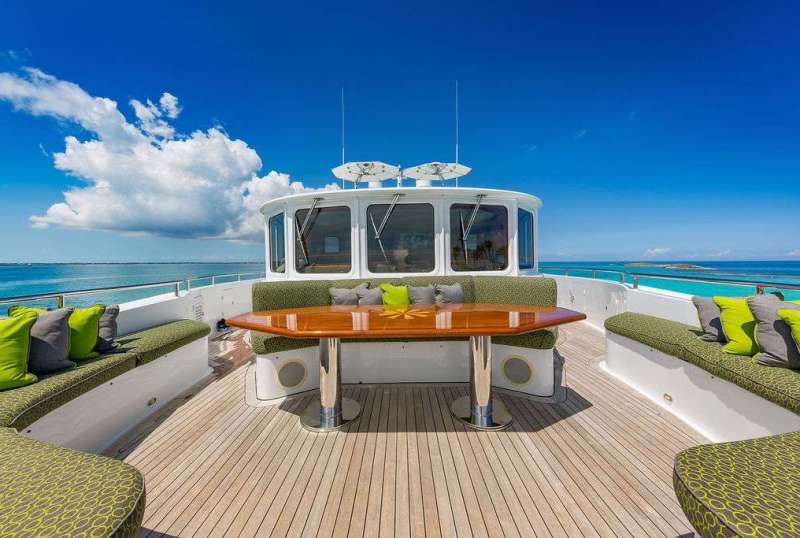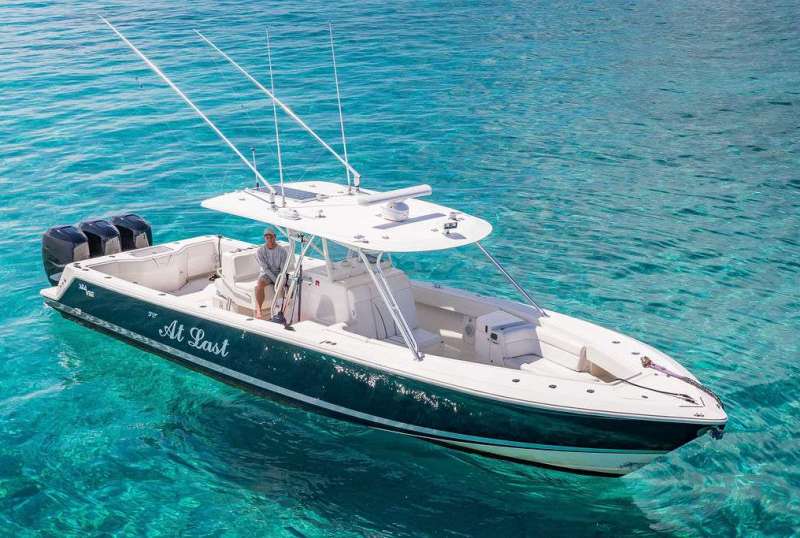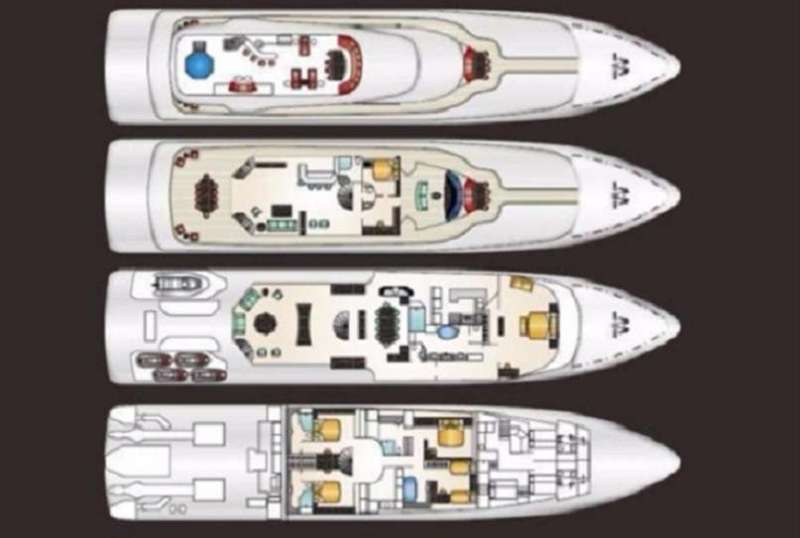 AT LAST
From $125,000/week
5 cabins
145 ft
Heesen
11 guests
Refit: 2017
100 US Gall/Hr
3. RELENTLESS |145 FT
Unlike other yacht charters, RELENTLESS operates from the Bahamas and the USA's Florida East Coast during winter, offering the guests a unique and diverse charter experience. Her five luxurious rooms are designed to accommodate 10 guests in utmost comfort. The expansive dining and lounging spaces provide the perfect setting for socializing and relaxation.
Experience the ultimate outdoor living on RELENTLESS's reconfigured flybridge, featuring a brand-new jacuzzi, wraparound sun beds, comfortable lounging furniture, and a sit-down bar. Guests can maintain their fitness routine in the onboard gym equipped with a treadmill and free weights. The crewed charter specializes in theme nights upon request, creating unforgettable memories. Upon proper permission from the Bahaman authorities, they can arrange spectacular fireworks displays for those special occasions.
Water Toys and Amenities
RELENTLESS has an impressive collection of water sports equipment, such as a Novurania Rigid Inflatable Dive/Water ski tender powered by a 115hp OB motor, Yamaha Wave Runners, wakeboards, slalom ski, water ski, kayaks, paddle boards, kneeboards, and tubes. Relax and unwind with onboard inflatable pool loungers, perfect for soaking up the sun.
Her crew can also set up a beach BBQ, allowing you to savor delicious meals by the shore. Unlike many Bahamas yacht charters, guests can take a scenic ride on a bike by the shore. They can dive into the vibrant underwater world with modern snorkeling gear- available for adults and children.
Fishing Gear
The 32′ Vantage Boston Whaler tender dinghy allows fishers to access remote spots like Eleuthera and enjoy thrilling Marlin chase. The boat charter provides fishing tackle, deep-sea gear, and fishing rods.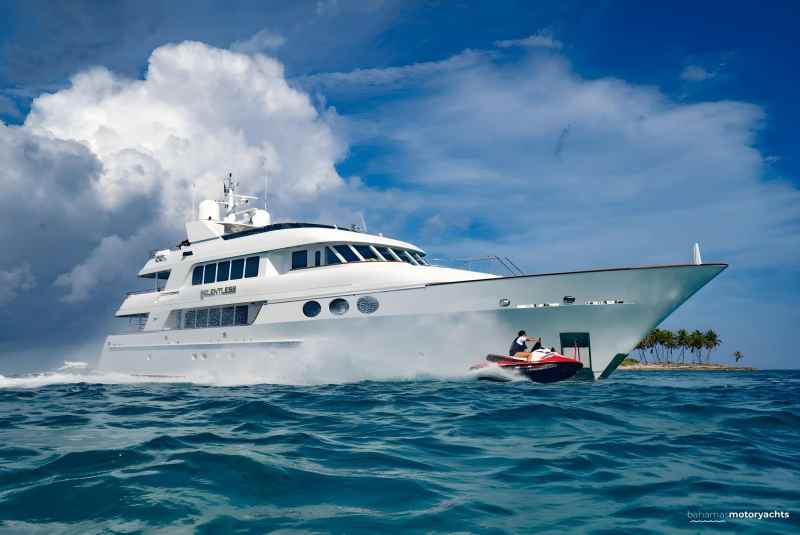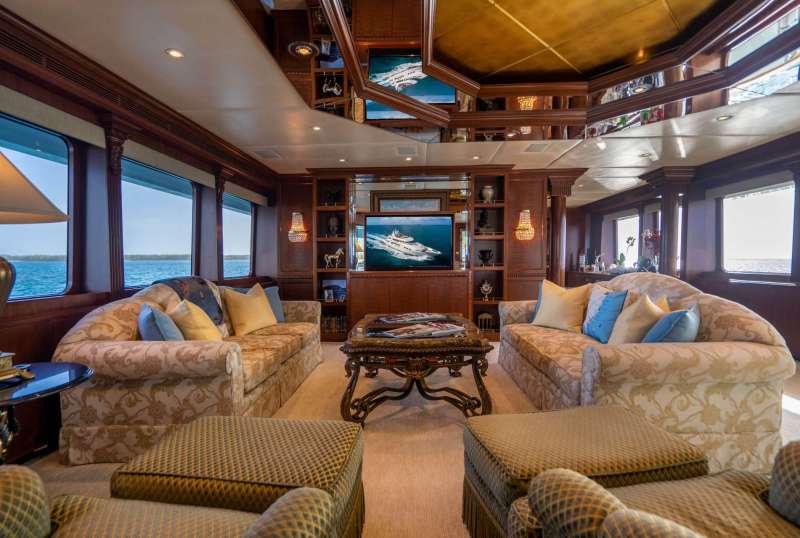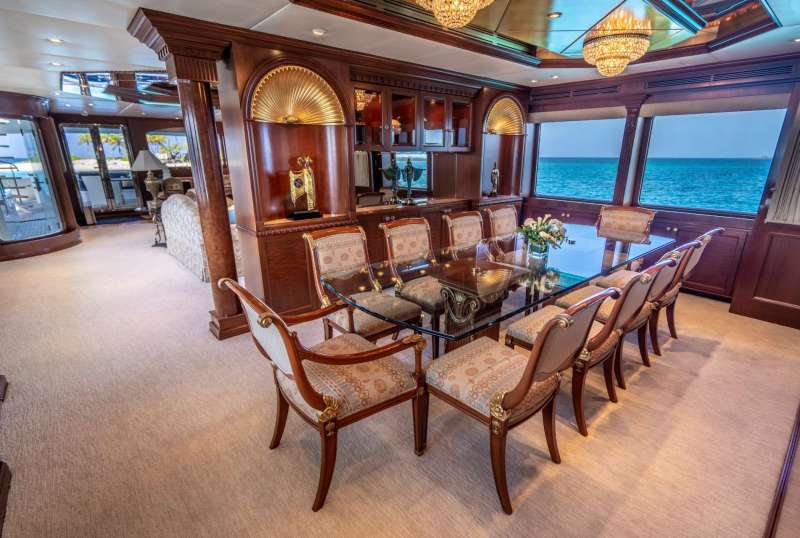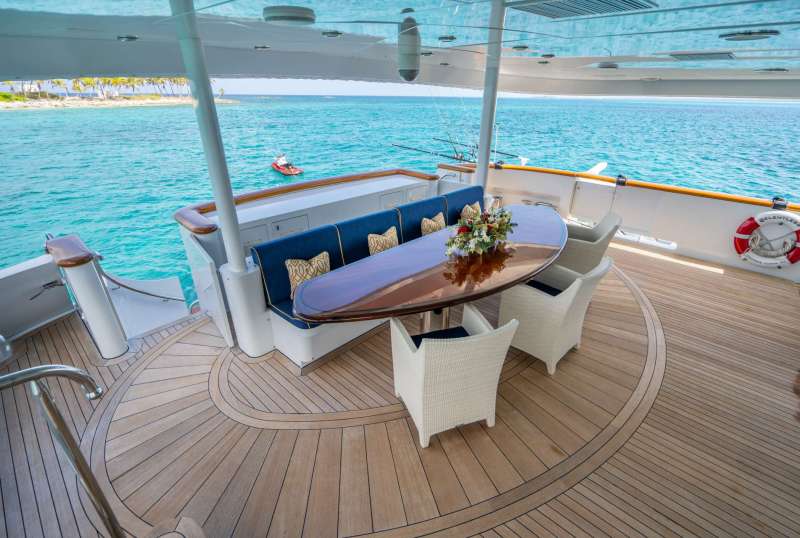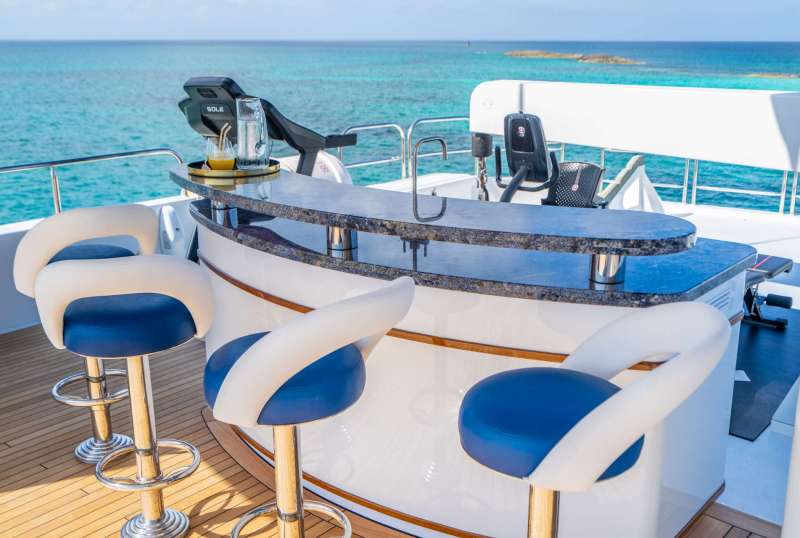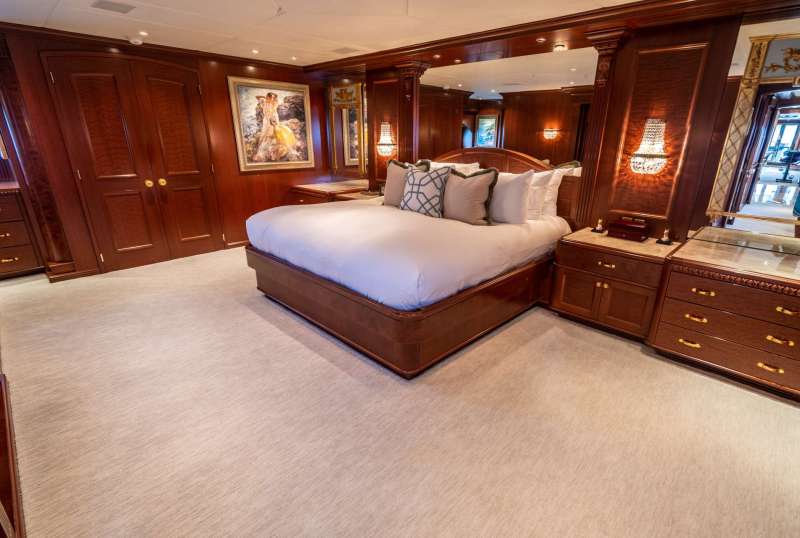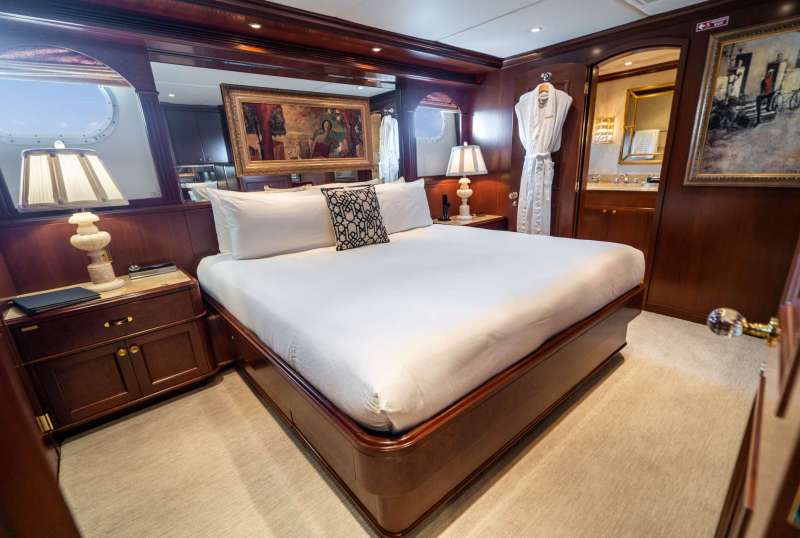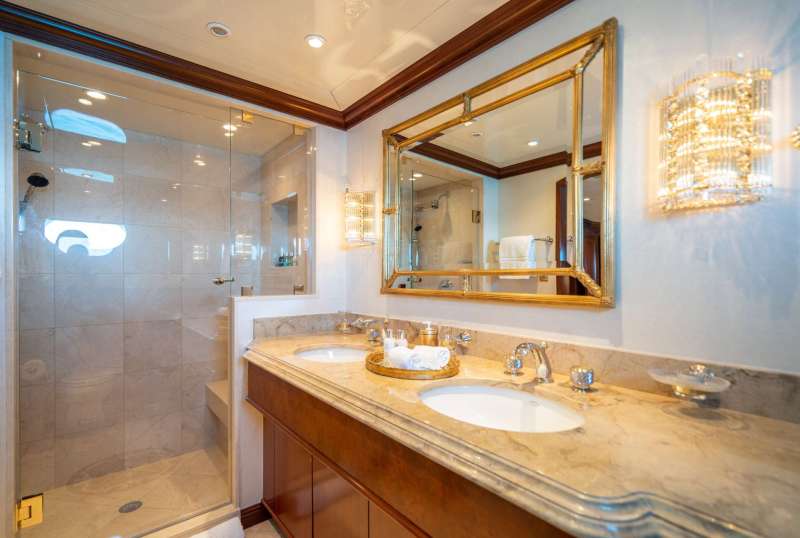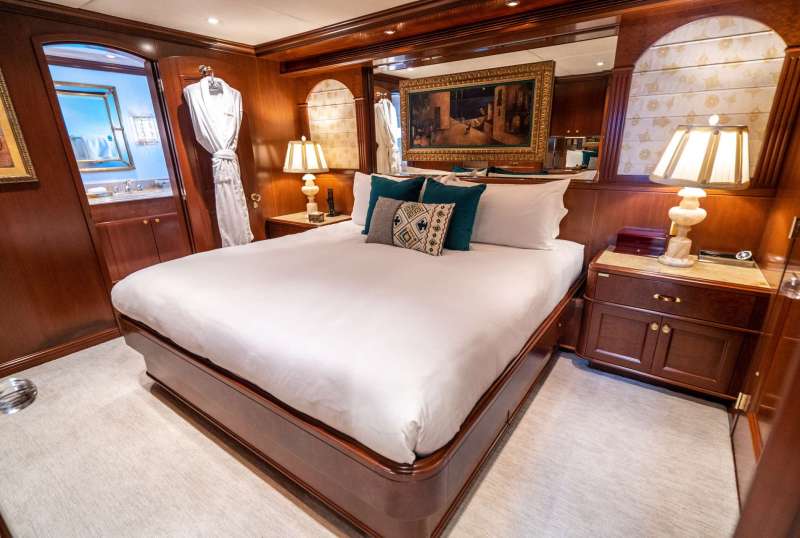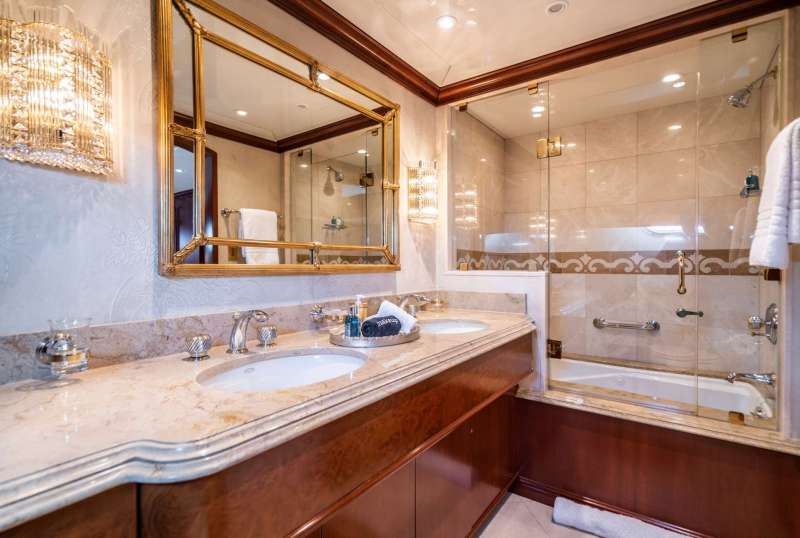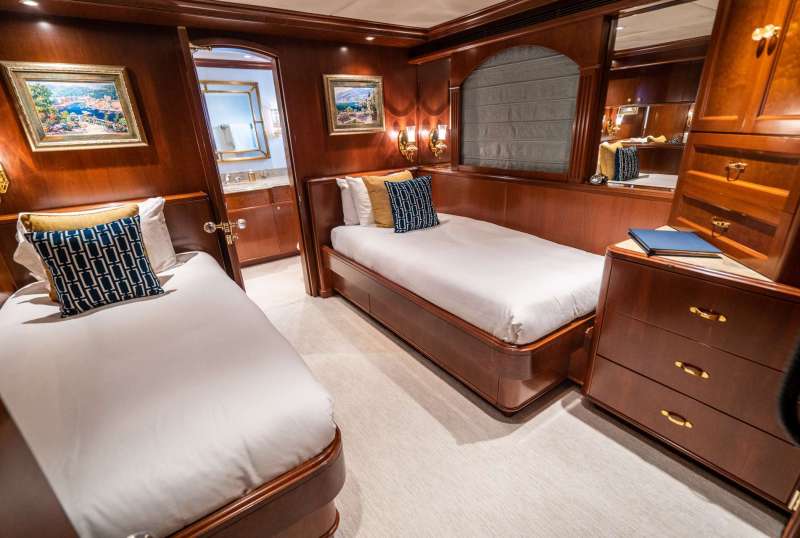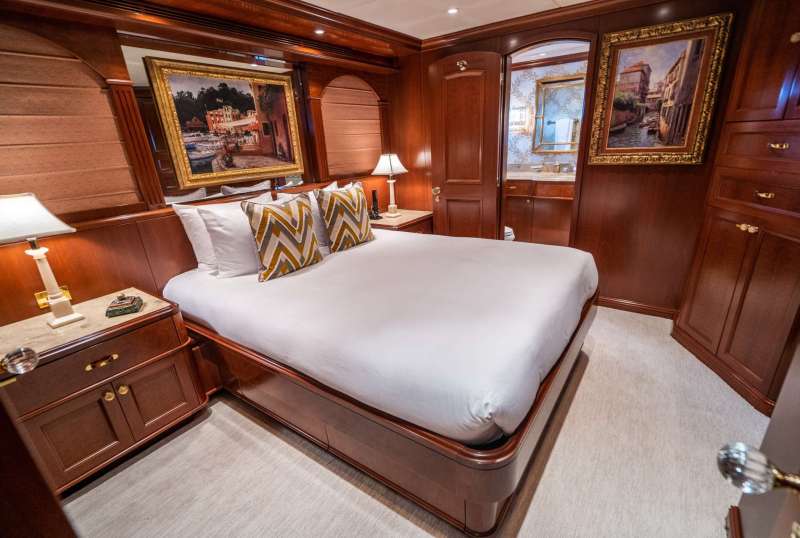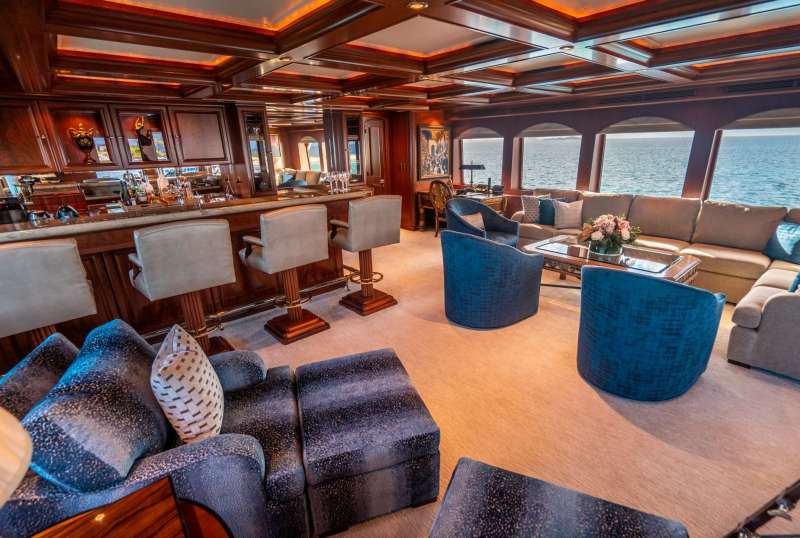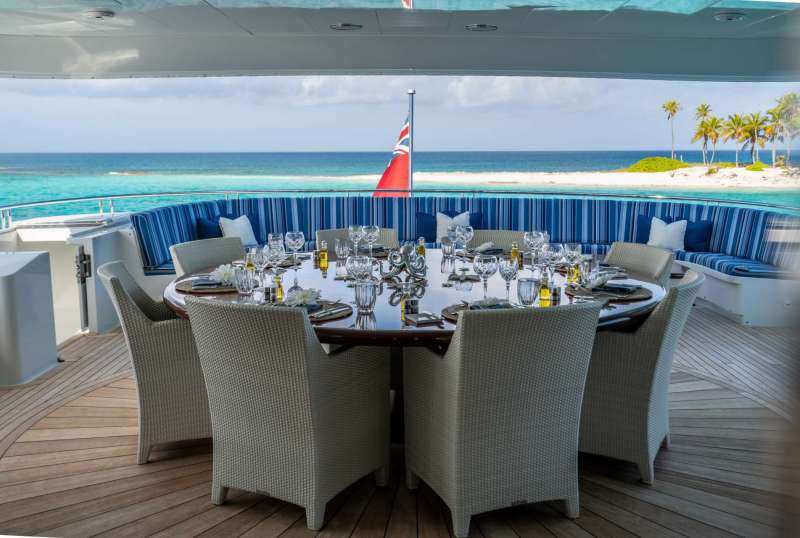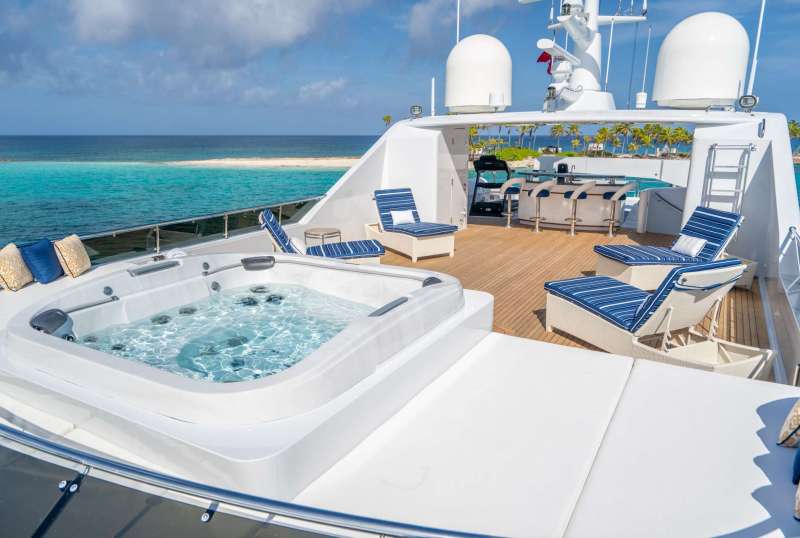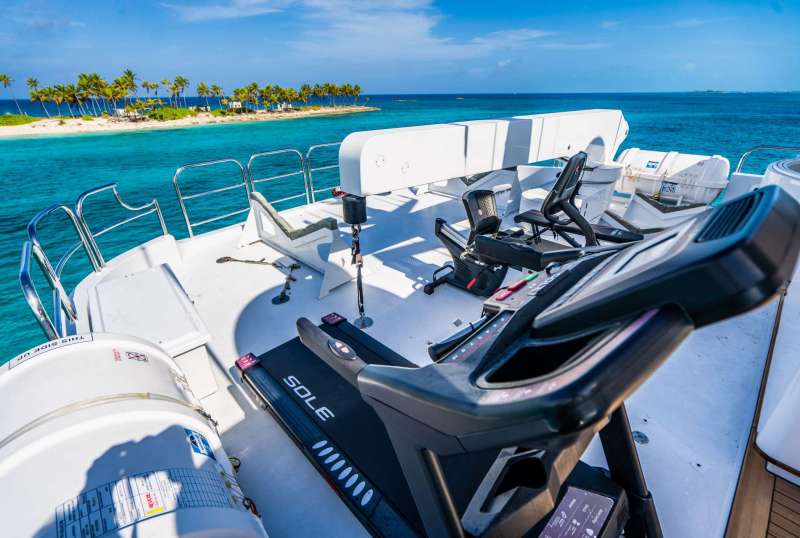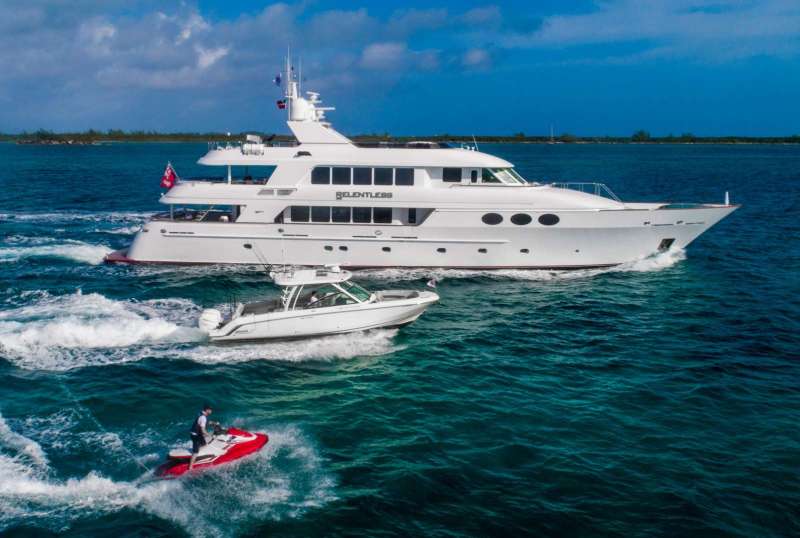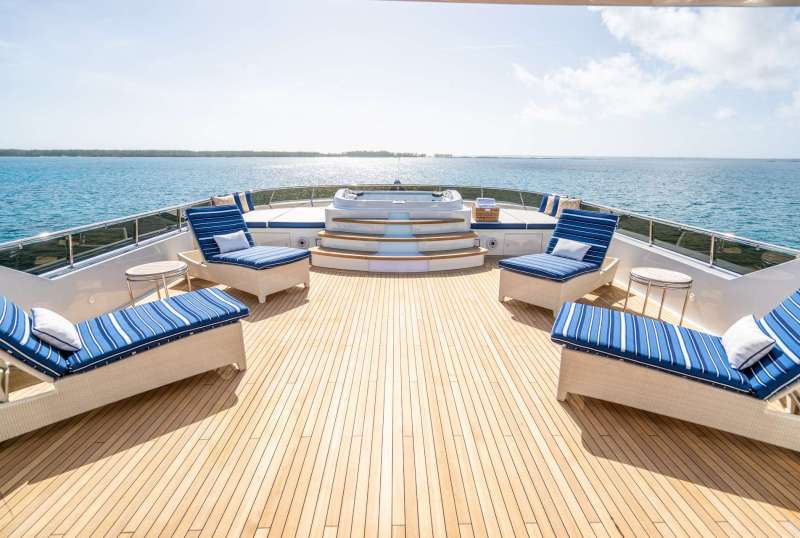 RELENTLESS
From $150,000/week
5 cabins
145 ft
Trinity
10 guests
Refit: 2019
100 US Gall/Hr
4. ACACIA| 131 FT
ACACIA is the perfect yacht charter for families with children wanting to enjoy fishing and water sports together safely, with a capacity for 10 guests. You can immerse yourself in the Jacuzzi's soothing bubbles, savor cocktails at the sit-up bar, bask in the sun on the comfortable sun pads, or stay active with the fitness equipment and a refreshing cooling misting system.
Dine al fresco in style on the upper deck aft, enjoying delectable meals surrounded by breathtaking 360 degrees ocean views. Popular streaming services, such as Netflix, HBO Max, and Disney+, ensure endless entertainment options for kids, along with the media experience with the Crestron Media & Kaleidescape systems.
The board and card games collection, poker chip set, a Nintendo Switch with docking stations, and various popular games for up to four players make the charter enjoyable at night. Also, for kids younger than 7 years, there are arts, crafts, and coloring book packages to keep them occupied. Your family can also enjoy the beach while you go Marlin fishing as the charter can set up camp with two 10×10 Gybe inflatable tents and a Neso tent.
Water Toys and Amenities
ACACIA is the best among the Bahamas yacht charter for water toys which includes the Lift Foils E3 Cruiser 5'4 and E3 Sport 4'9 with a variety of wings and extra batteries, Yamaha Wave runner, SeaBob Cayago F5S, Bote 11'6″ Hd Aero Classic Inflatable SUPs for paddleboarding, a Bote Zeppelin Tandem Kayak, and a range of helmets and personal flotation devices (PFDs) in sizes for both children and adults to ensure safety and comfort throughout the water adventures. Capture the mesmerizing underwater world with her cutting-edge equipment, such as the Mini Submersible Drone, GoPro Hero10, and Olympus underwater camera, ensuring breathtaking images of the marine wonders you encounter during your yacht charter.
Fishing Gear
For the ultimate fishing expedition, ACACIA features eight Shimano fishing reels paired with high-performance plasma rods, ensuring precision and power for every angler. The specialized children's fishing gear allows young adventurers to join in on the excitement and create lasting memories of reeling in their first catch on Paradise Island.
The 35′ Scout tender, boasting a powerful 900hp from three Yamaha 300 engines, offers unmatched speed and comfort for fishing Marlins and other sporty fishes. For swift and agile exploration for water activities or island hopping, the 19′ Williams SportJet tender can serve guests who will avoid fishing.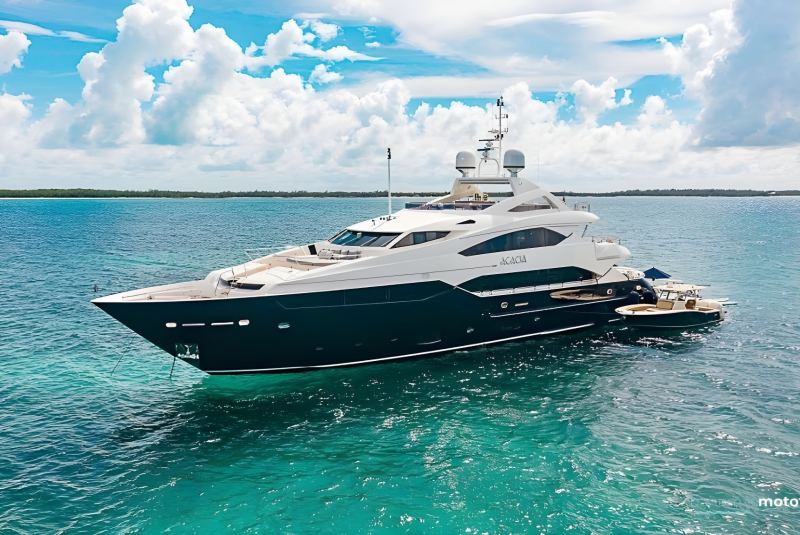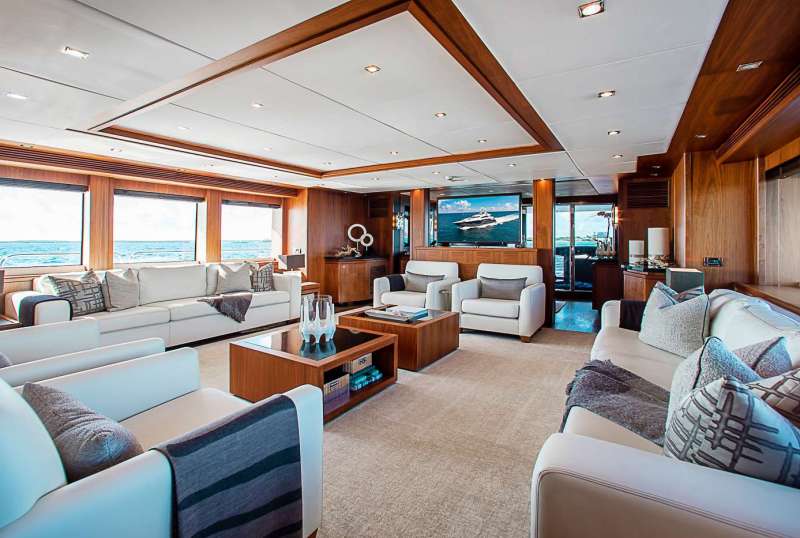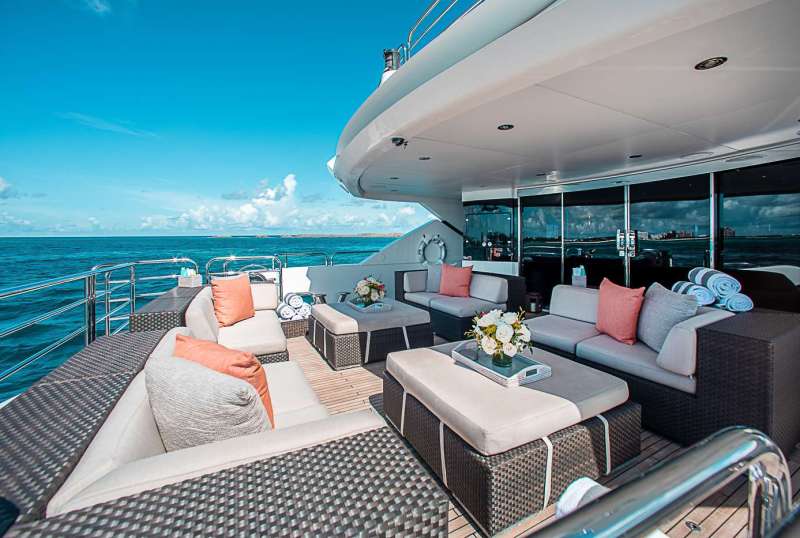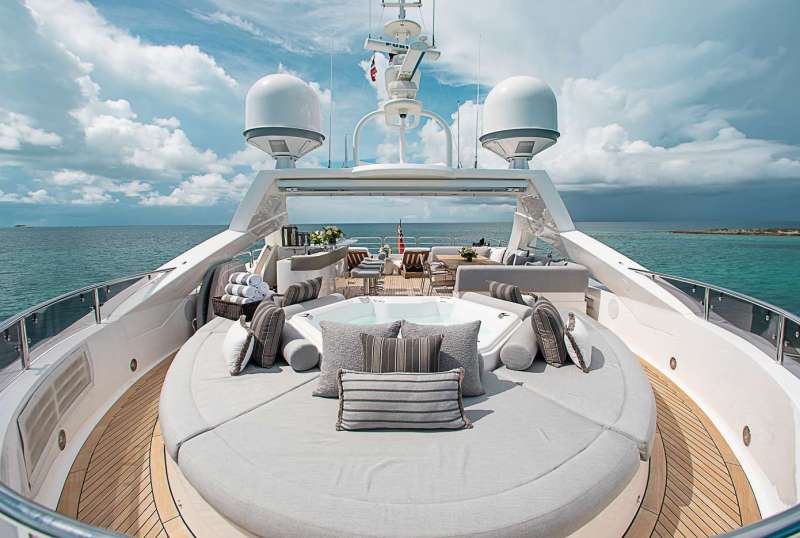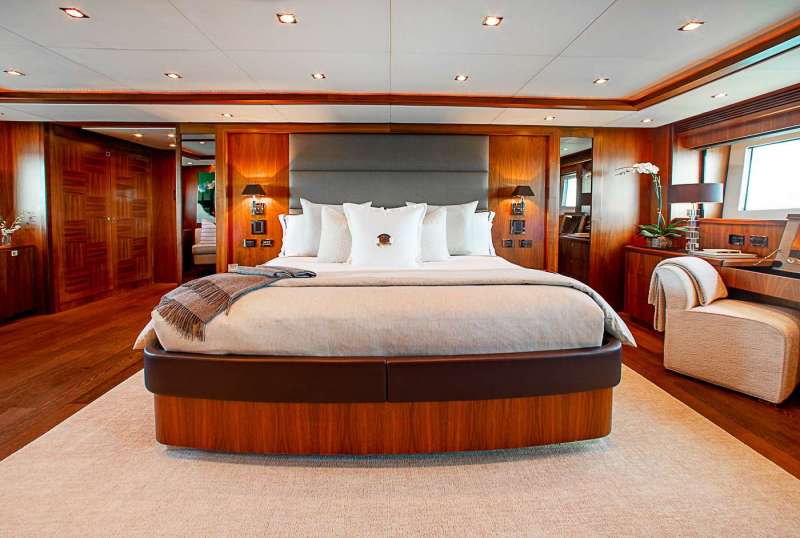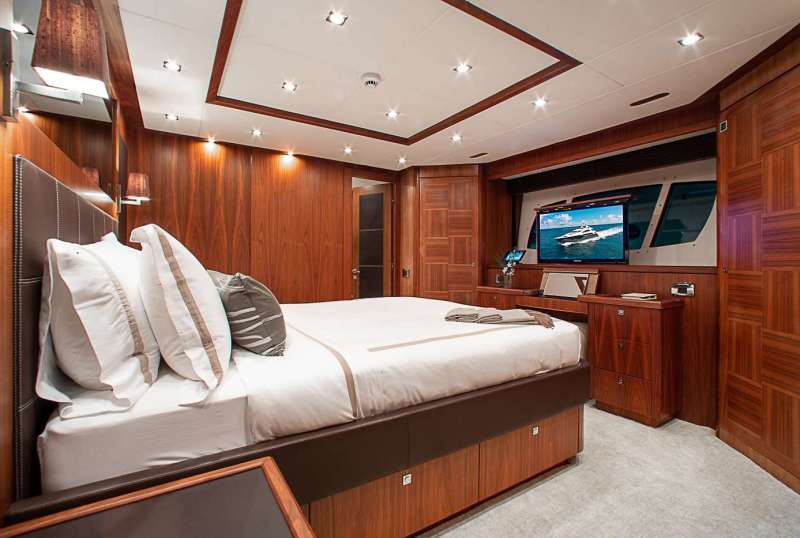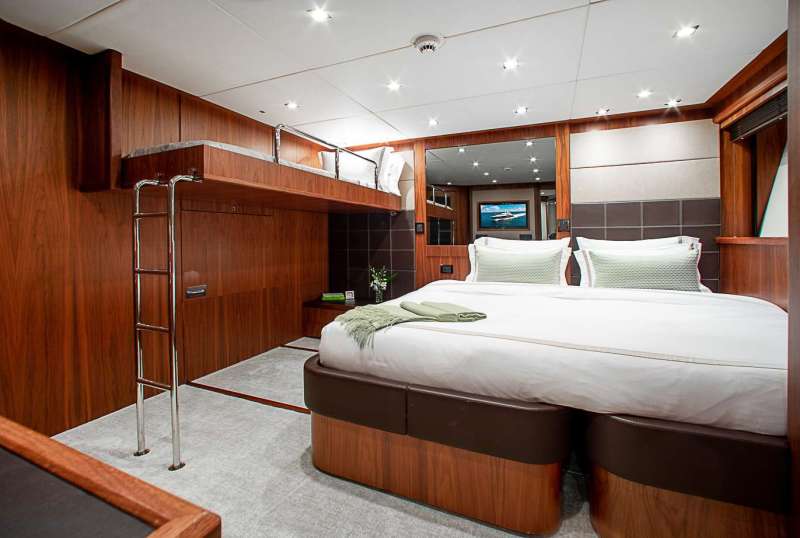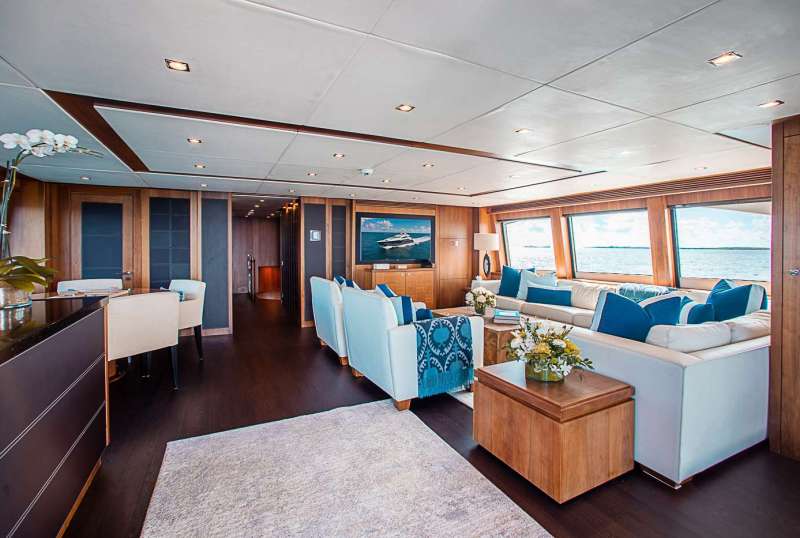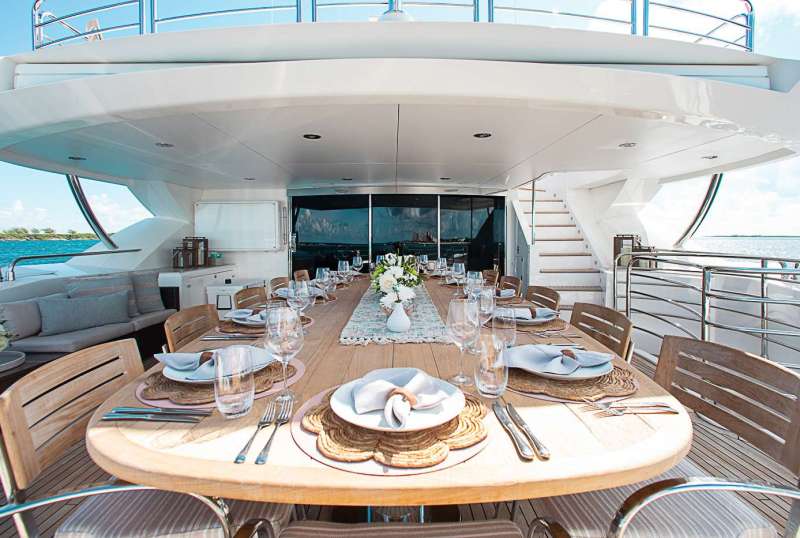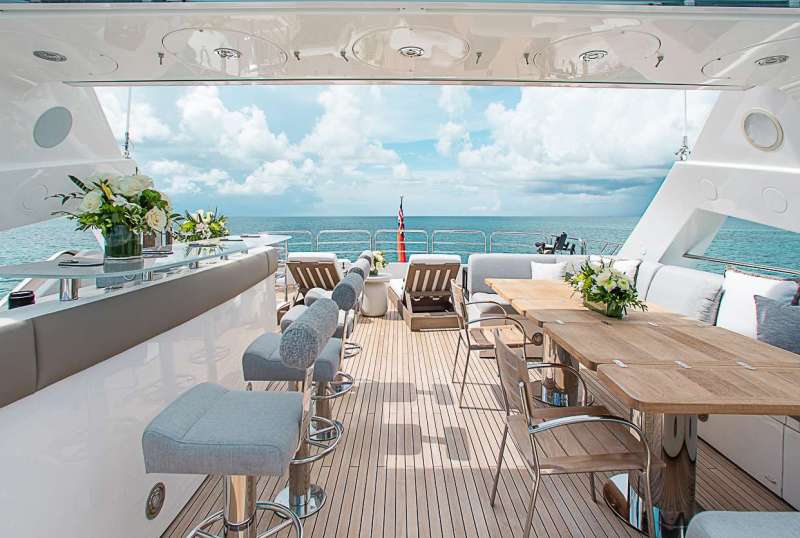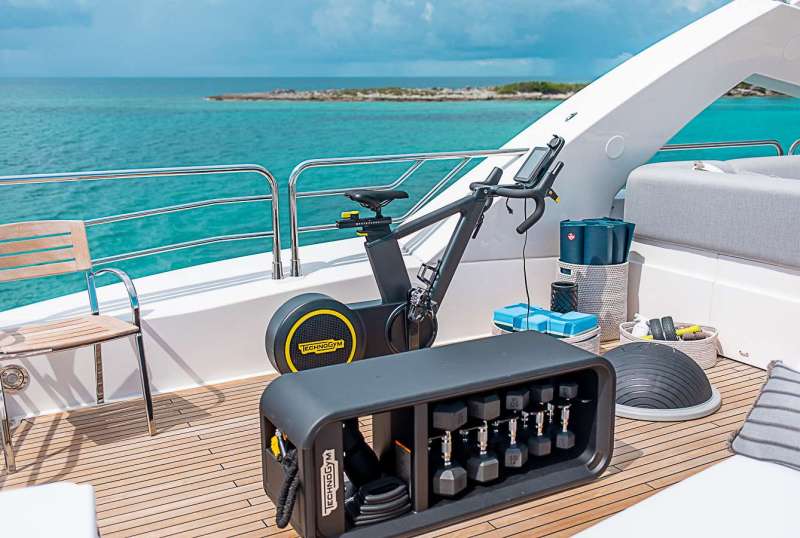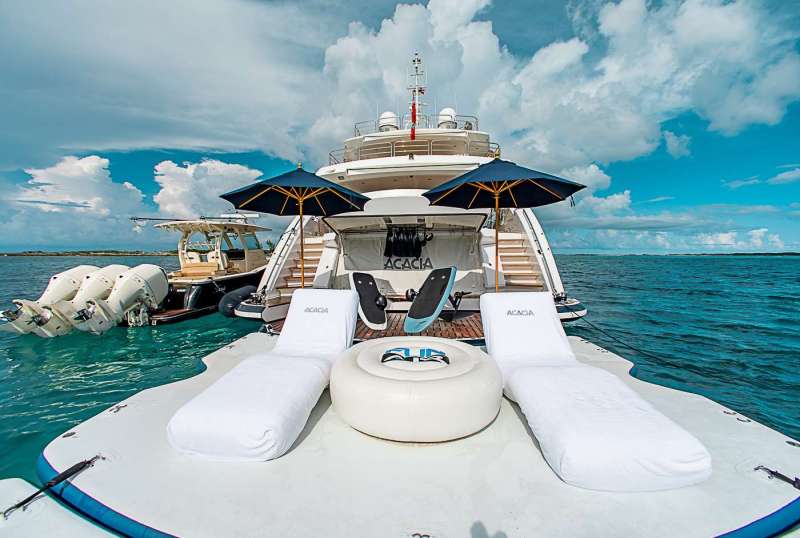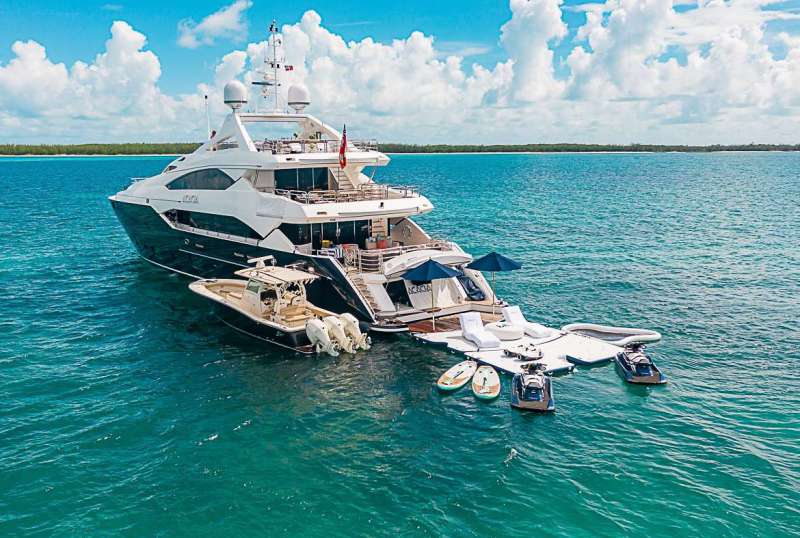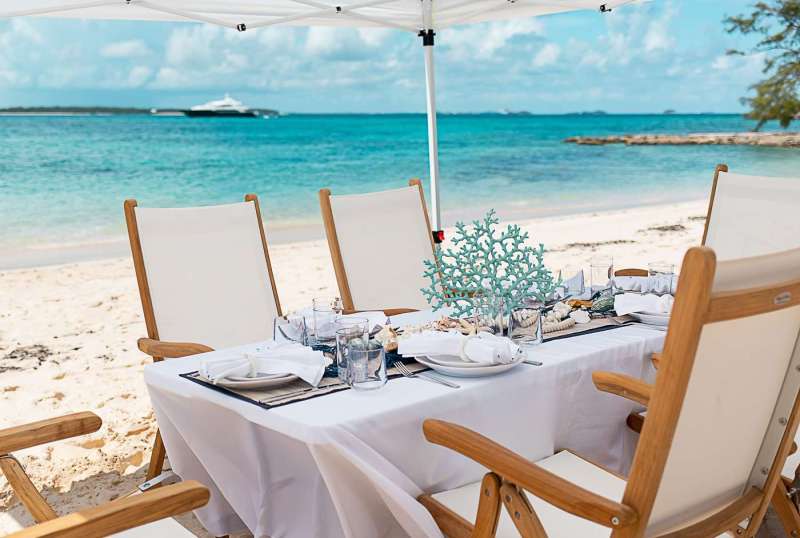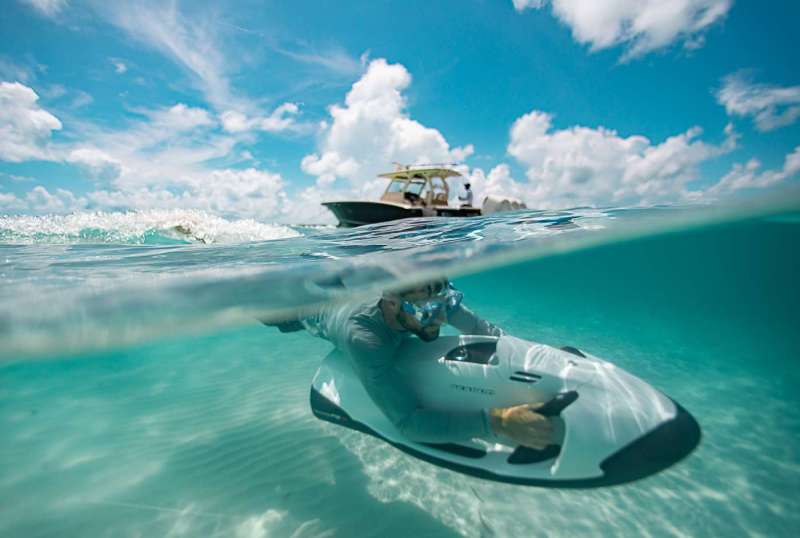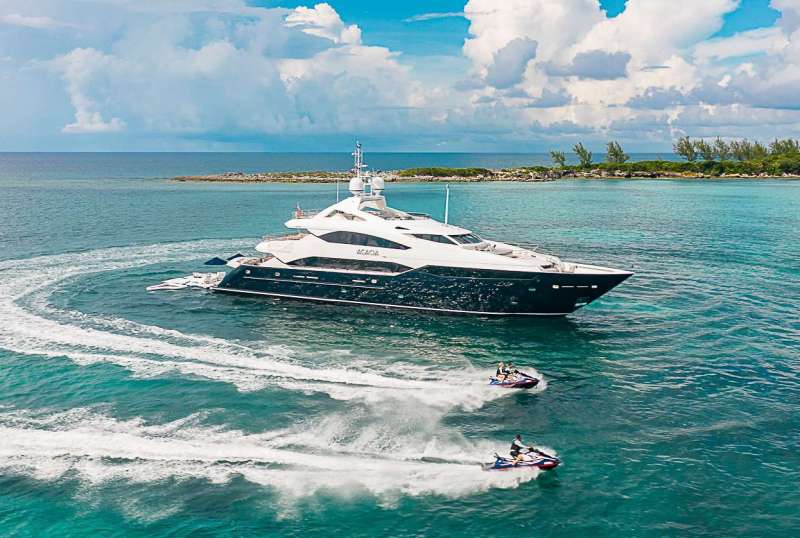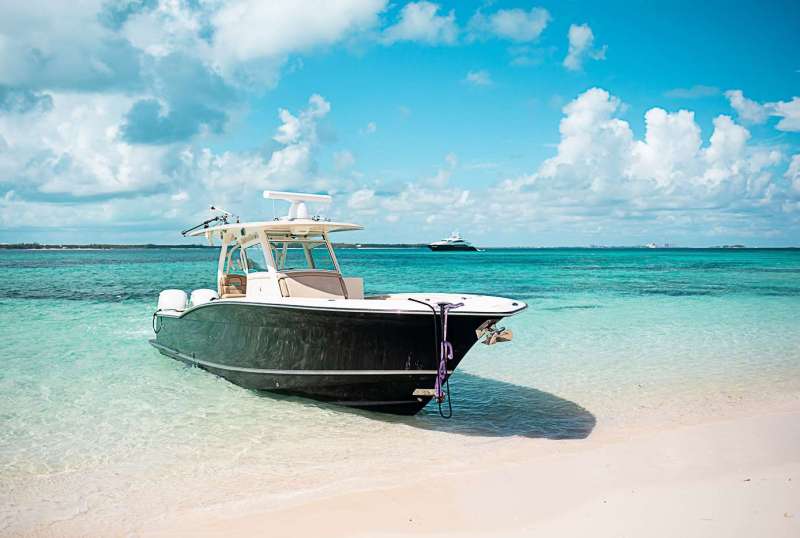 ACACIA
From $140,000/week
5 cabins
131 ft
Sunseeker
10 guests
Refit: 2022
5. OCULUS| 128 FT
OCULUS is perfect for Marlin fishing and provides comfort onboard as the yacht accommodates up to 10 guests . The onboard jacuzzi can refresh you after a long day of fishing exploration or water sports. Whether you prefer strength training or yoga sessions, the onboard gym have you covered.
OCULUS has family-friendly water toys and entertainment facilities in every suite and common area. Also, her crew members can help guests celebrate special occasions such as birthdays, anniversaries, or weddings. Perfect for Marlin fishing.
Water Toys and Amenities
Gear up for endless water fun with 3 Seadoo Spark Jetskis, a water slide, Seabob, a swimming platform, a rock climbing wall, snorkeling gear, kite surfing gear for low/high wind, a wakeboard, waterskis, a tube, surfboards, 4 inflatable paddleboards, and a giant 7-person inflatable paddleboard.
Fishing Gear
With an extensive collection of fishing equipment, including spearfishing gear, and the 37′ Axopar Sun Top (2020), you can easily try all three types of Bahamian fishing with OCULUS. The experienced crew can guide you at South Andros Island chains for spearfishing.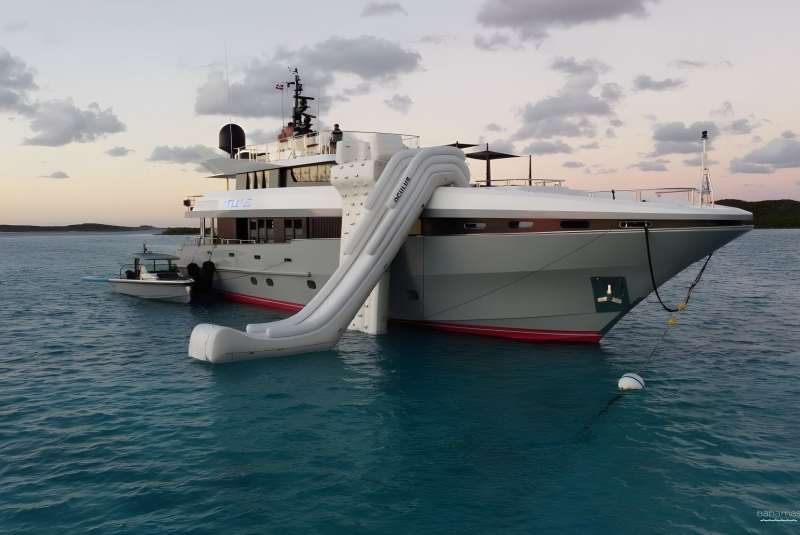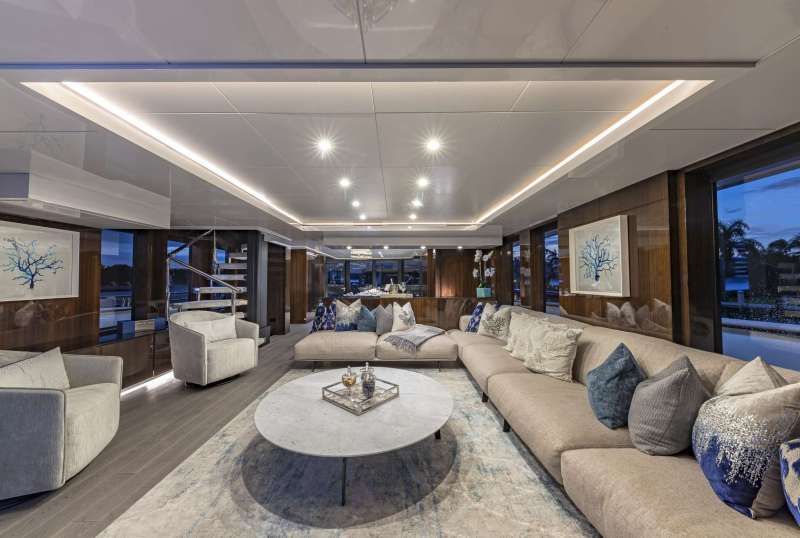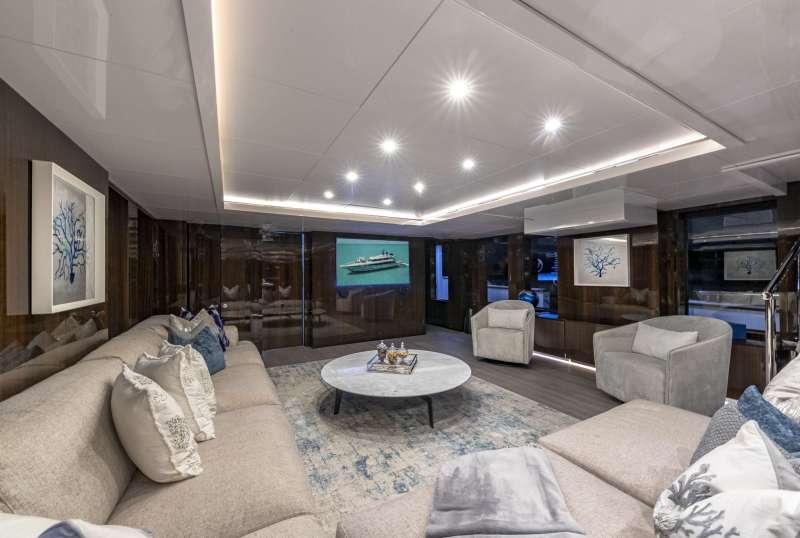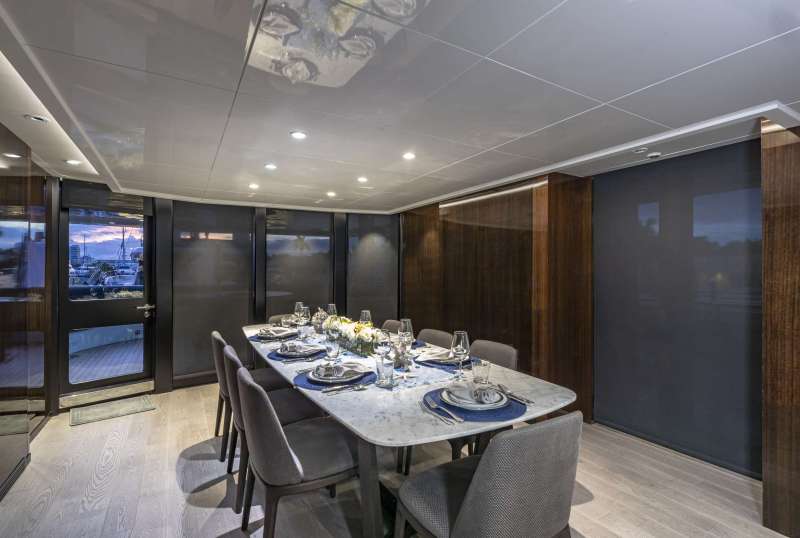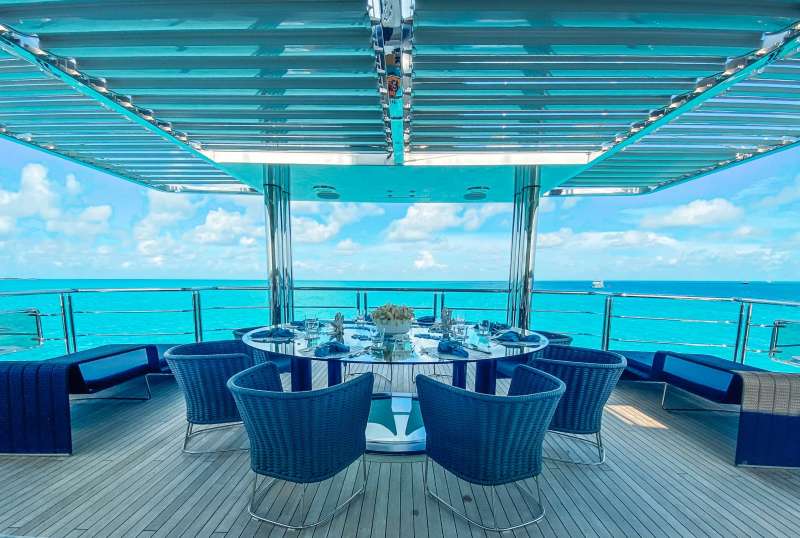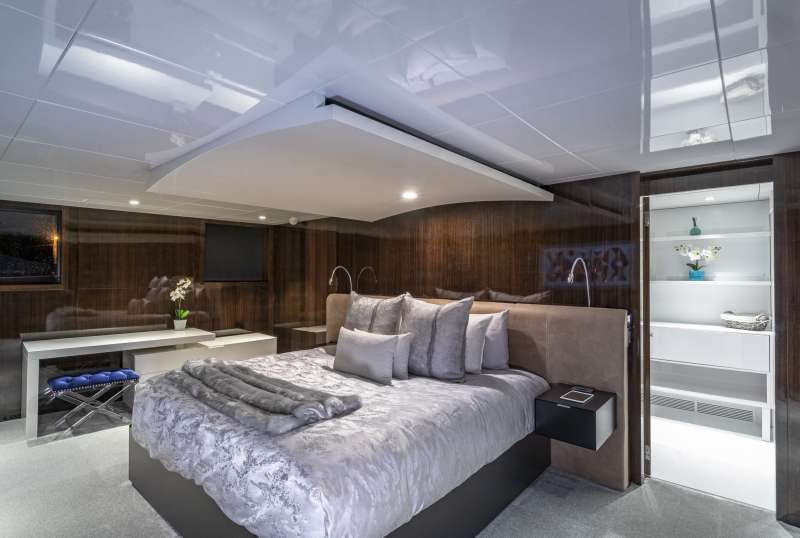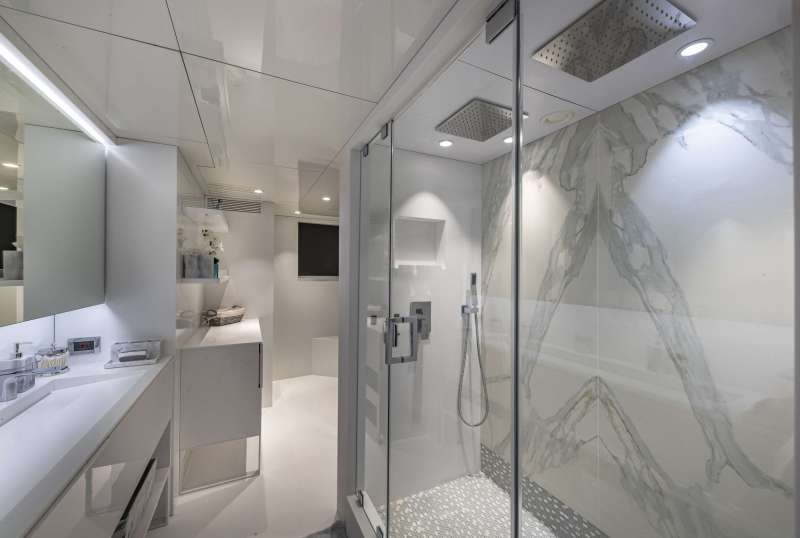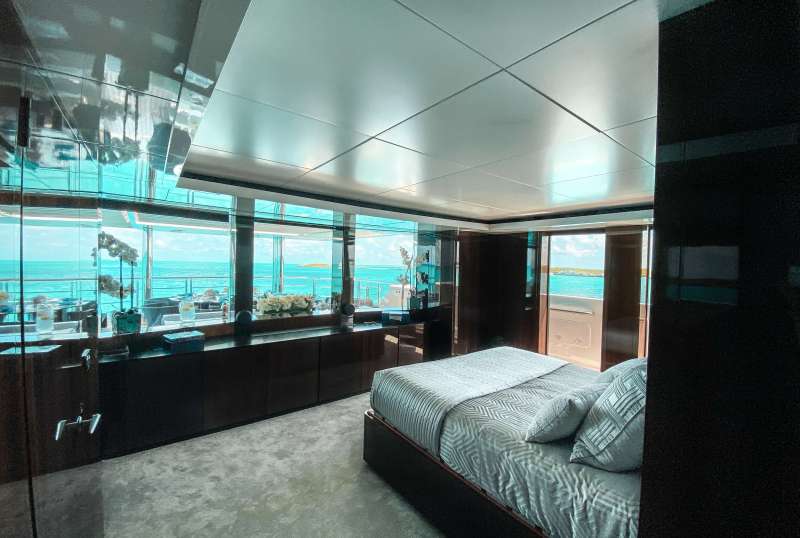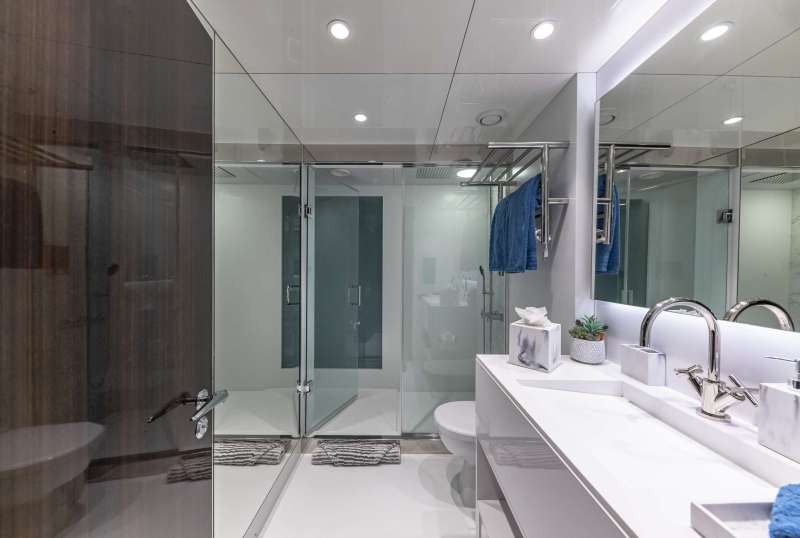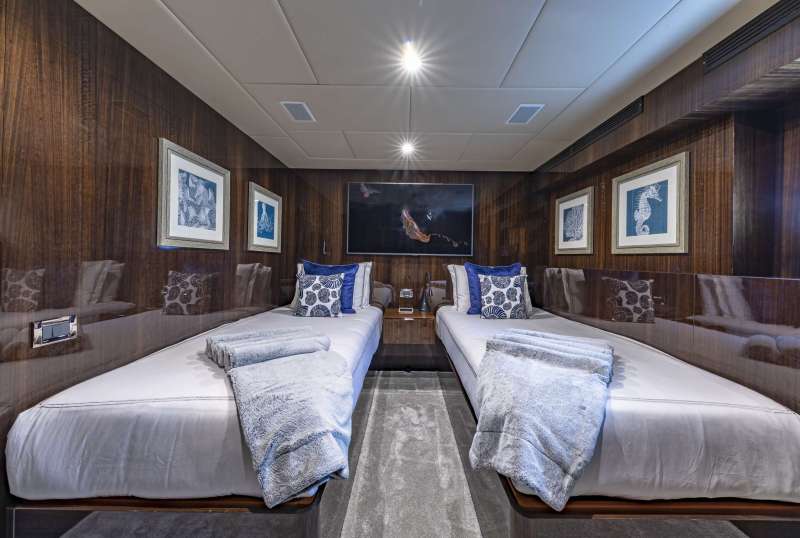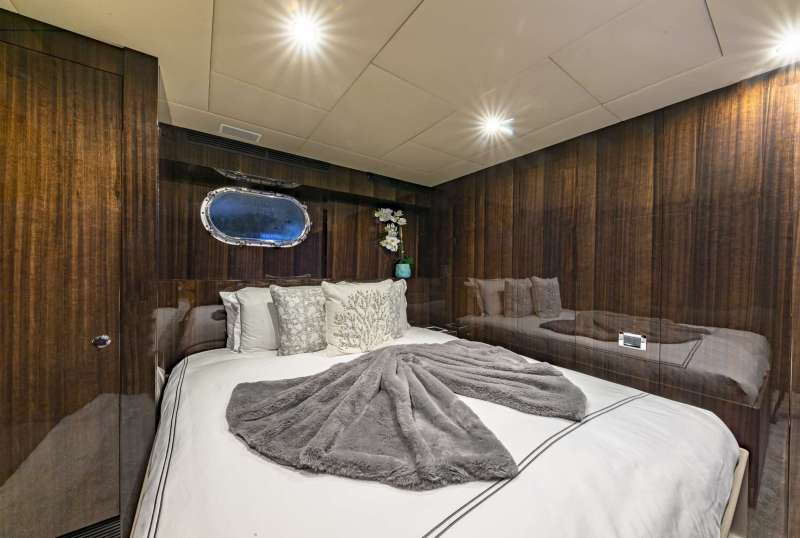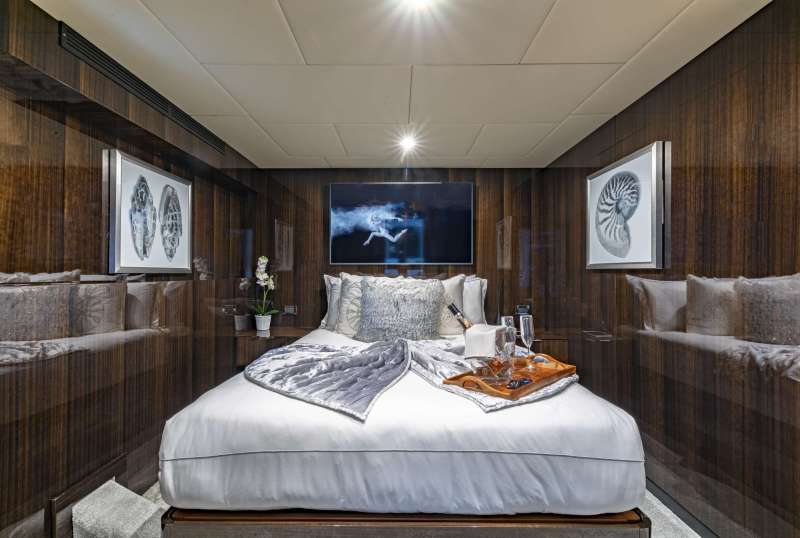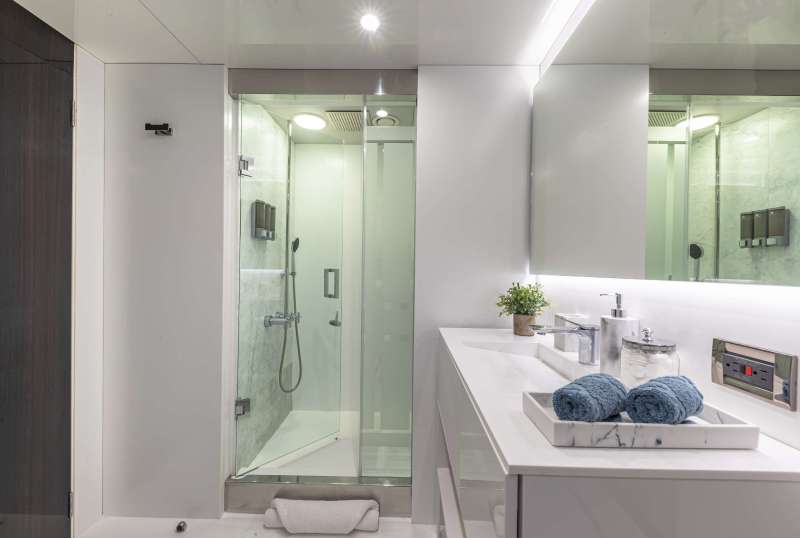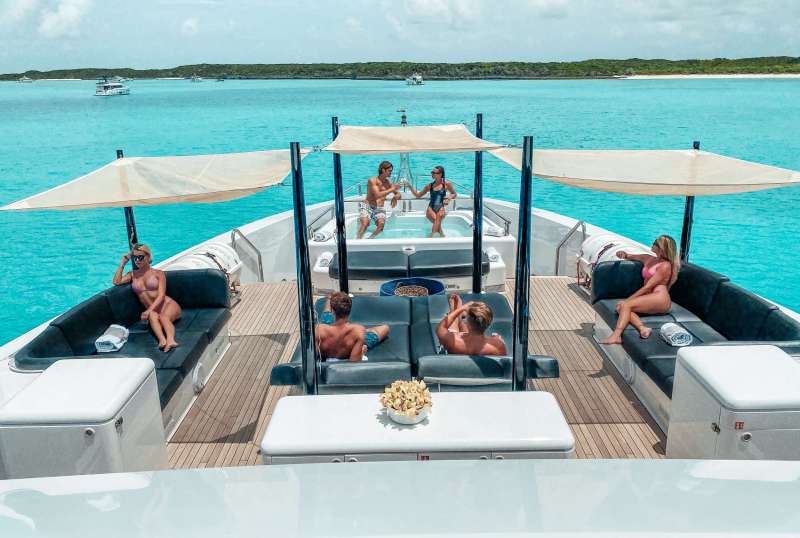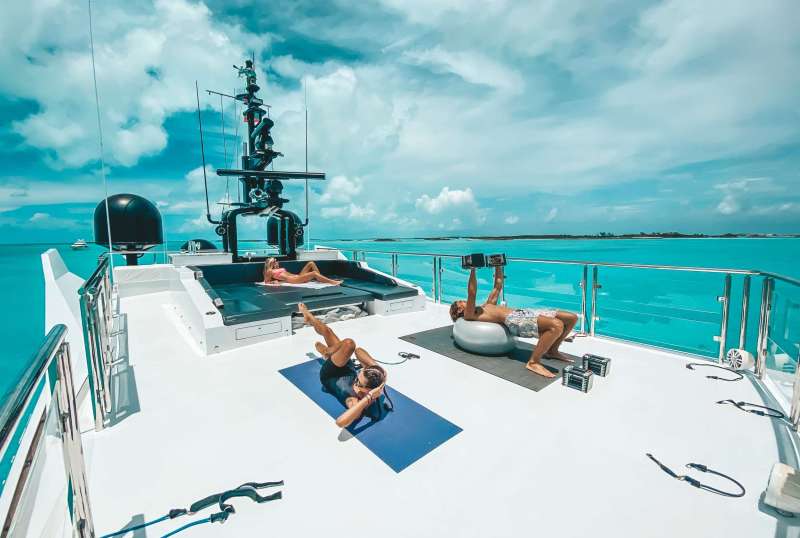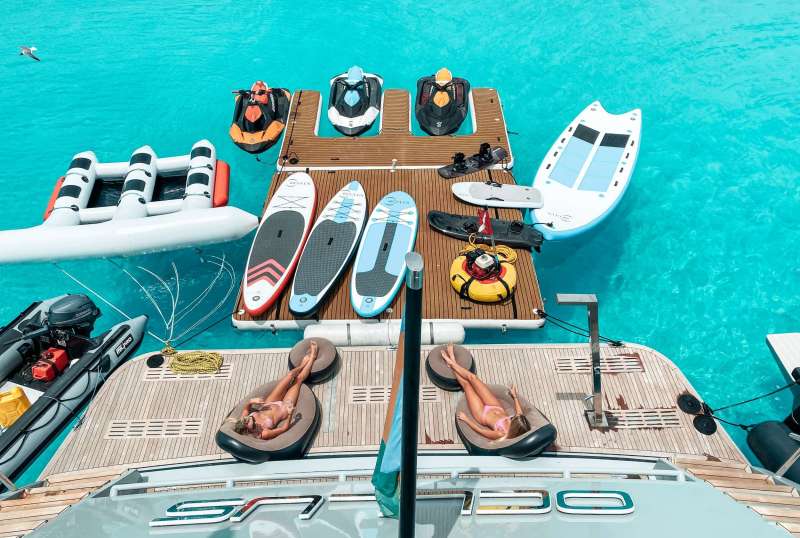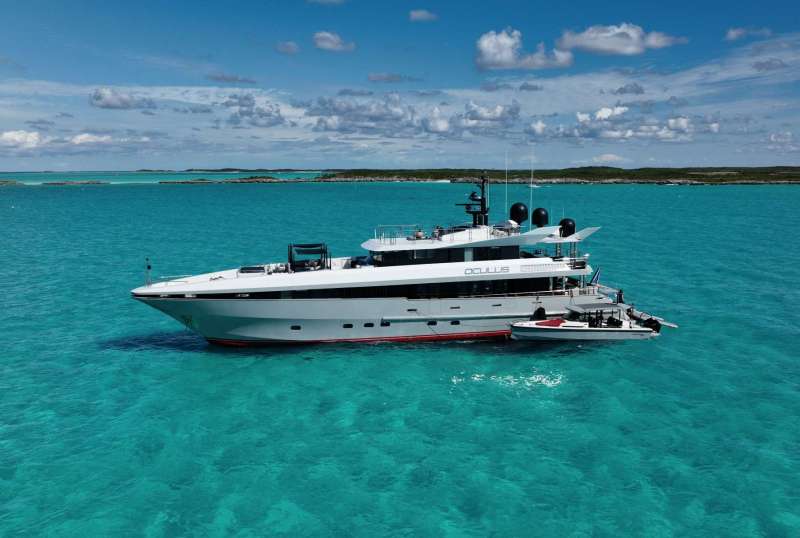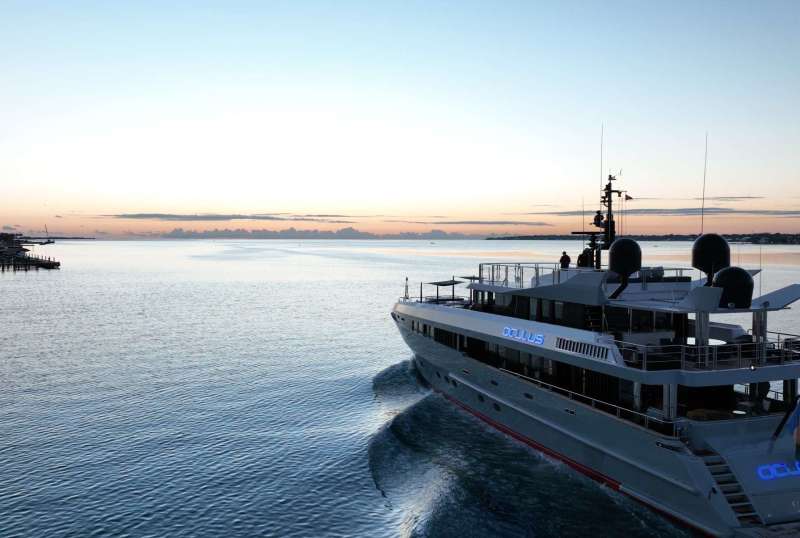 OCULUS
From $99,000/week
5 cabins
128 ft
Oceanfast
10 guests
Refit: 2020
50 US Gall/Hr
6. ROCKET ONE| 121 FT
ROCKET ONE is great for casual fishing as you can drop anchor and fish along the tides. However, the yacht lacks the dinghy to reach the reefs of Andros and Eleuthera, as this yacht charter primarily sails on the European coast.
On your charter, you'll find plenty to keep you busy and entertained, particularly a deck jacuzzi, perfect to enjoy the scenery with your favorite drink in hand.
Water Toys and Amenities
A great collection of water toys and accessories is available aboard Rocket One. Jet skis, water skis, wakeboards, surfboards and snorkeling equipment.
She comes equipped with a great Pirelli Chase Tender.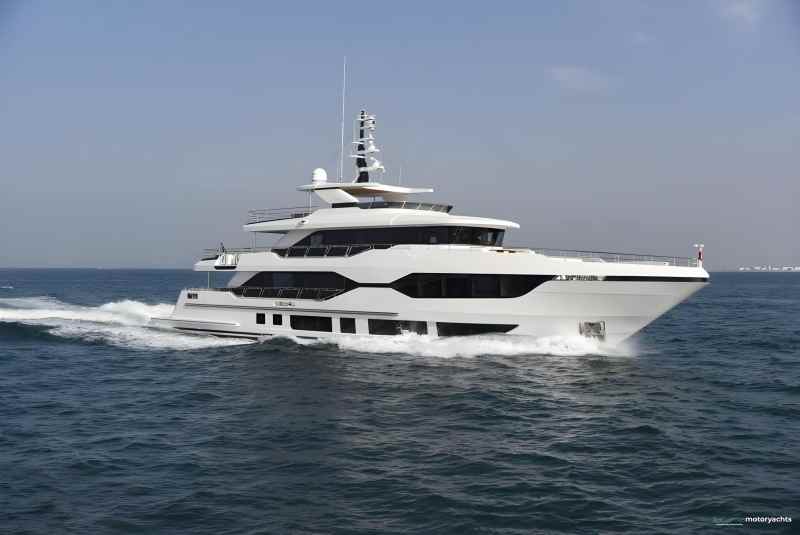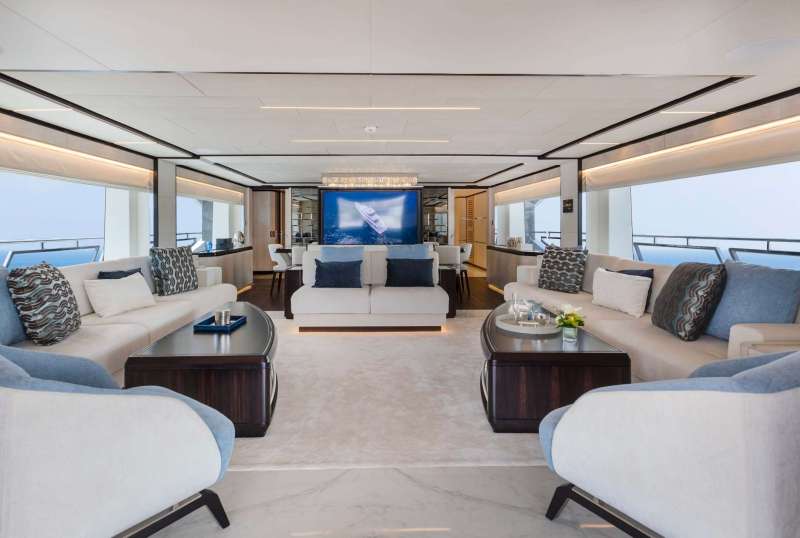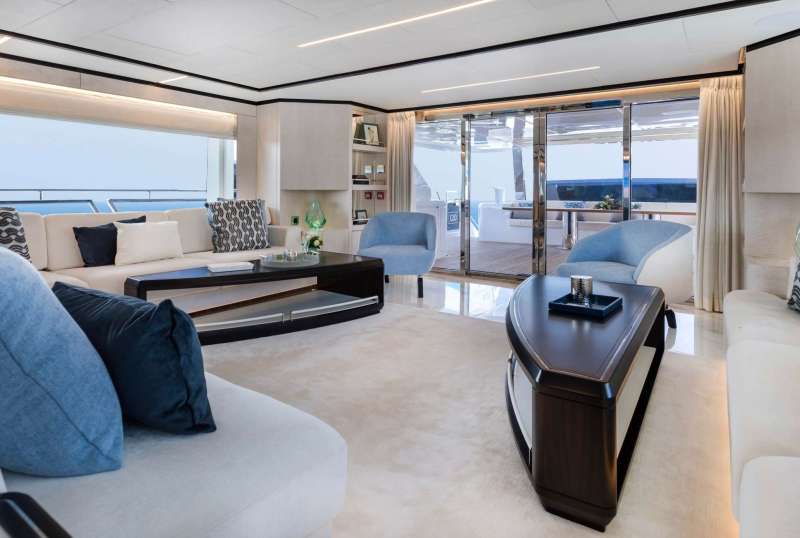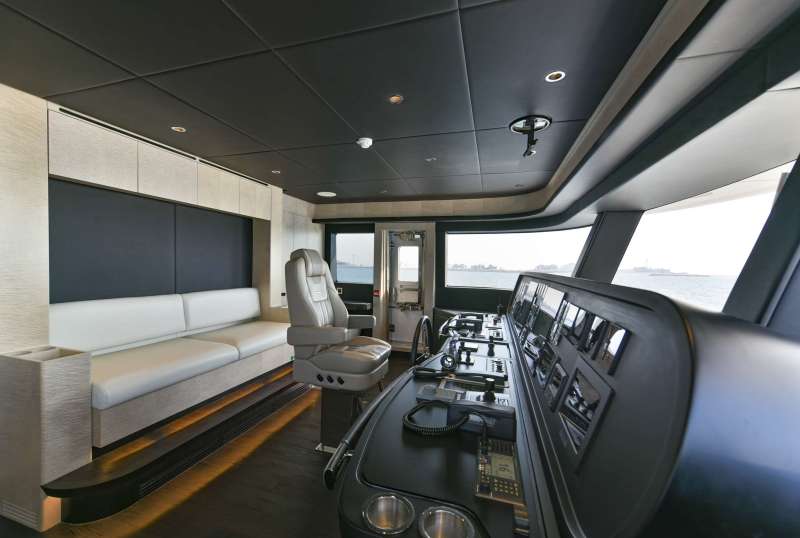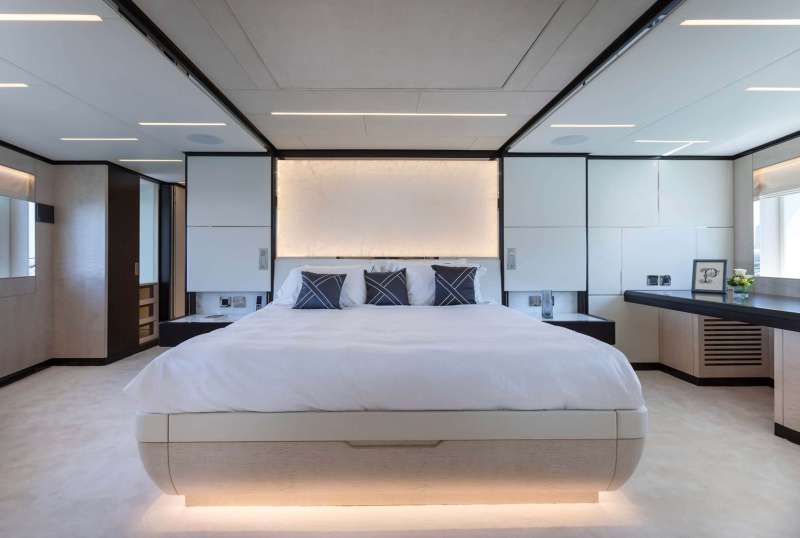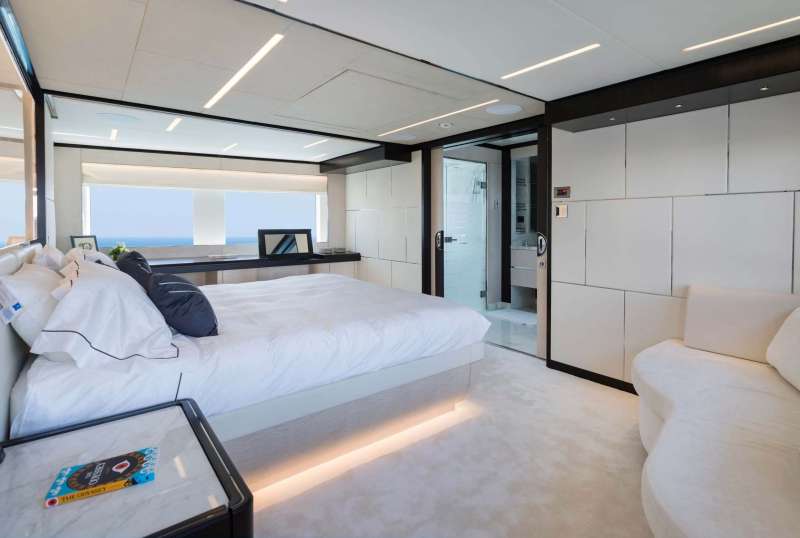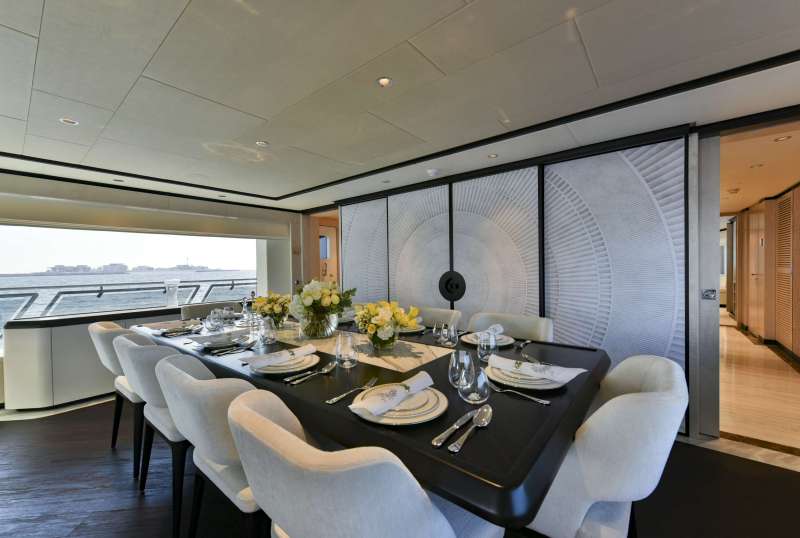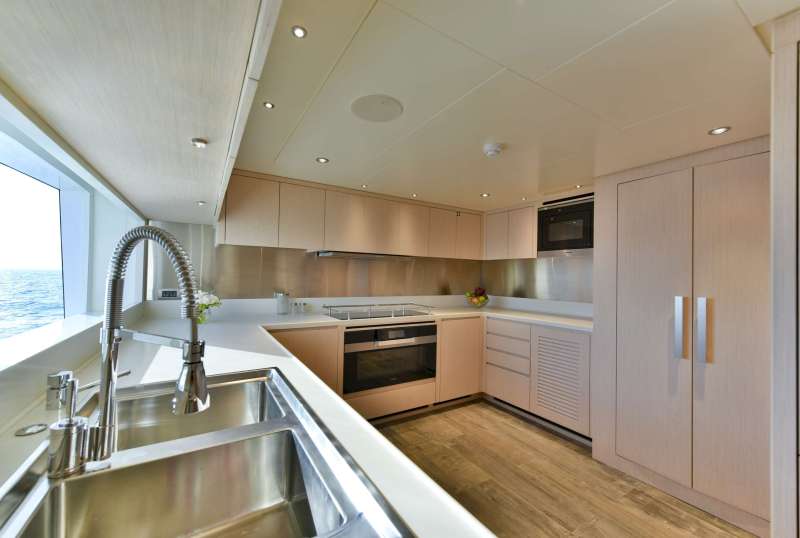 Rocket One
From $200,000/week
6 cabins
121 ft
Gulf Craft - Majesty Yachts
12 guests
Built: 2022
450 Litres/Hr
7. ENTREPRENEUR| 116 FT
ENTREPRENEUR is a yacht charter where affordability meets luxury. She charters from the Bahamas, USA – New England, and the East and West Coasts of Florida, depending on the summer and winter seasons. Meant for 10 Guests in 1 King(s), 2 Queen(s), and 2 Twin(s), she is the perfect yacht for family vacations.
You don't have to think about the kids while fishing as both salons are equipped with TV/DirecTV to keep them busy. The adults, who are not into fishing, can enjoy the onboard sauna and water toys.
Captain Dave, with over 22 years of experience in chartering and private ventures, holds a deep appreciation for the Bahamas. His extensive knowledge of this beautiful island nation ensures an exceptional charter experience guided by a seasoned expert.
Water Toys and Amenities
The water toys include Person wave runners ex deluxe – 2018, snorkel gear, inflatable paddleboards, rave splash zone plus (includes trampoline, 7′ slide and 10′ balancing log), 3-person towable tube, and beach equipment (chairs & umbrella).
Fishing Gear
Equipped with a 34′ Nortech Tender (2020) for your ultimate convenience and exploration, ENTREPRENEUR ensures fishing around Andros and Eleuthera. Inquire about the fishing gear, which can be provided upon request.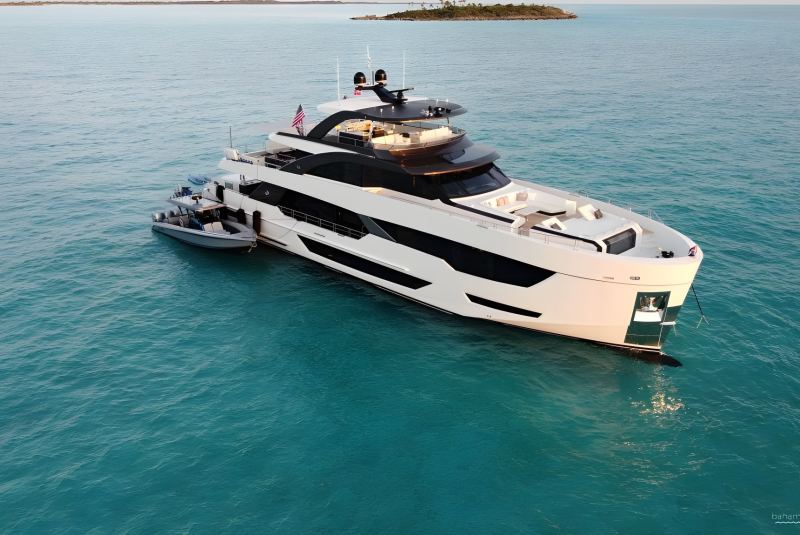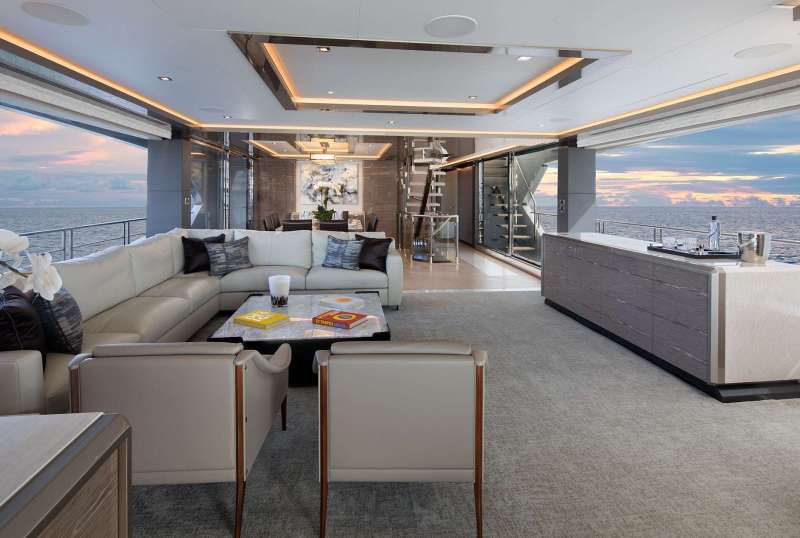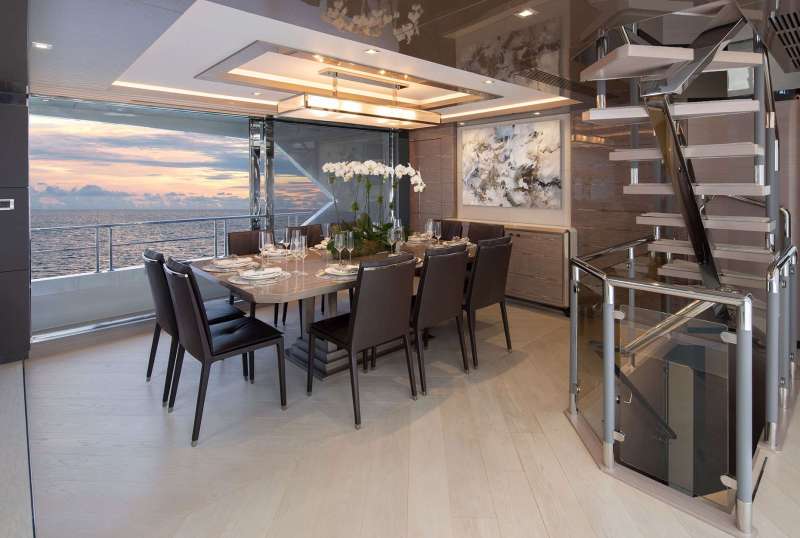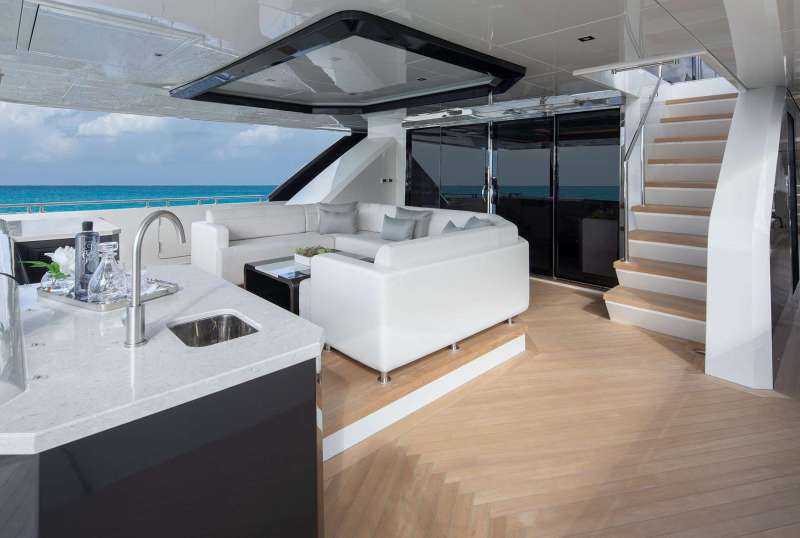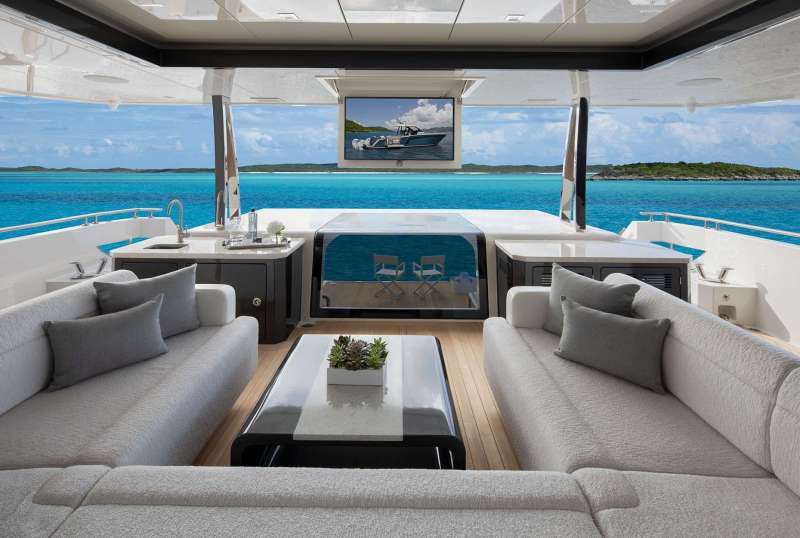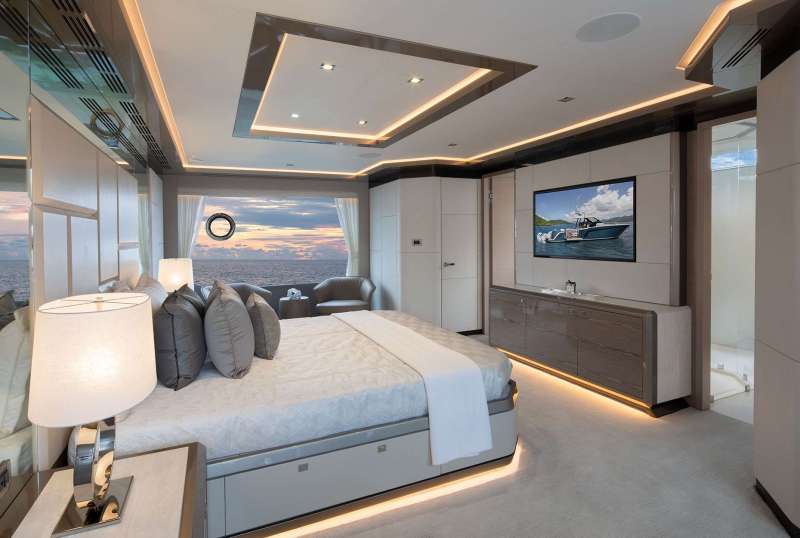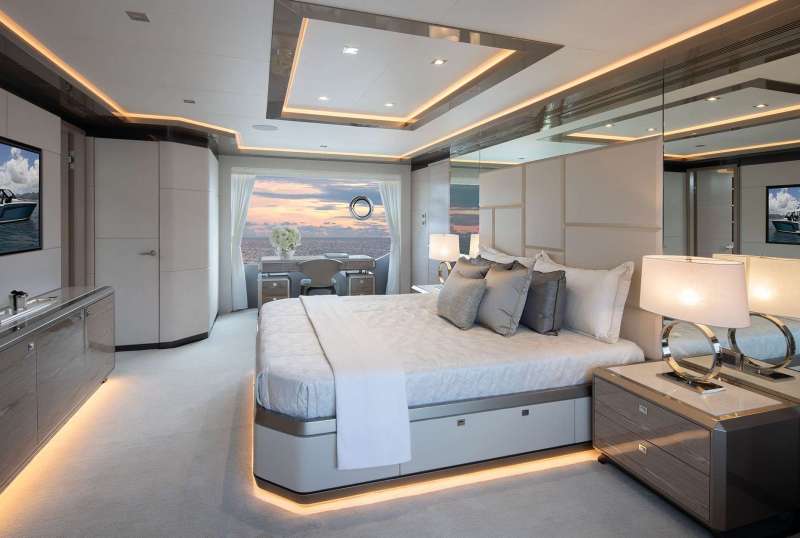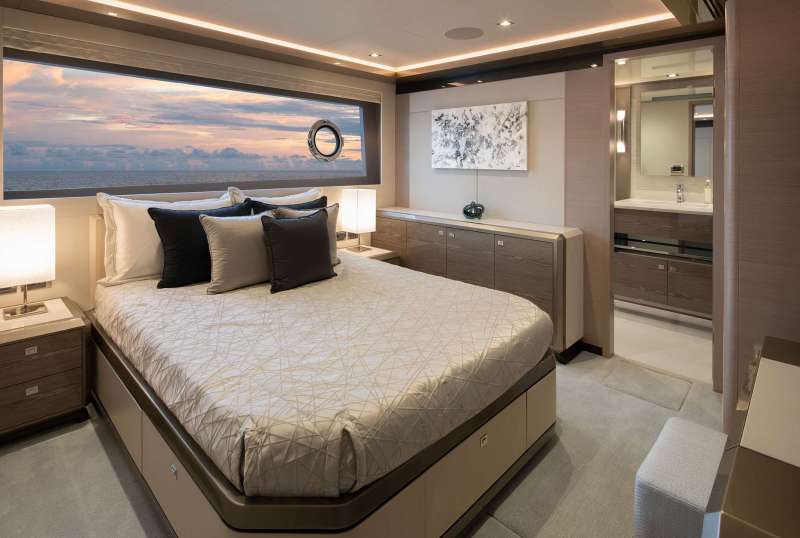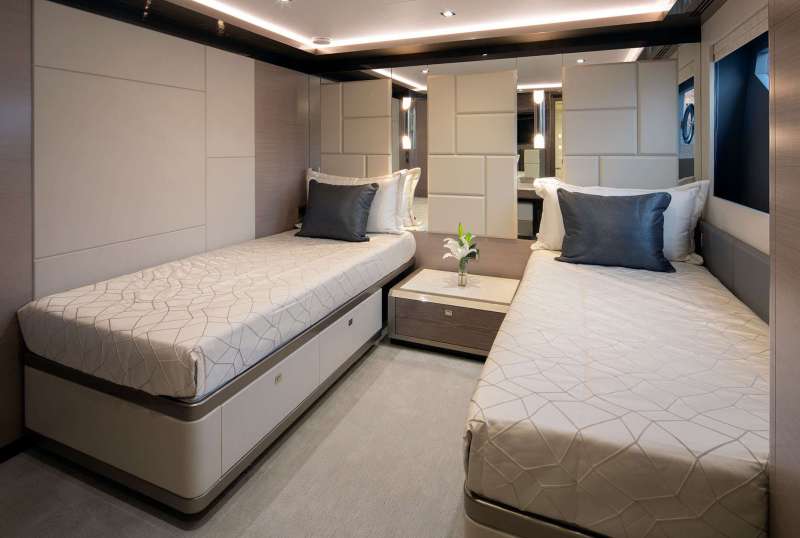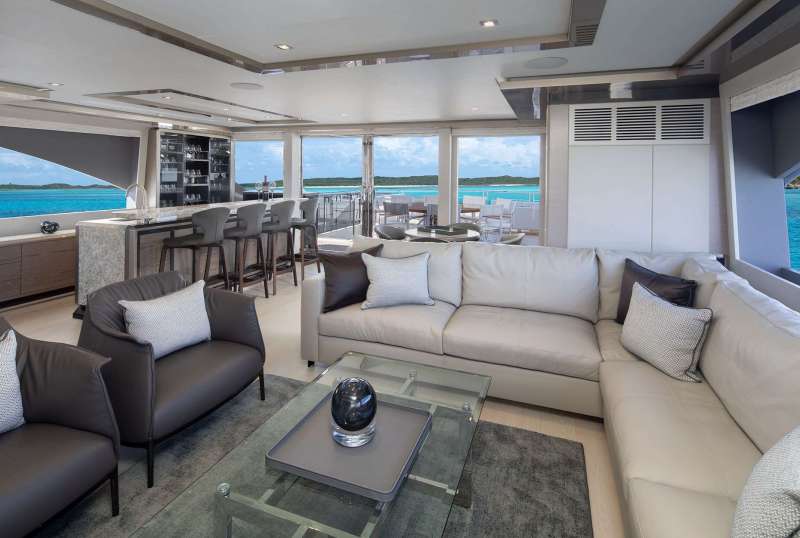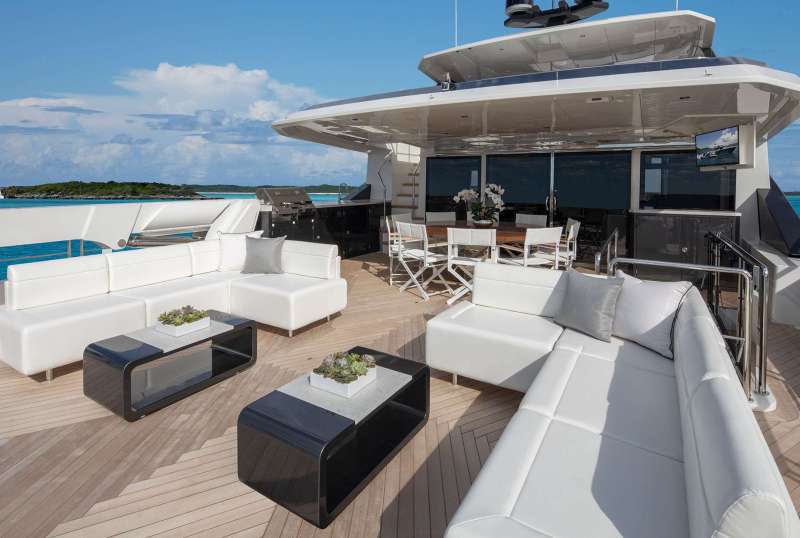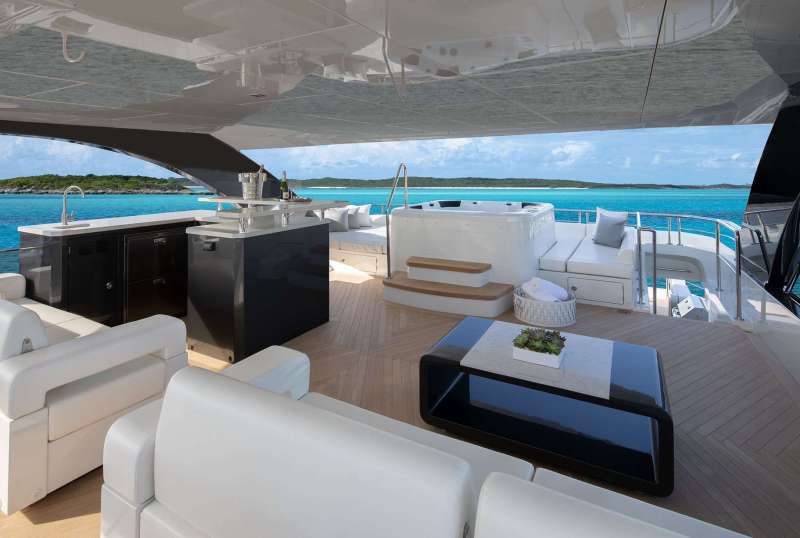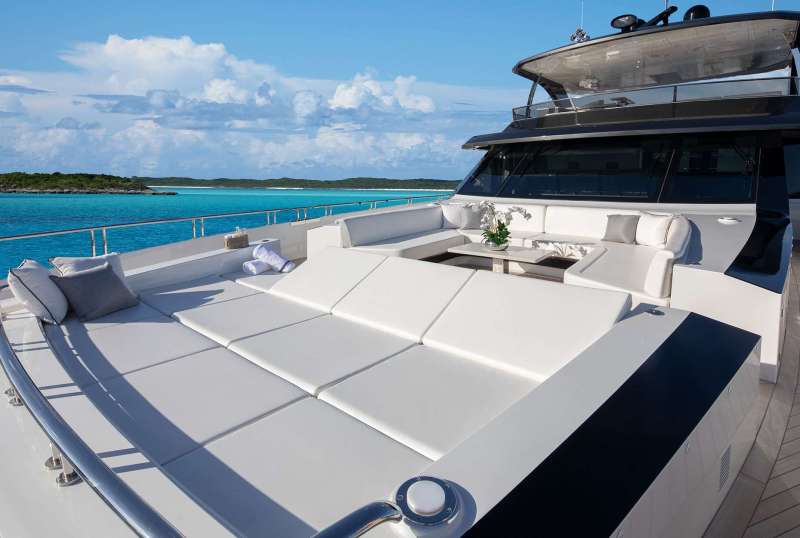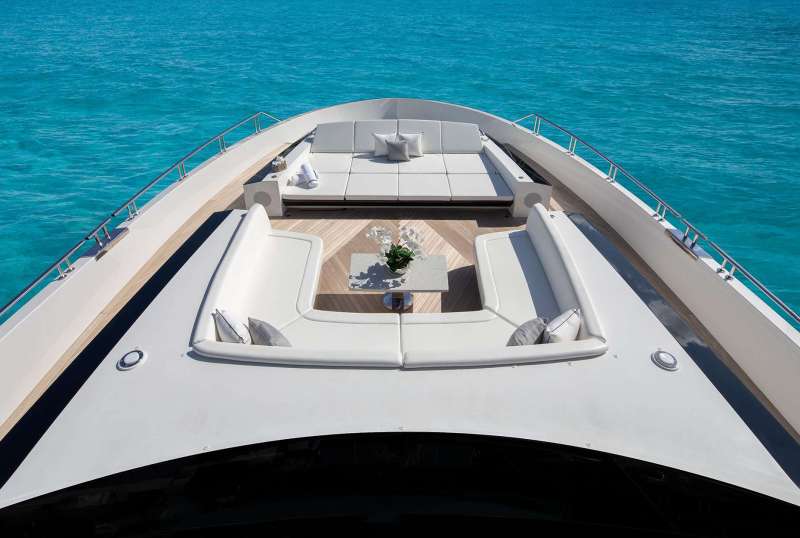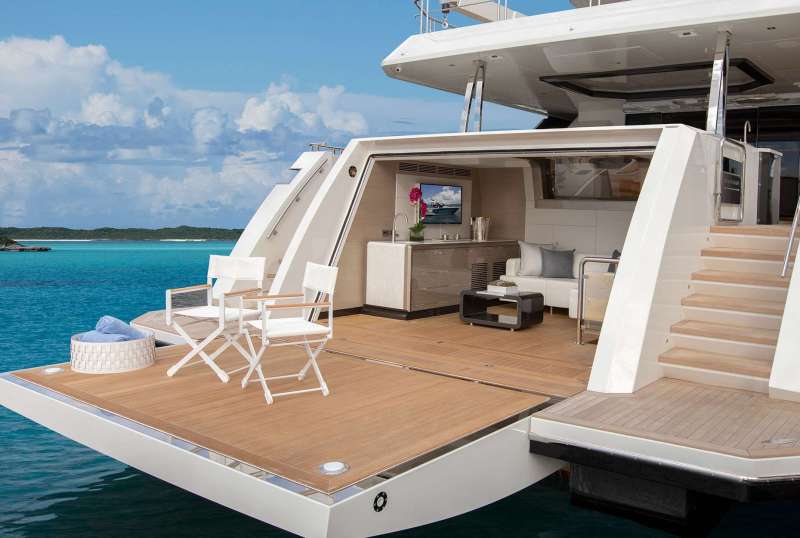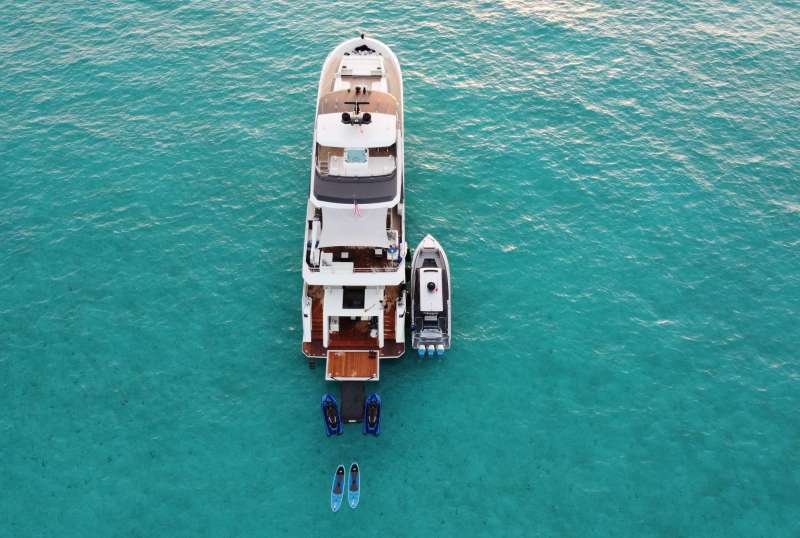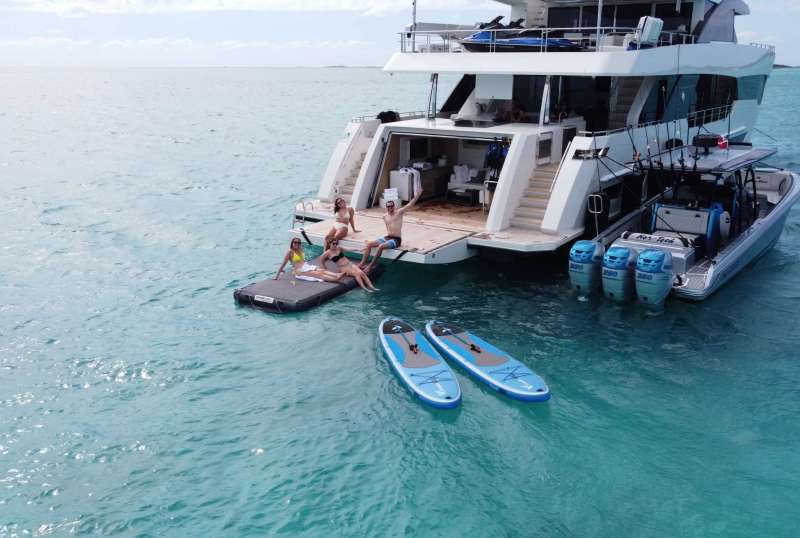 ENTREPRENEUR
From $120,000/week
5 cabins
116 ft
Ocean Alexander
10 guests
Built: 2021
8. TAIL LIGHTS |116 FT
TAIL LIGHTS is perfect for a luxurious fishing yacht charter in the Bahamas with the best fishing gear, entrapments, lures, and chase boats. Unlike the typical fishing boats, she boasts extraordinary outdoor lounging and al fresco options.
Her spacious flybridge is where all the fun takes place and is ideal for entertaining and outdoor enjoyment with a large center-line Jacuzzi on deck, and a wet bar. Guests can enjoy the sundeck, Jacuzzi, and customized sun pad in between island hopping.
Water Toys and Amenities
TAIL LIGHTS has enough toys to keep the guests entertained for one week charter or more : Kawasaki Jet ski , NEW Yamaha Sea Scooters, Segway Ninebot ES2 Electric Scooters, AquaBanas Party Inflatable, Inflatable Paddleboards, Water Saddle Floats, ski tube, Water skis, Kneeboard, Wakeboard, and Snorkel gear.
In addition to the tender, her 2019 13′ Walker Bay tender is powered by a 50hp Evinrude outboard- perfect for various water activities and offers exceptional maneuverability.
Fishing Gear
32′ Scout towed tender with twin 350 Yamaha engines (fully rigged with a walk-in bathroom in the console), spearfishing poles, and equipment for both trolling and deep-sea fishing make TAIL LIGHTS the dream luxury charter for pro-fishers and anglers. The charter has everything you need to catch a Marlin at Eleuthera.
GUEST EXPERIENCE:
"We just arrived home and as you can imagine everyone was very sad to leave the boat. The boat was awesome, the crew was amazing. My kids are still posting the amazing meals Chef cooked and all the adults are missing the fabulous drinks! Everybody did a great Job getting all our adventures in even with the wind blowing. As I told them when we left the boat is great but the Crew really made the trip something special.
Thanks for your help in arranging and we will definitely contact you for our next trip on Tail Lights."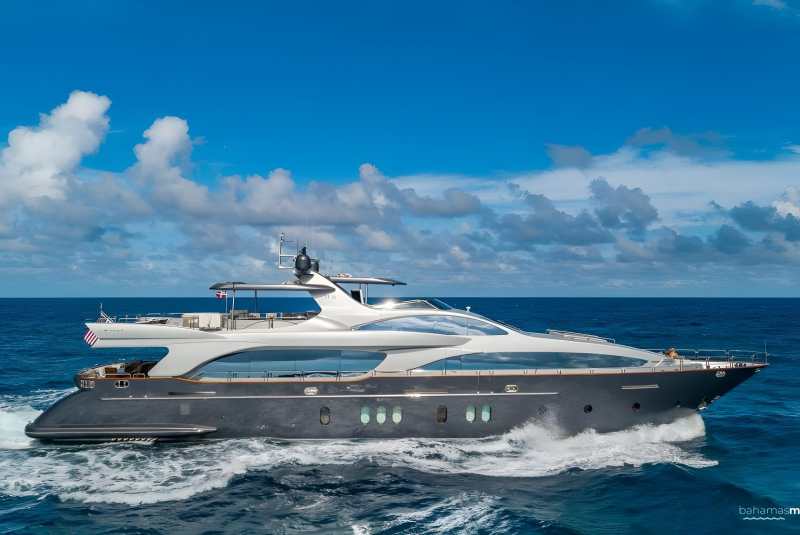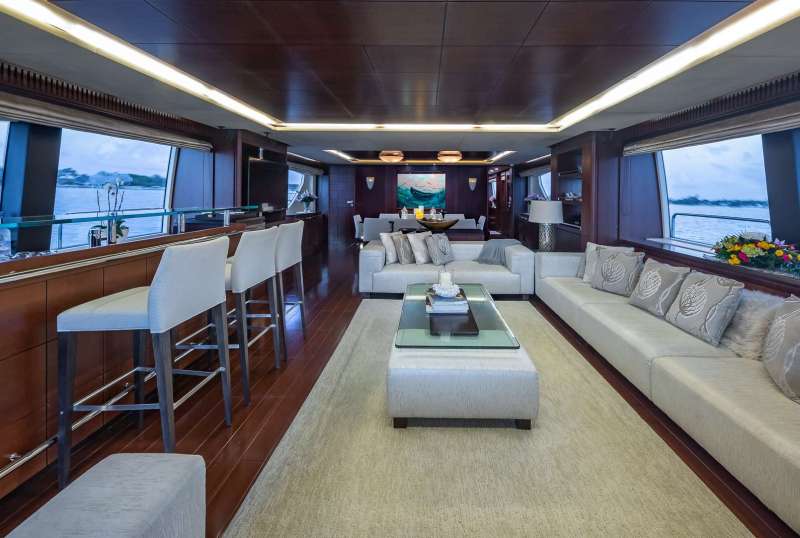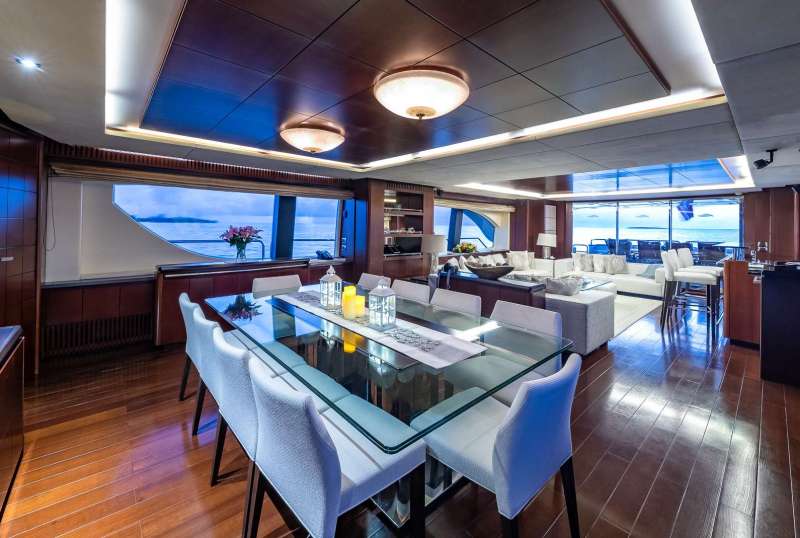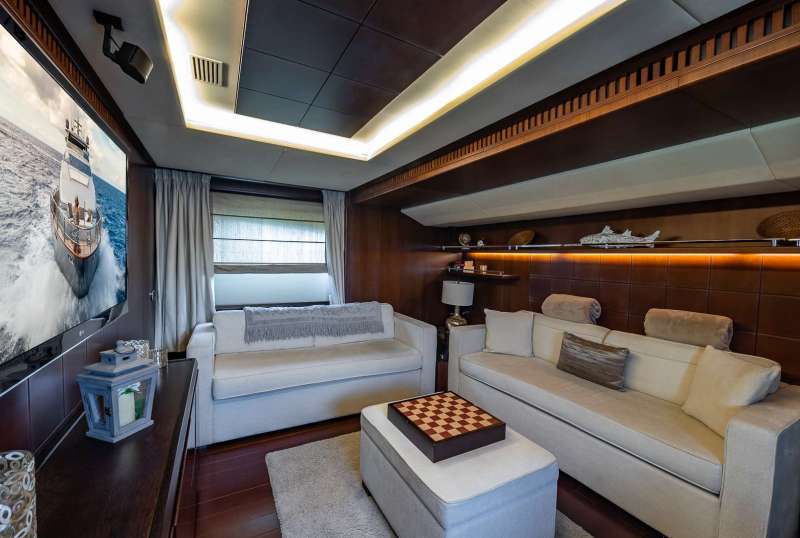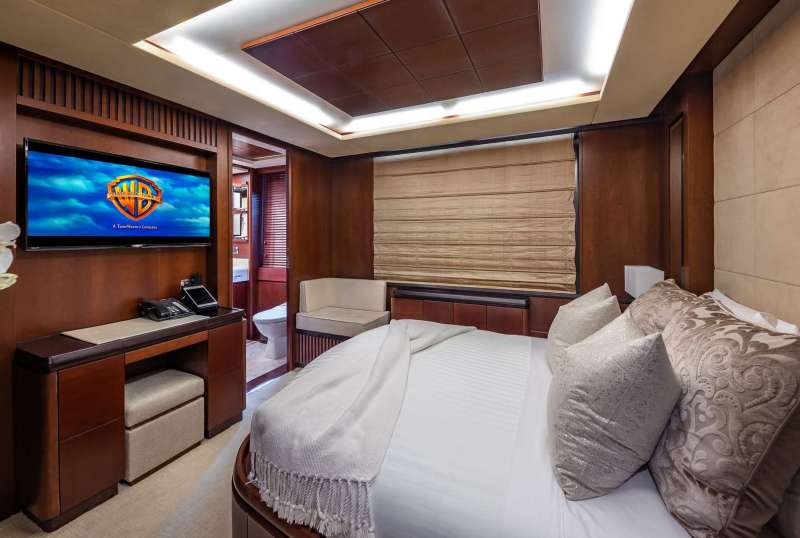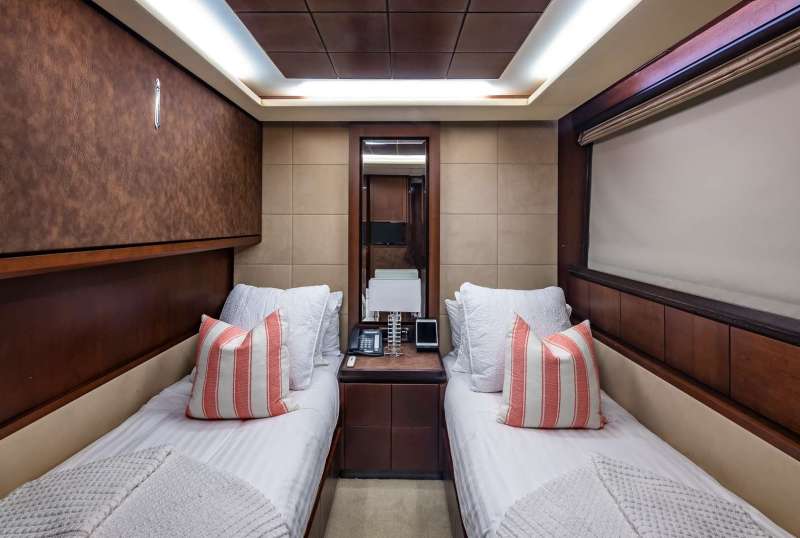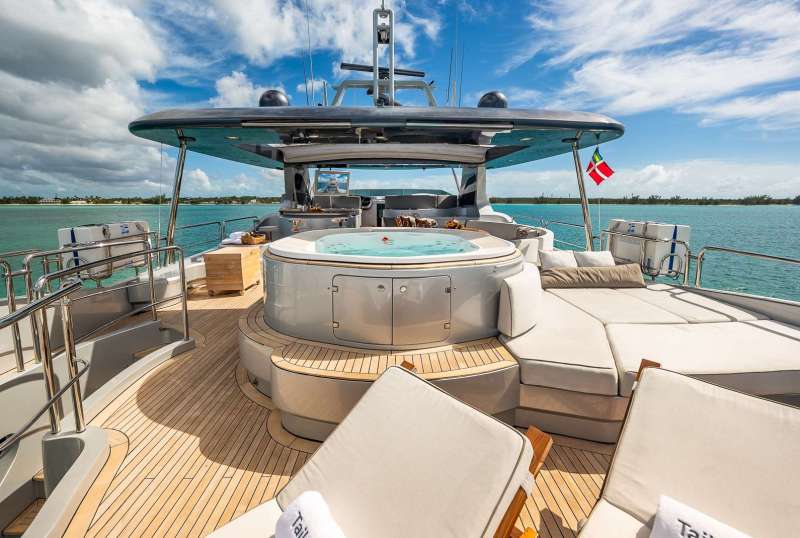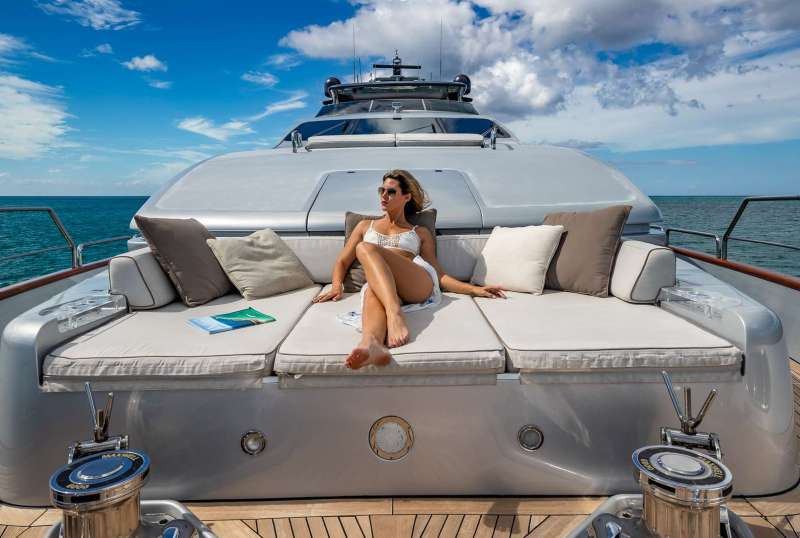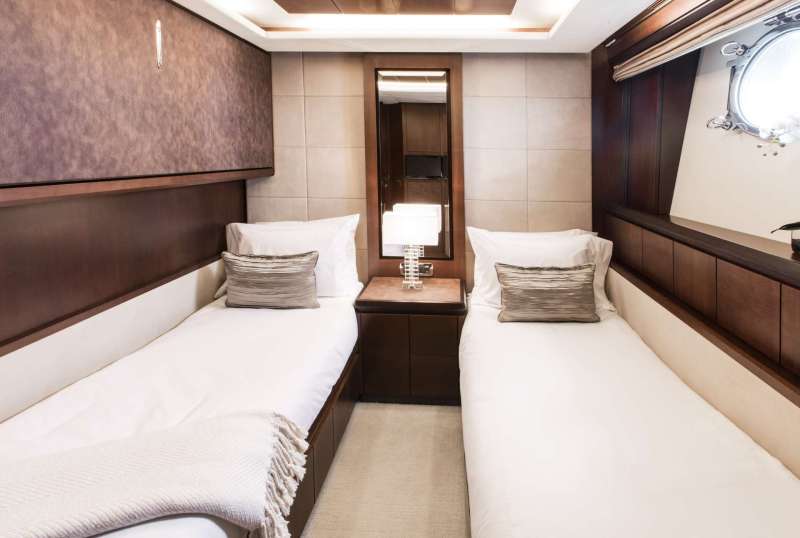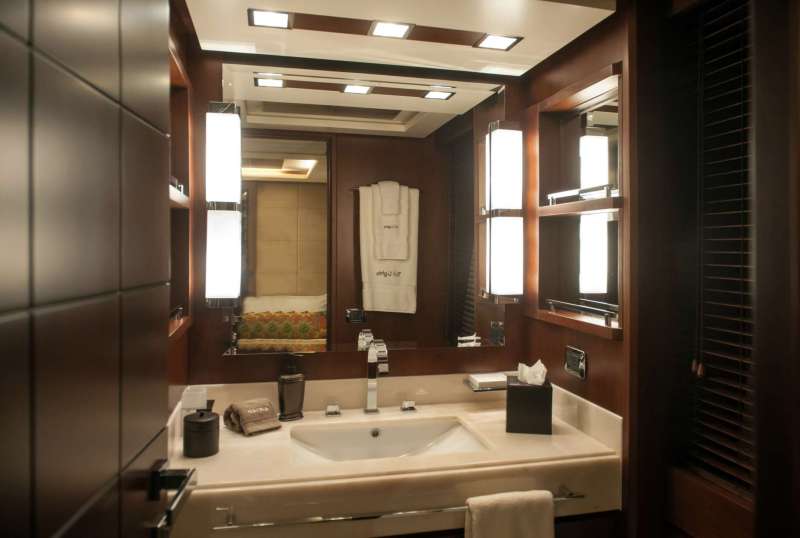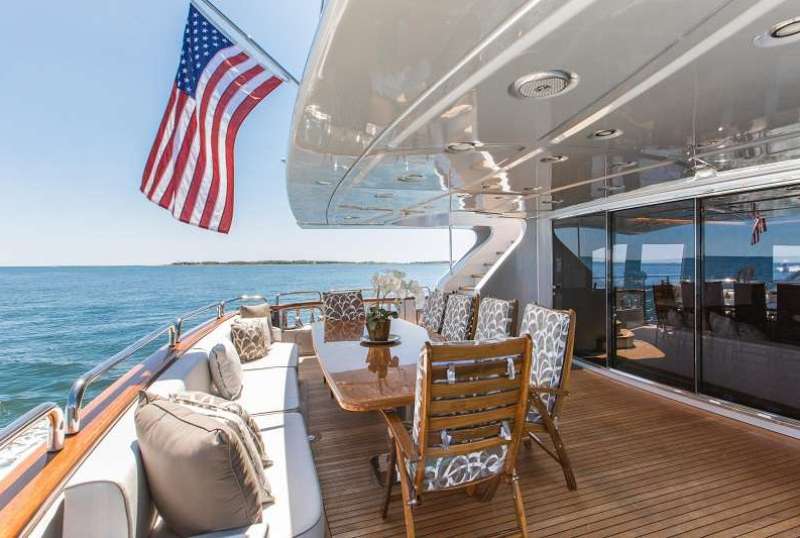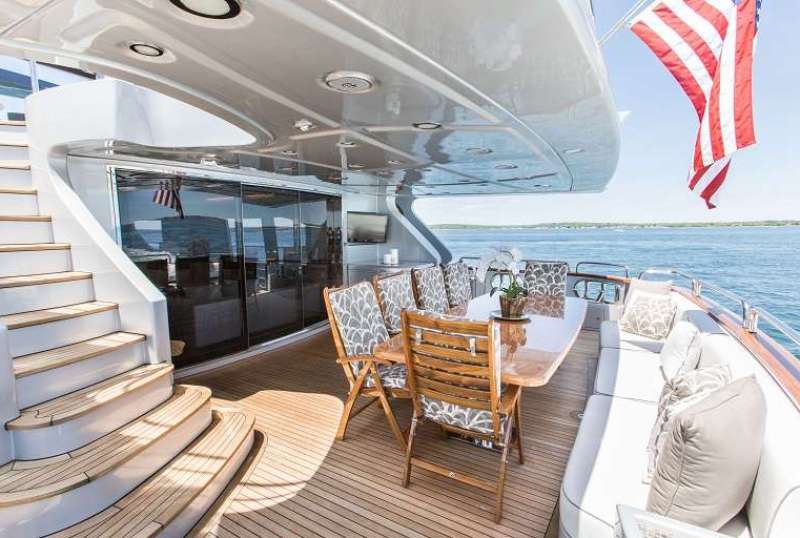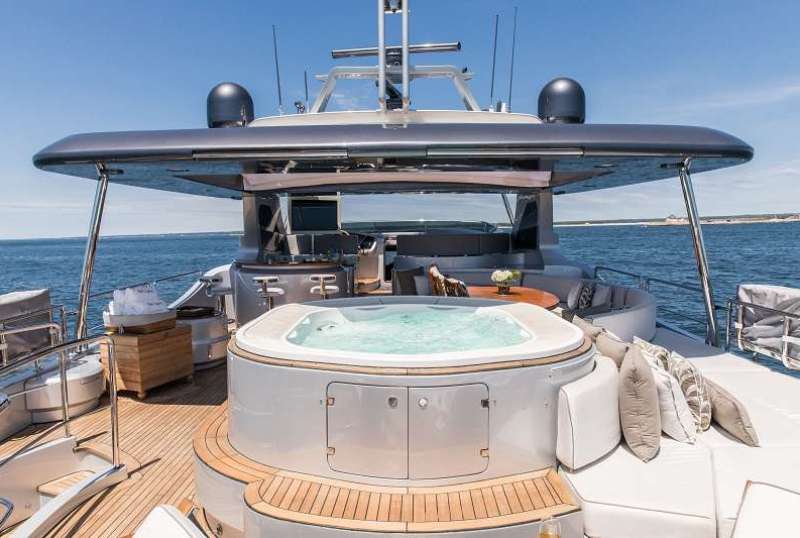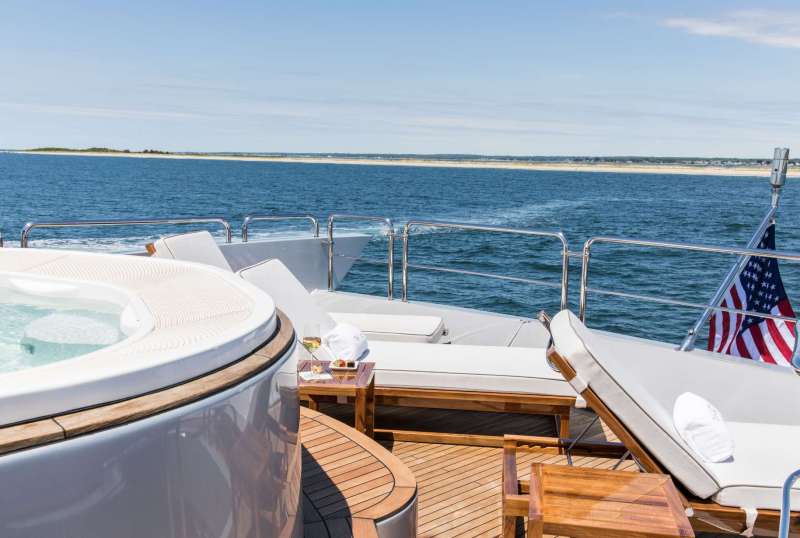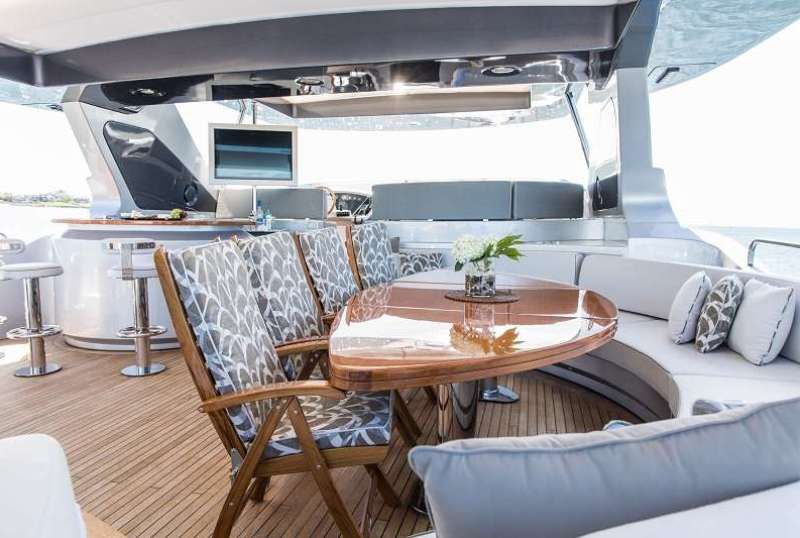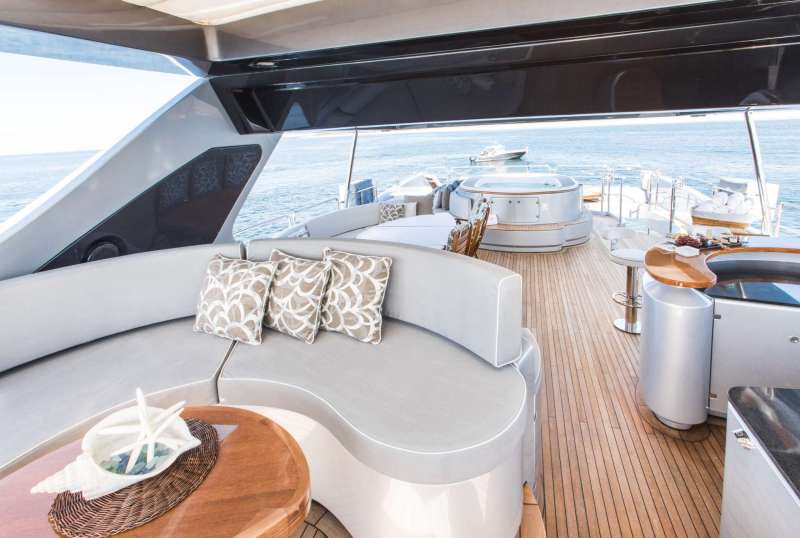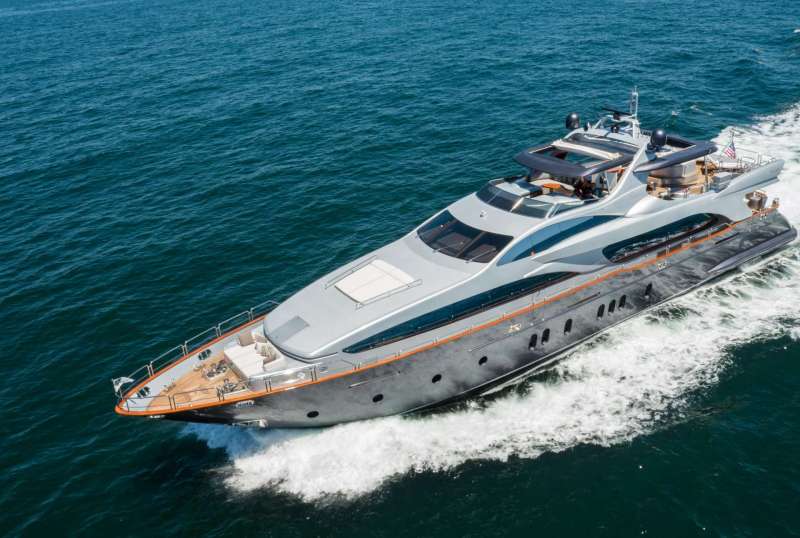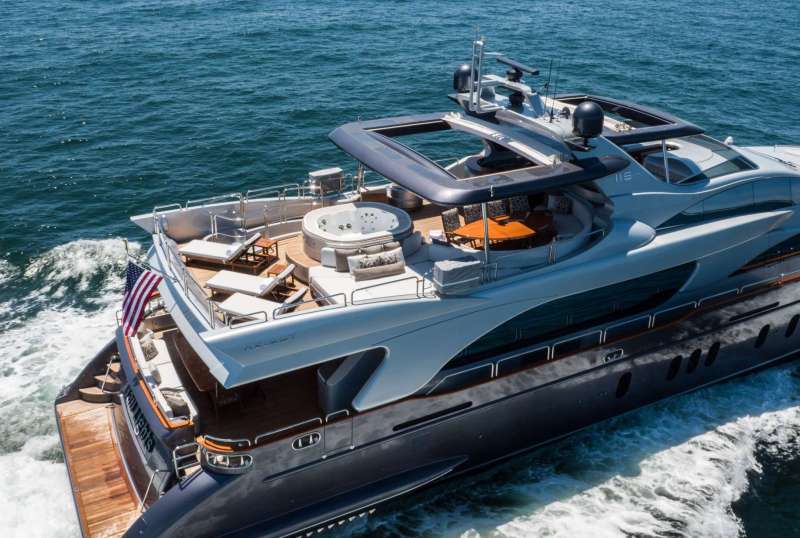 TAIL LIGHTS
From $80,000/week
5 cabins
116 ft
Azimut
12 guests
Refit: 2021
80 US Gall/Hr
9. TASTY WAVES| 110 FT
Experience the epitome of luxurious fishing with the exquisite Riva Dolcevita model vessel TASTY WAVES. Based in Fort Lauderdale, South Florida, this stunning yacht invites you to embark on a 7-night fishing adventure to the enchanting Bahamas, as it boasts the latest yellowfin chase boat.
Run by an American captain and a seasoned crew of 5, your journey will be guided by a seasoned professional Captain who possesses extensive knowledge of the Bahamas to navigate the charter through the hidden gems.
Water Toys and Amenities
TASTY WAVES's water toys include Sea-Doo jetski, Hydrofoil boards, Sea Bobs with underwater cameras, Wakesurf Board, Scuba Pro snorkel gear, Floating island & tubes, and Scuba Pro Snorkeling equipment.
Fishing Gear
TASTY WAVES tows a 36ft Yellowfin center console, providing the ultimate fishing experience around Andros, Eleuthera, and Nassau. Equipped with top-of-the-line fishing gear, you can embark on thrilling deep-sea fishing adventures with the promise of a great catch.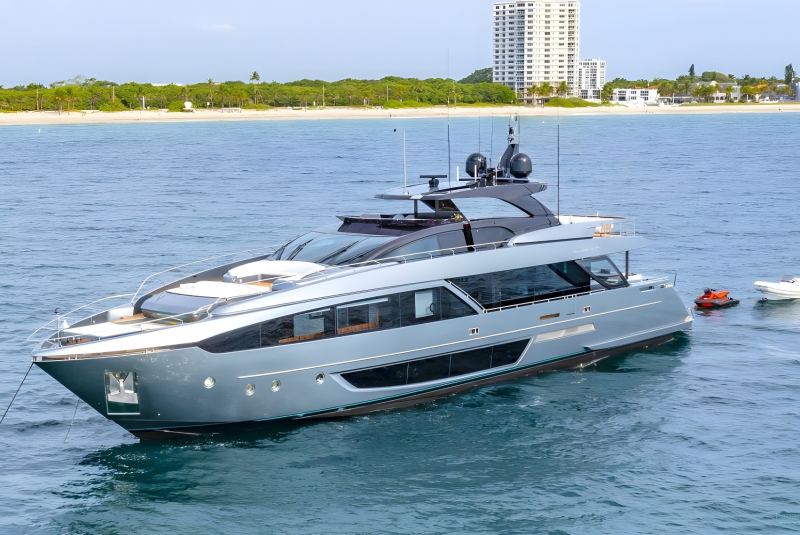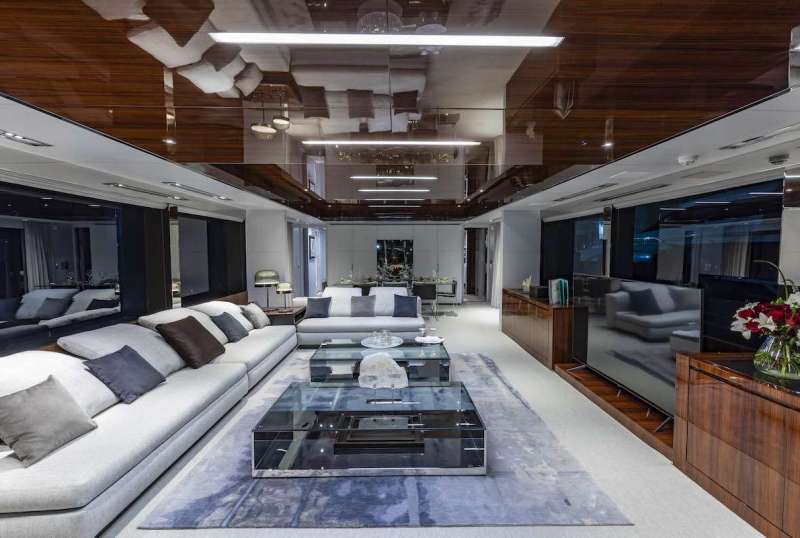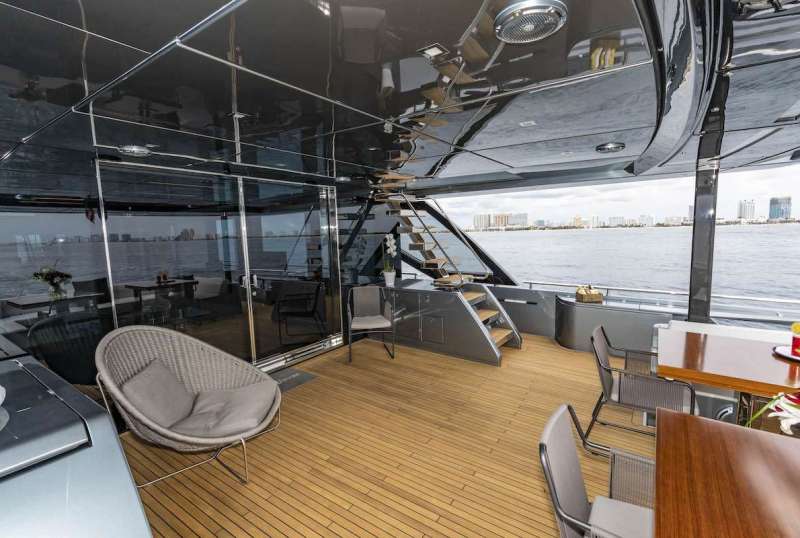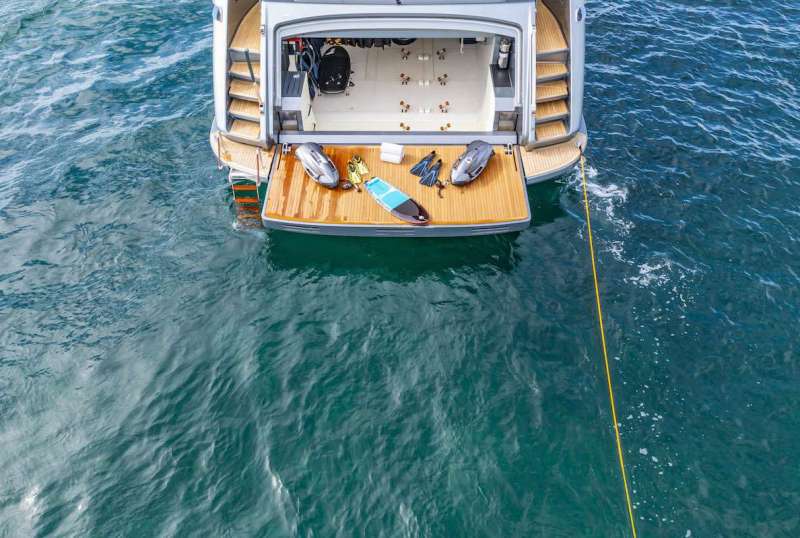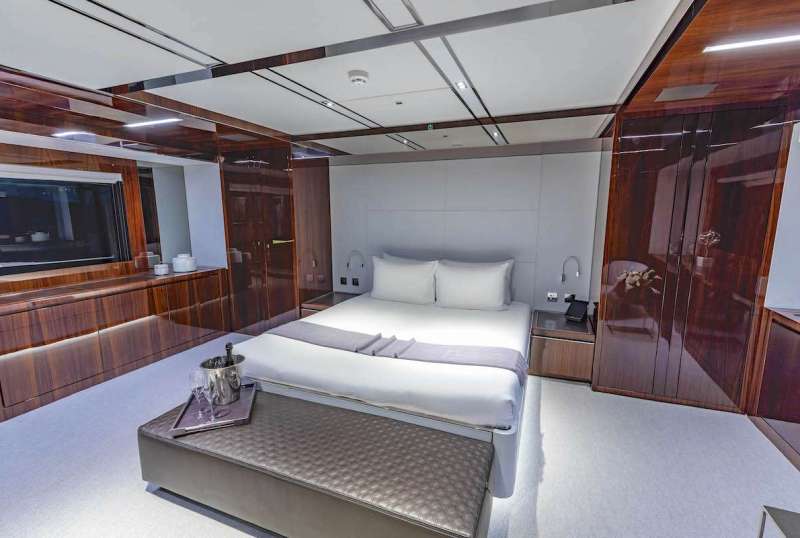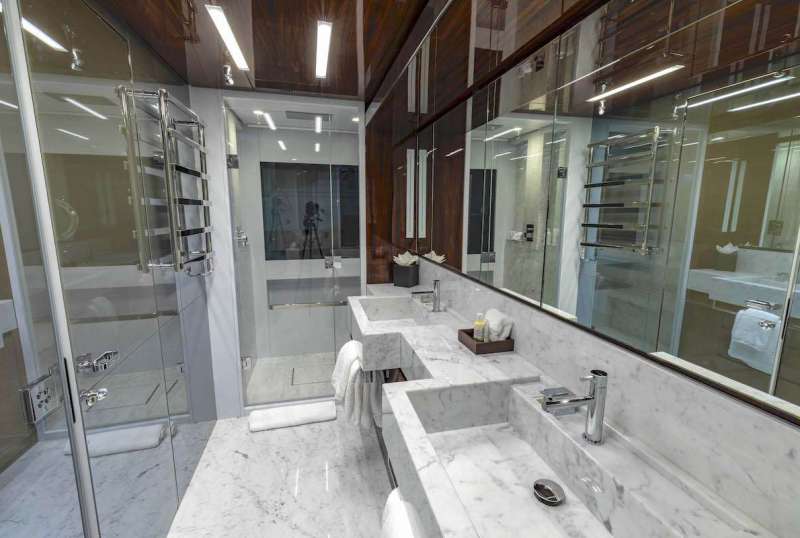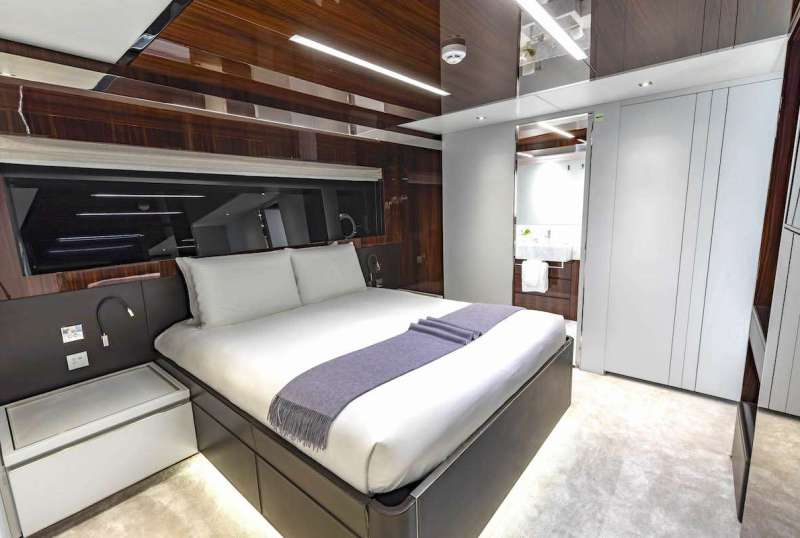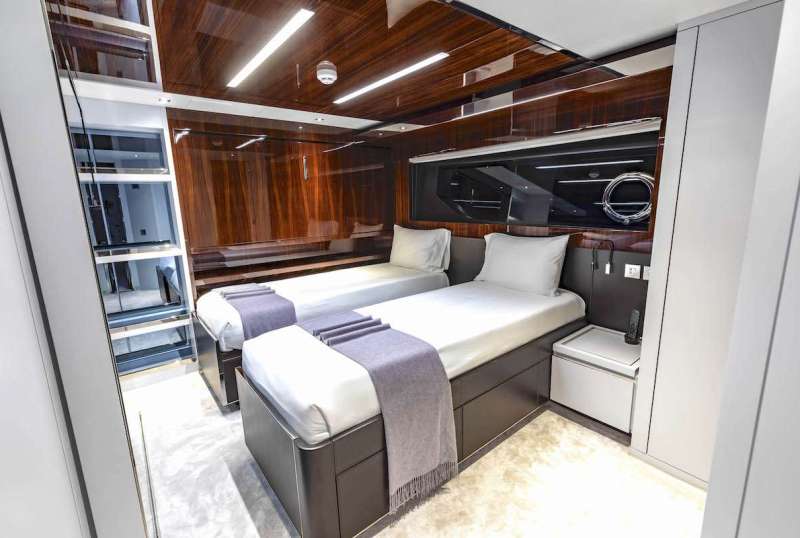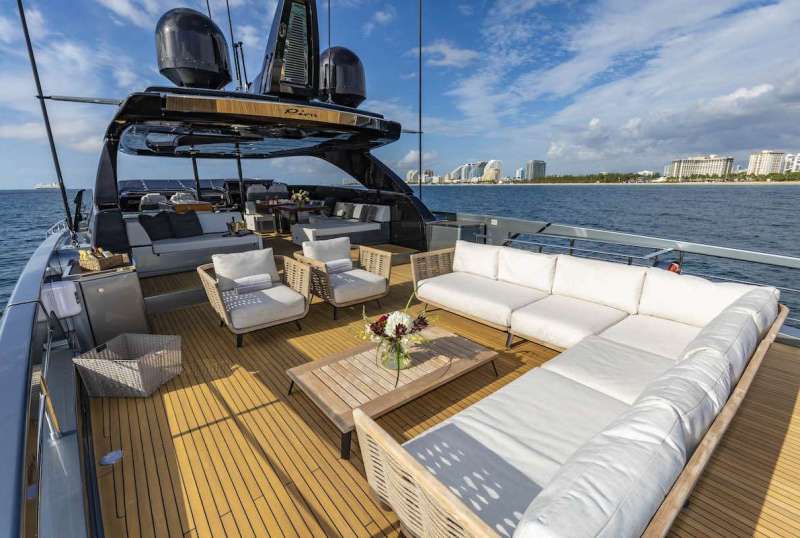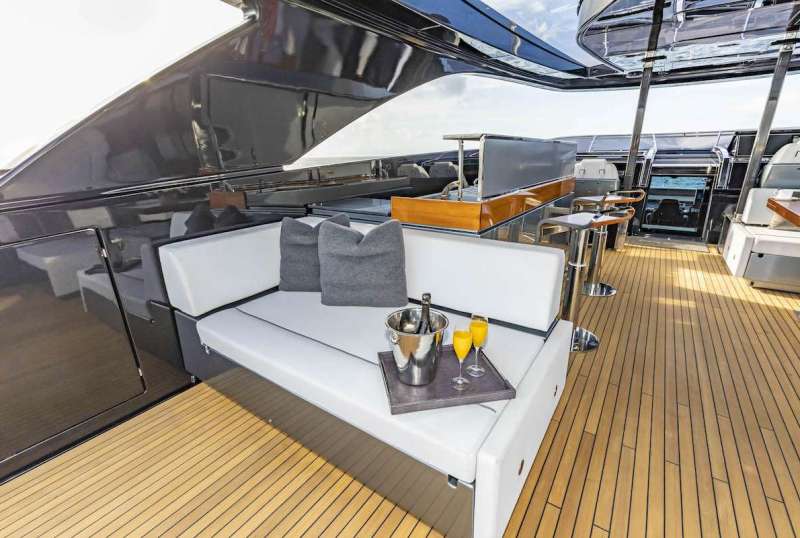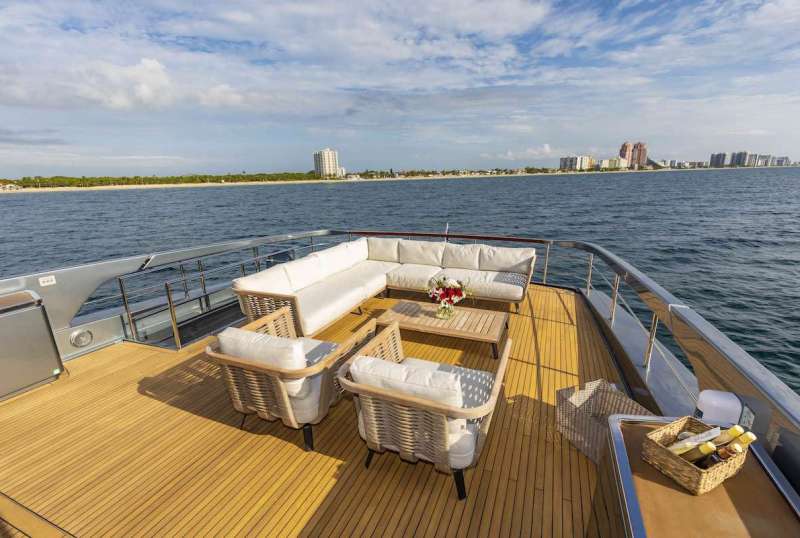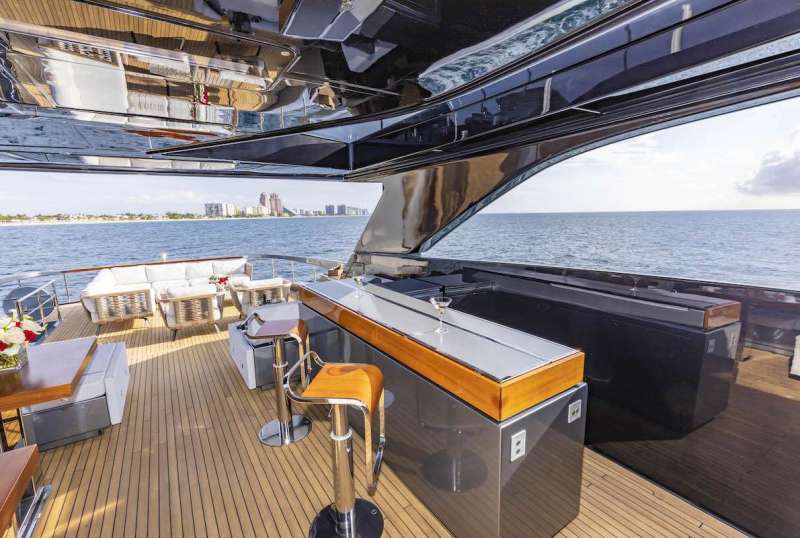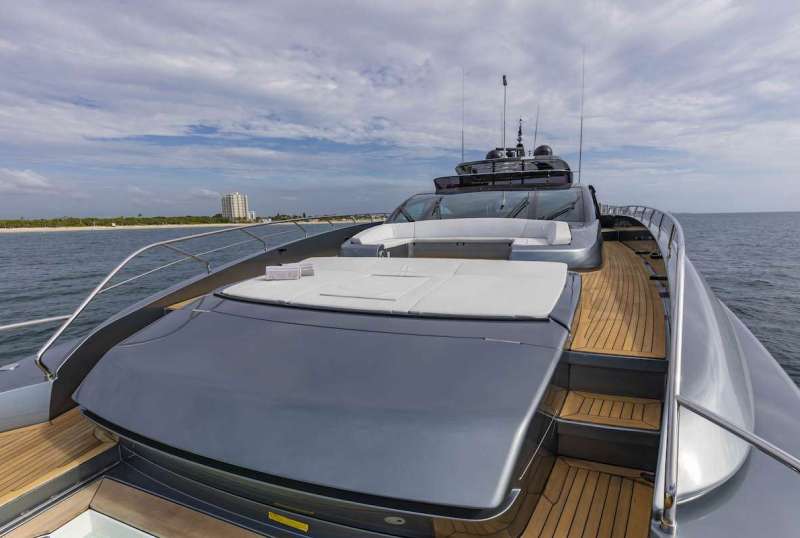 TASTY WAVES
From $115,000/week
5 cabins
110 ft
Riva
11 guests
Built: 2019
200 US Gall/Hr
10. FREDDY| 106 FT
FREDDY offers impeccable accommodation for a group of 10 people with the on-deck Master suite, and 4 additional staterooms below deck provide. This stunning yacht boasts innovative features, including zero-speed stabilizers that ensure a smooth and enjoyable cruising and fishing experience. Her experienced solid mate and engineer make fishing safe and easy.
But what truly sets FREDDY apart is its concealed balcony, tucked away off the salon and dining area. This unique and tranquil space provides a secluded oasis for one or two guests to unwind and take in the serene surroundings while the others go fishing.
Water Toys and Amenities
FREDDY's water toys include Yamaha jetskis, Seabobs, inflatable paddle boards, adult waterskis, wakeboards (Byerly Agenda 55), floating islands, tow tubes, and snorkel gear.
Fishing Gear
FREDDY offers a 32′ Boston Whaler Vantage (2021) and a medium fishing gear assortment. Inquire about spearfishing and deep-sea fishing gear if you want to try them.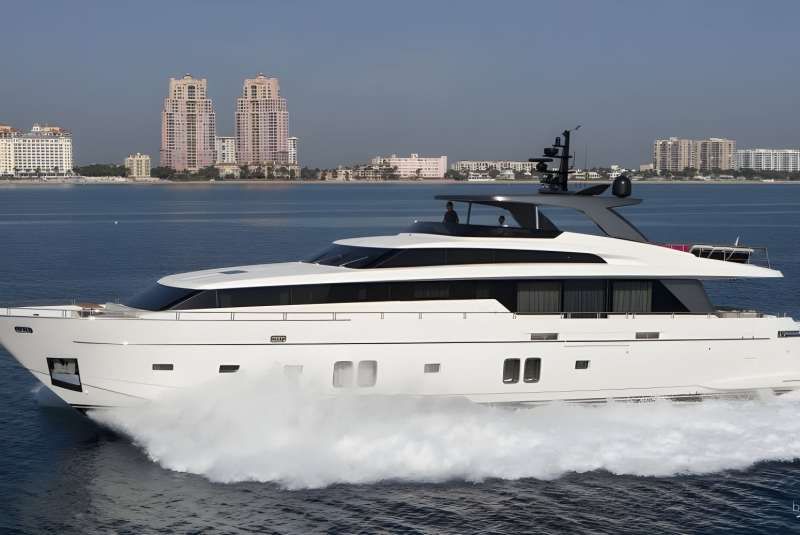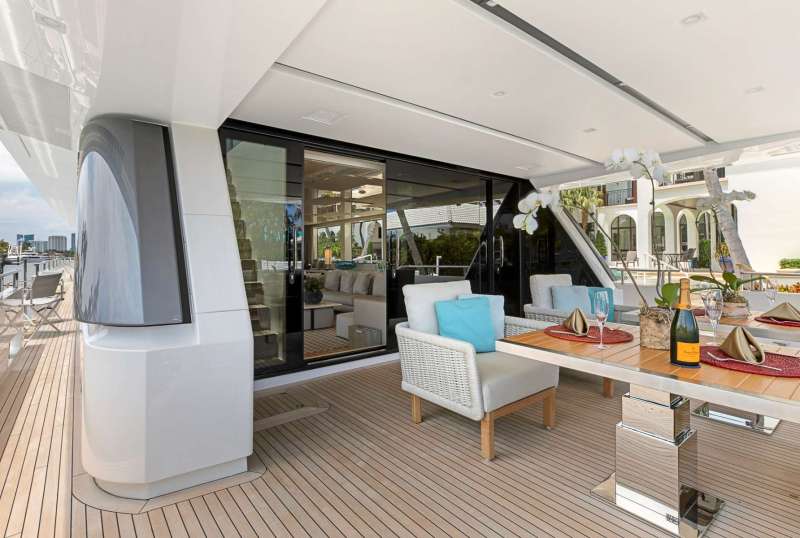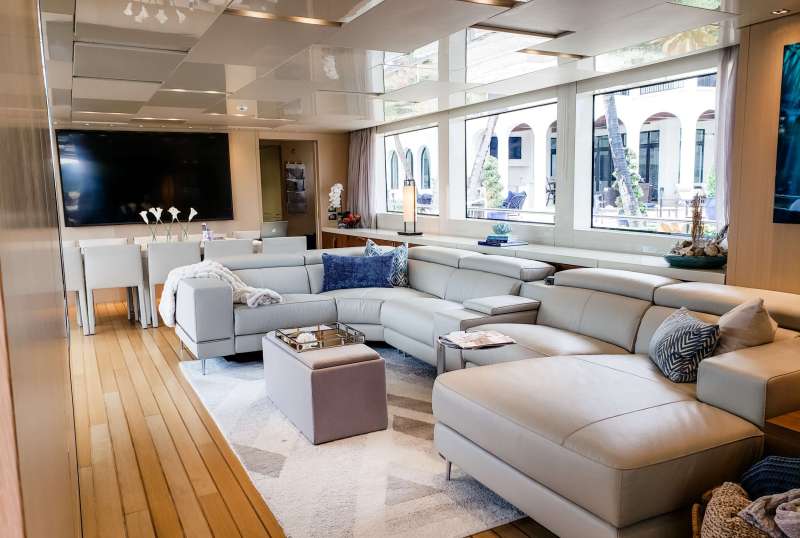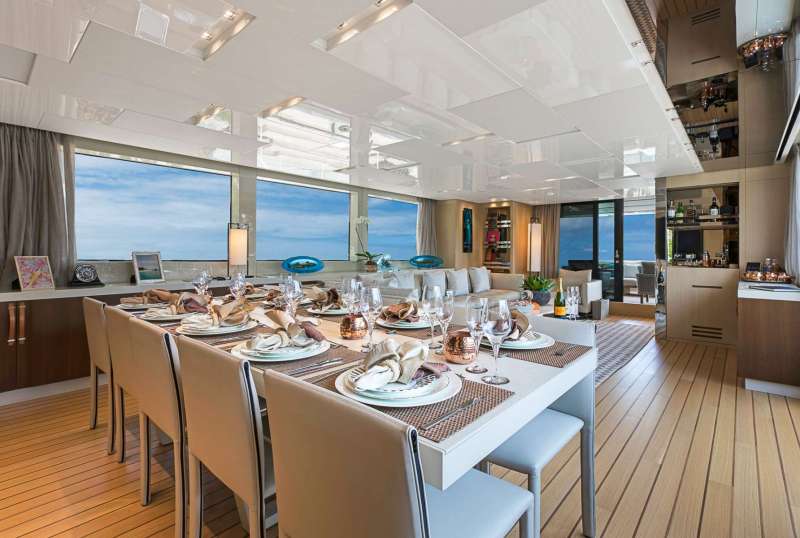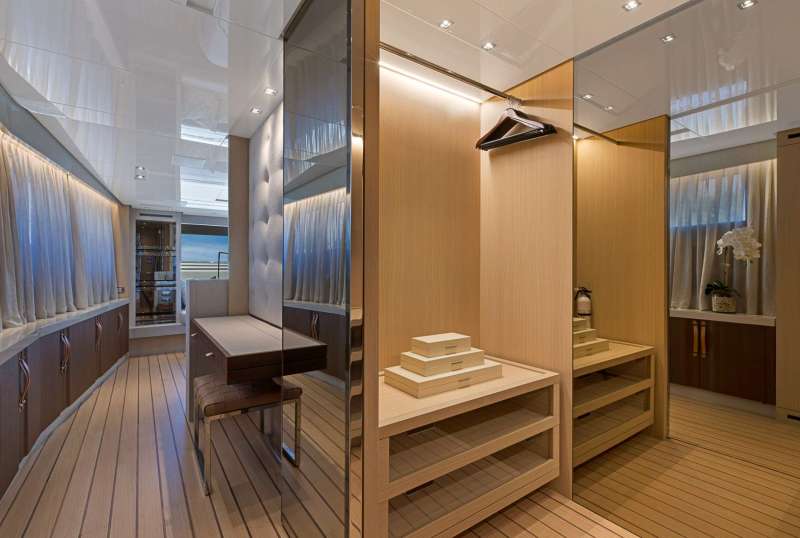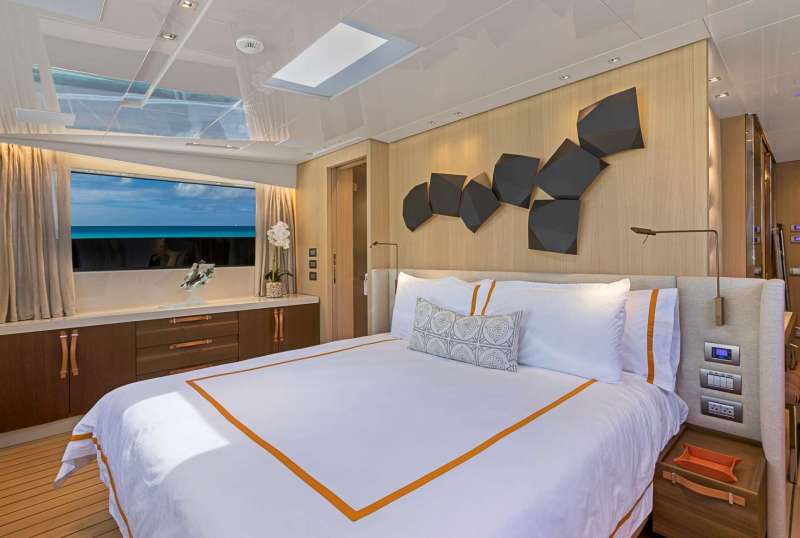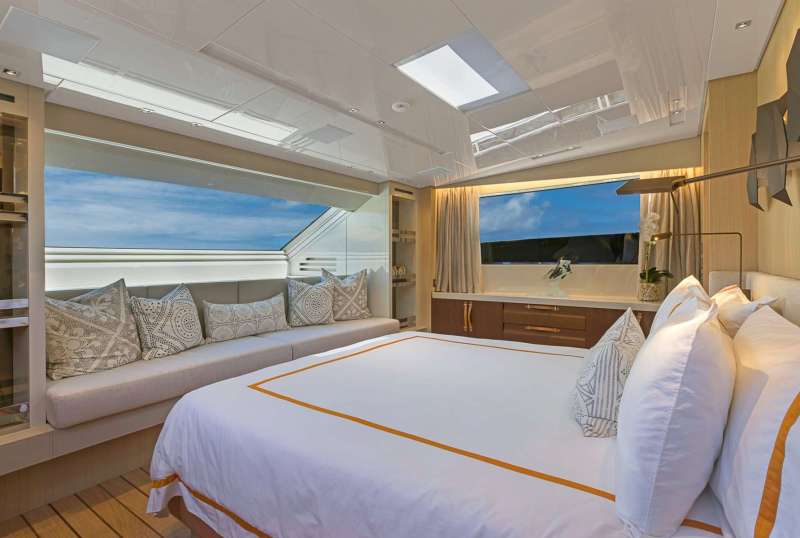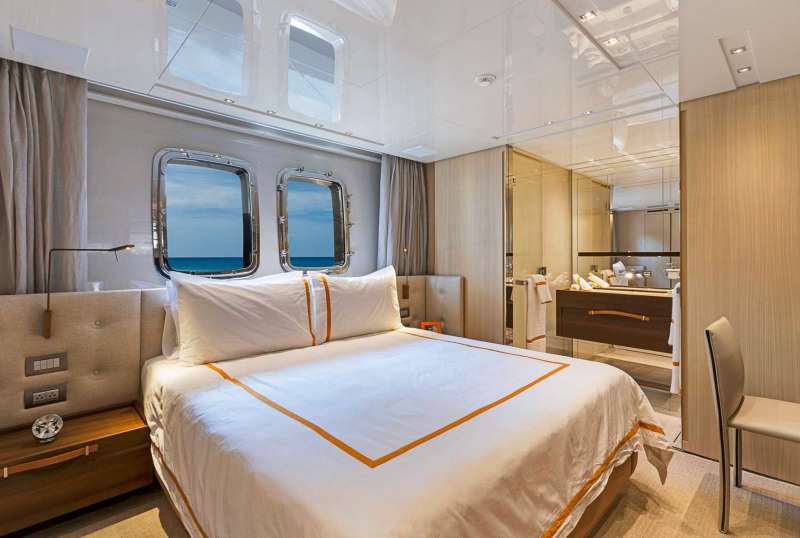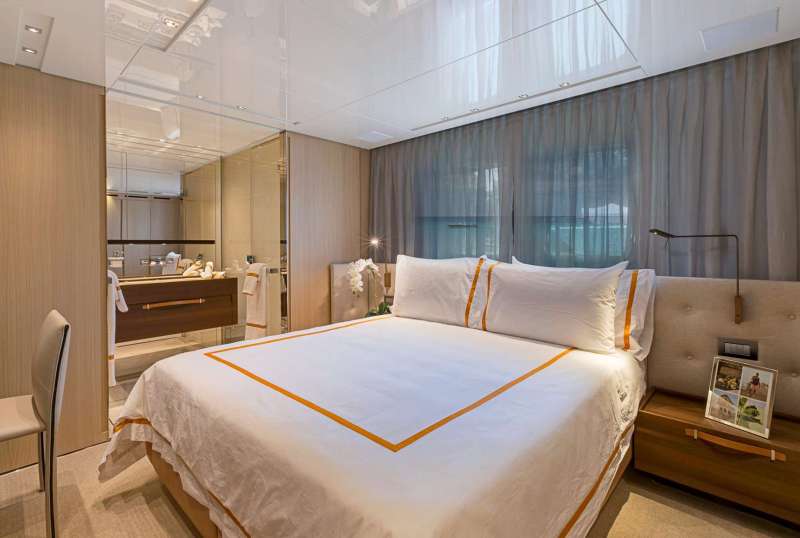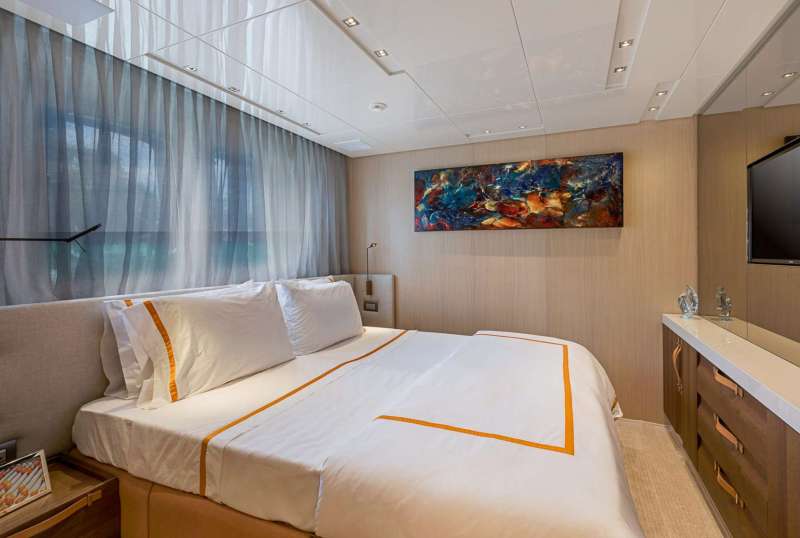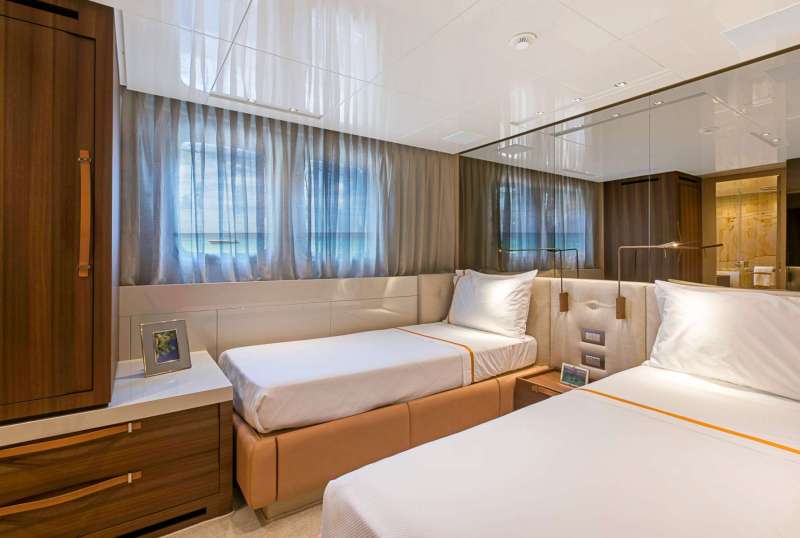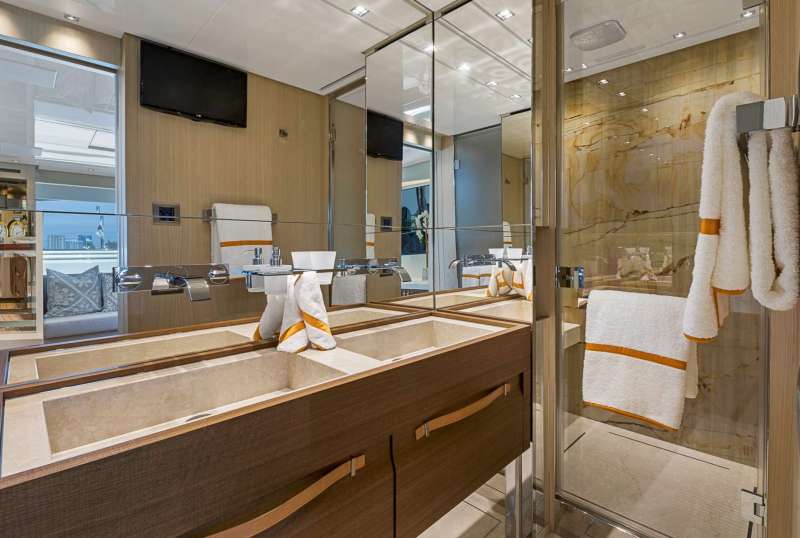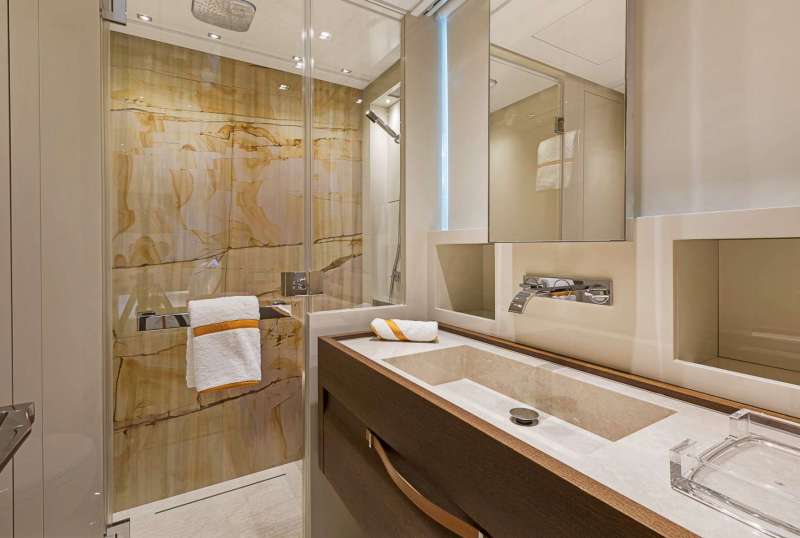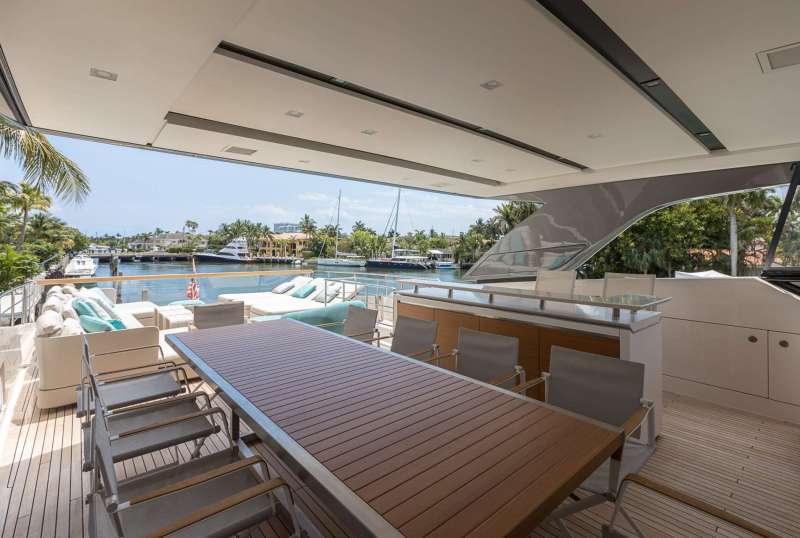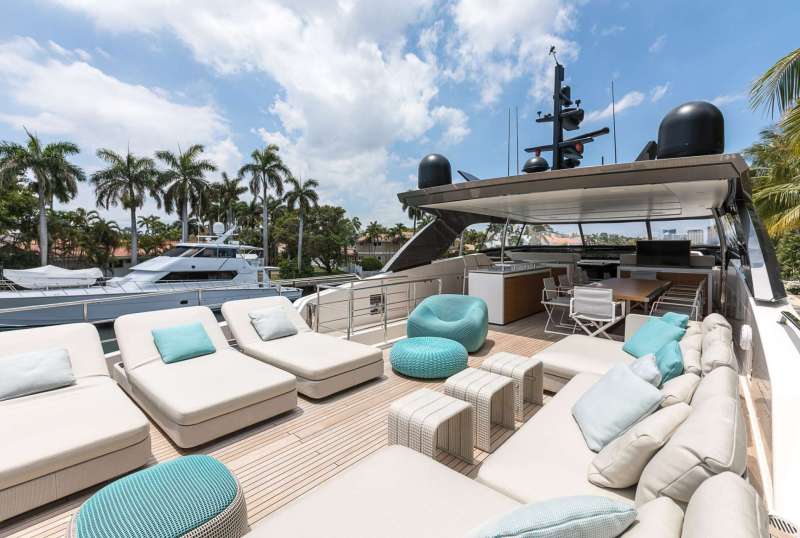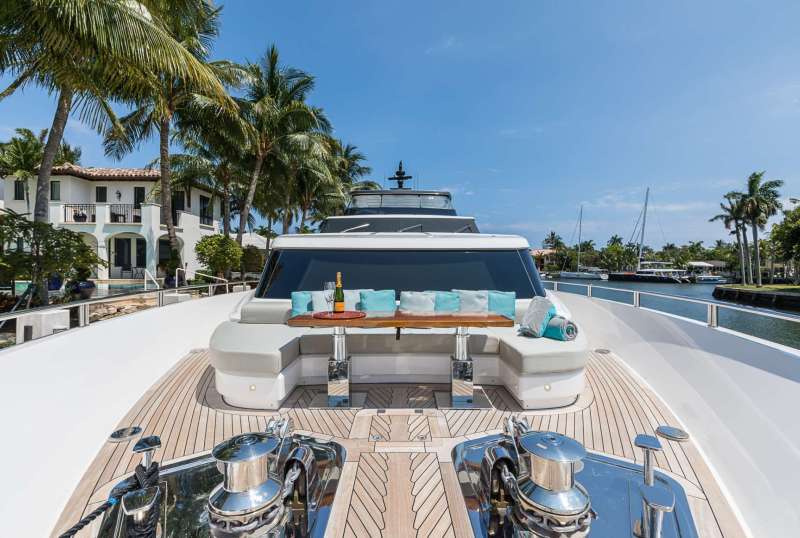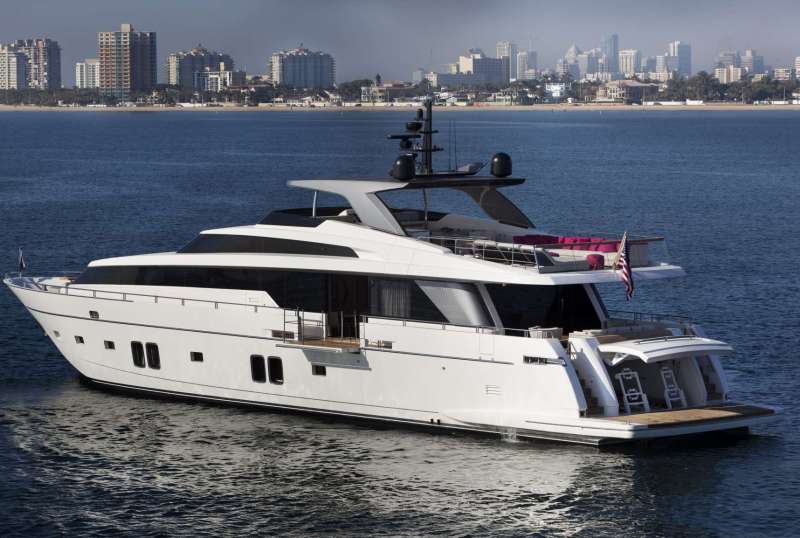 FREDDY
From $80,000/week
5 cabins
106 ft
San Lorenzo
10 guests
Built: 2017
50 US Gall/Hr
11. SEA OWL| 87 FT
SEA OWL is less than 100ft, yet it can comfortably accommodate up to 8 guests in its luxurious cabins. Her embarkation points are the Bahamas, the USA – New England, and the USA – Florida East Coast.
For indoor entertainment, SEA OWL provides a selection of card and board games, ensuring fun-filled evenings with family and friends. In addition to these recreational options, the yacht offers gym amenities such as 5 yoga mats, 25lb adjustable dumbbells, resistance bands, and light workout equipment, enabling guests to maintain their fitness routine while enjoying their luxury getaway.
Apart from fishing, SEA OWL charer service offers beach setting that includes a 10′ x 10′ white tent, a convenient pop-up BBQ grill, 8 teak chairs for luxurious lounging, and a Bluetooth speaker to create a captivating beach ambiance with your favorite tunes.
Water Toys and Amenities
Get ready for thrilling aquatic adventures with a Seadoo GTX 230, 2 Stand Up Paddle Boards, a dive bladder, 2 Seabobs, a towable tube, and snorkel gear.
Fishing Gear
SEA OWL provides a 35′ Scout 350LXF towed tender but no fishing gear. Hence, reach out to her knowledgeable crew, who will assist you in selecting the perfect gear for fishing.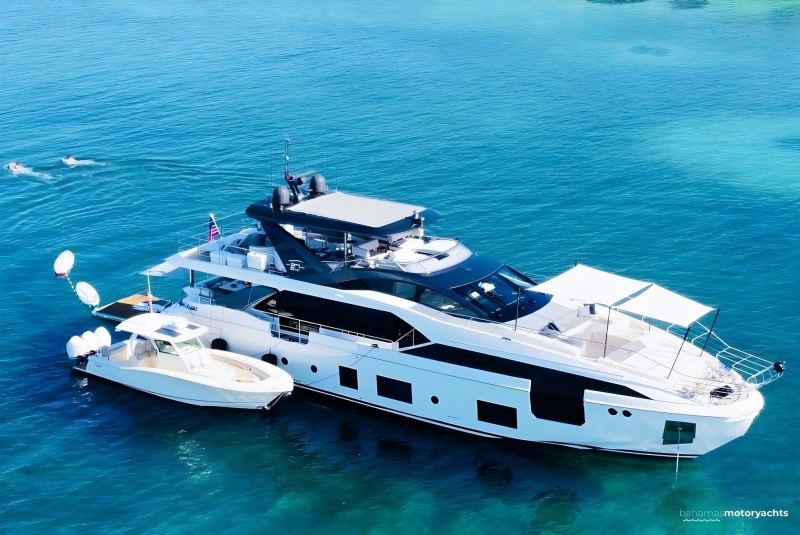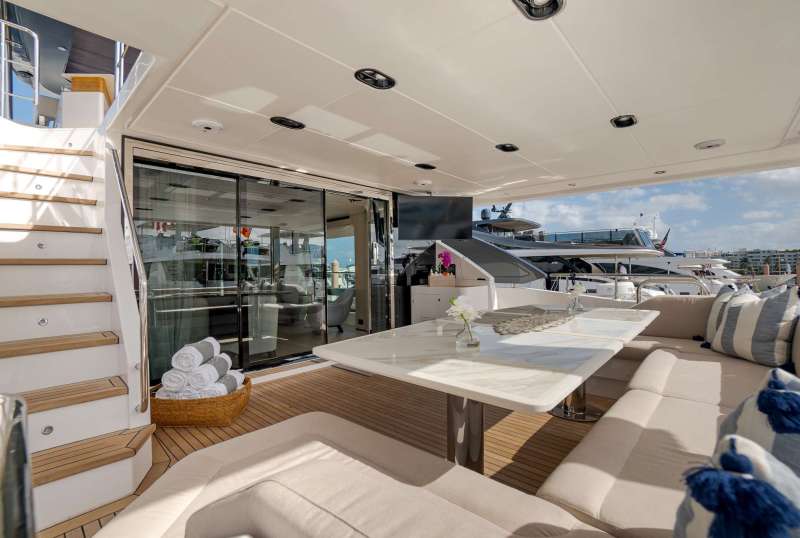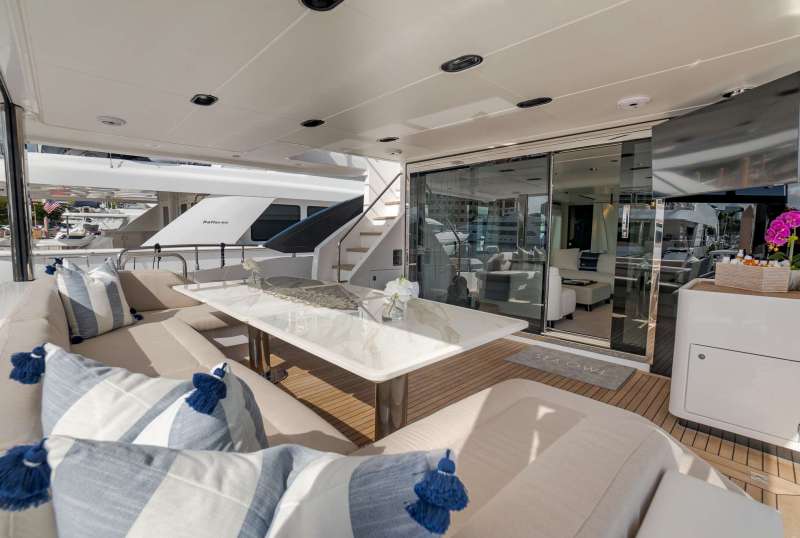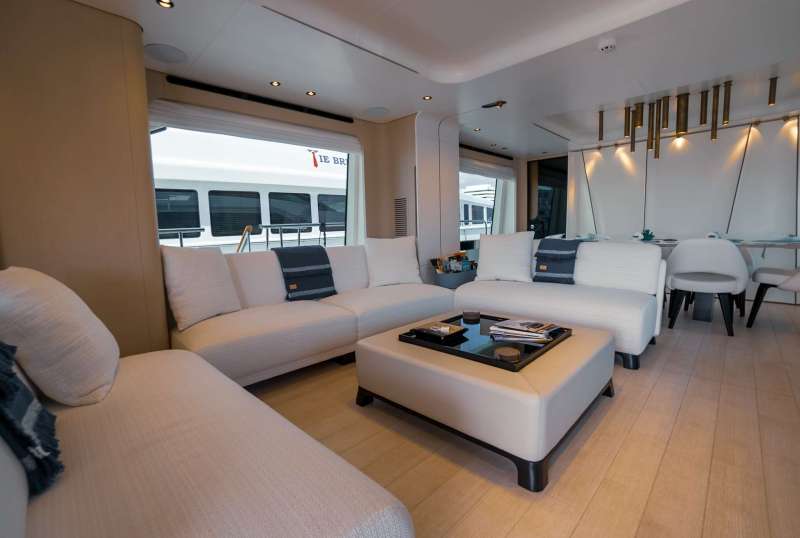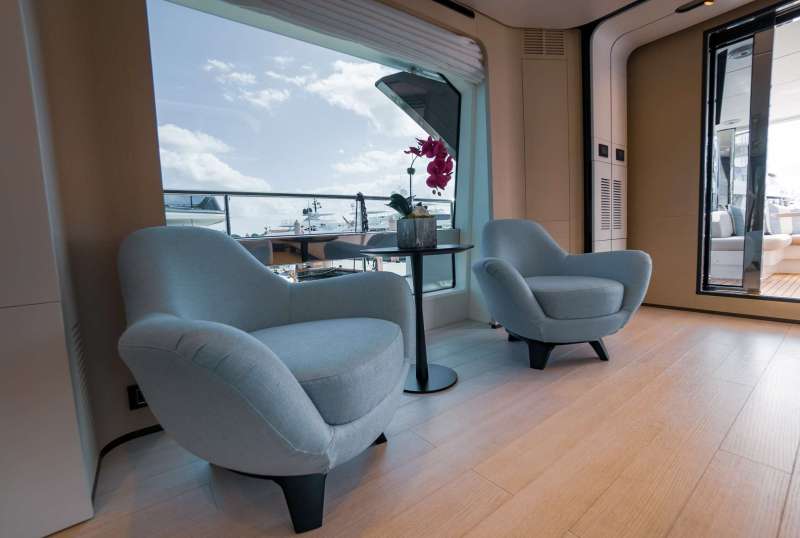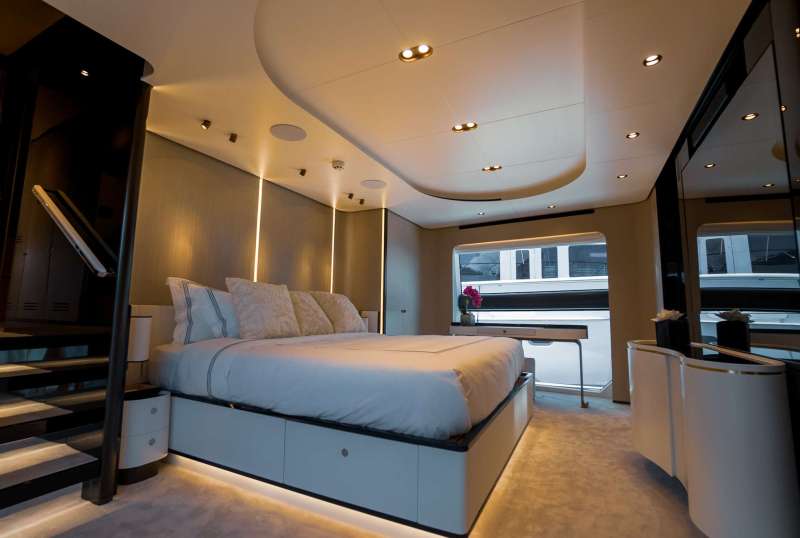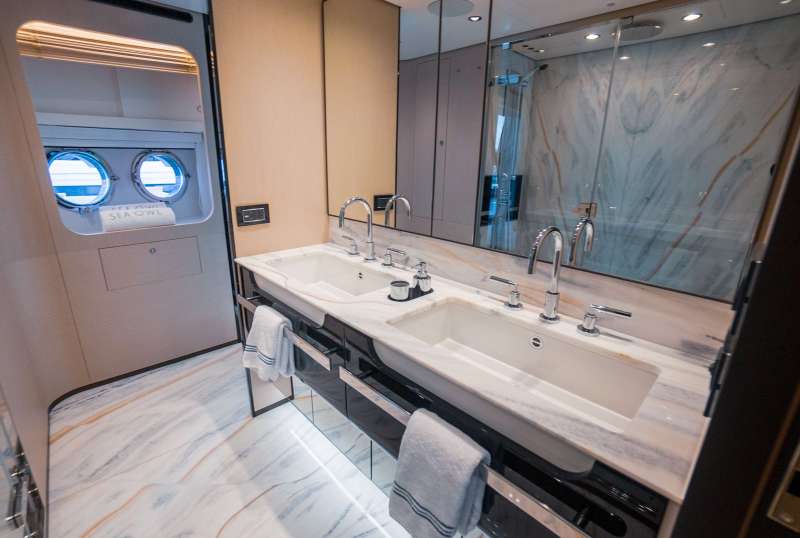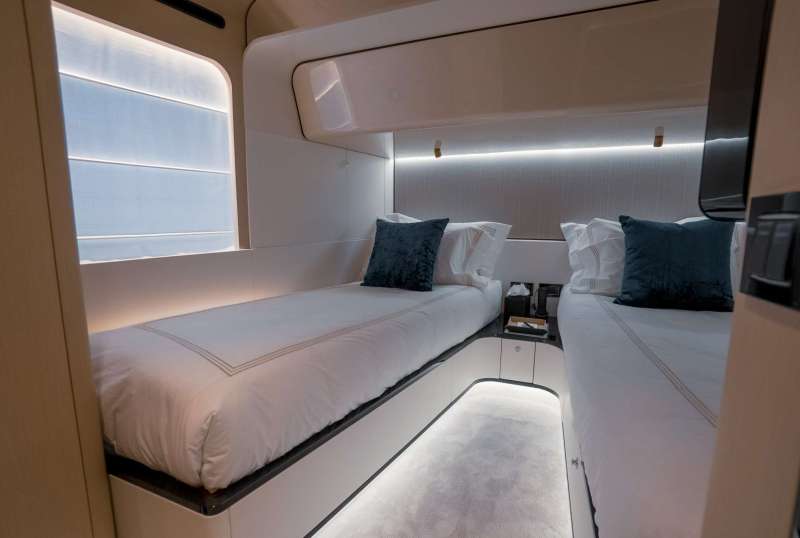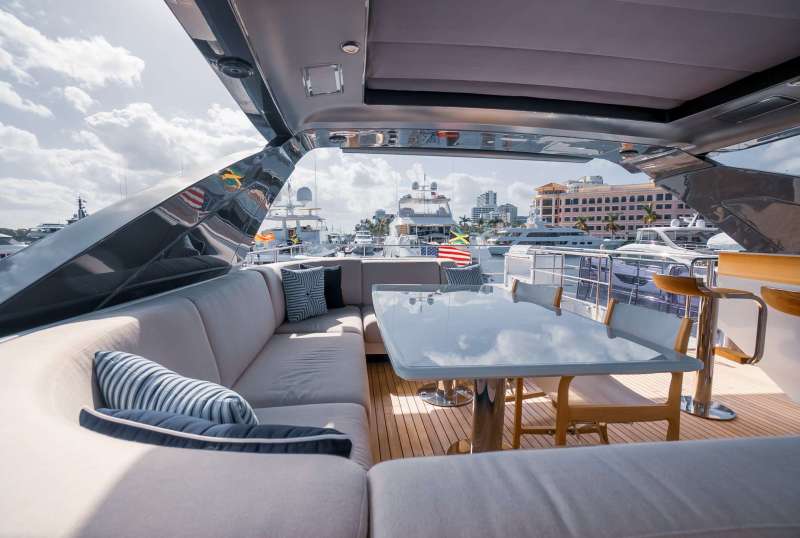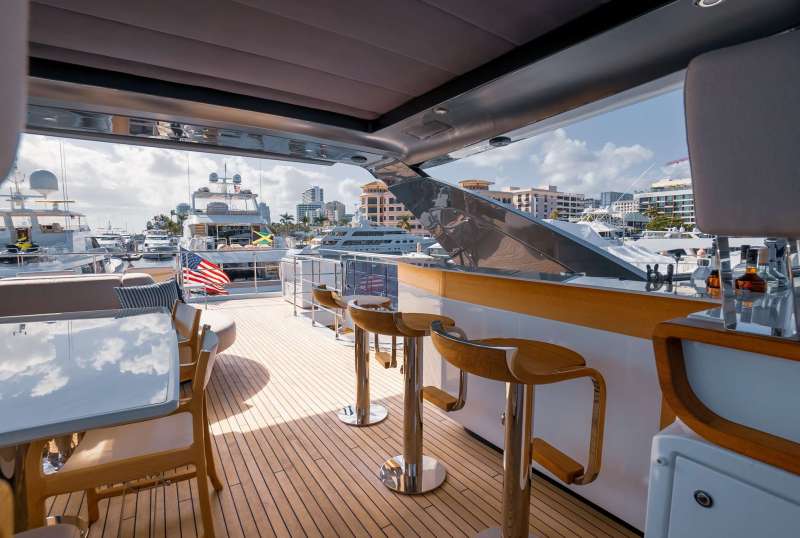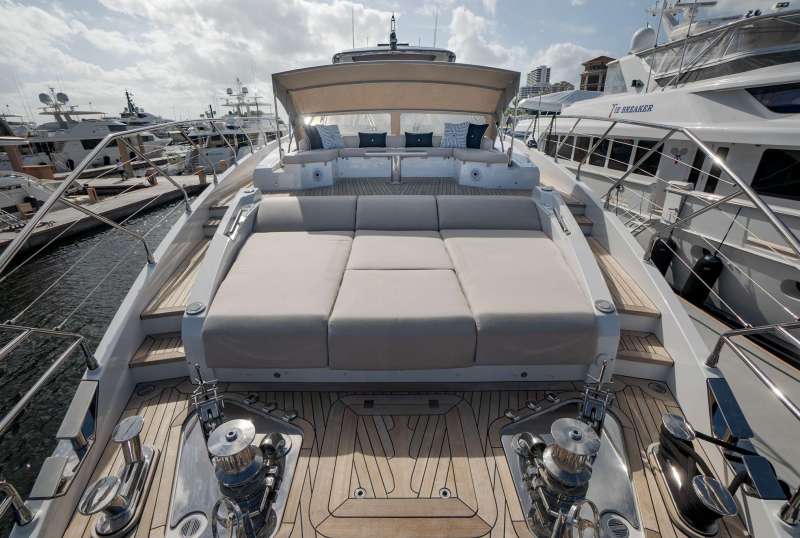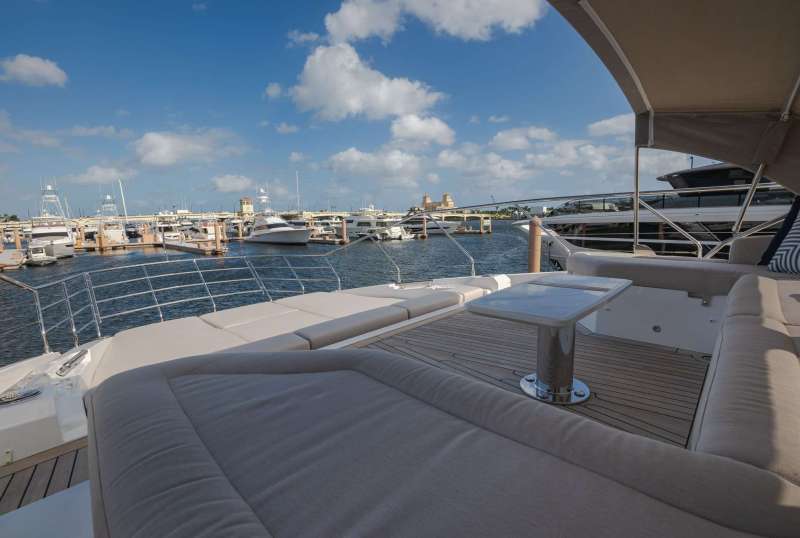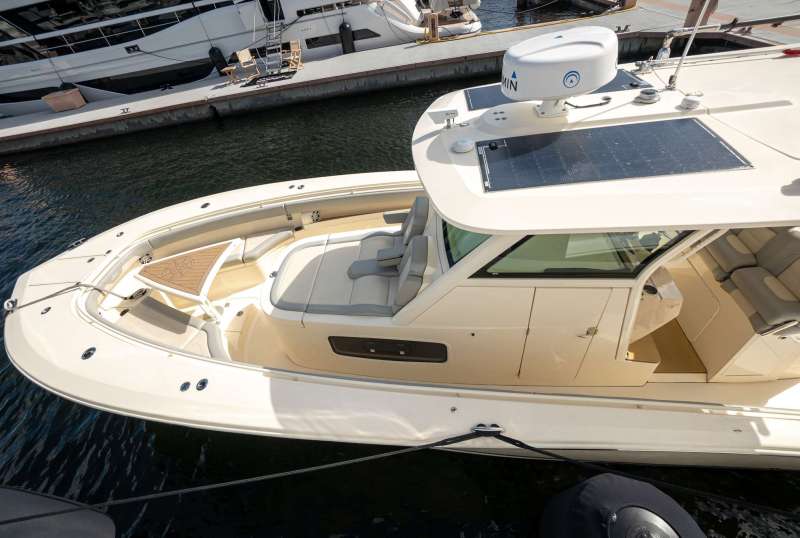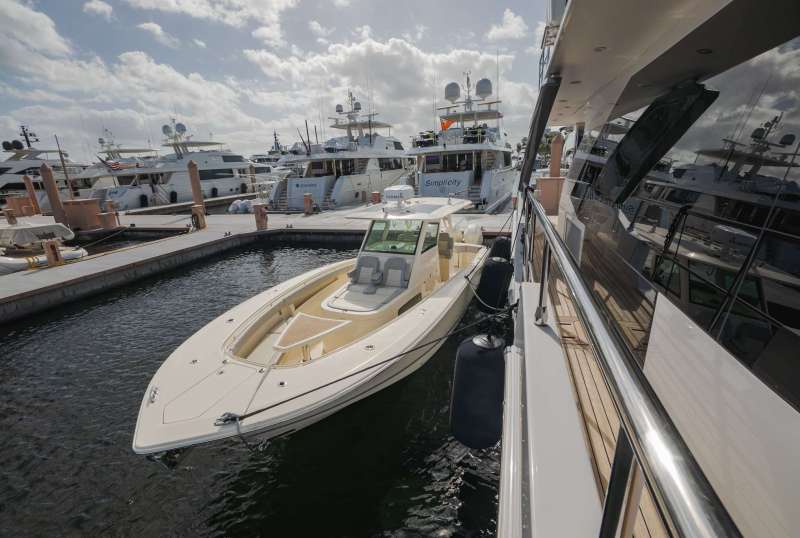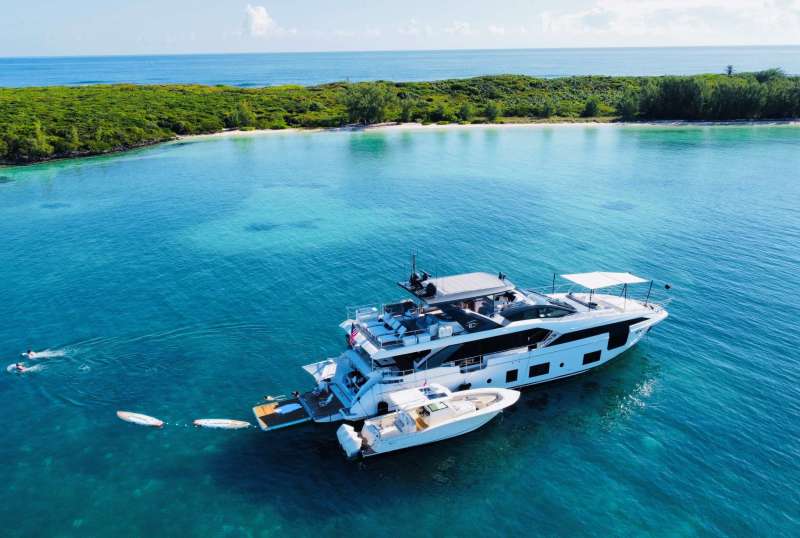 SEA OWL
From $80,000/week
5 cabins
87 ft
Azimut
8 guests
Built: 2022
155 US Gall/Hr
12. THE PEDDLER| 86 FT
While based in Fort Lauderdale during the summer, THE PEDDLER can be relocated to the captivating Bahamas for an additional fee. She has spacious accommodations for 8 guests and has a South African crew of 4 people including chef.
To enhance your beach outings, THE PEDDLER provides a full beach setup with comfortable chairs, whether basking in the sun, enjoying a refreshing swim, or simply taking in the breathtaking surroundings. She also has proper assorted fishing gears for Marlin and other sporty fishes.
Water Toys and Amenities
THE PEDDLER is equipped with Seadoo Spark Waverunner, Flite Boards, Jobe Seascooters, Nomad, SUP, SUP inflatable/Kayak, Nauti bouy inflatable Dock, and an assortment of towable. Guests can also dive underwater world with snorkeling gear.
Fishing Gear
THE PEDDLER offers a thrilling fishing experience with top-of-the-line rods and an assortment of fishing gear covering groundfishing, flyfishing, and deep sea fishing. Guests can explore the reefs of Eleuthra or the deep waters of Harbor Island on the 2022 28′ Boston Whaler Outrage, powered by twin Yamaha 200s, perfect for marlin fishing. Additionally, enjoy the convenience of the 18′ Williams Jet Tender for smooth transportation to the nearby fishing spots.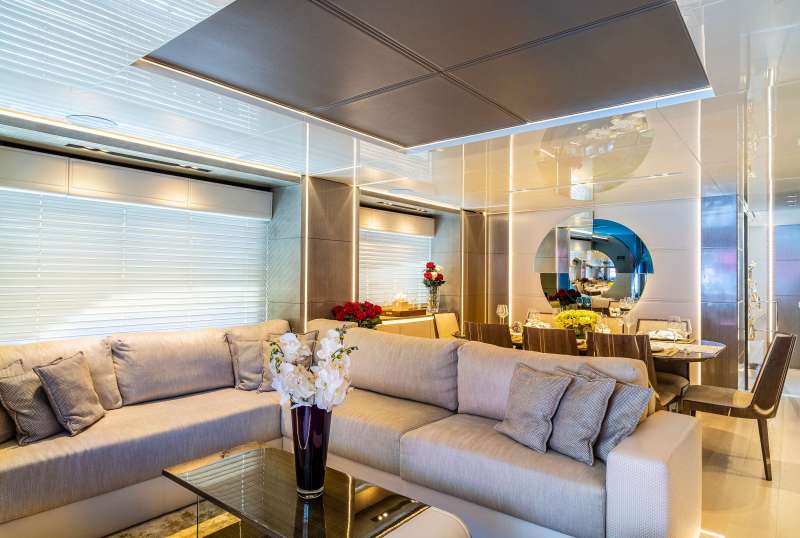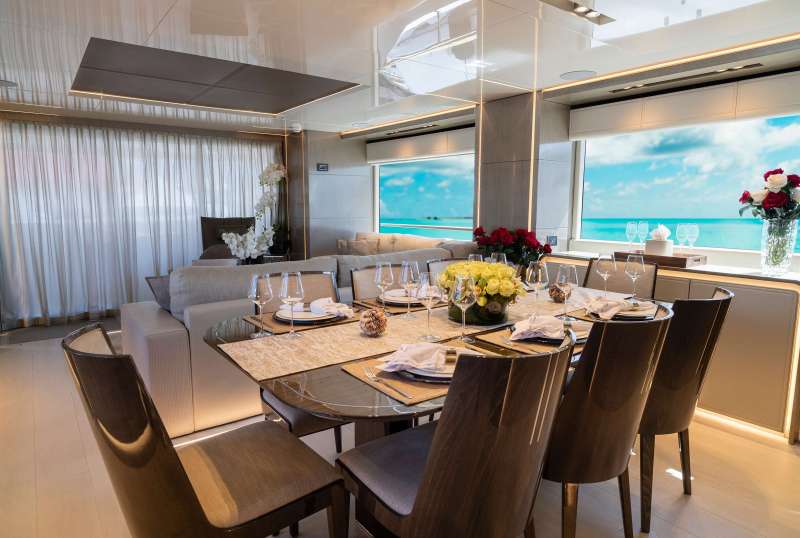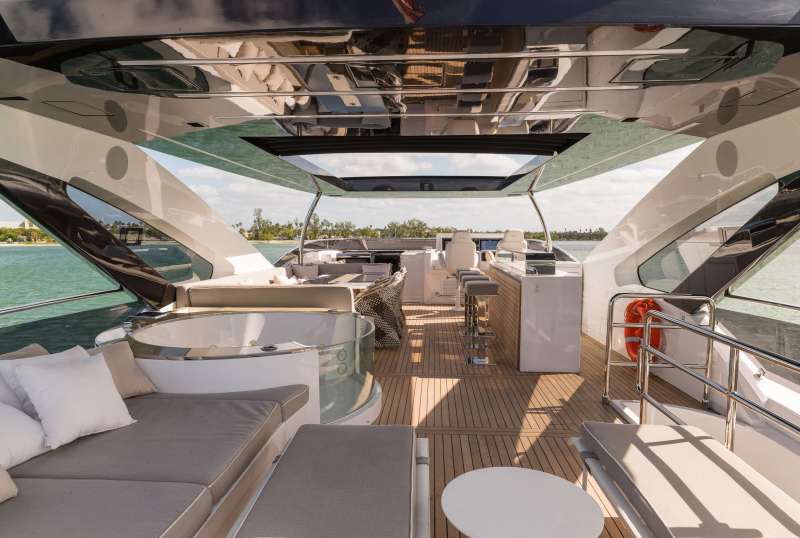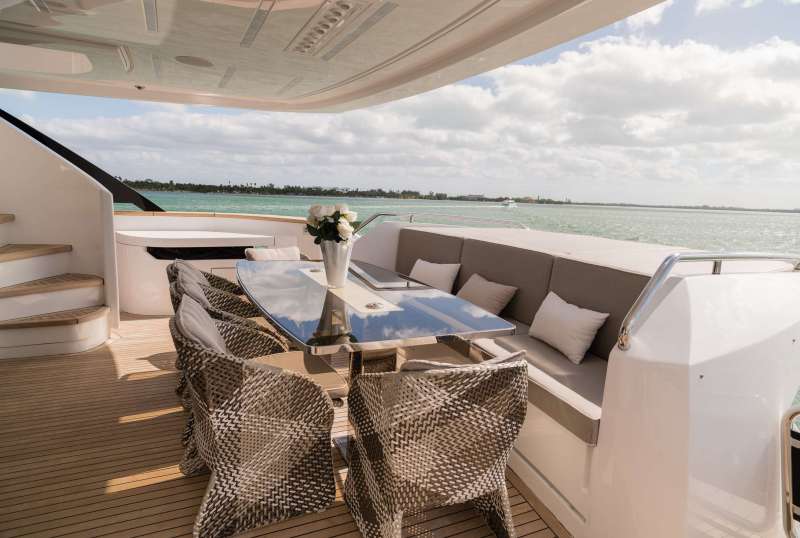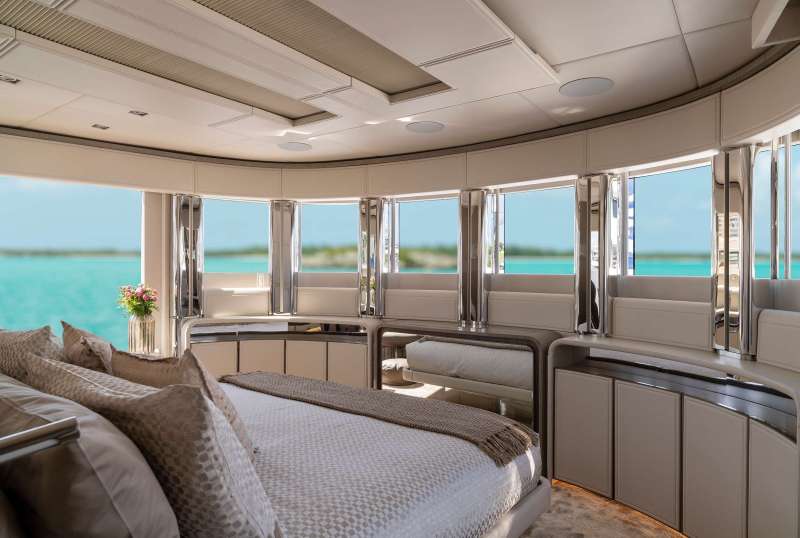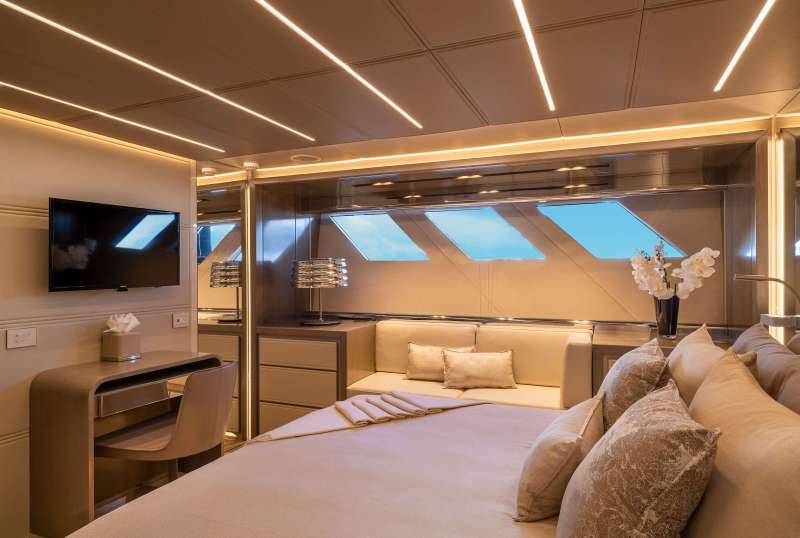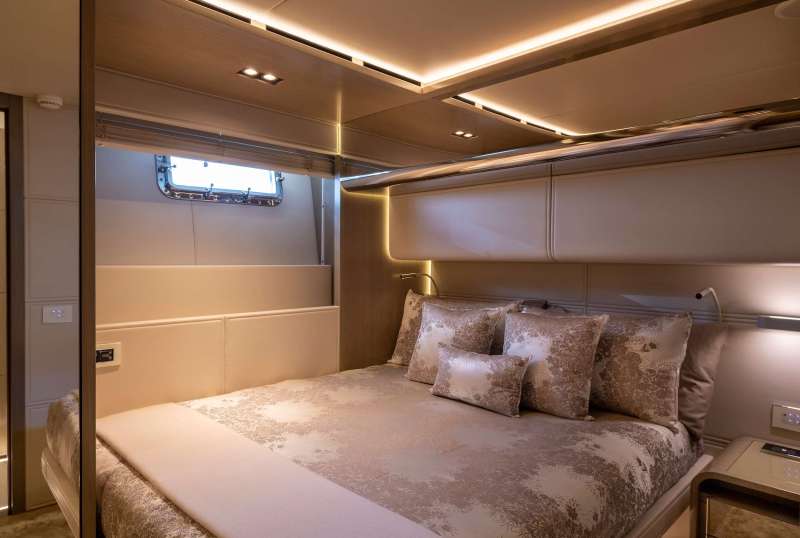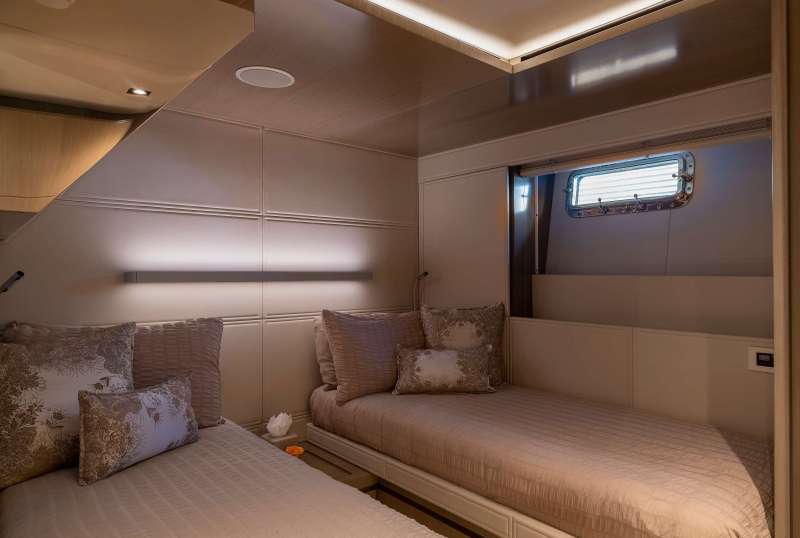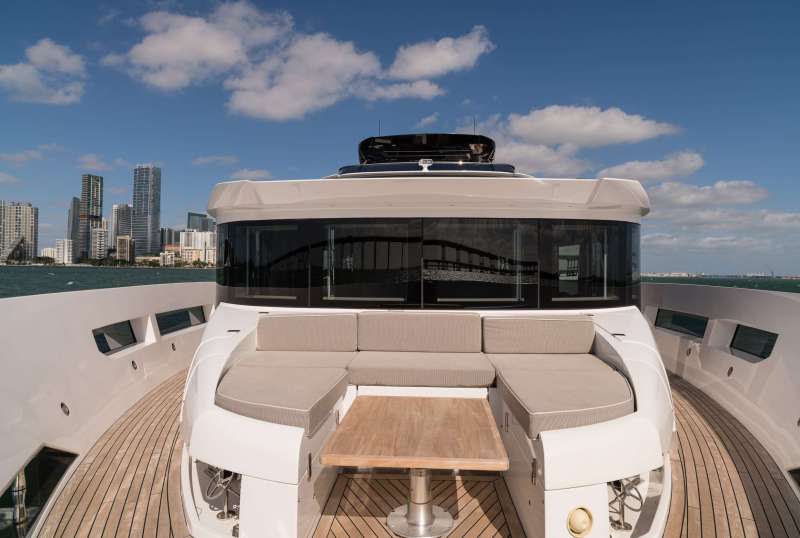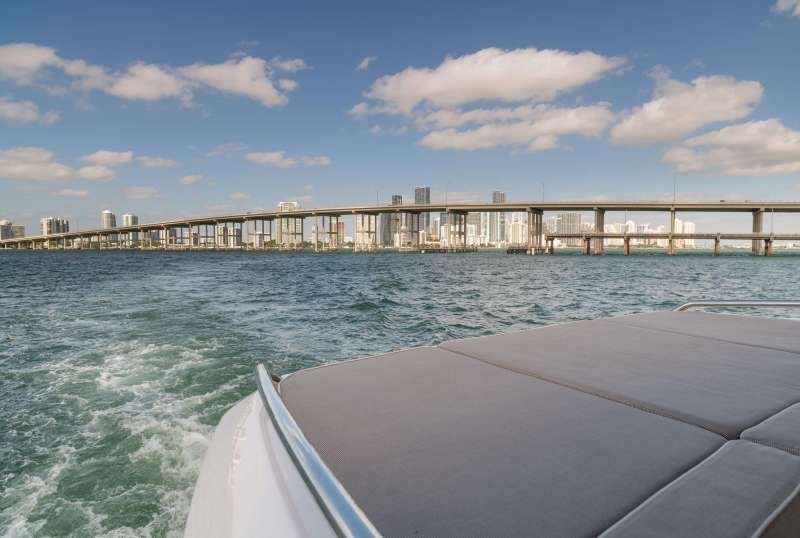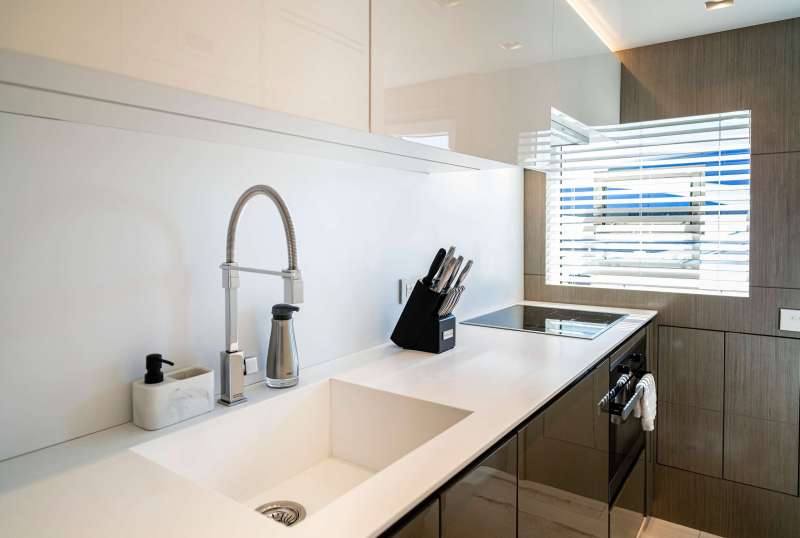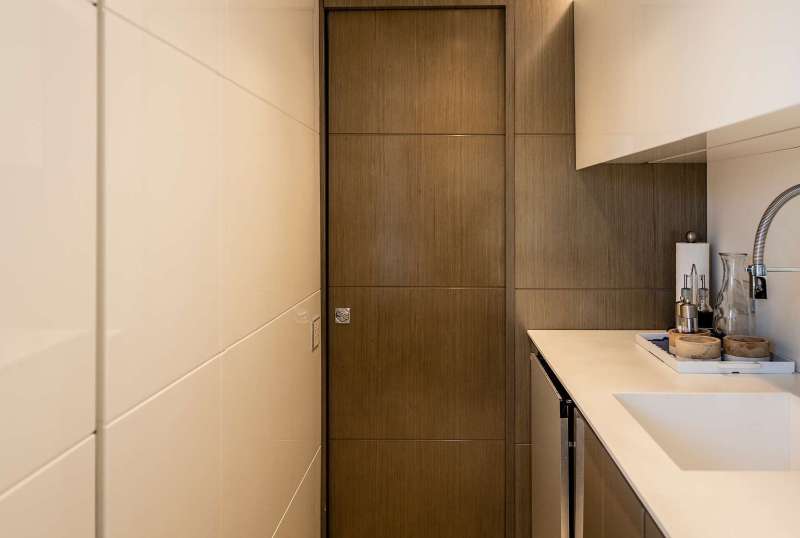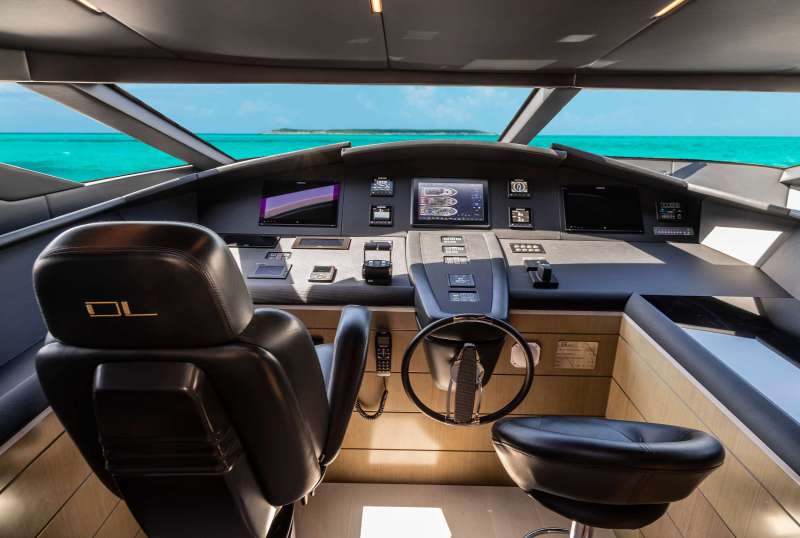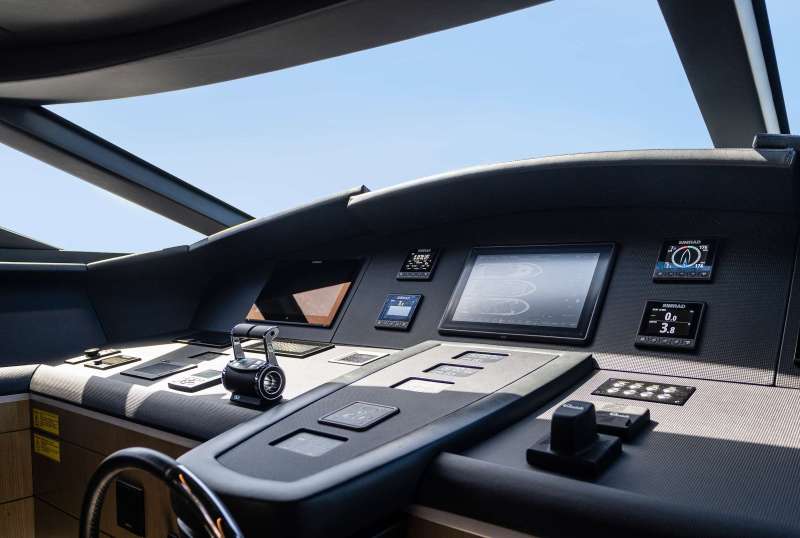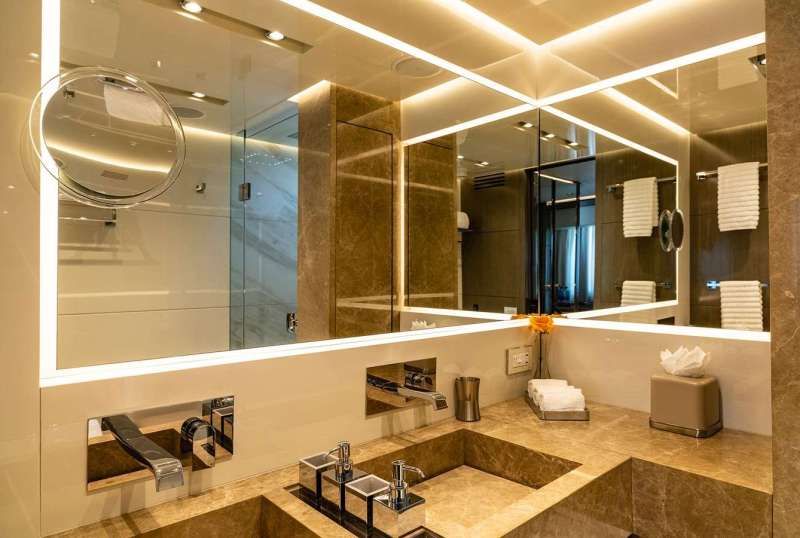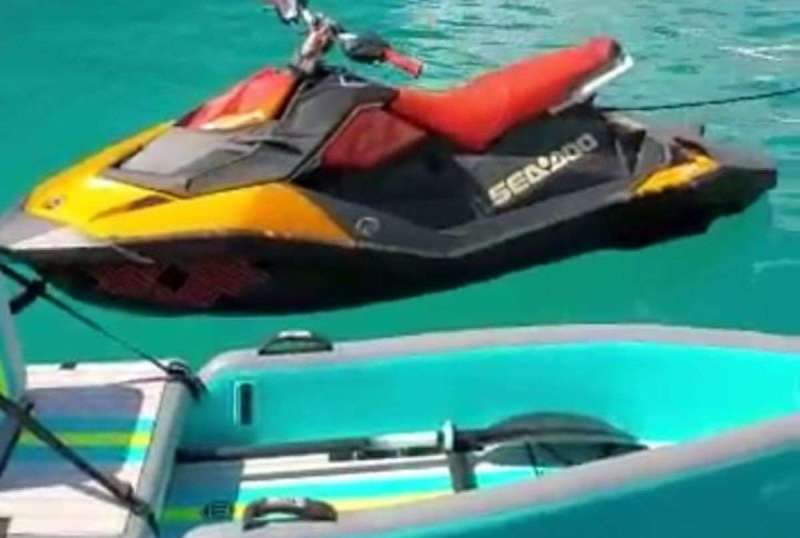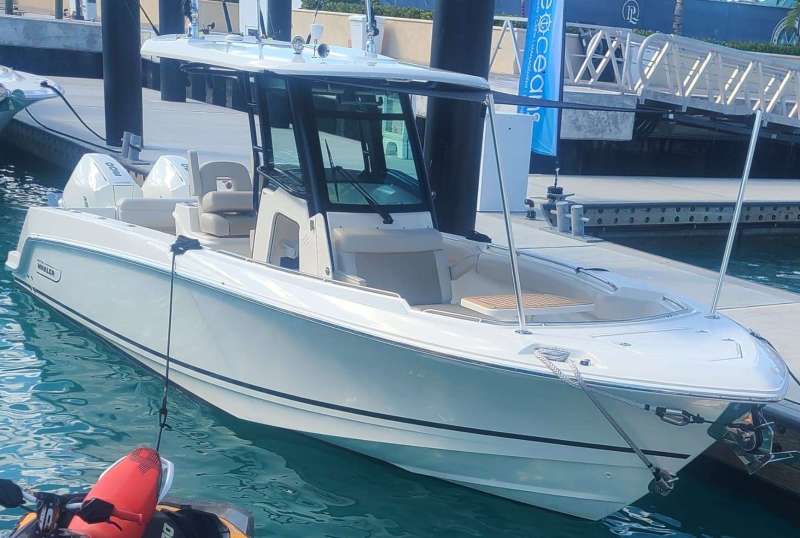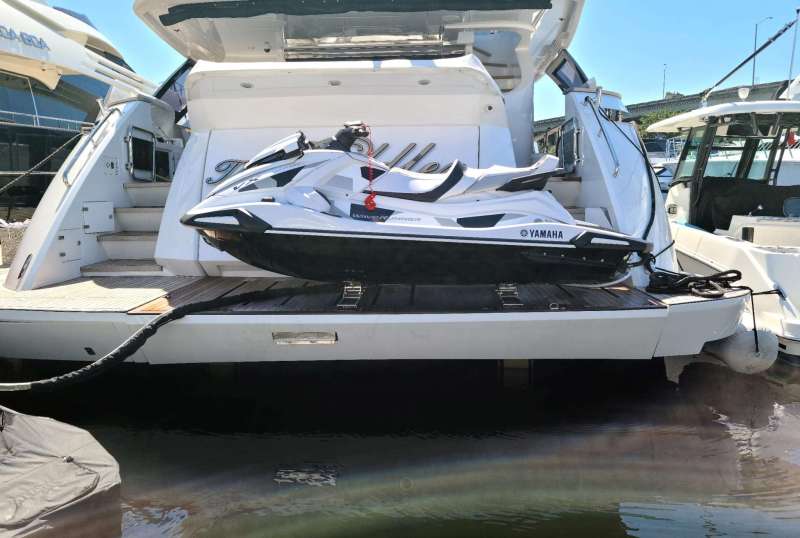 THE PEDDLER
From $65,000/week
4 cabins
86 ft
Custom
8 guests
Built: 2019
200 Litres/Hr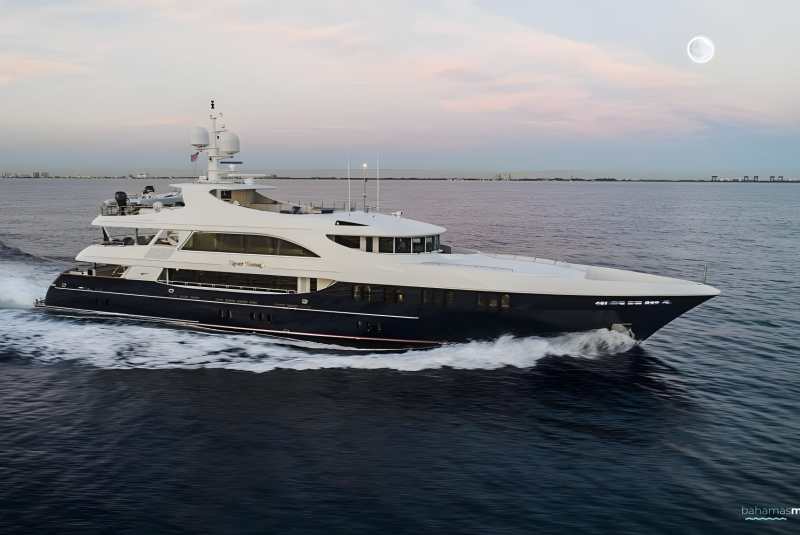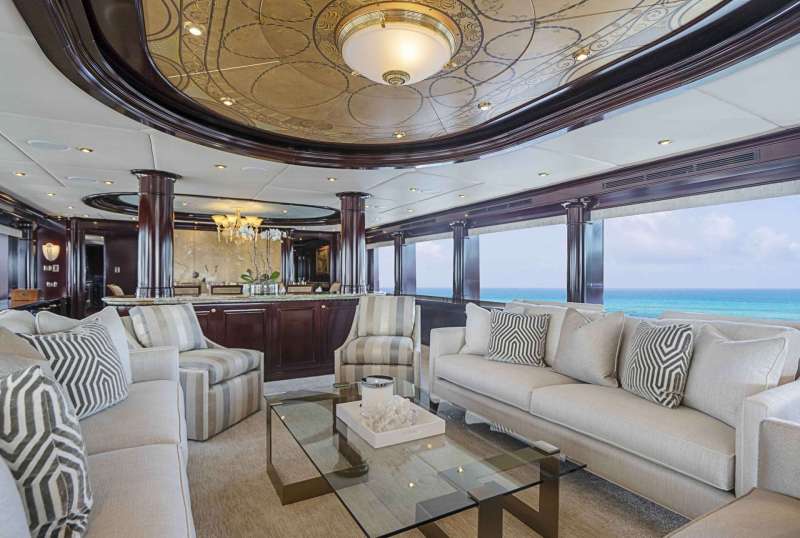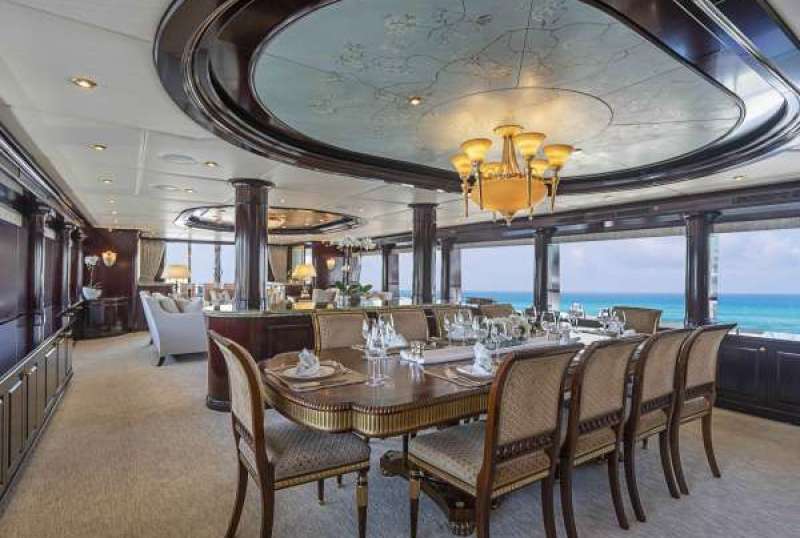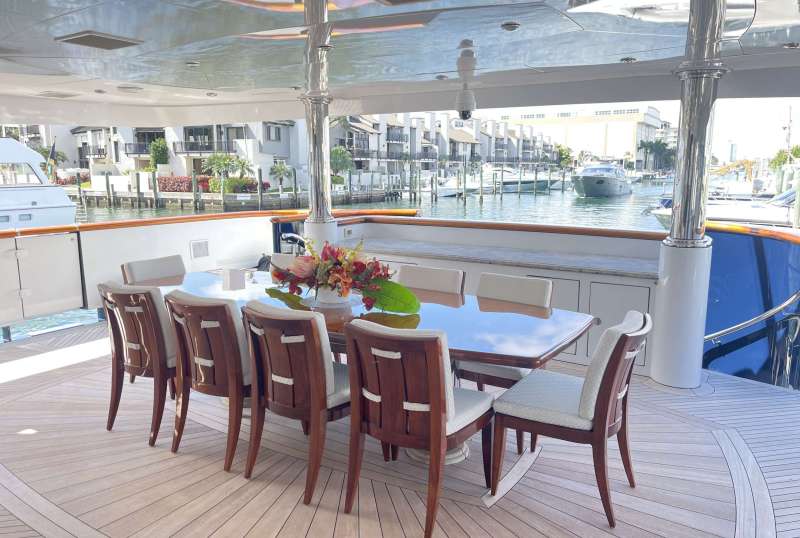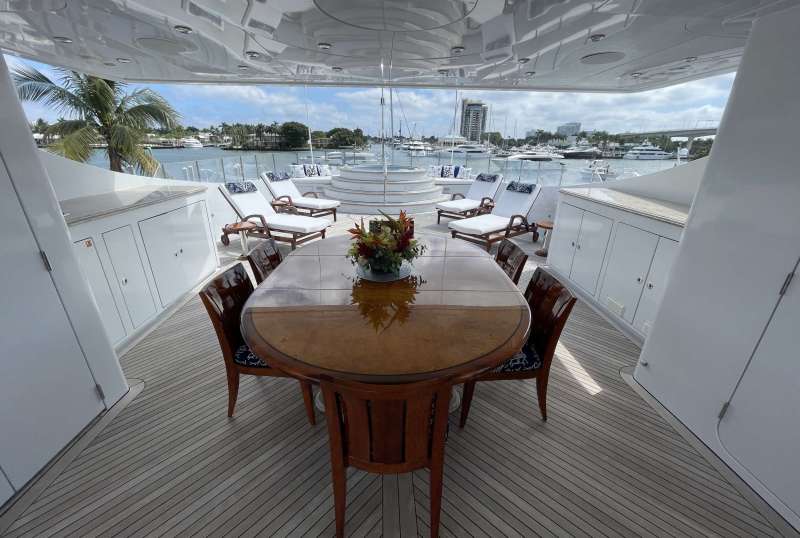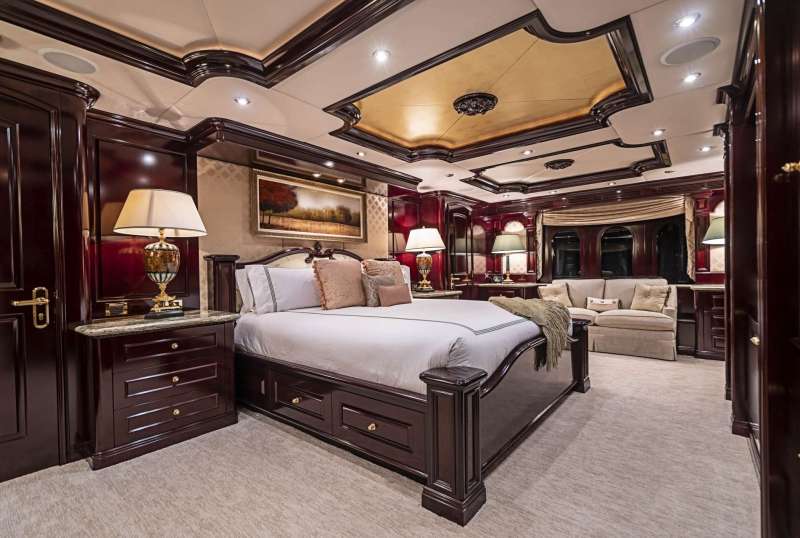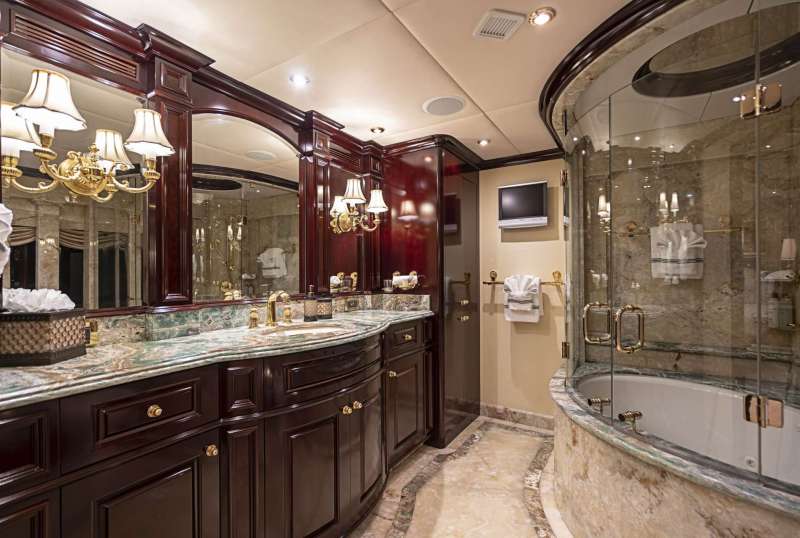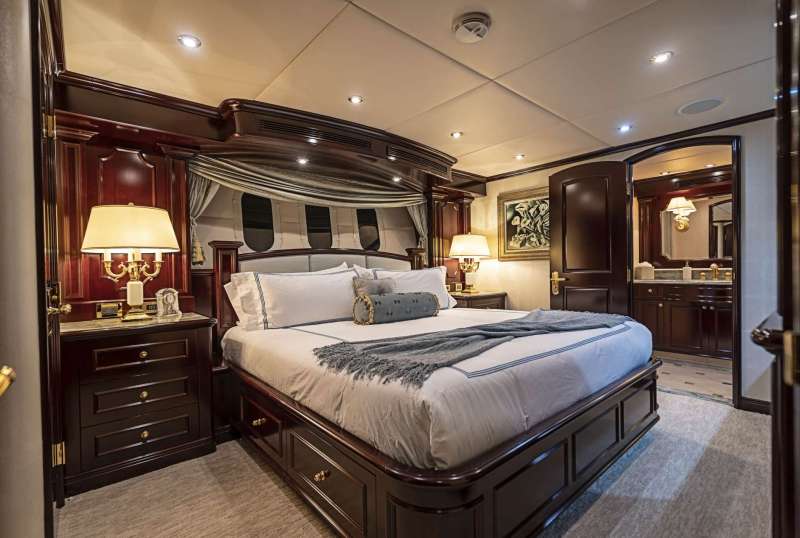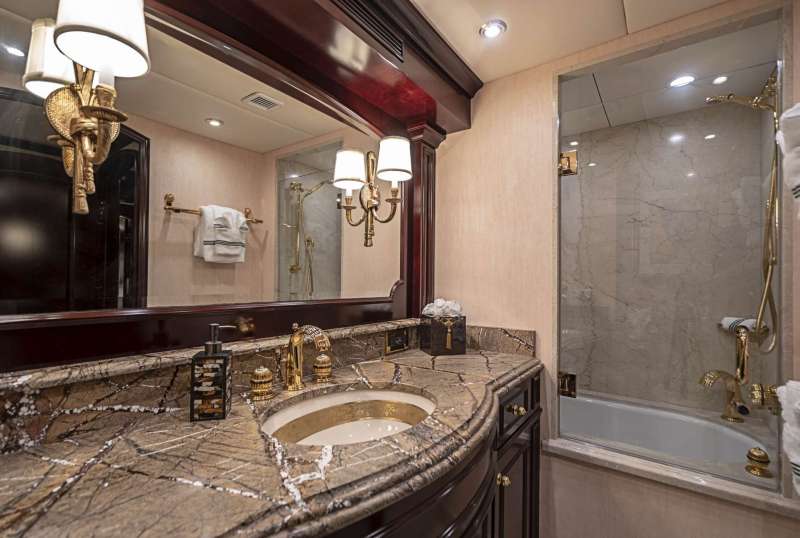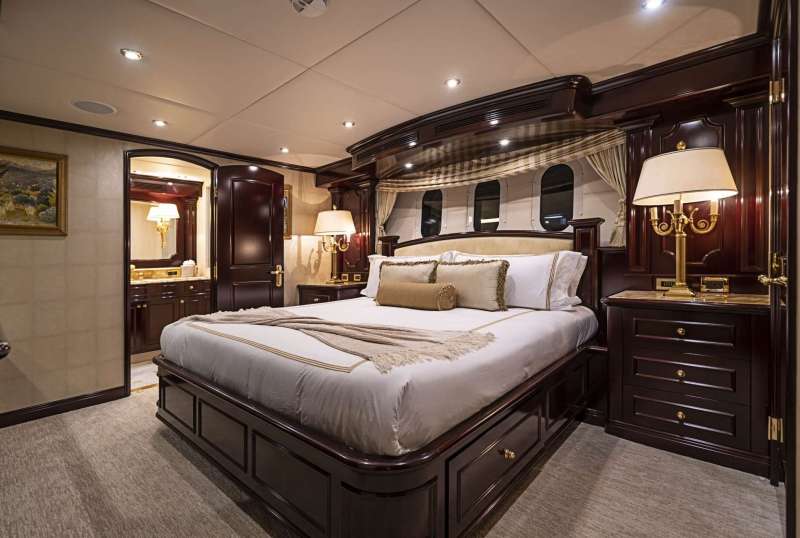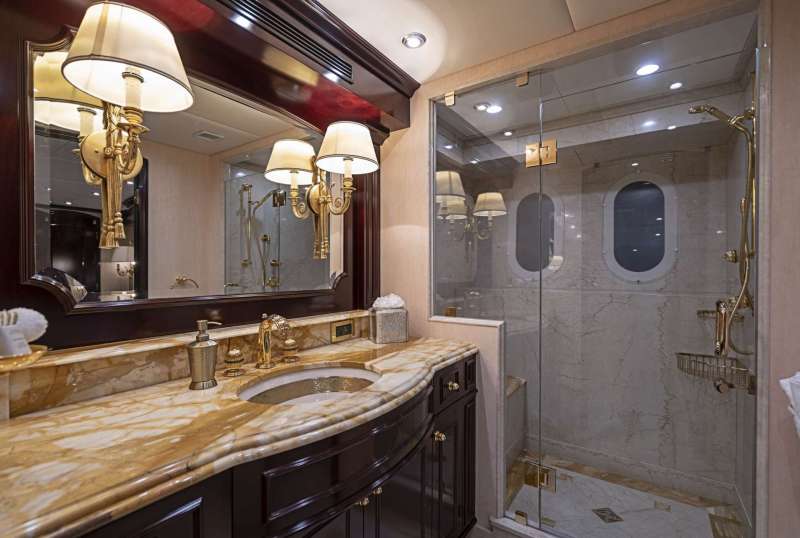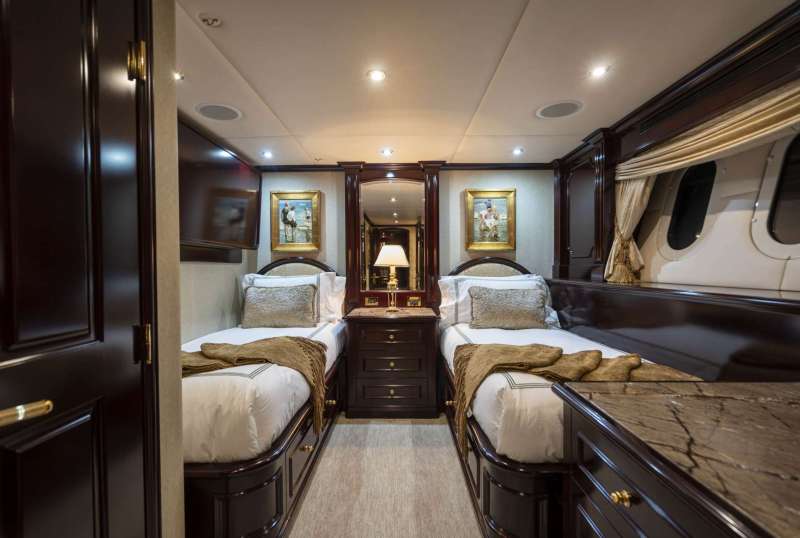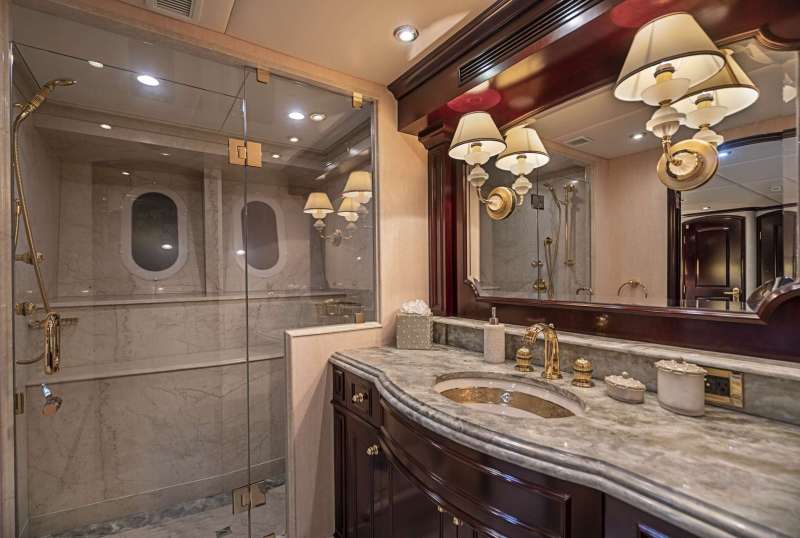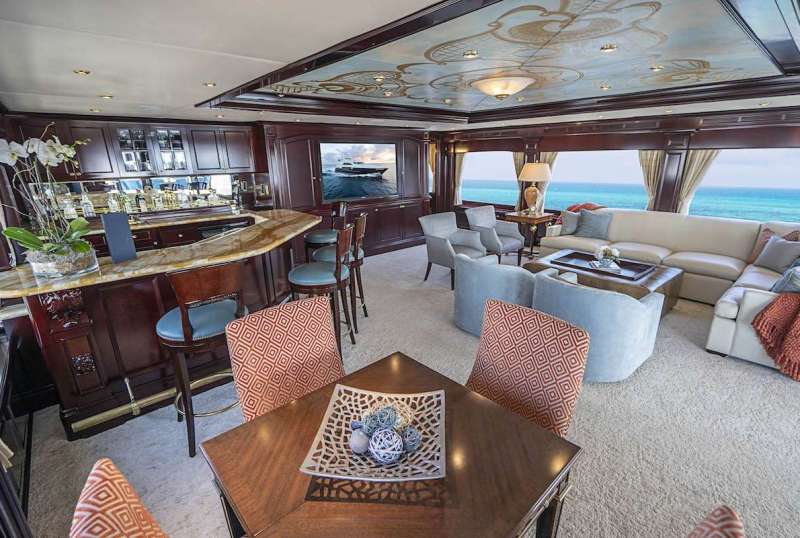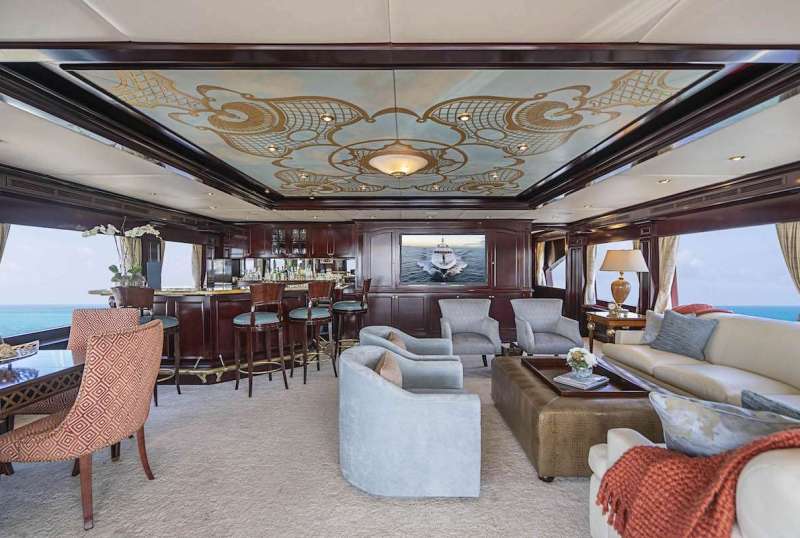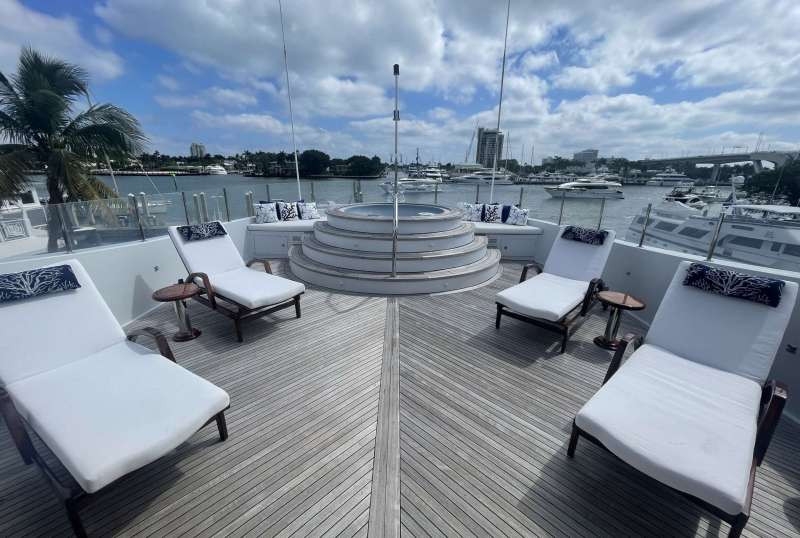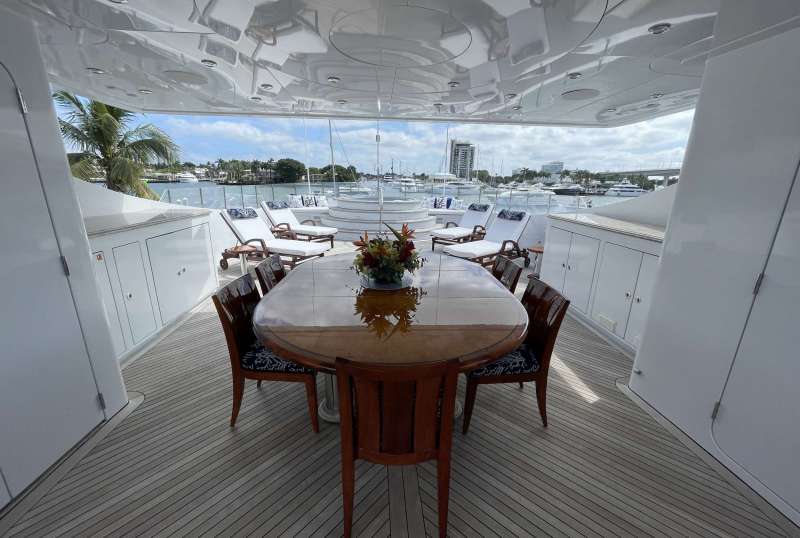 MISS CHRISTINE
From $160,000/week
5 cabins
157 ft
Trinity Yachts
11 guests
Refit: 2022
85 US Gall/Hr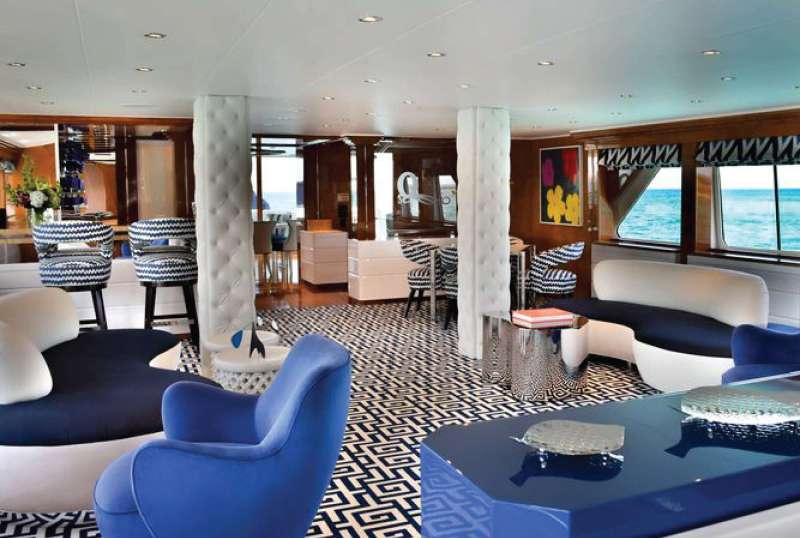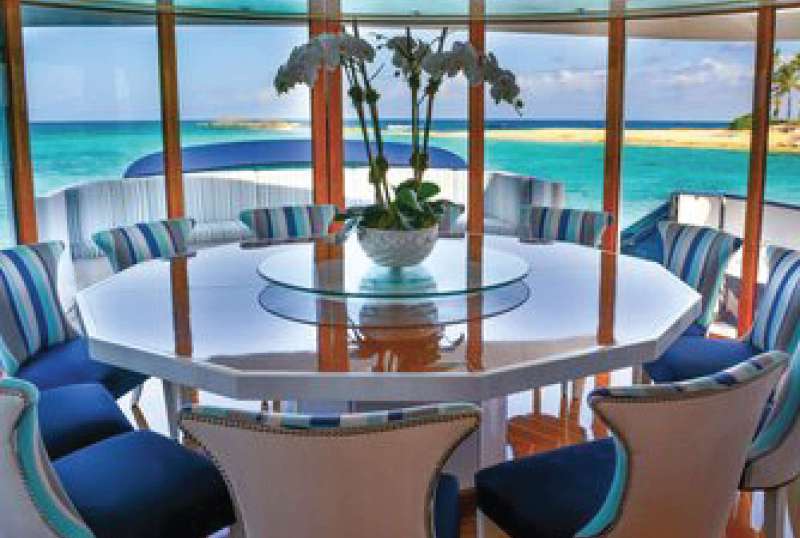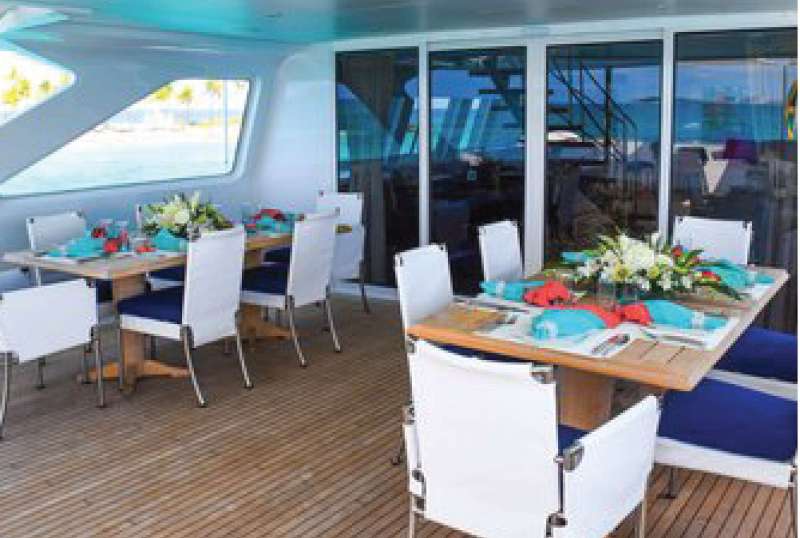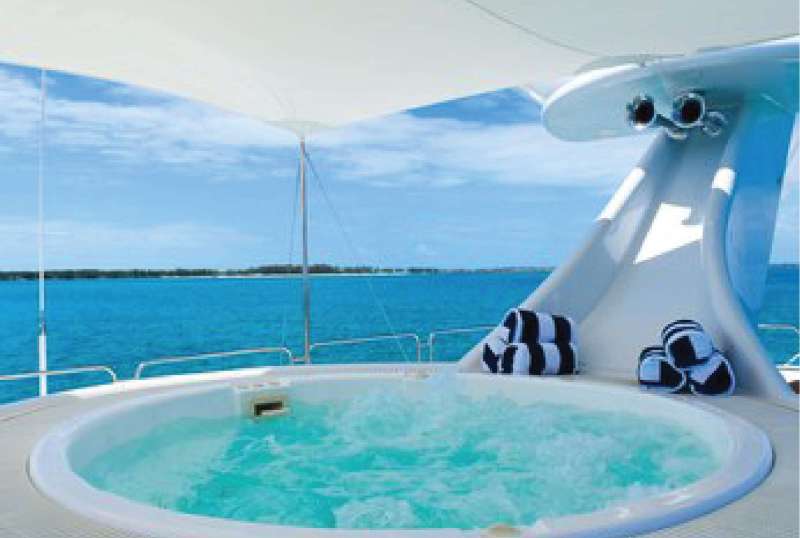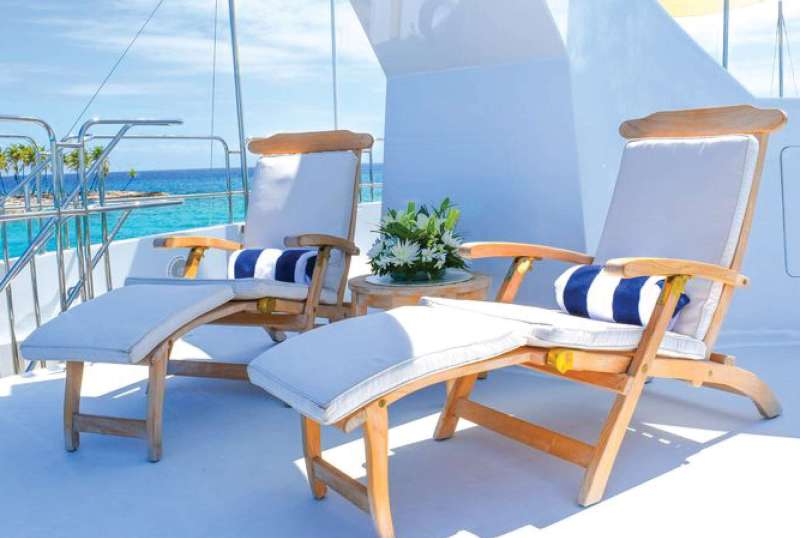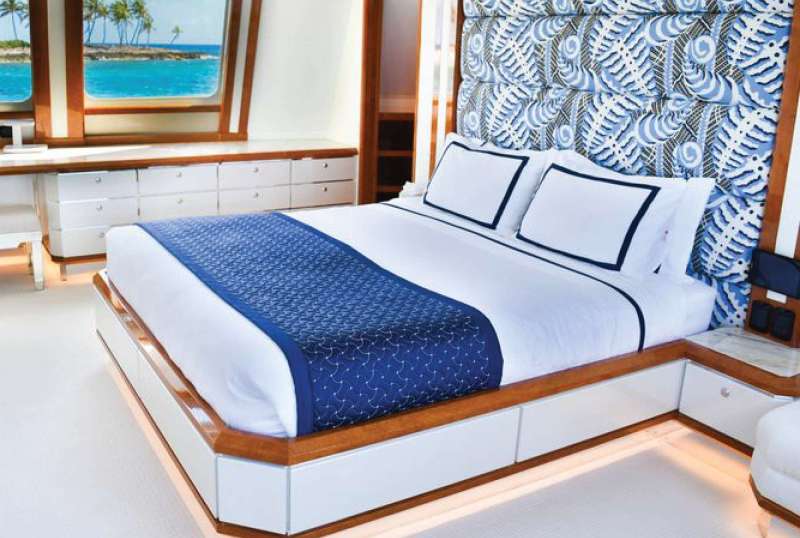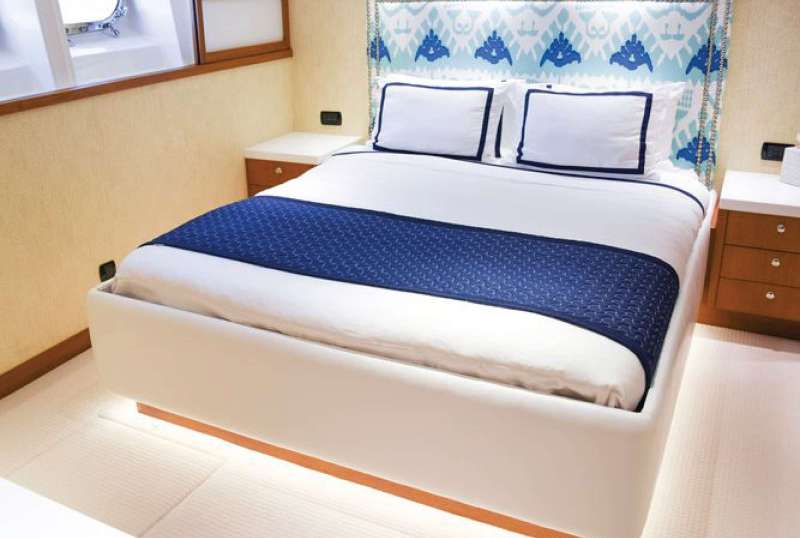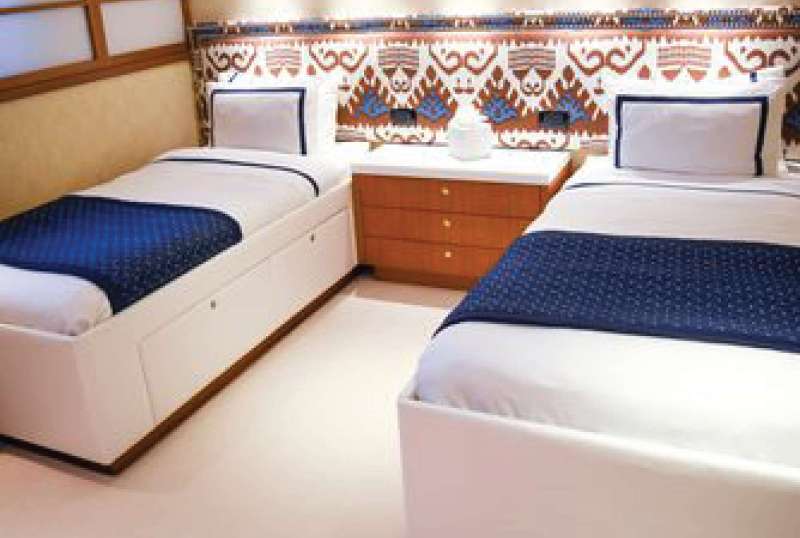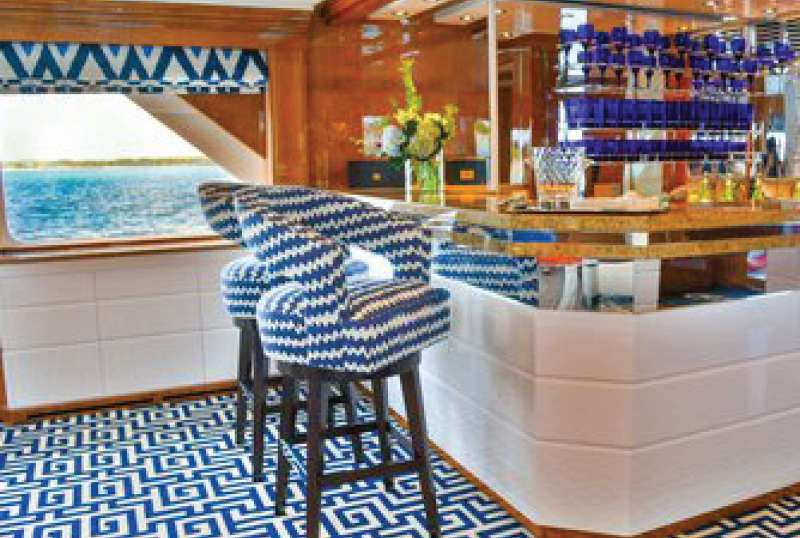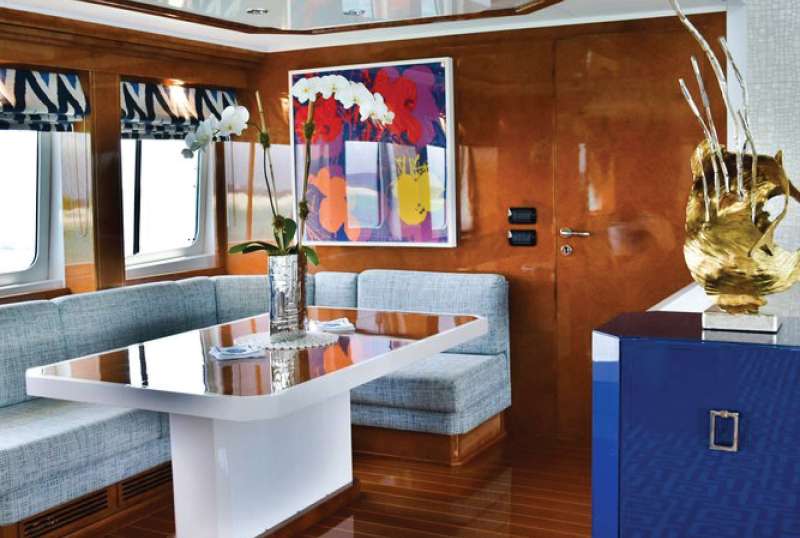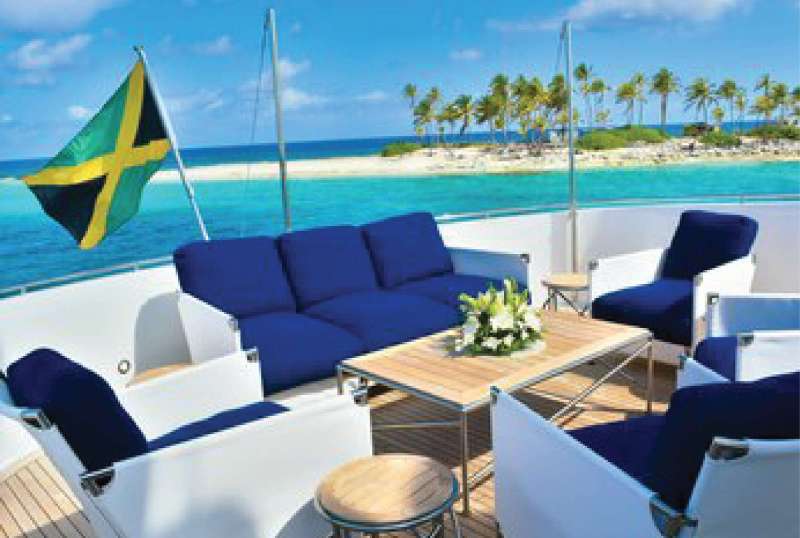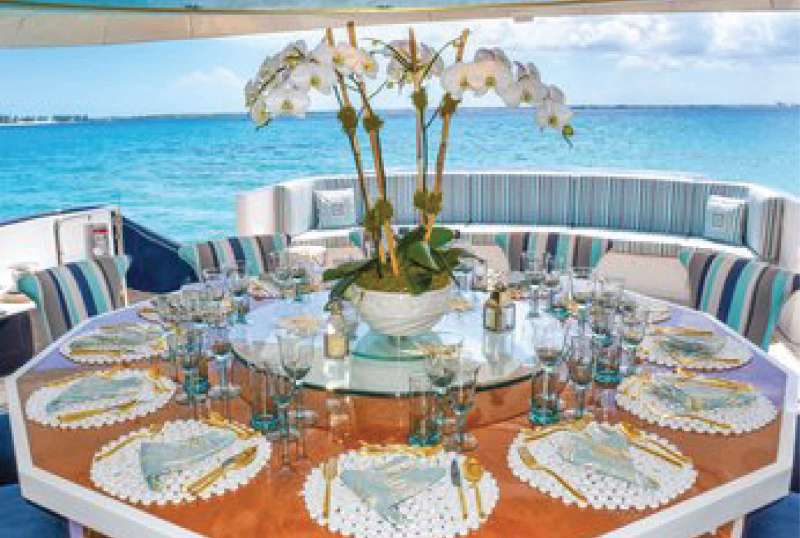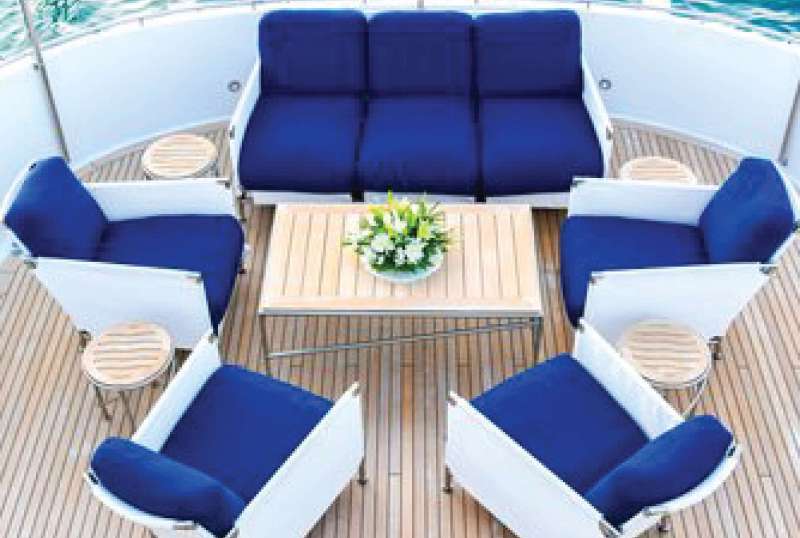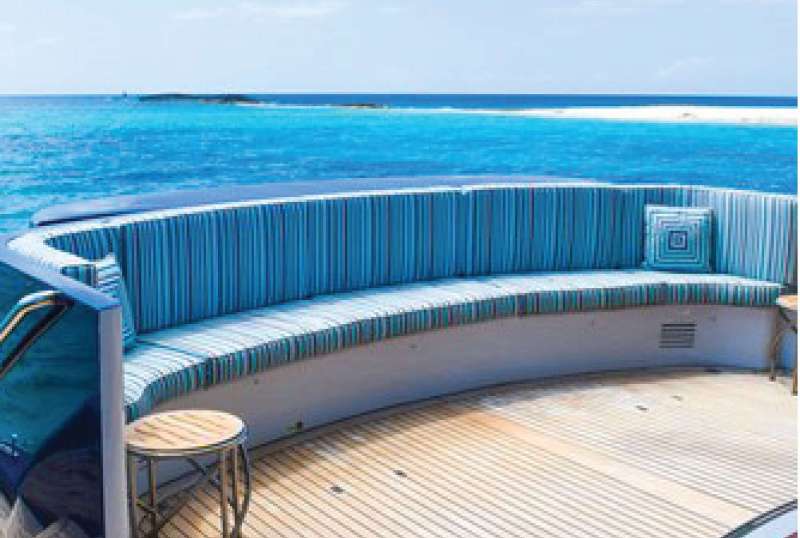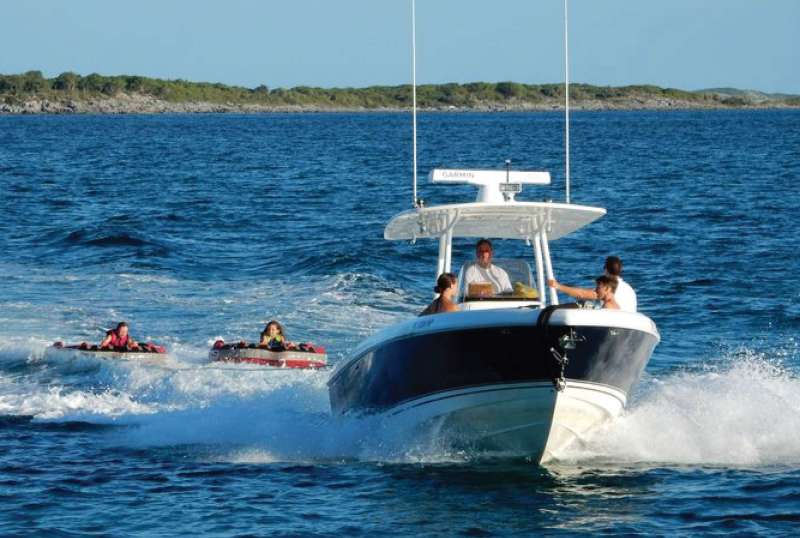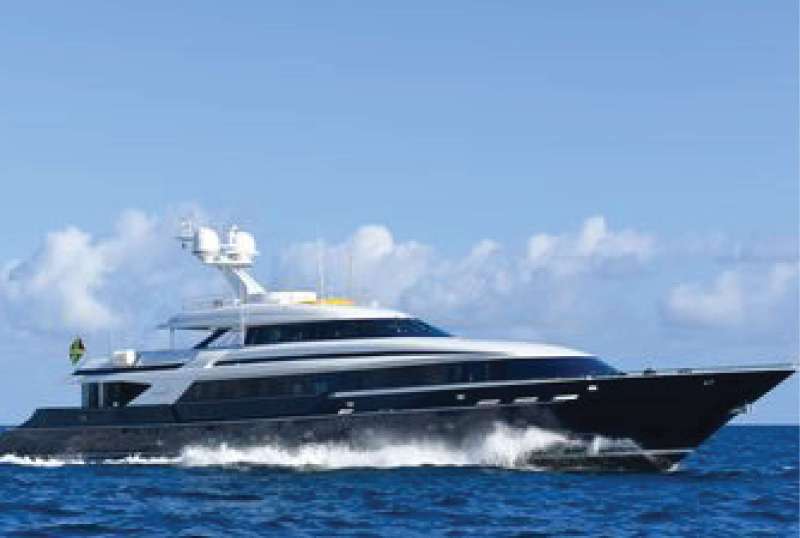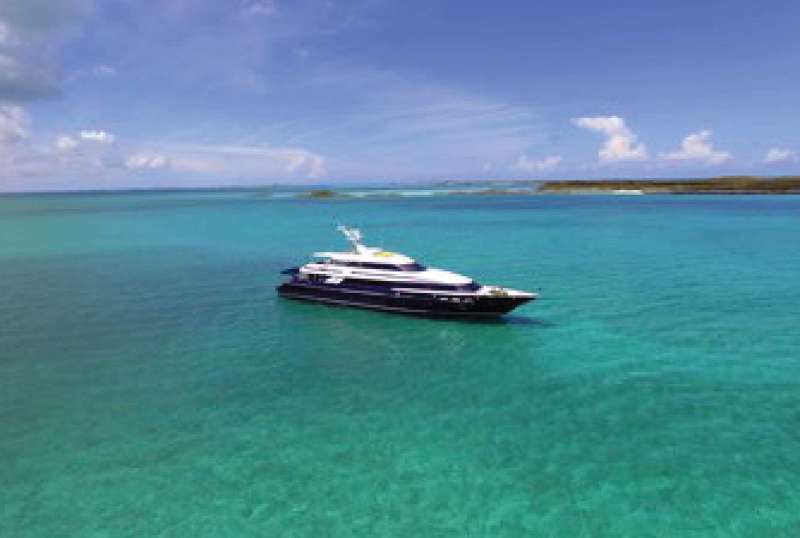 OCTOPUSSY
From $159,000/week
5 cabins
143 ft
Heesen
12 guests
Refit: 2015 & 2022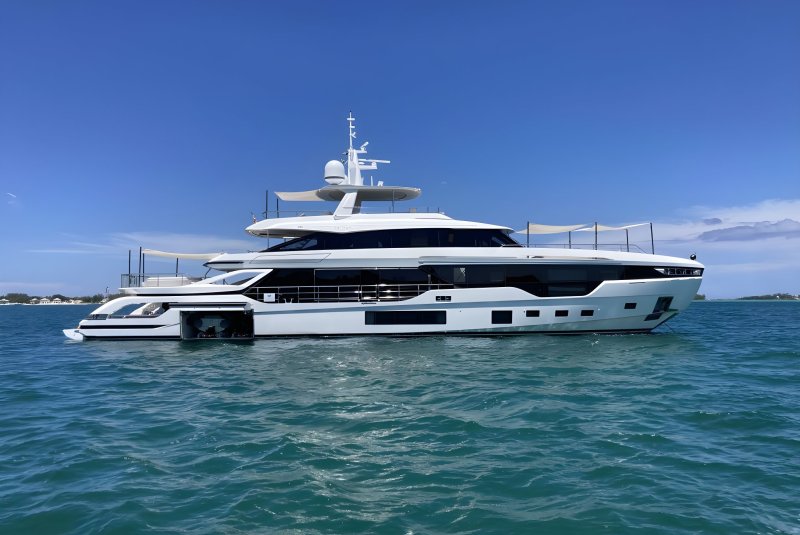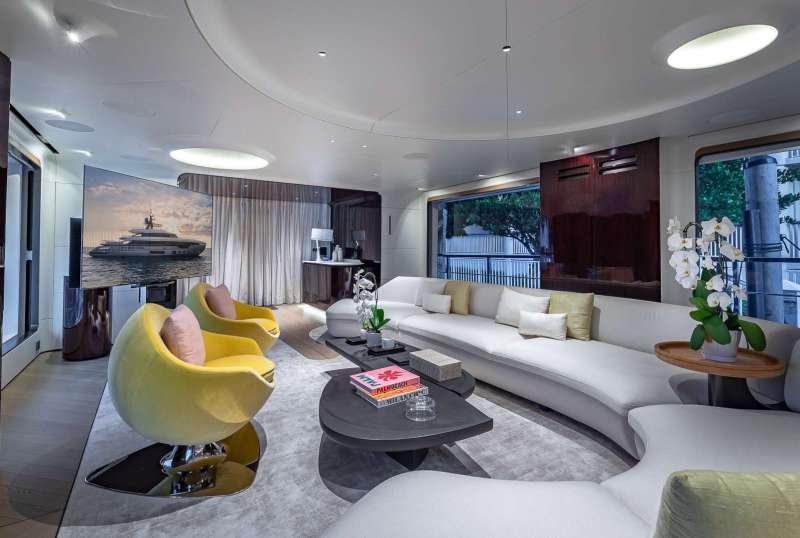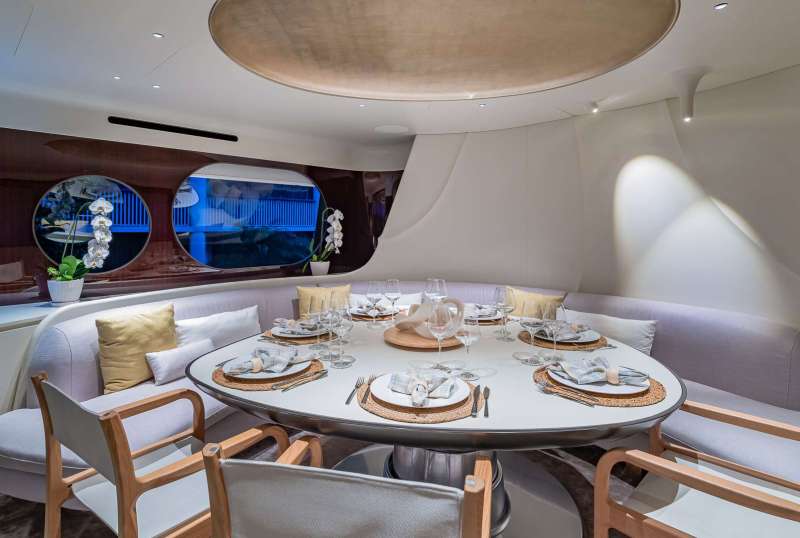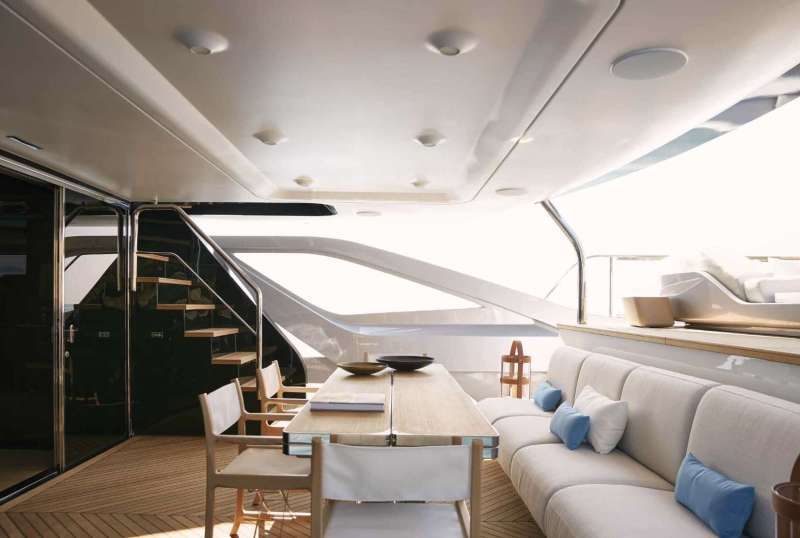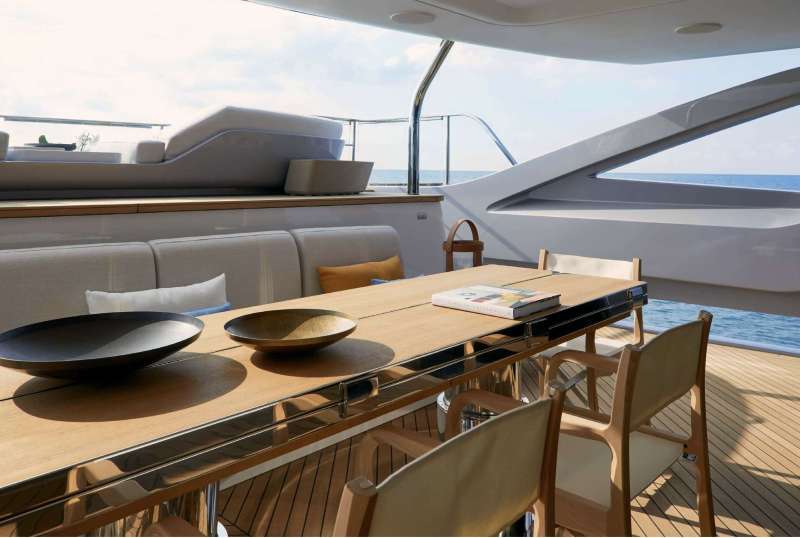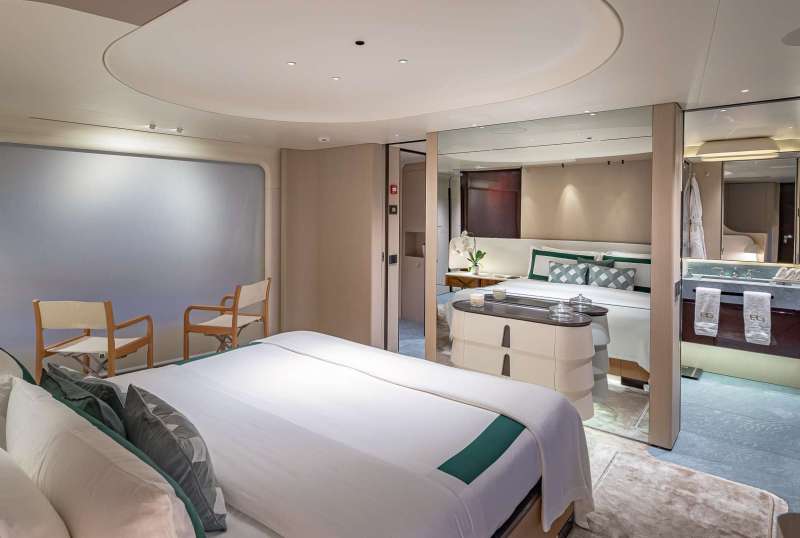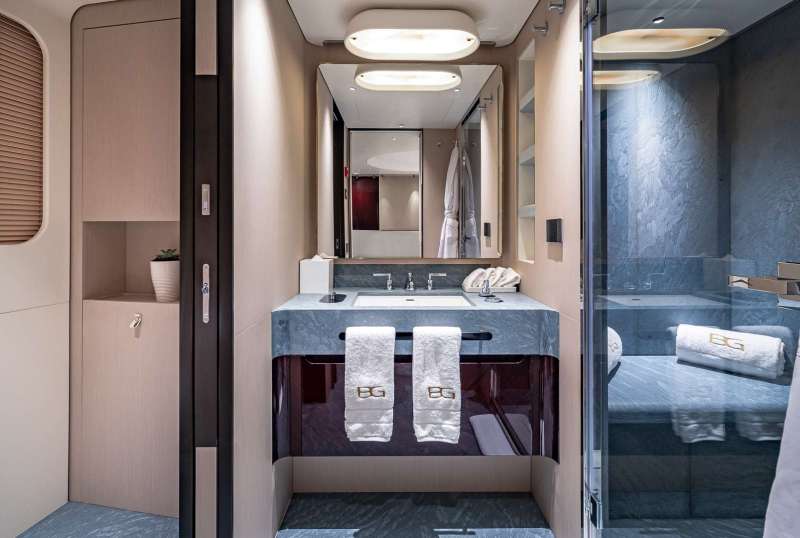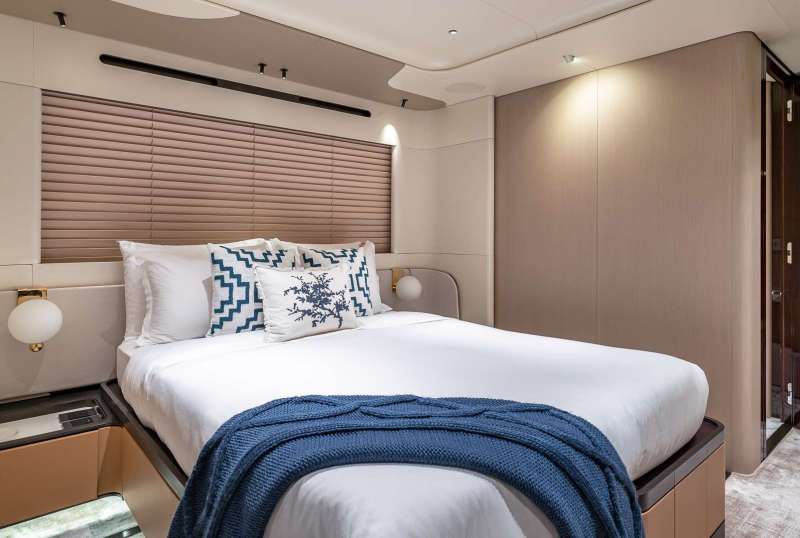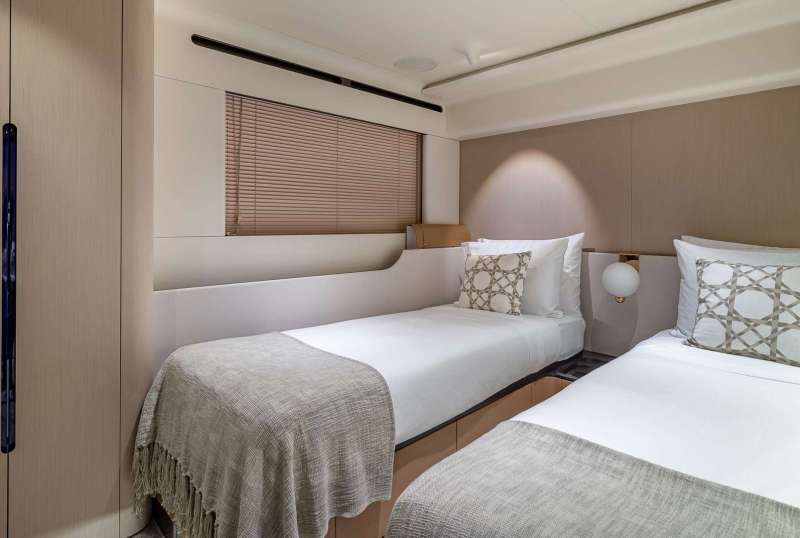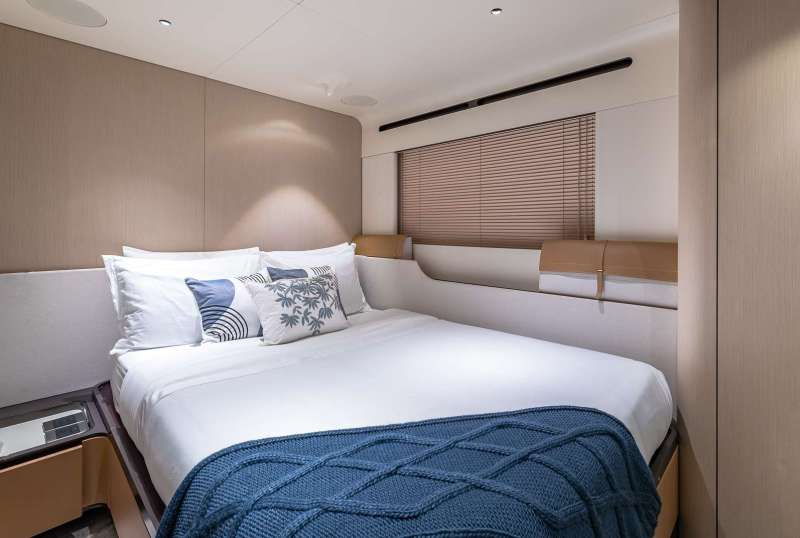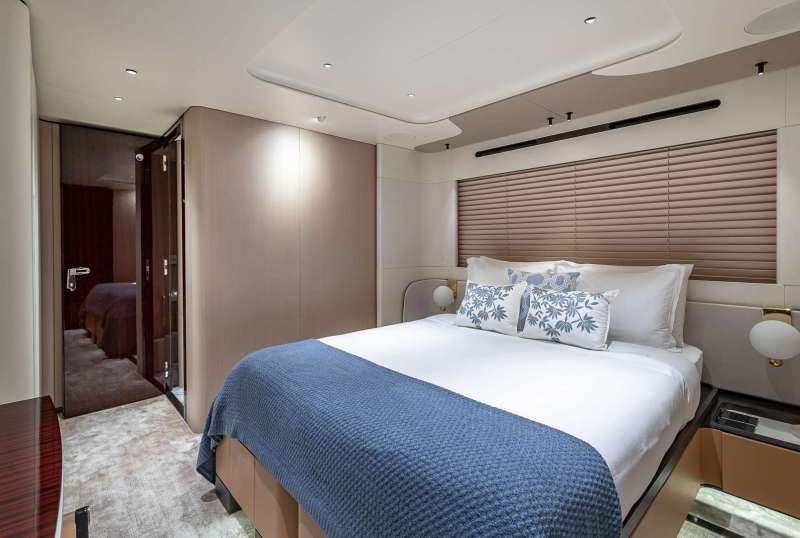 BORA GORA
From $159,000/week
5 cabins
125 ft
Azimut
11 guests
Built: 2023
100 US Gall/Hr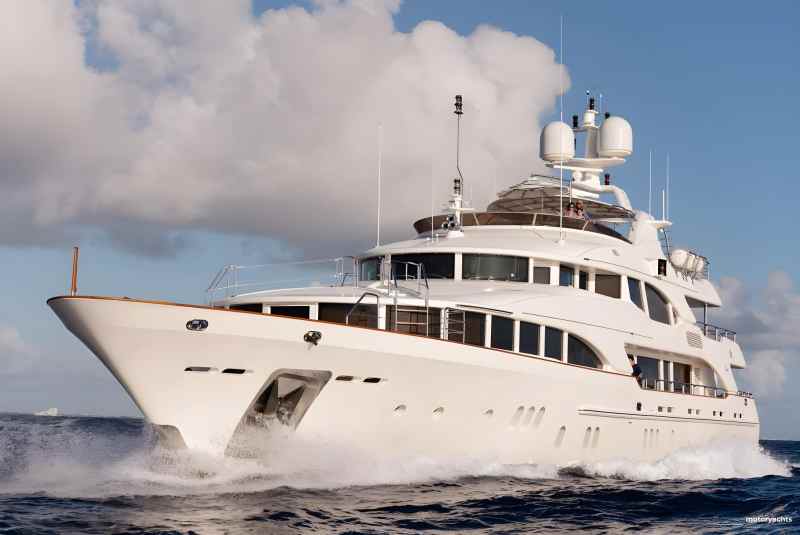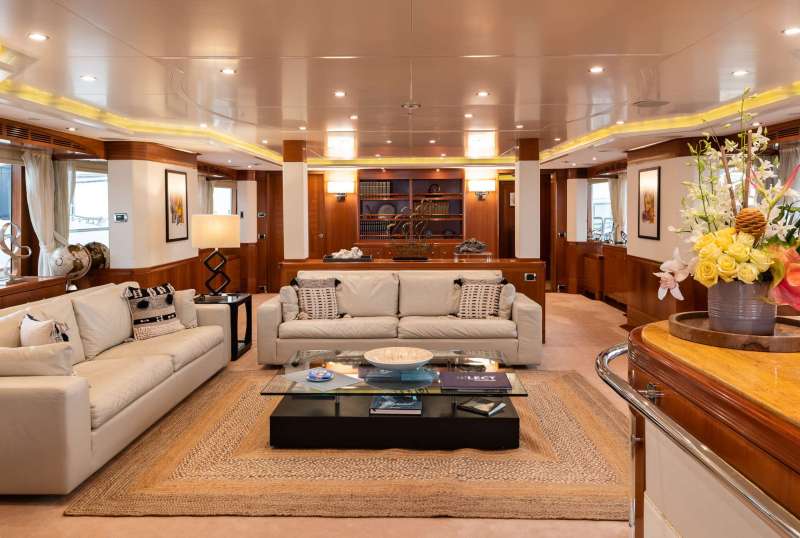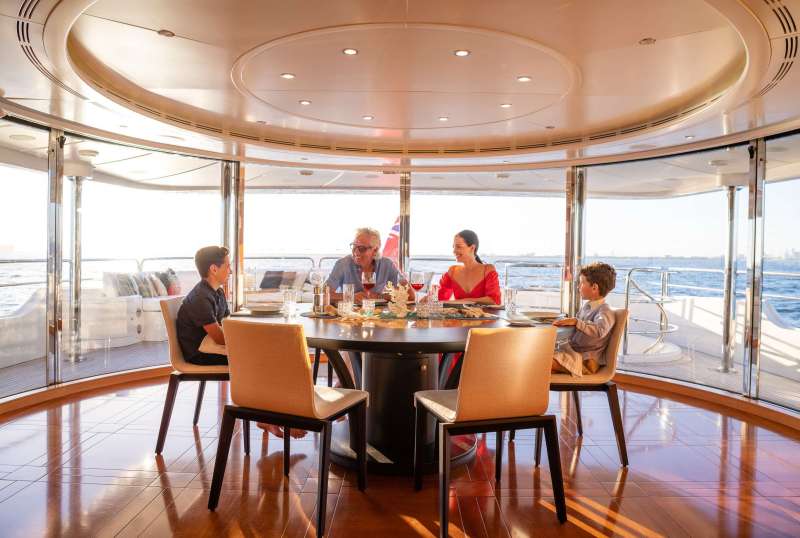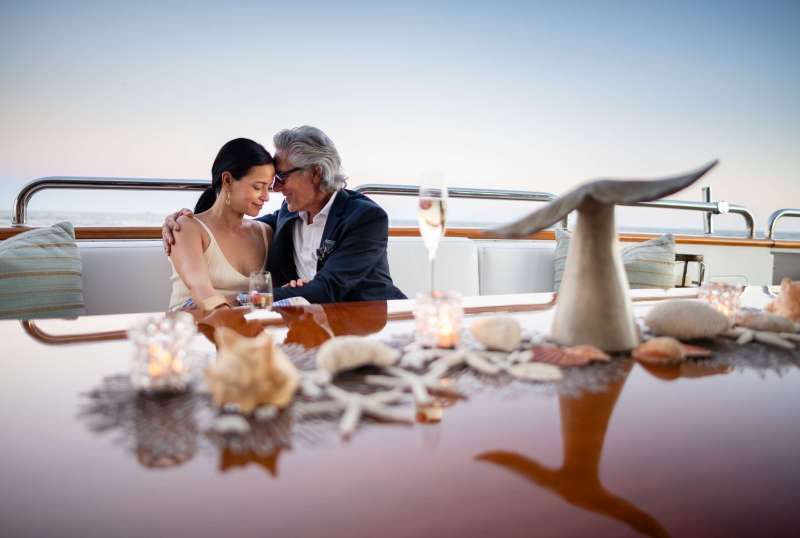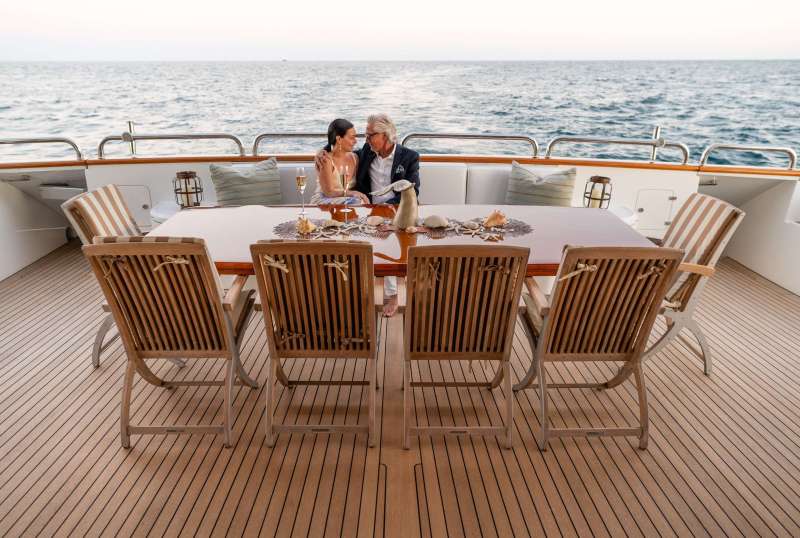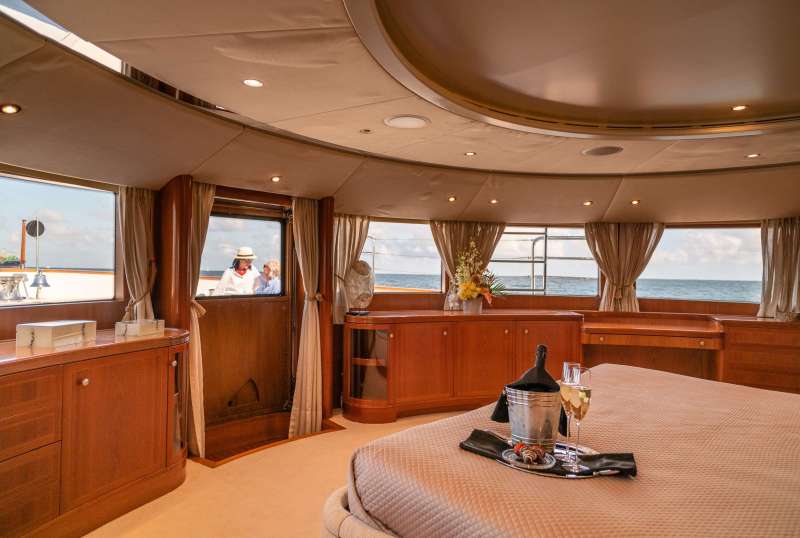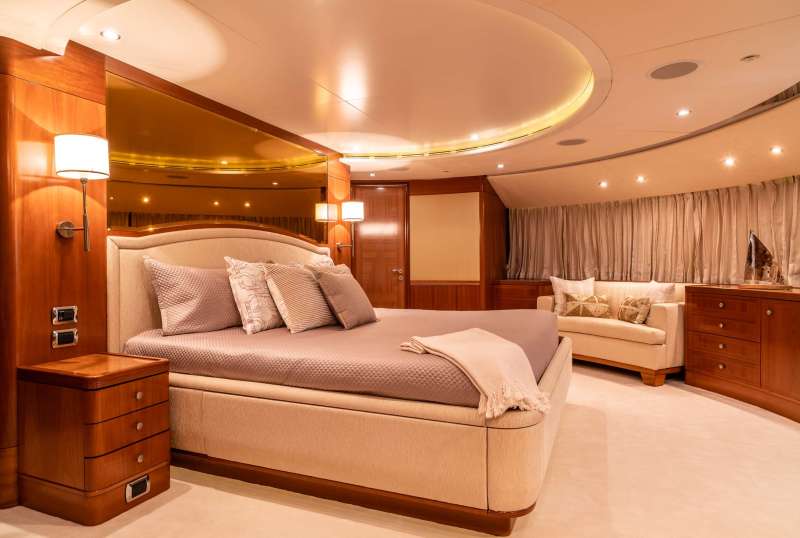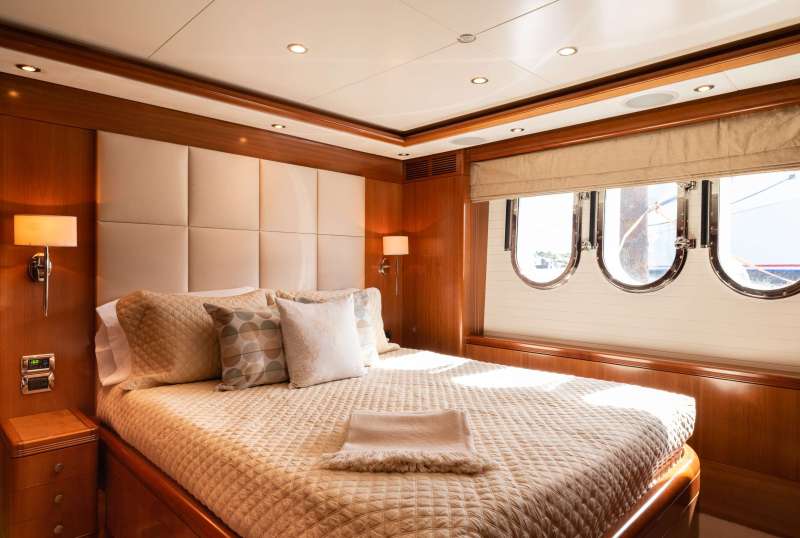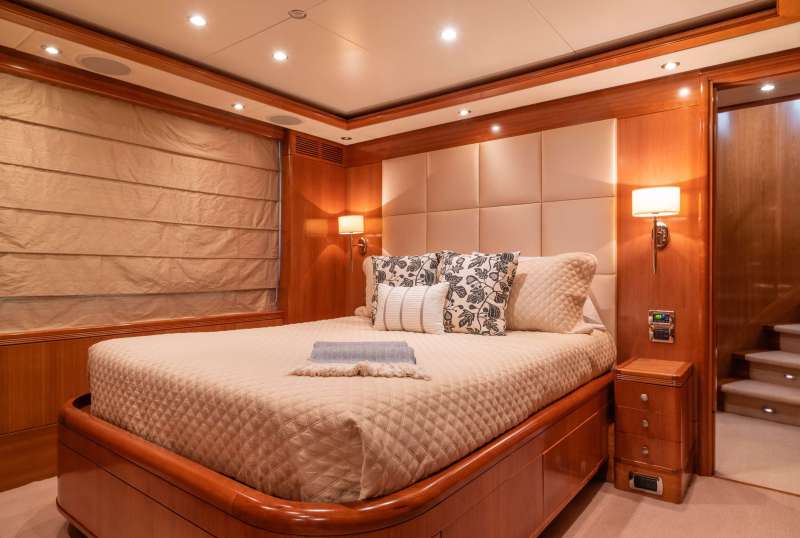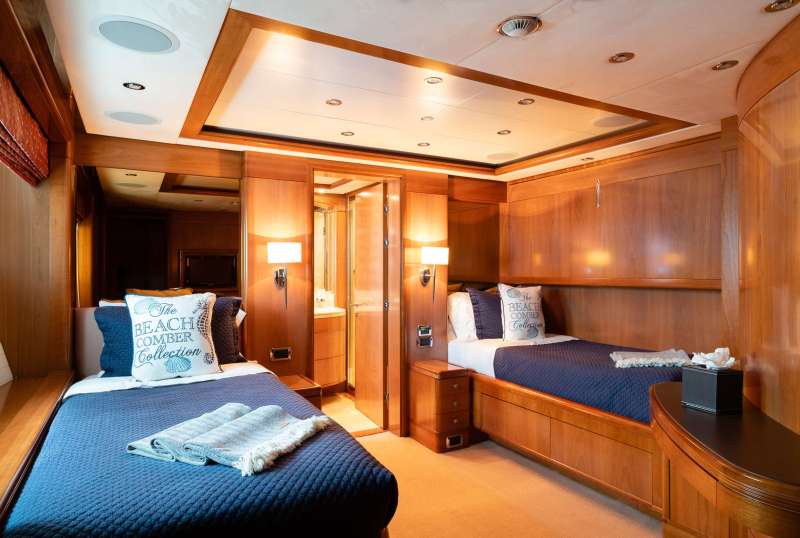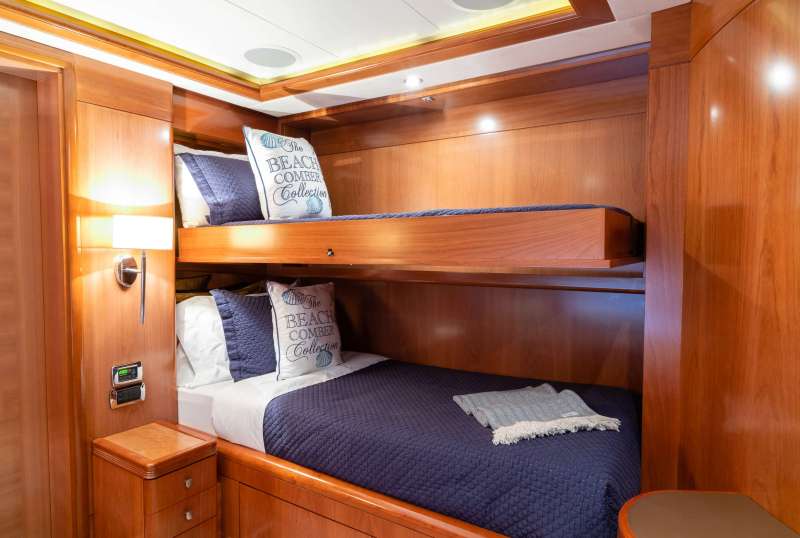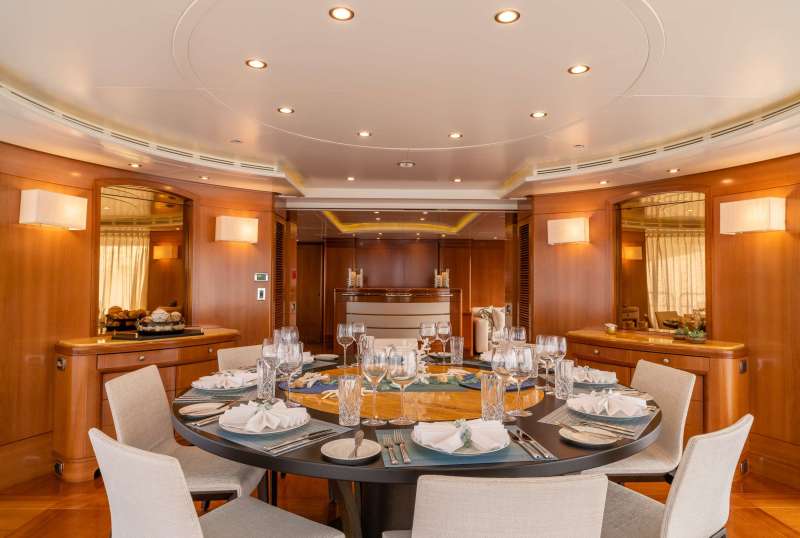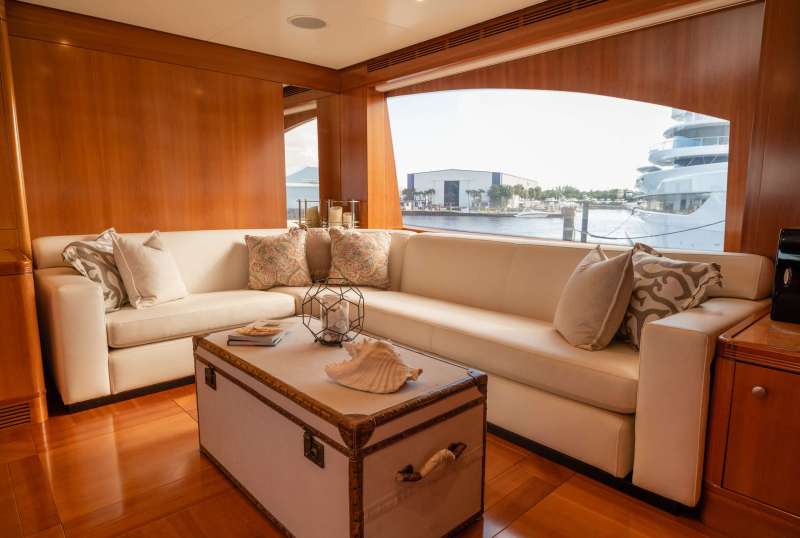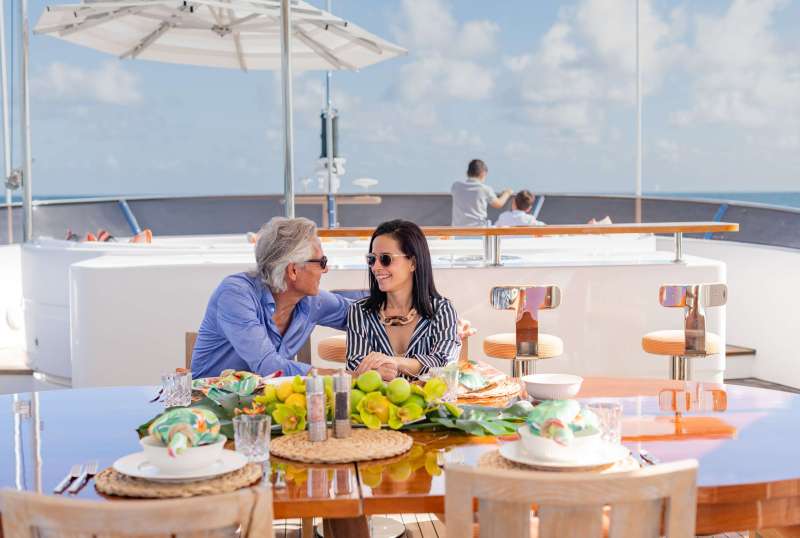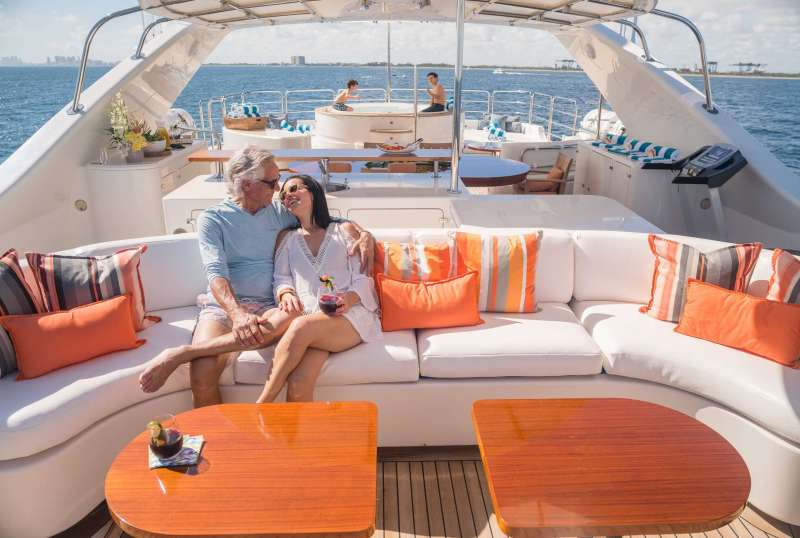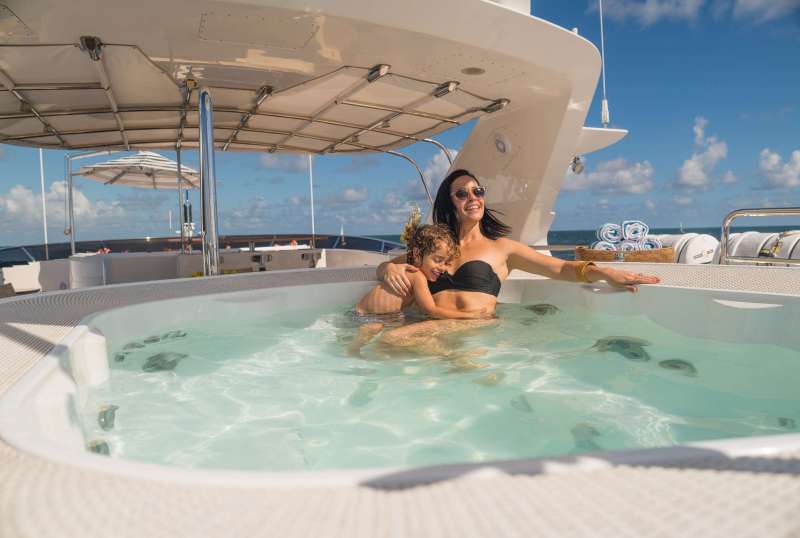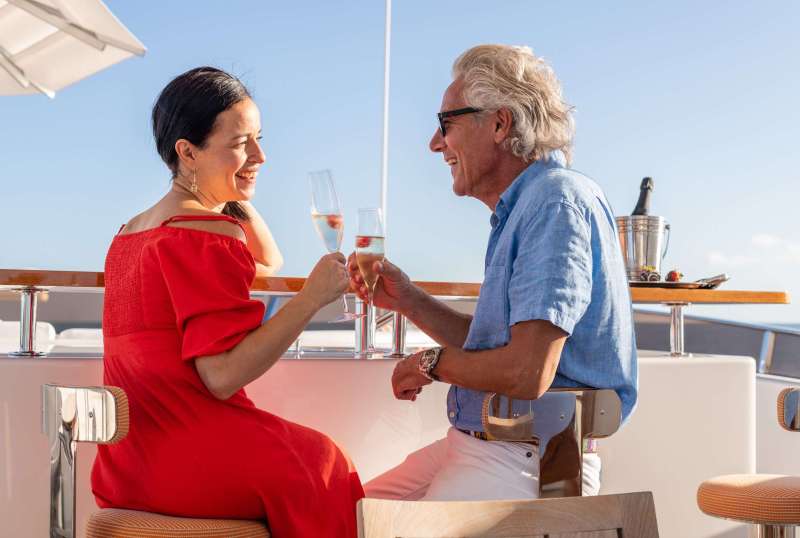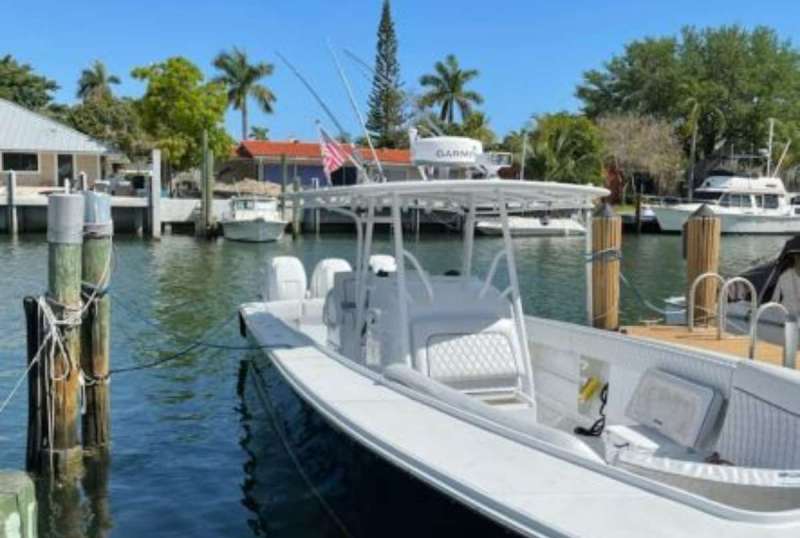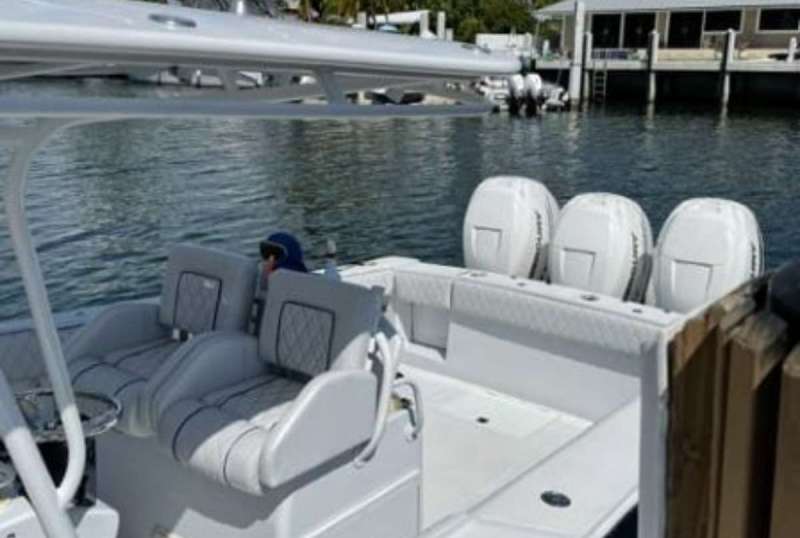 ALEGRIA
From $159,000/week
5 cabins
143 ft
Benetti
12 guests
Built: 2010
50 US Gall/Hr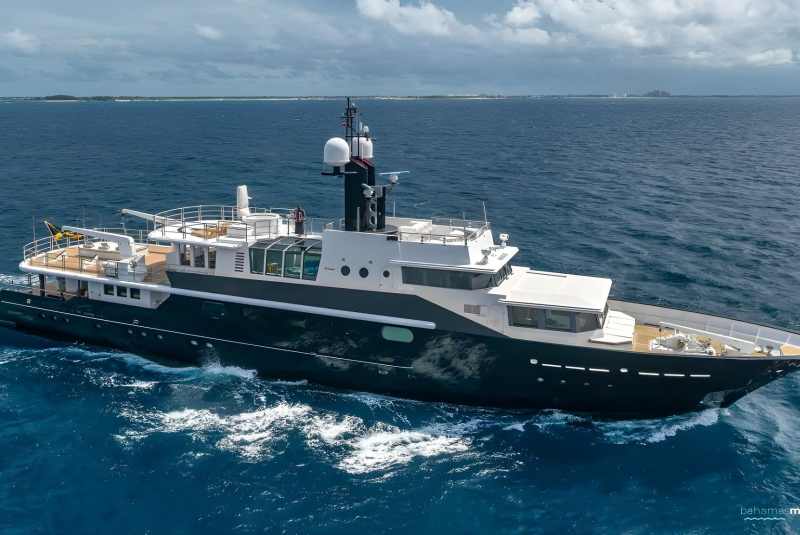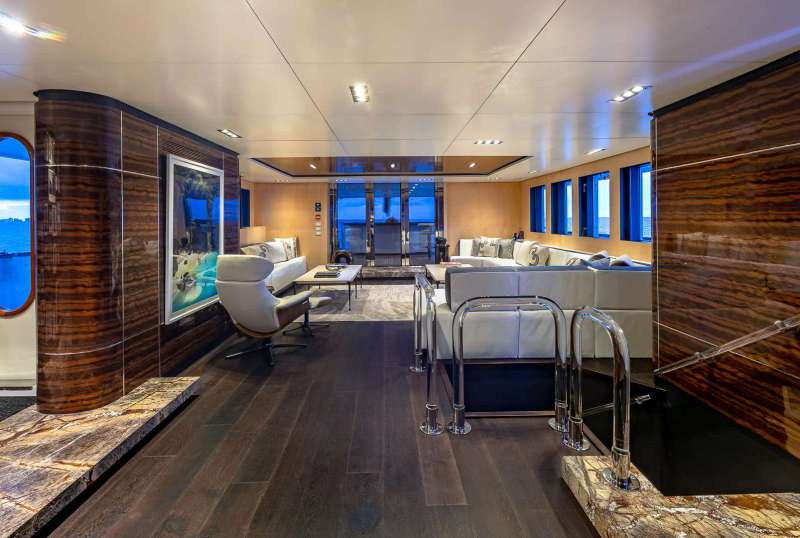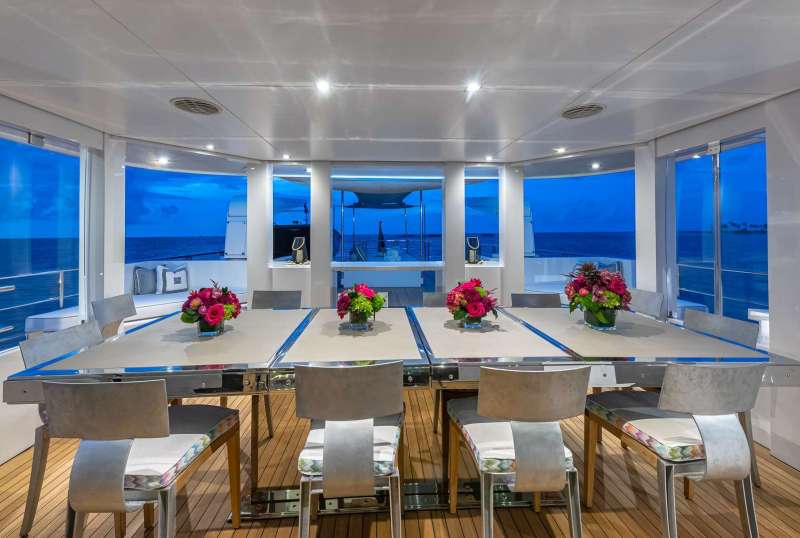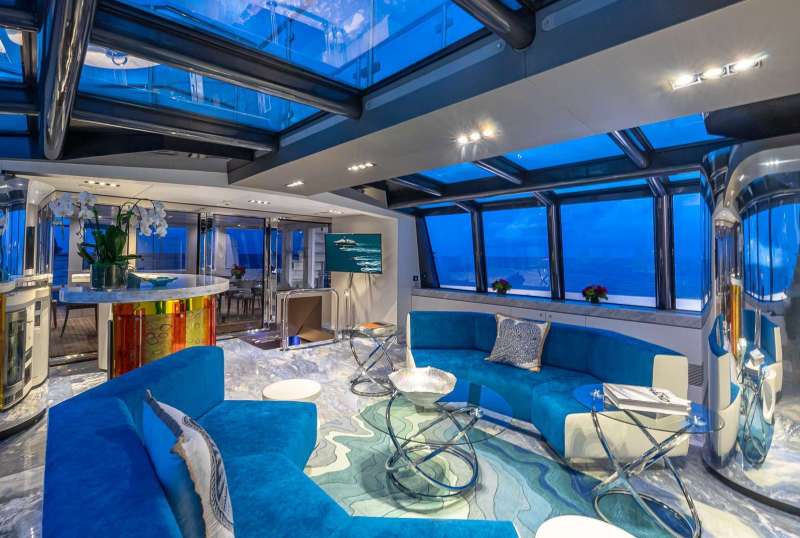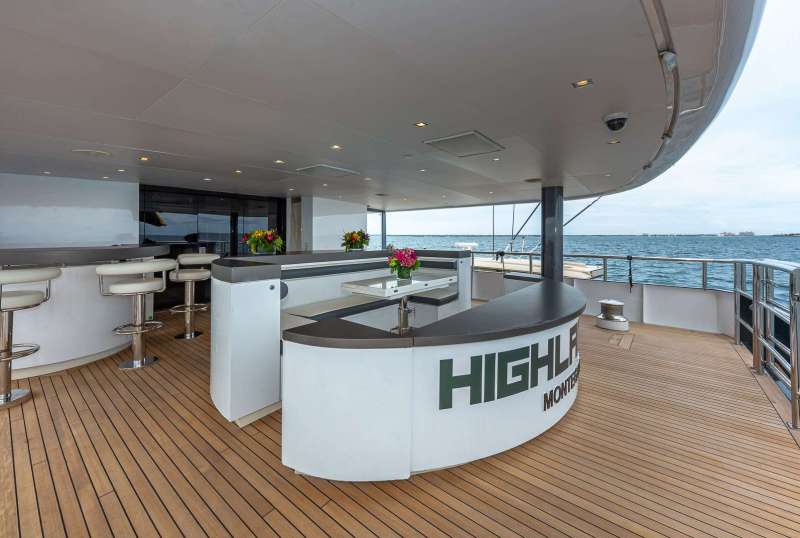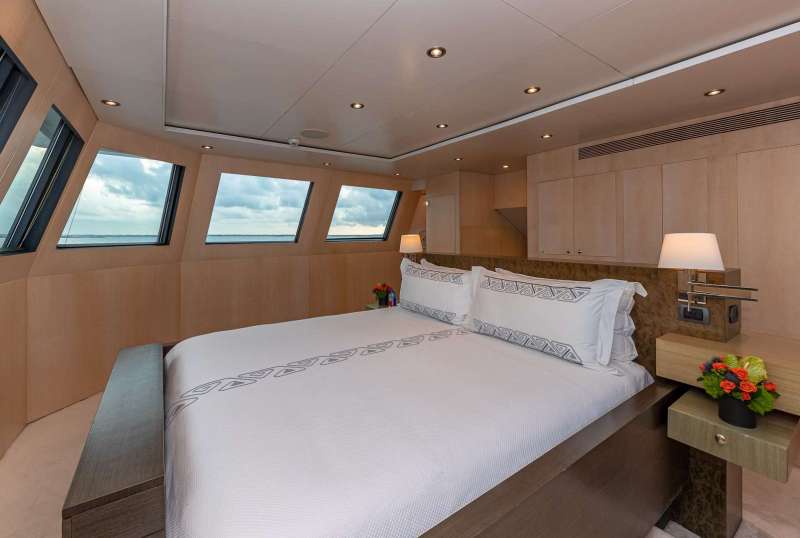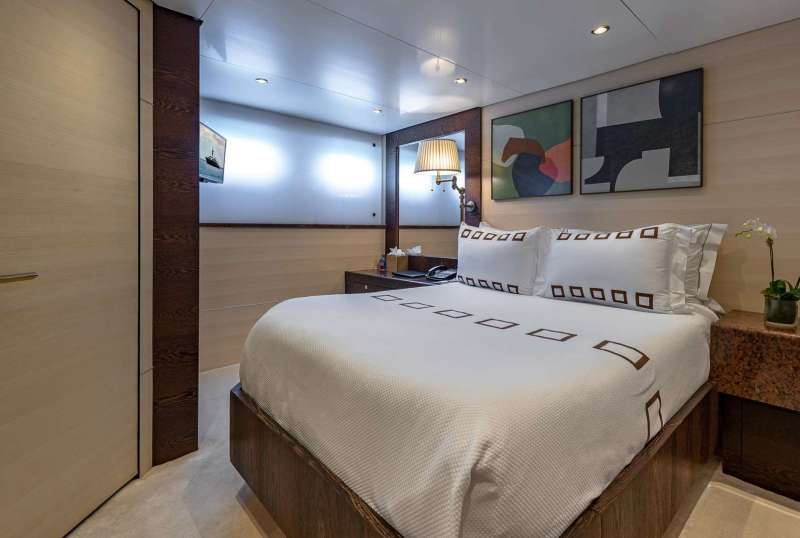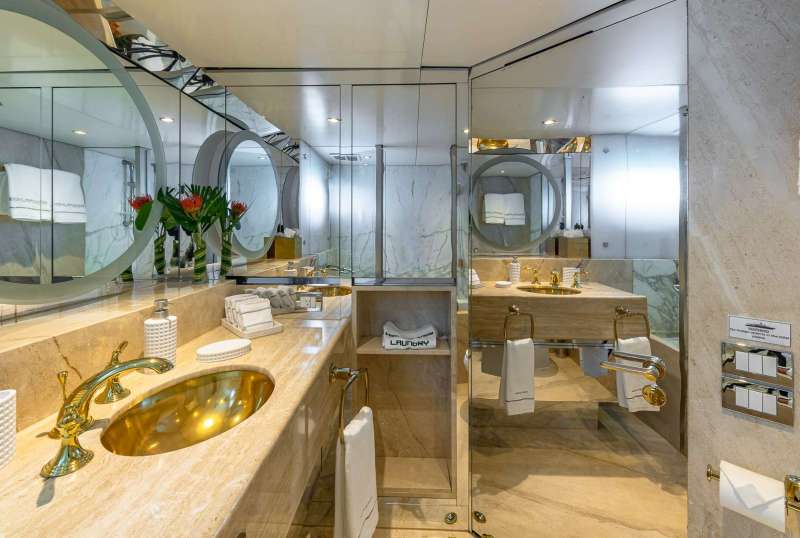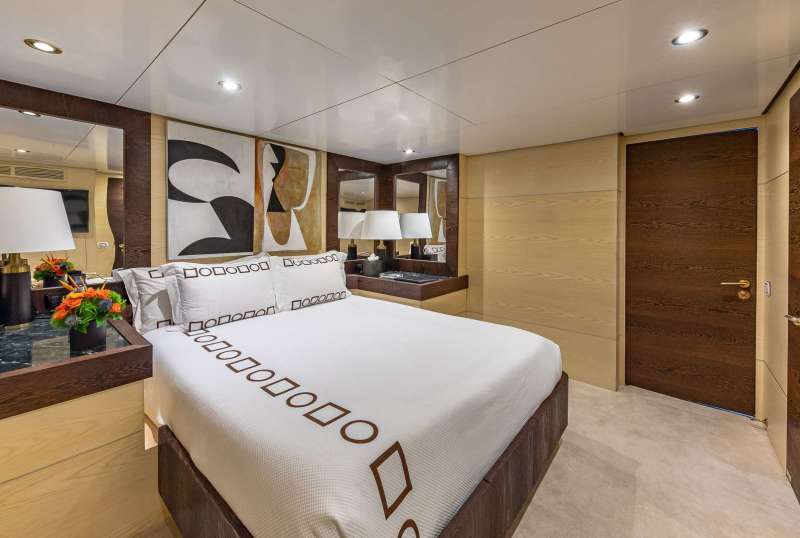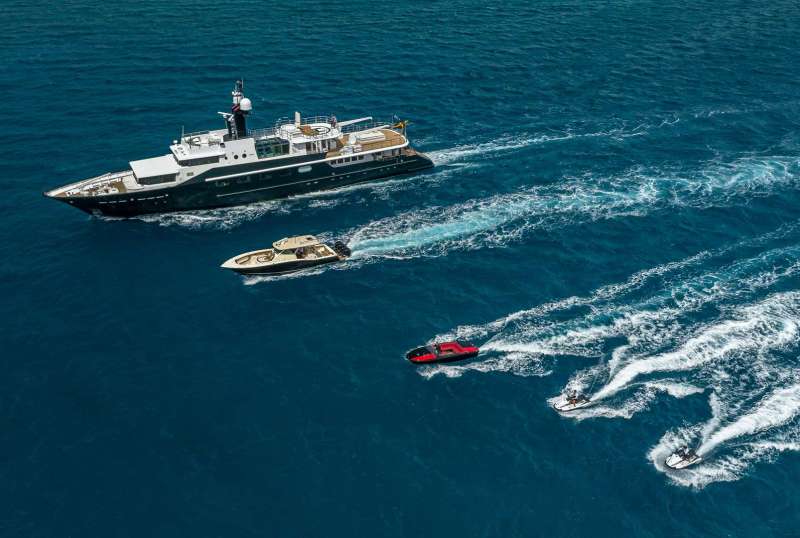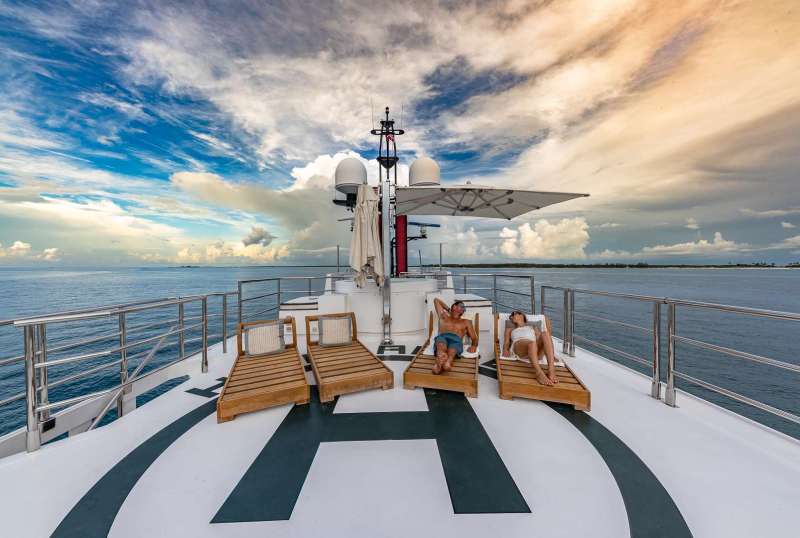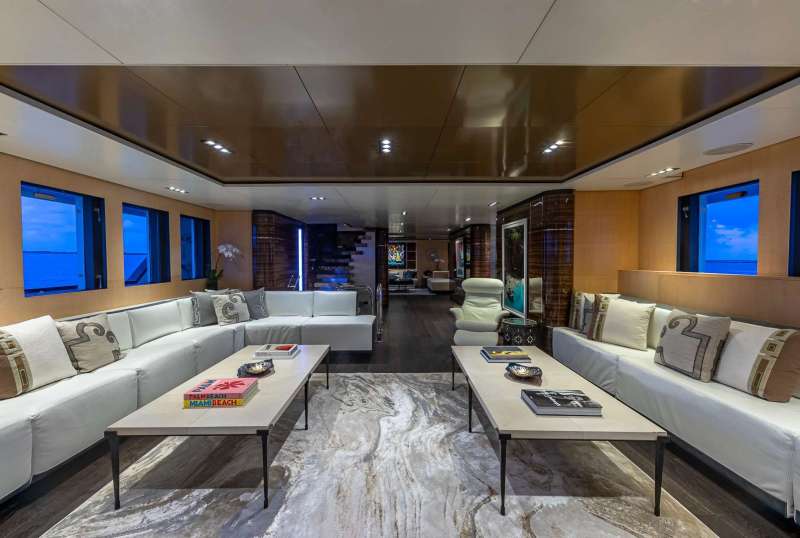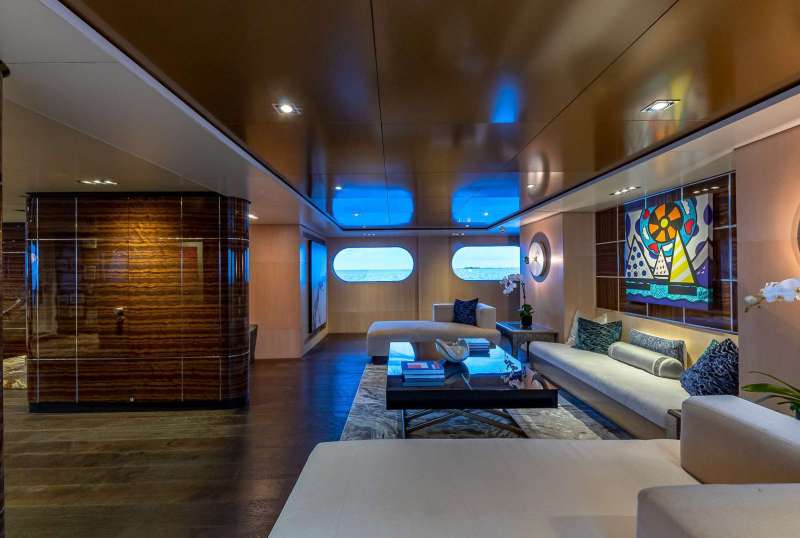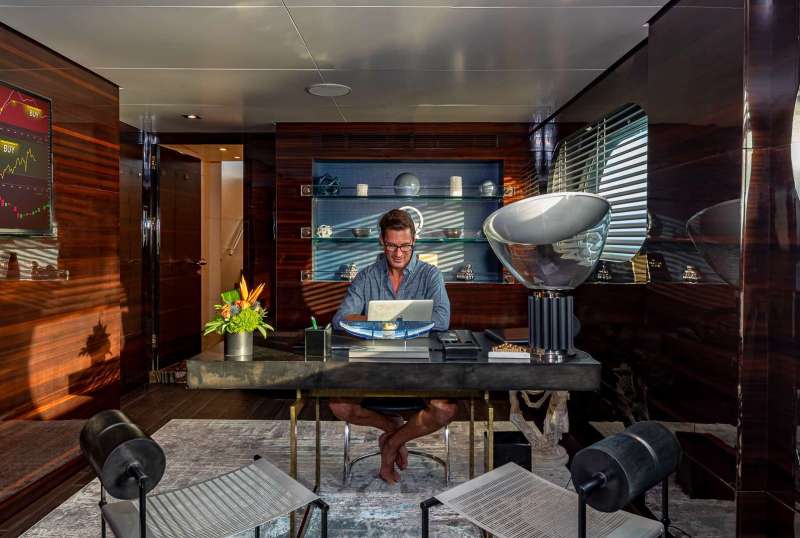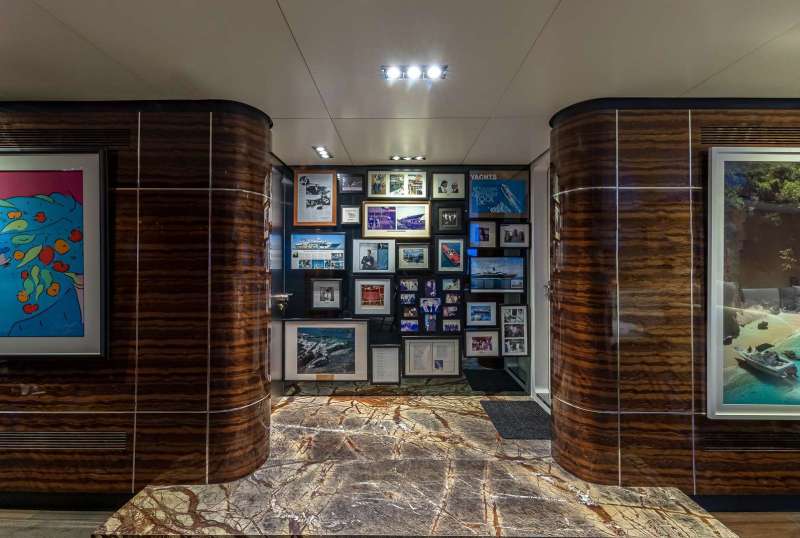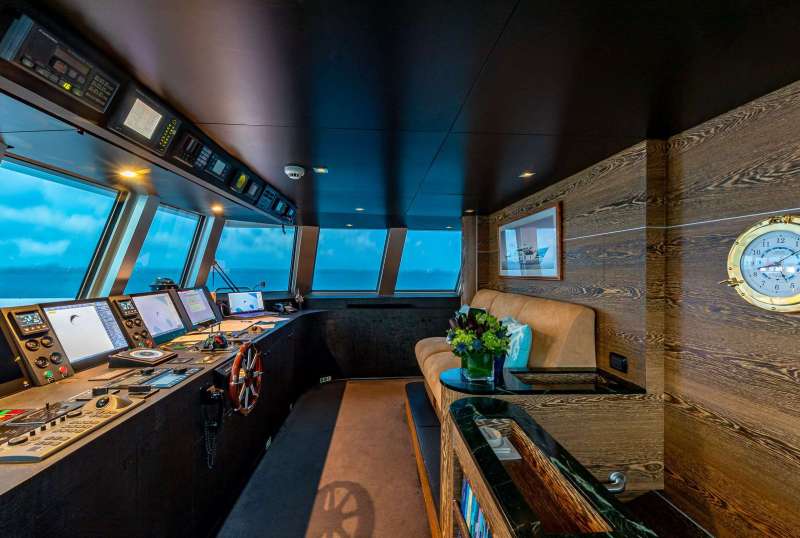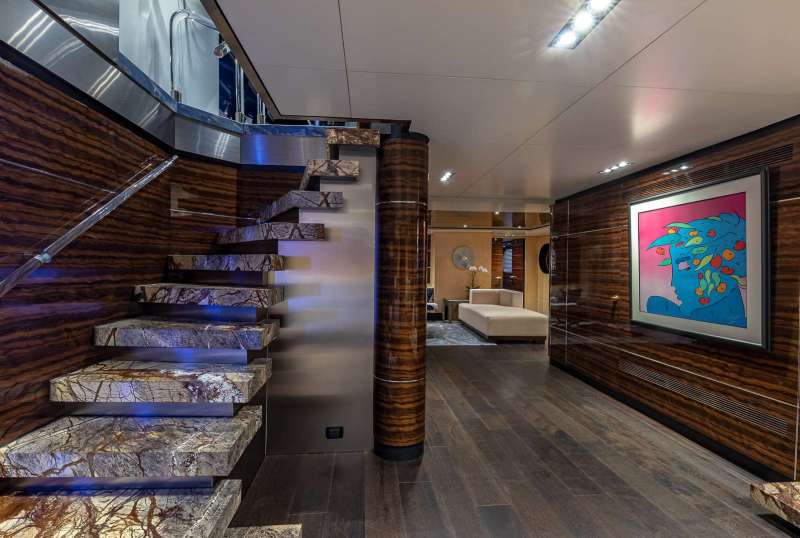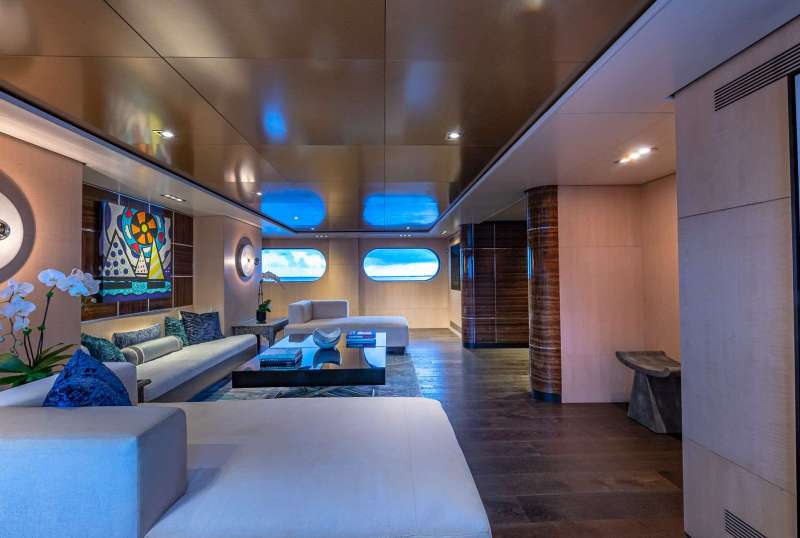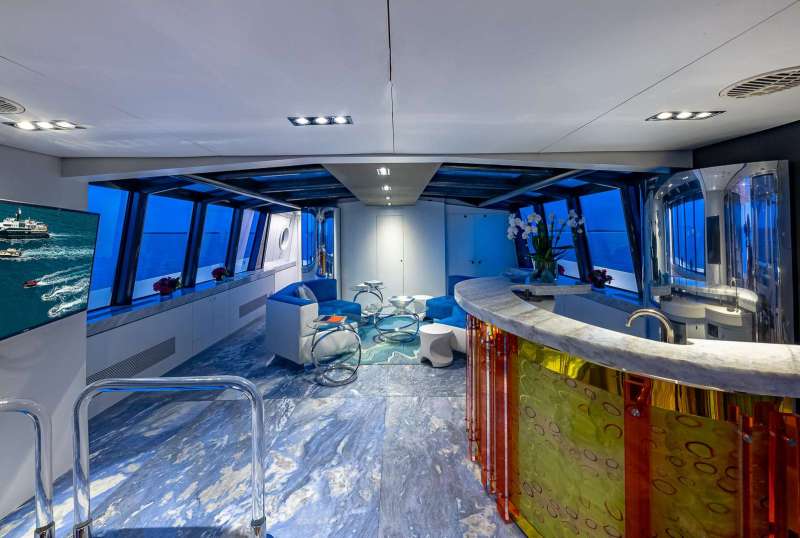 HIGHLANDER
From $155,000/week
7 cabins
164 ft
Feadship
12 guests
Refit: 2014, 2018, and 2020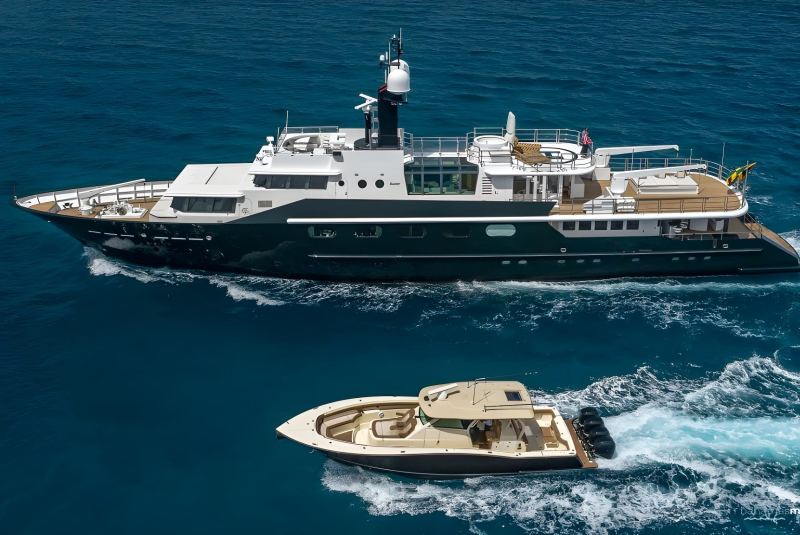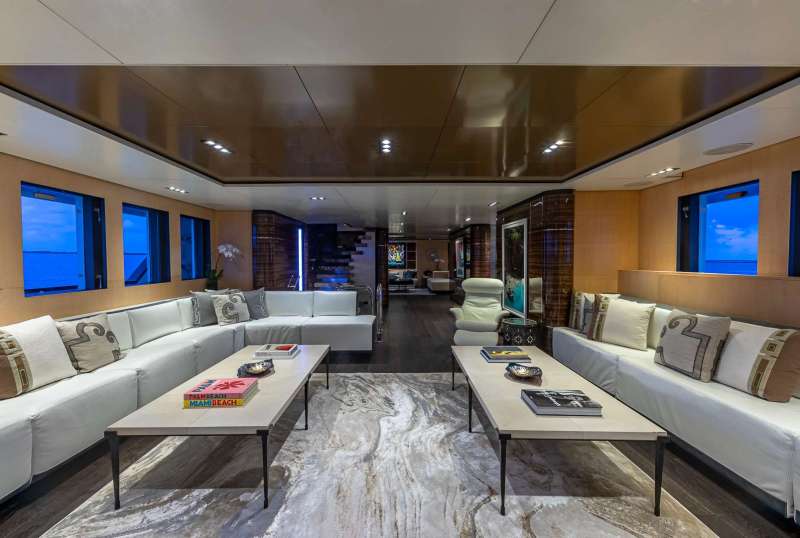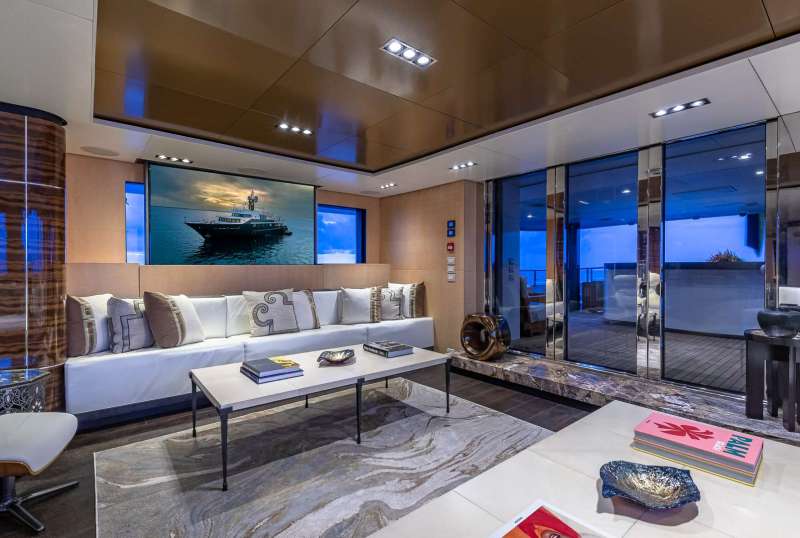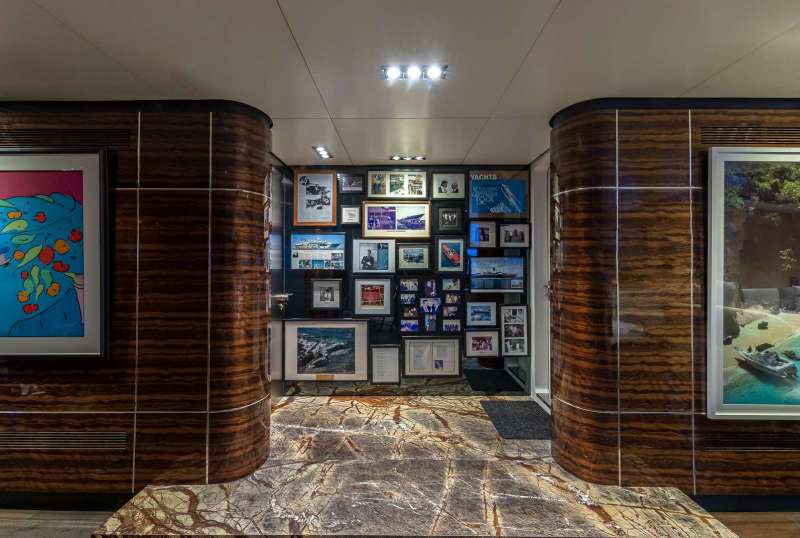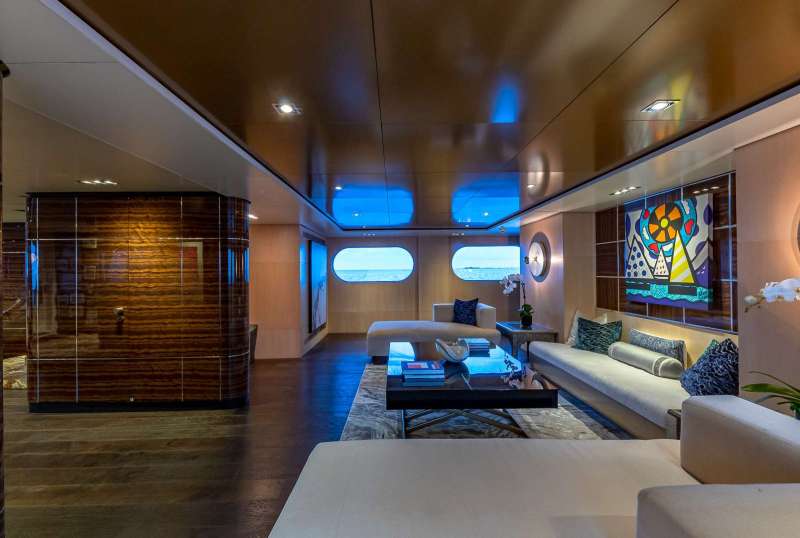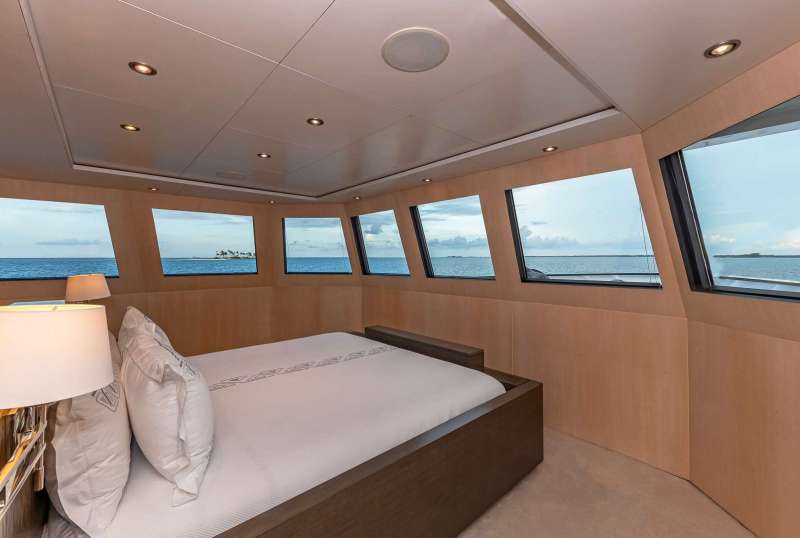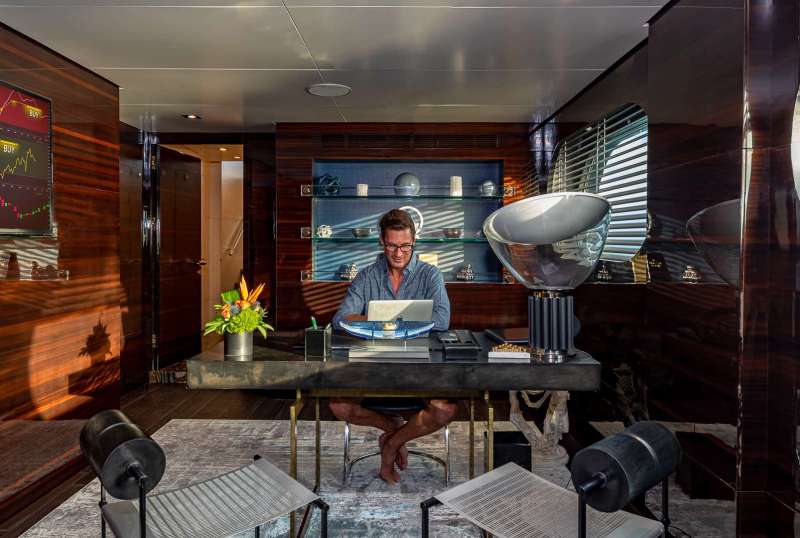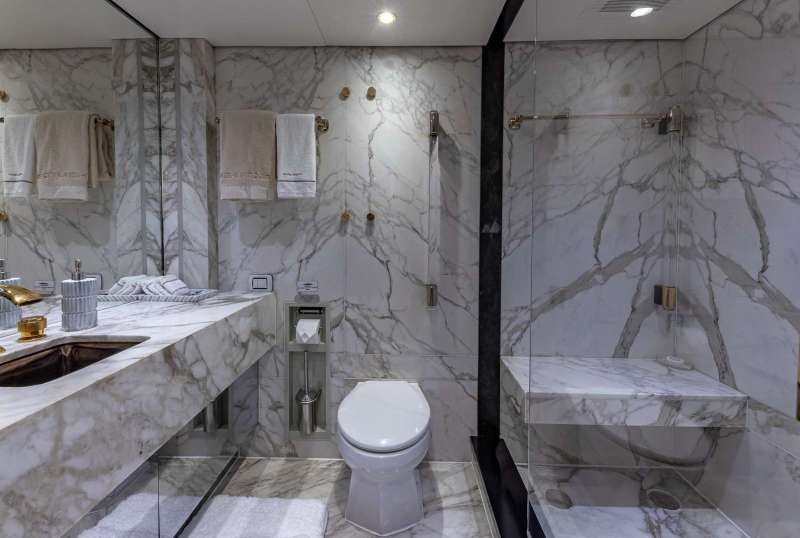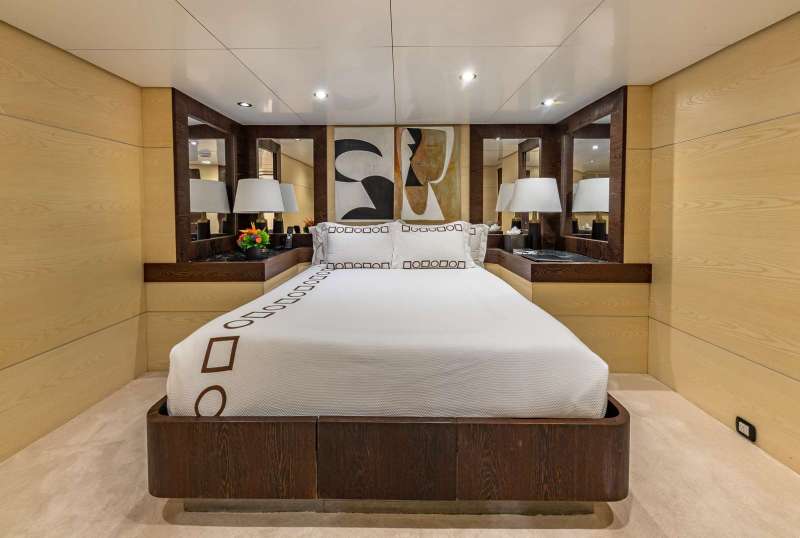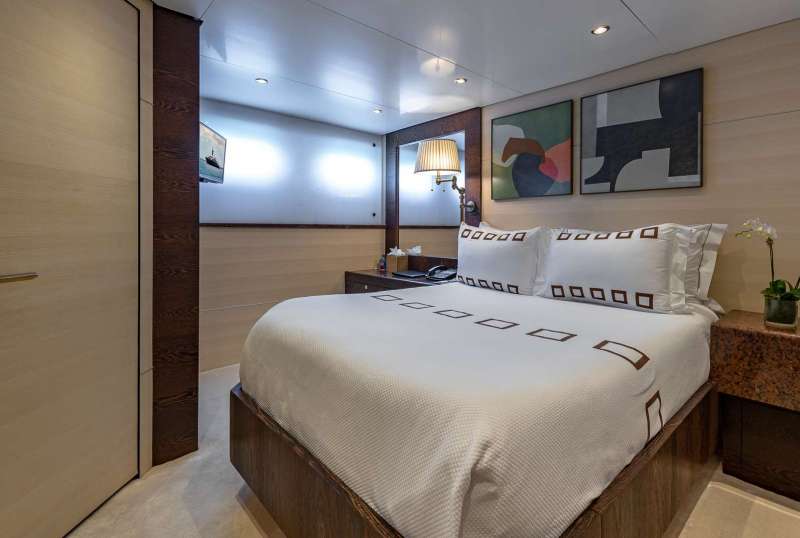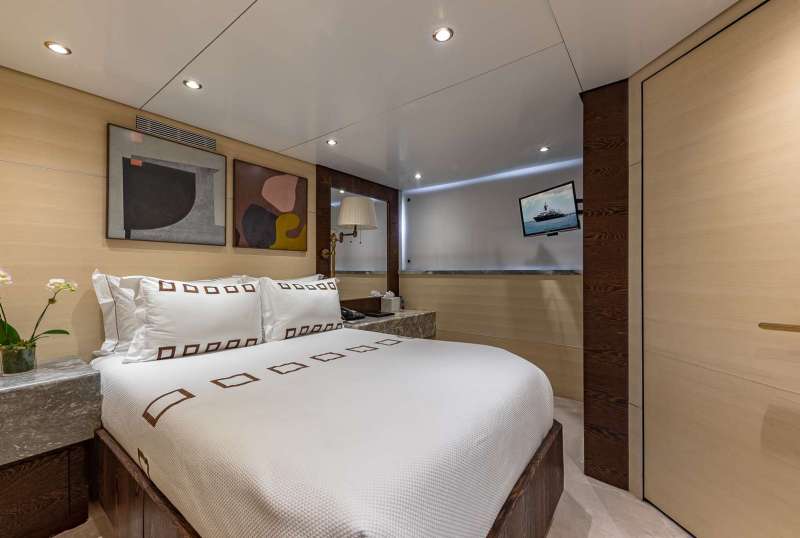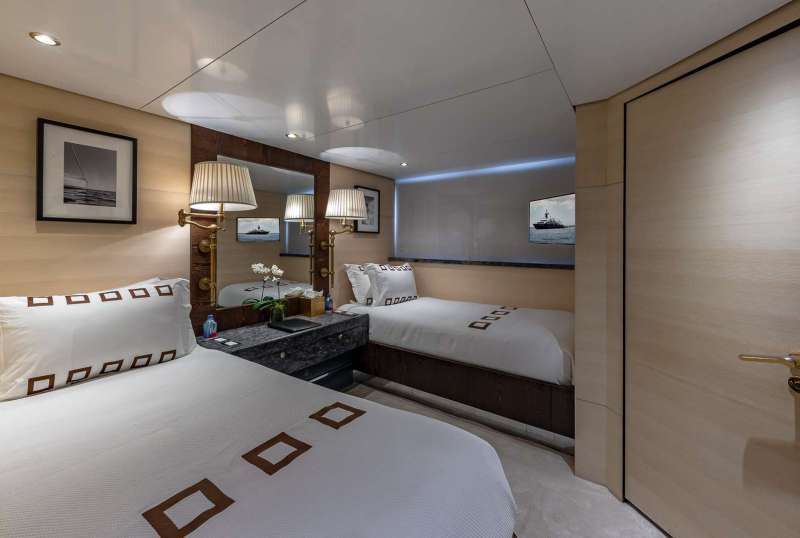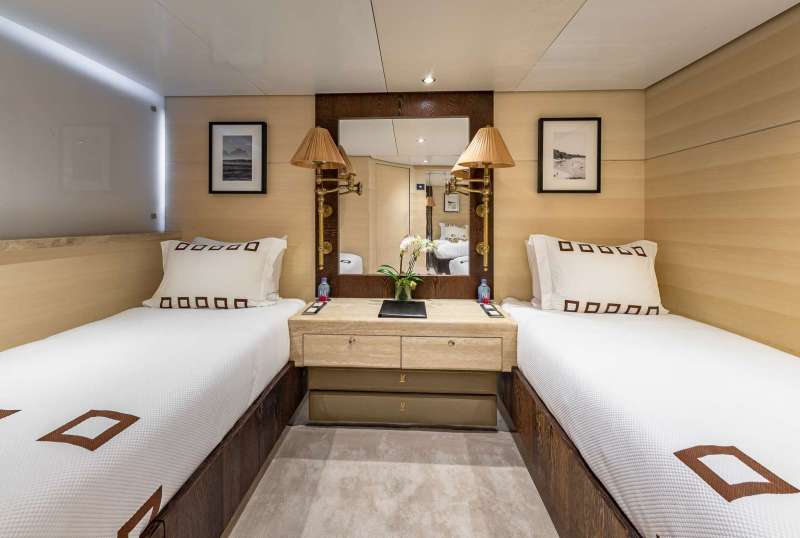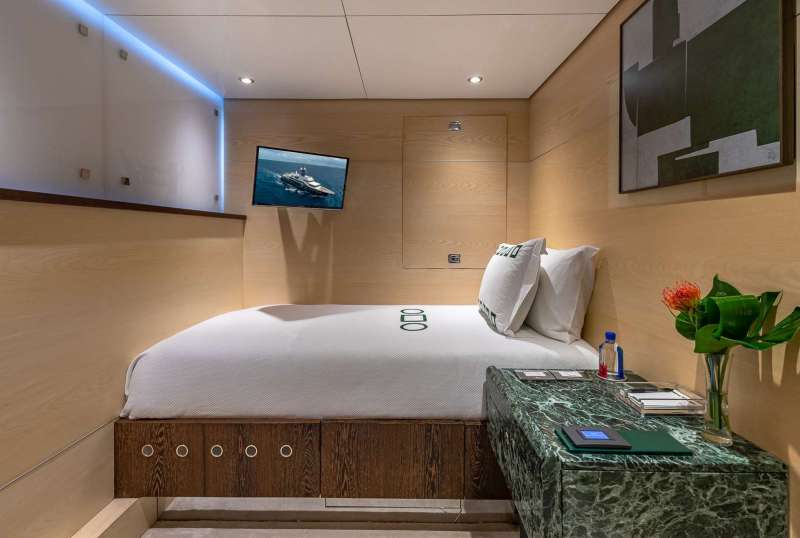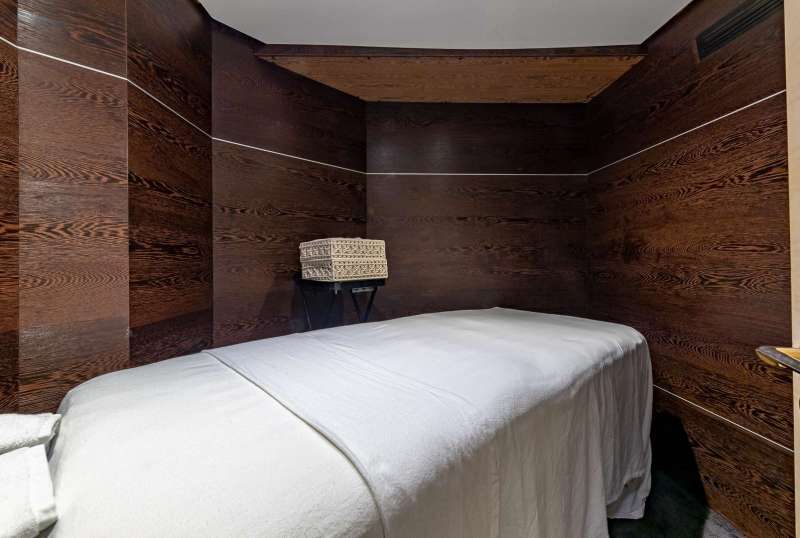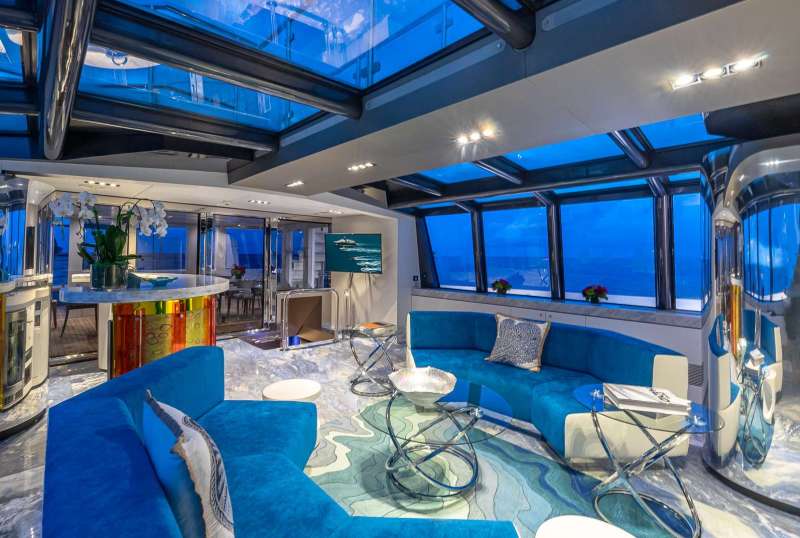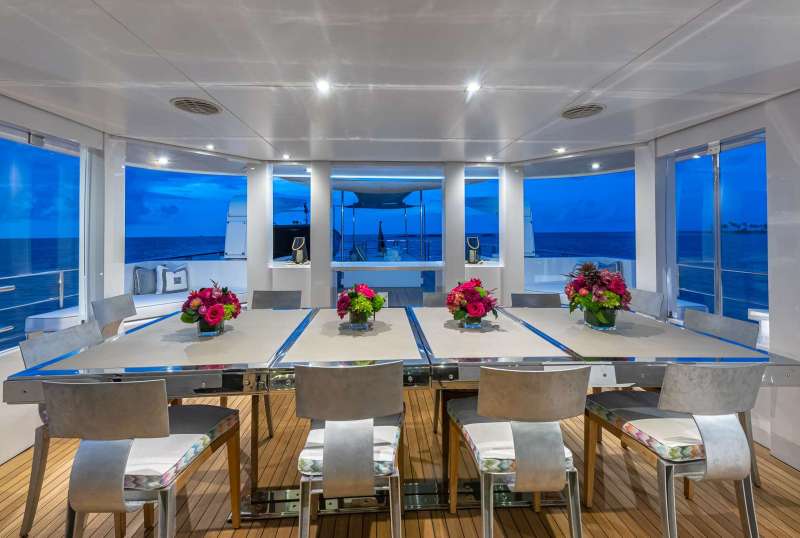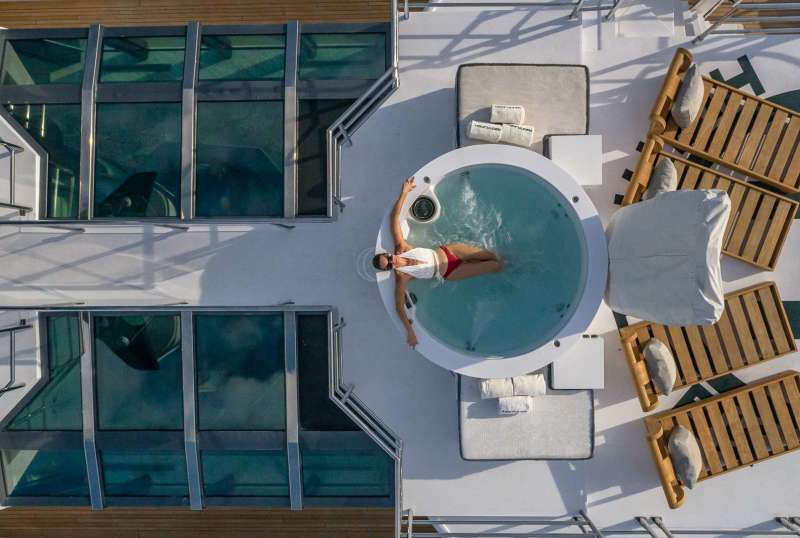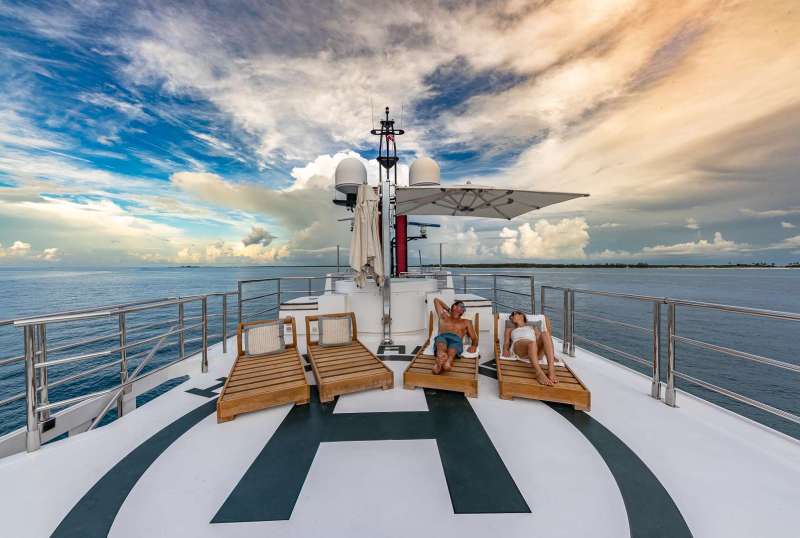 HIGHLANDER
From $155,000/week
7 cabins
162 ft
Feadship
12 guests
Refit: 2021
80 US Gall/Hr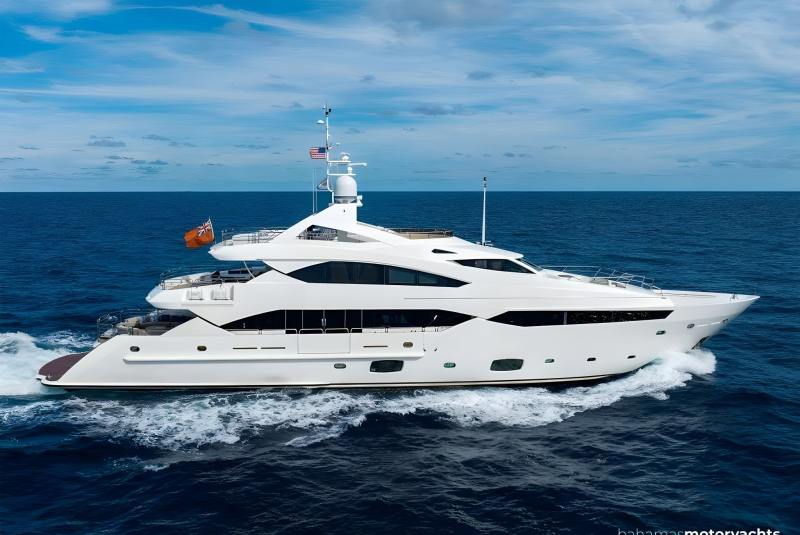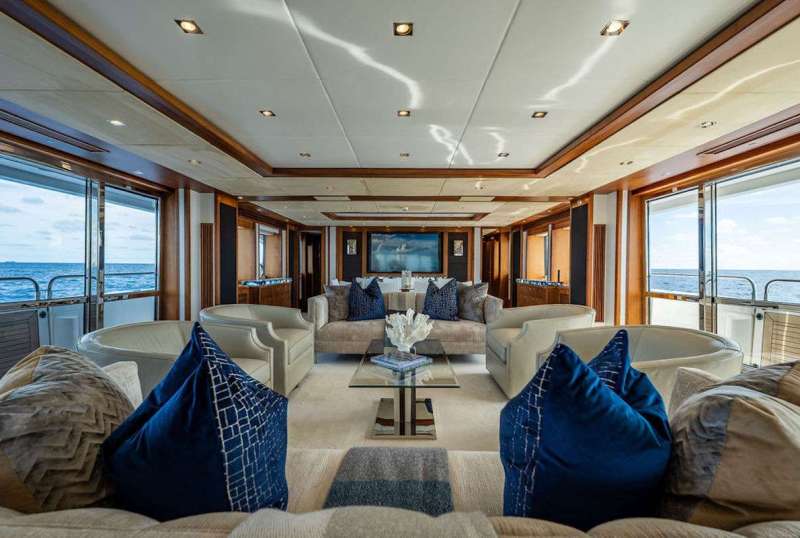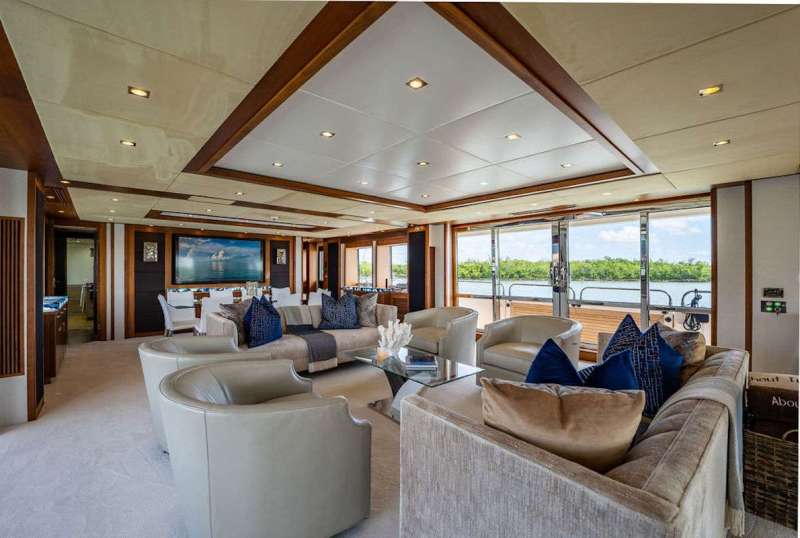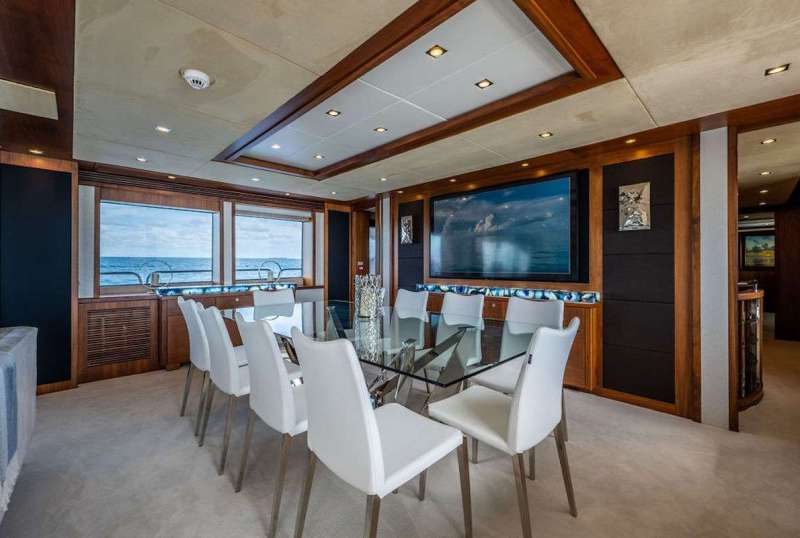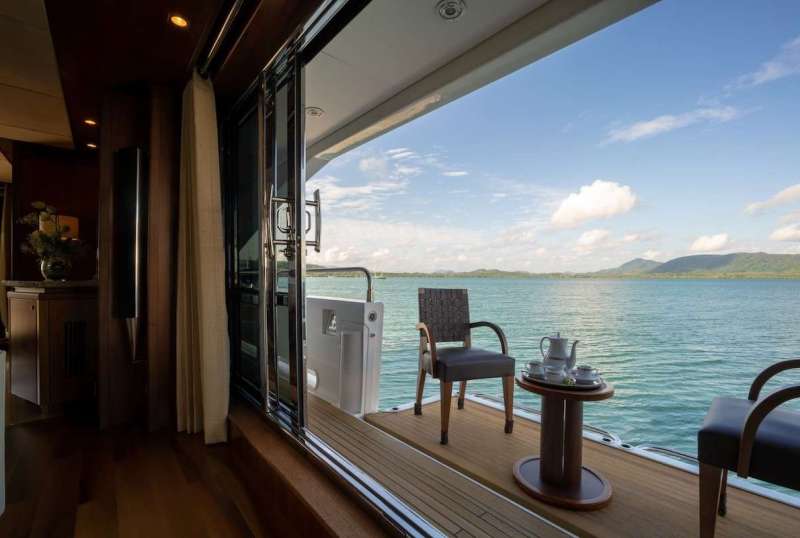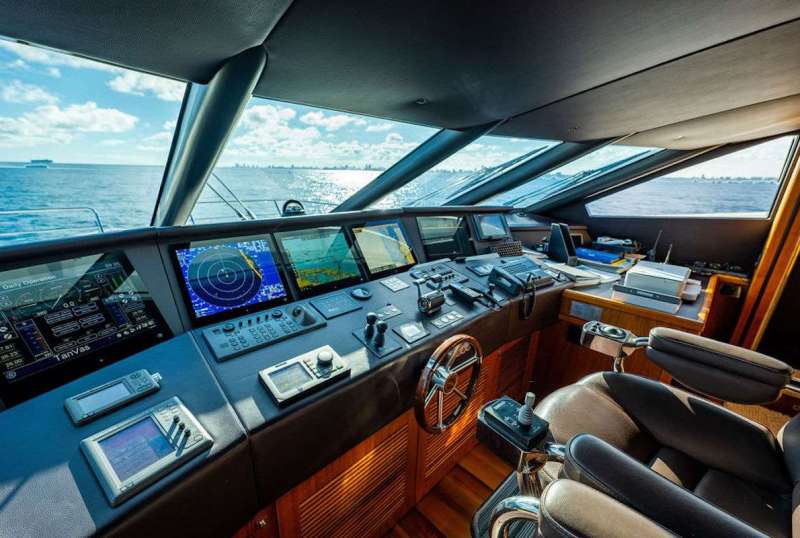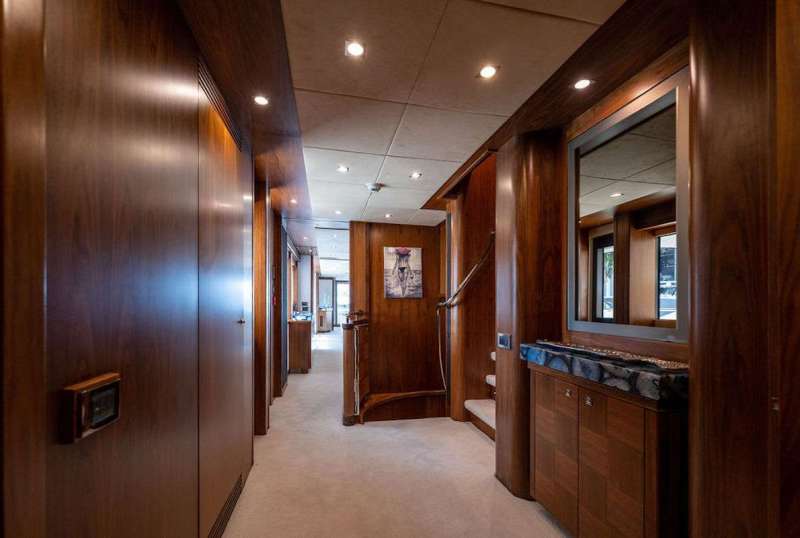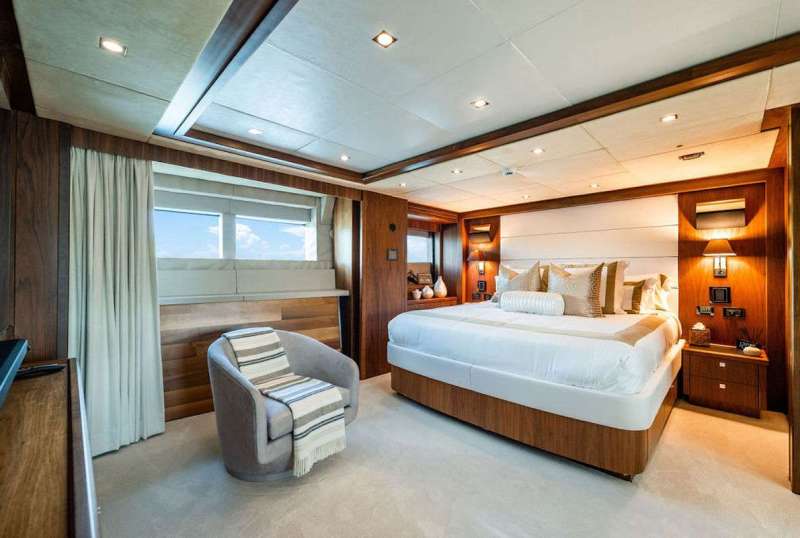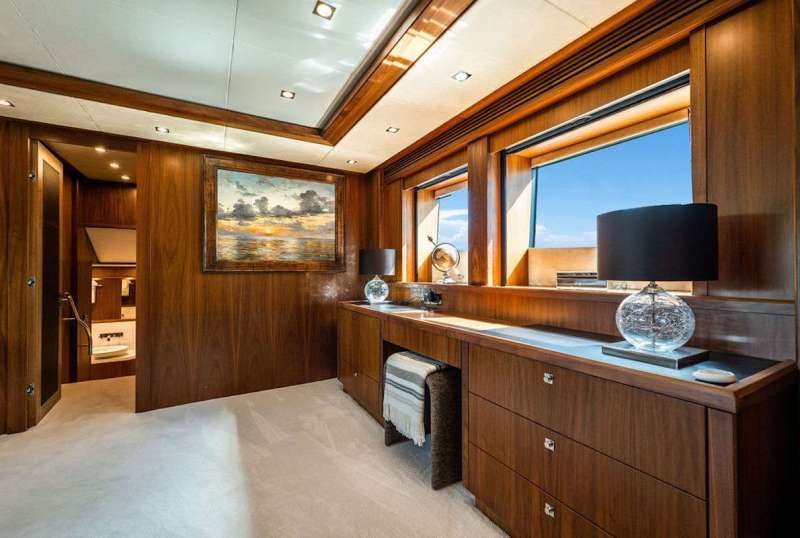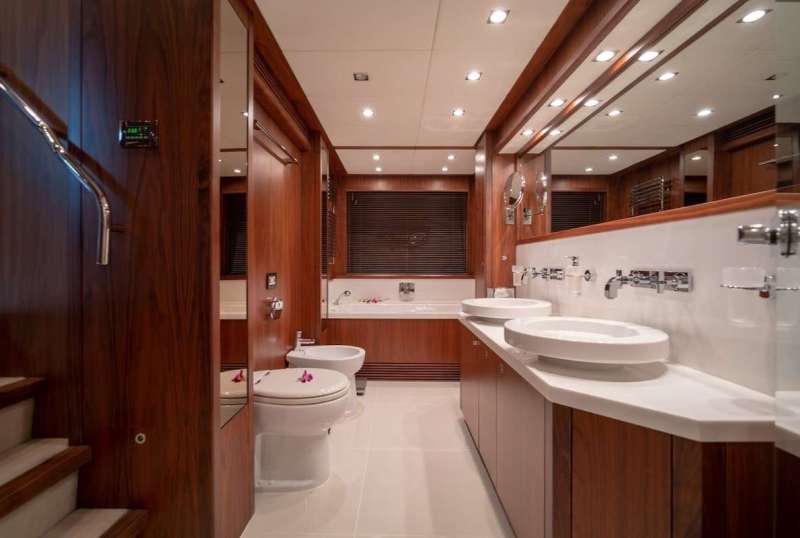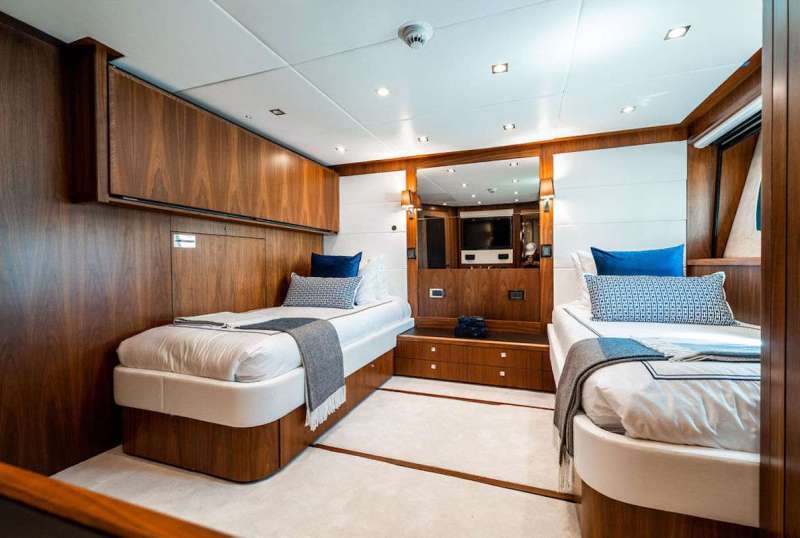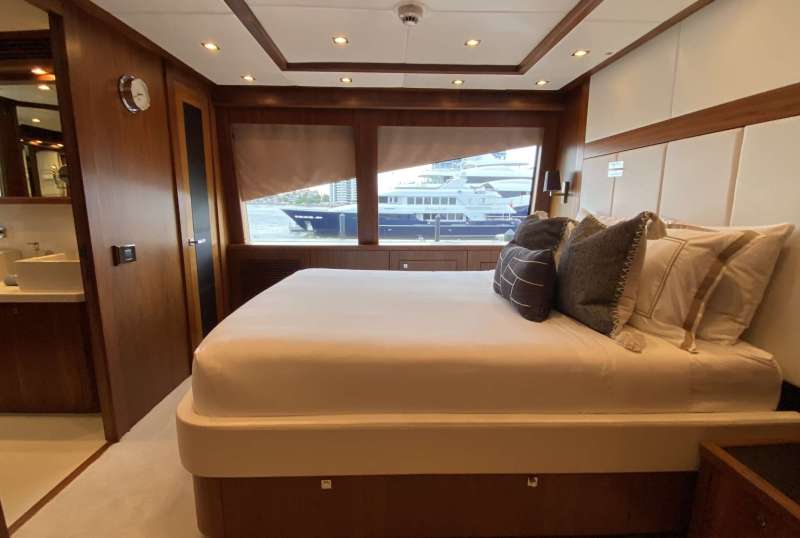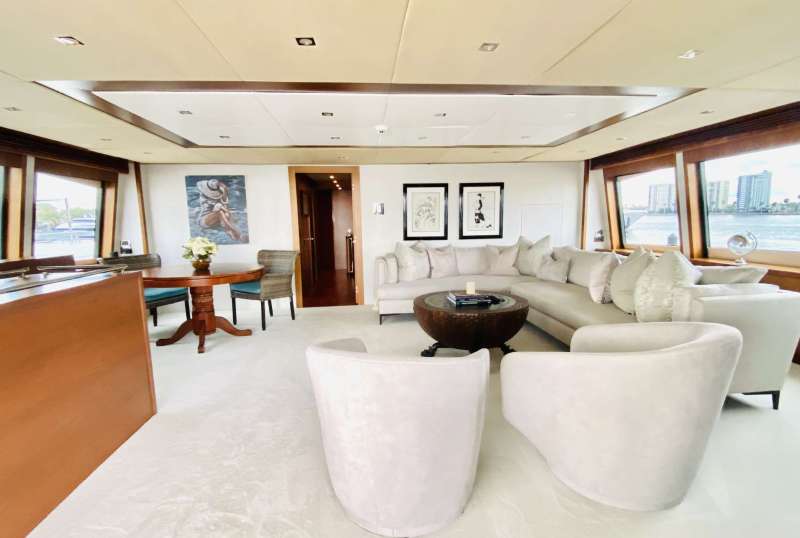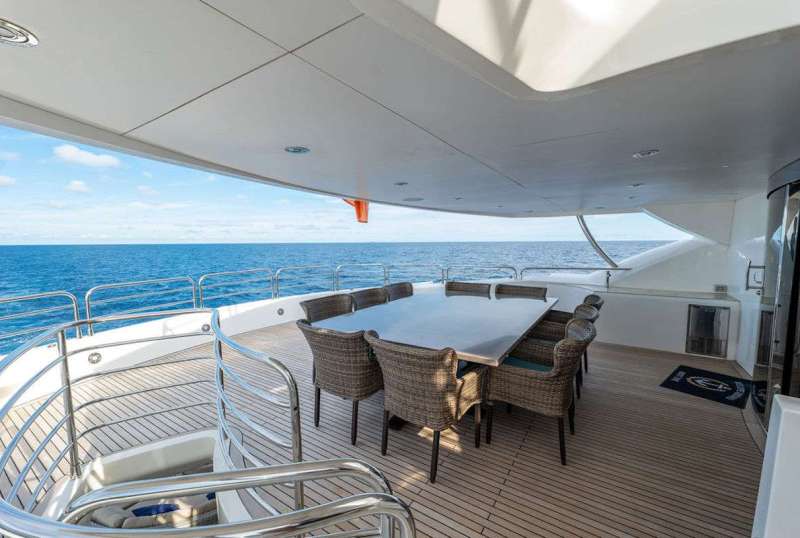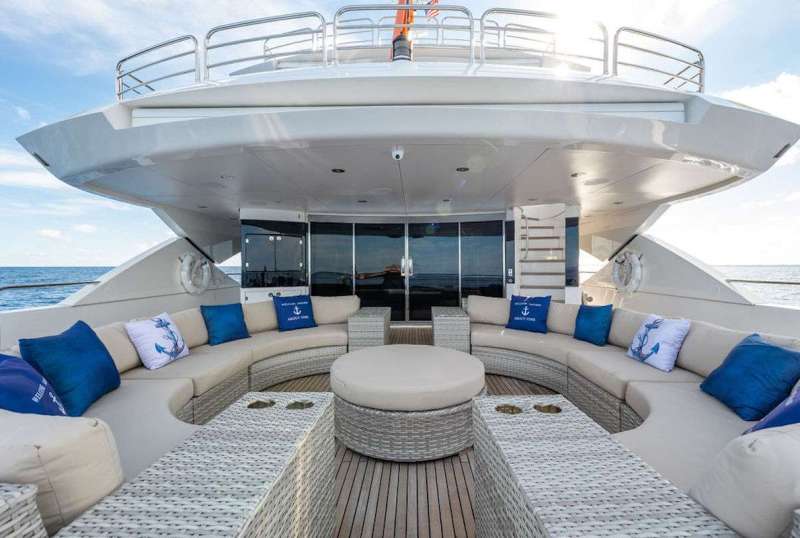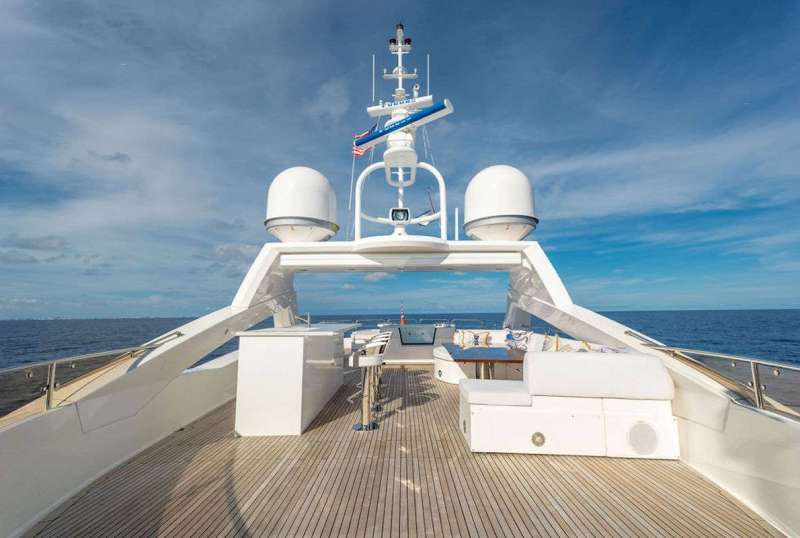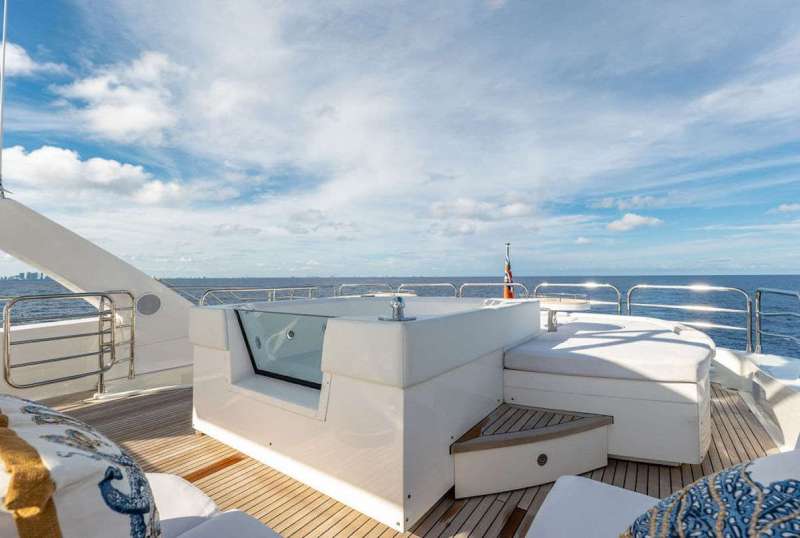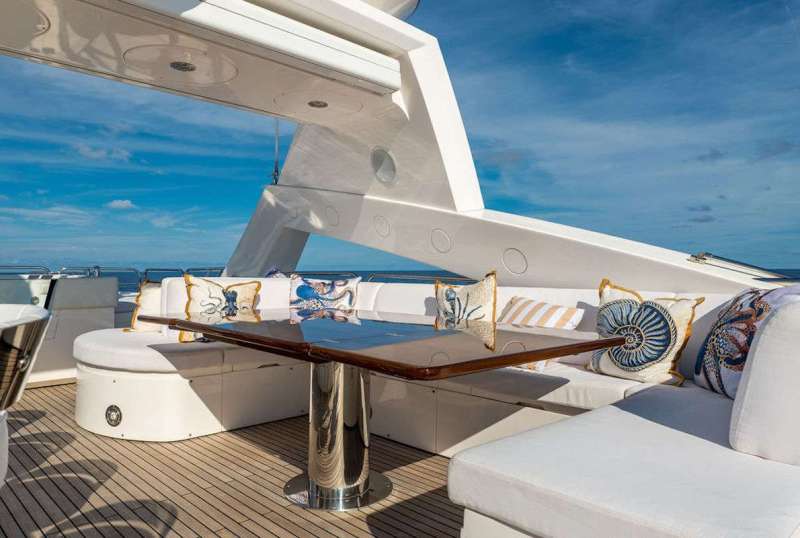 ABOUT TIME
From $155,000/week
6 cabins
131 ft
Sunseeker
12 guests
Built: 2010
100 US Gall/Hr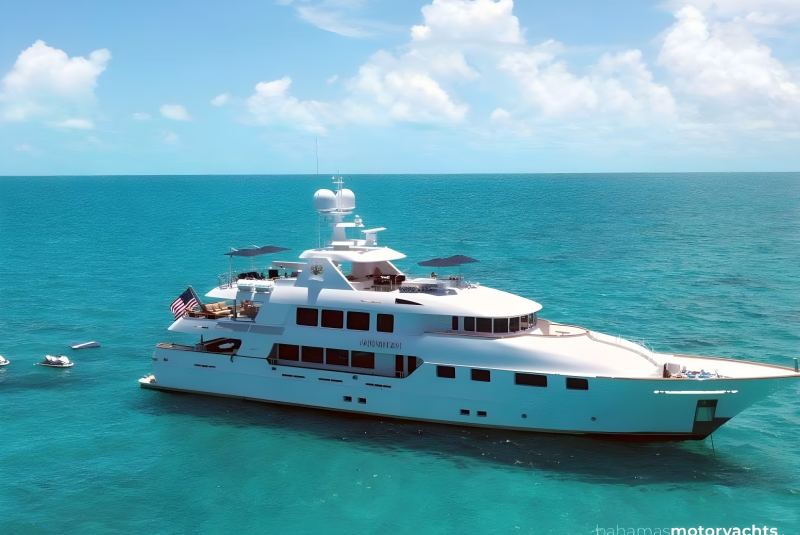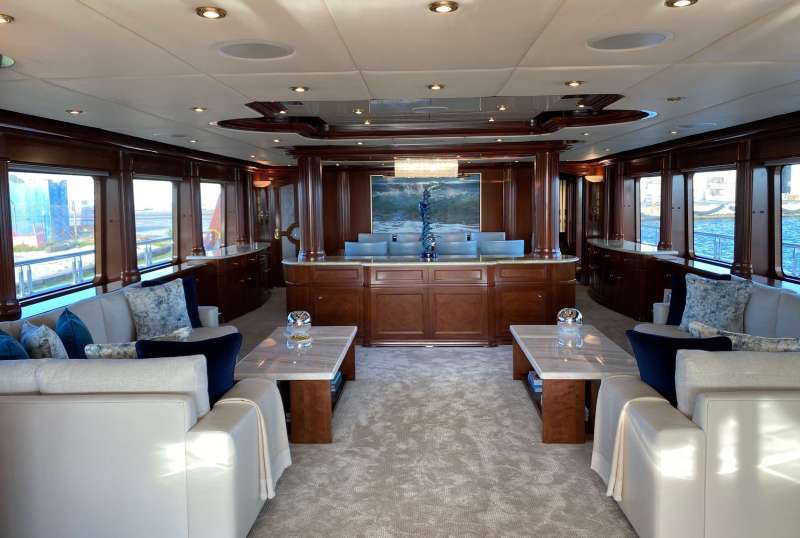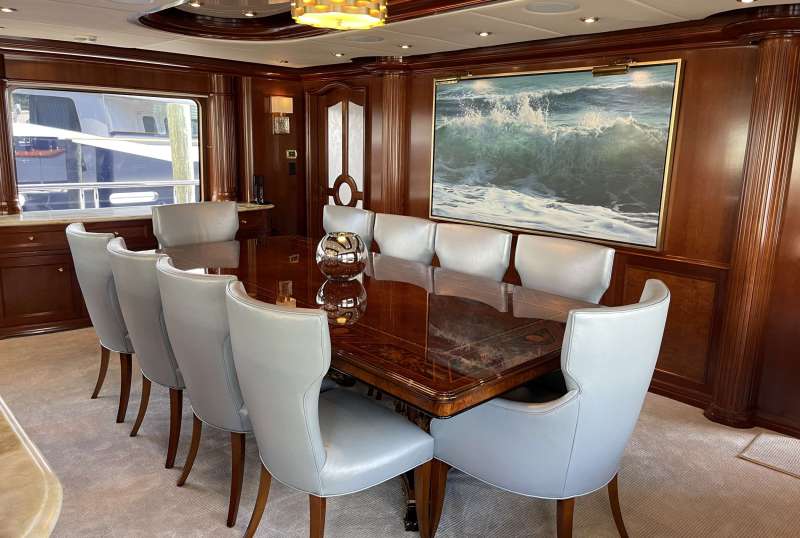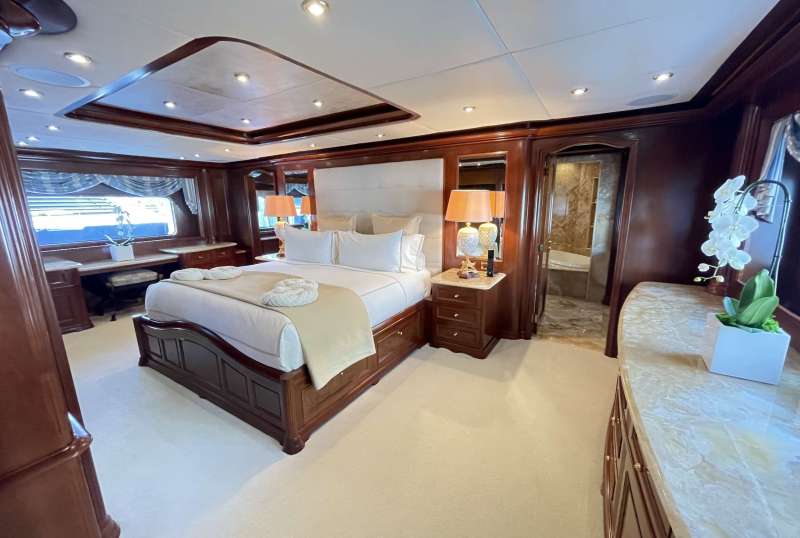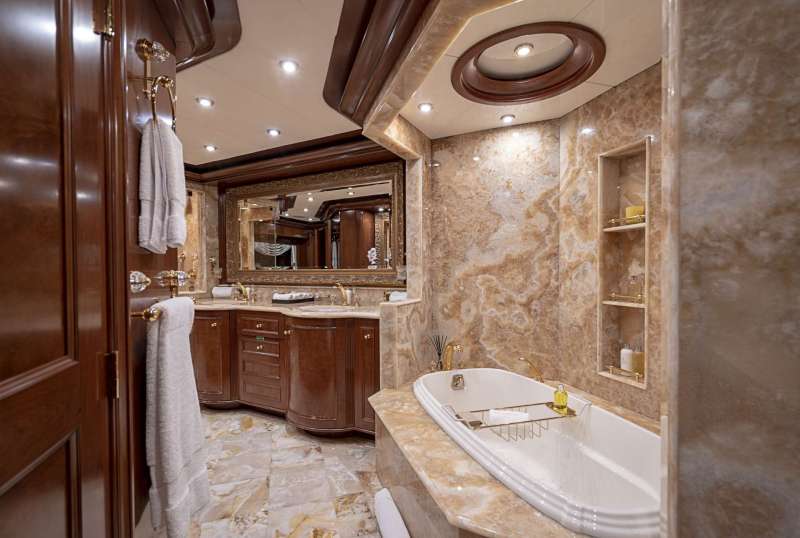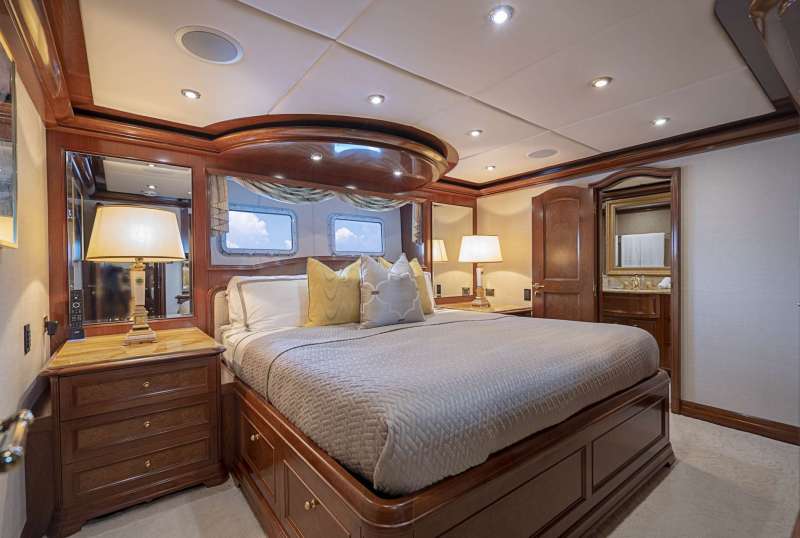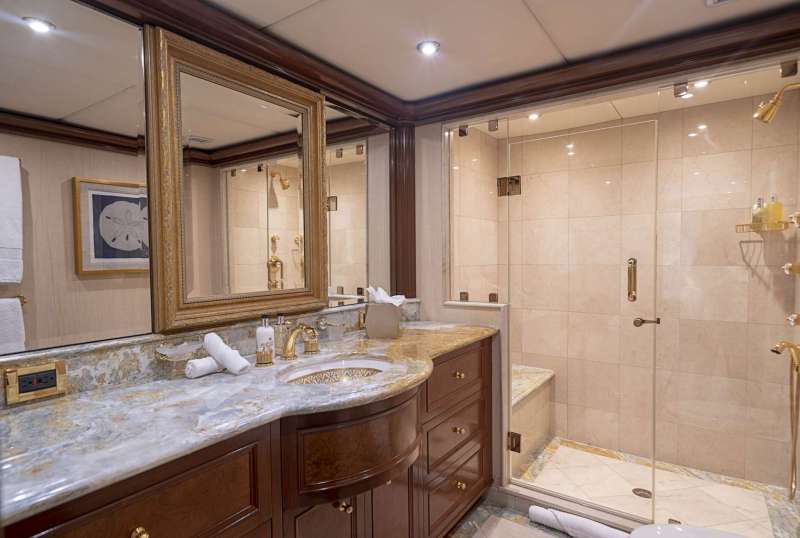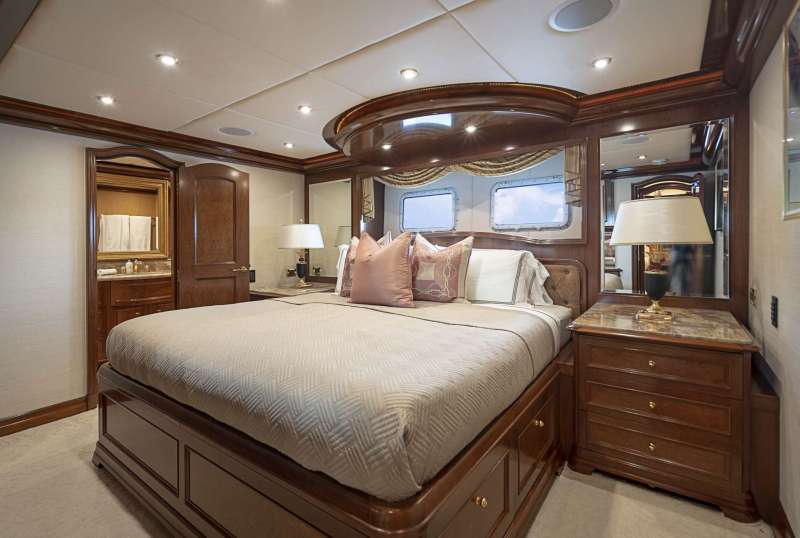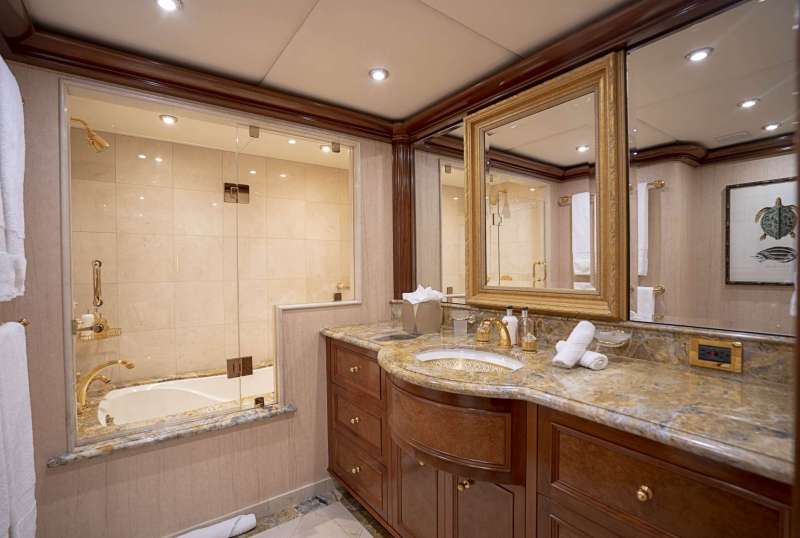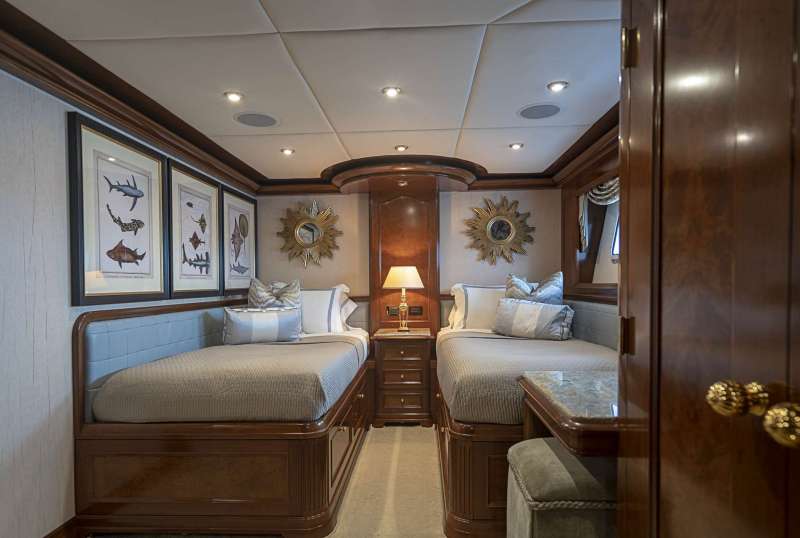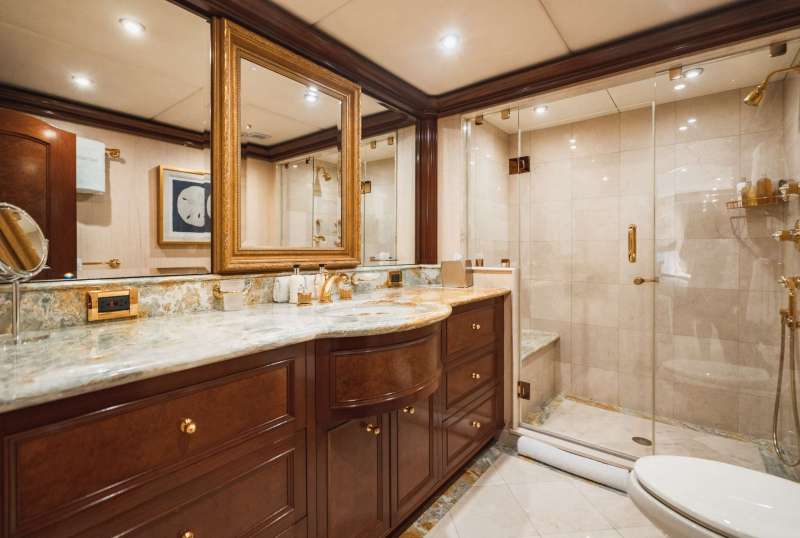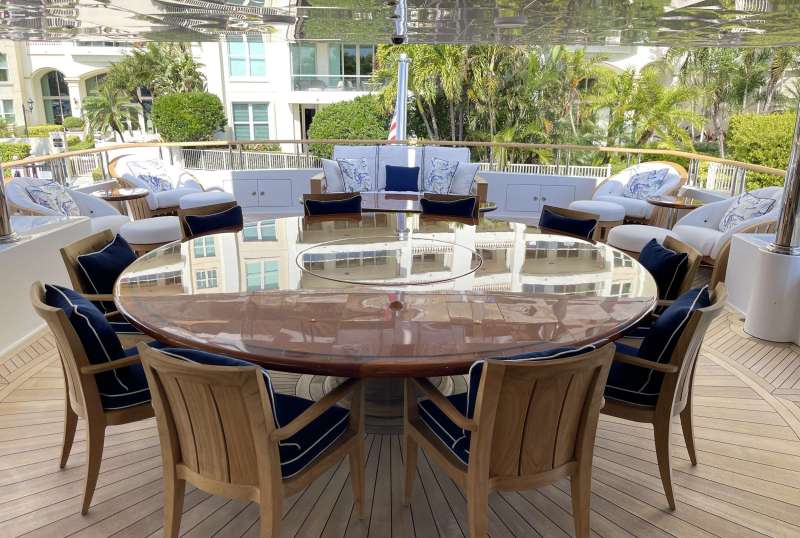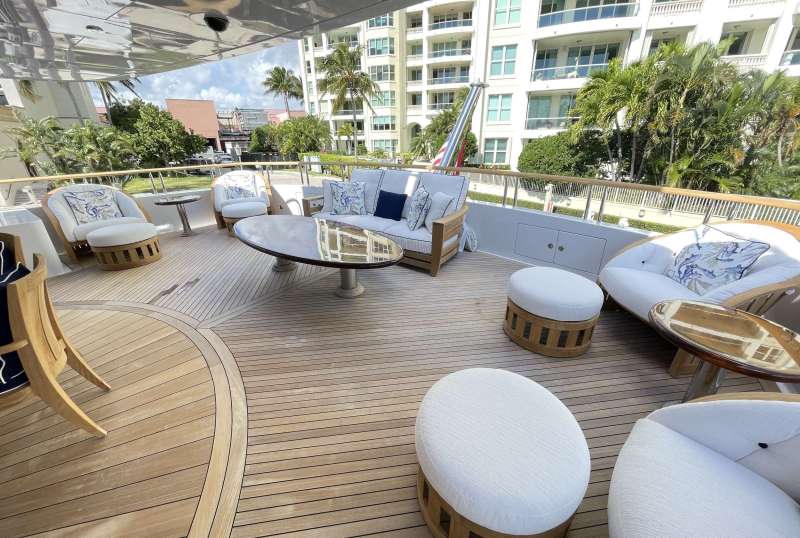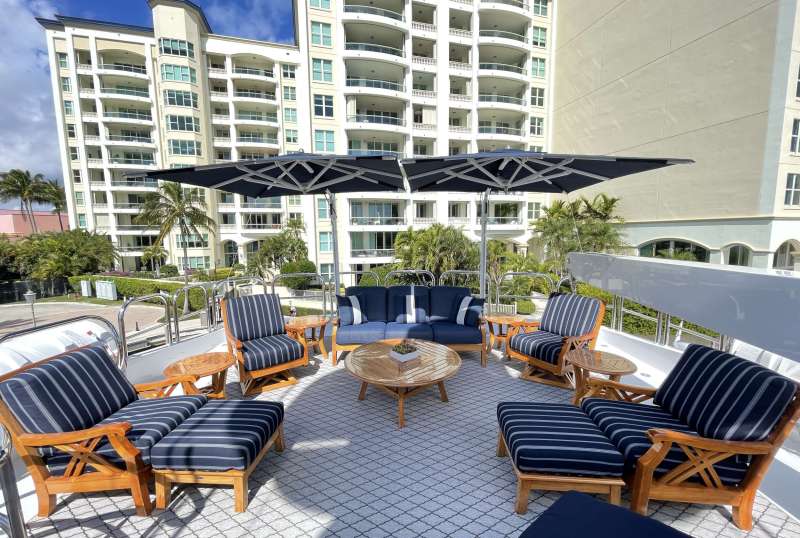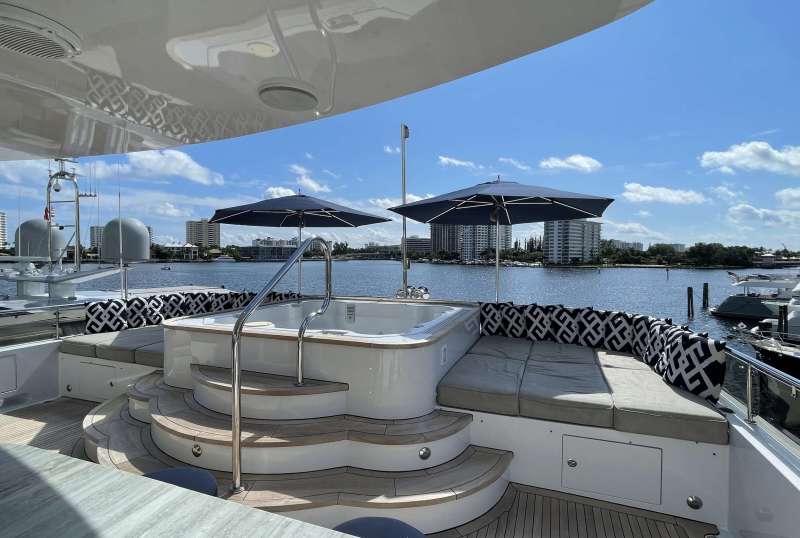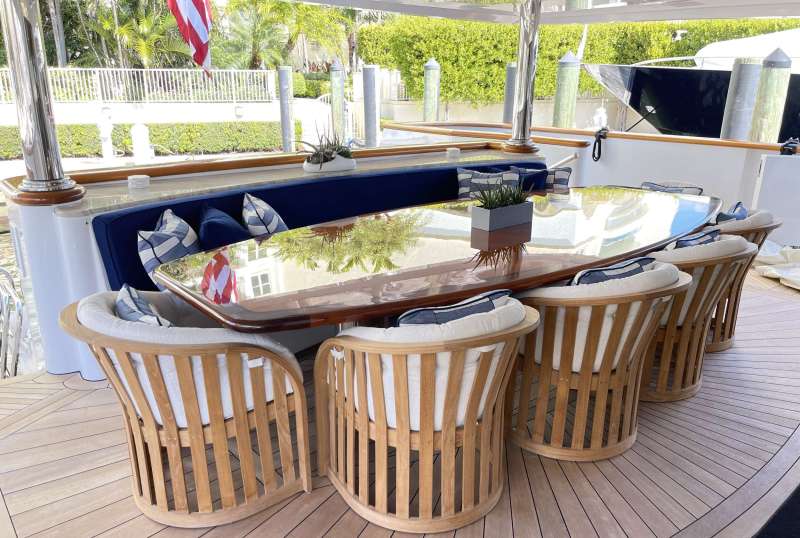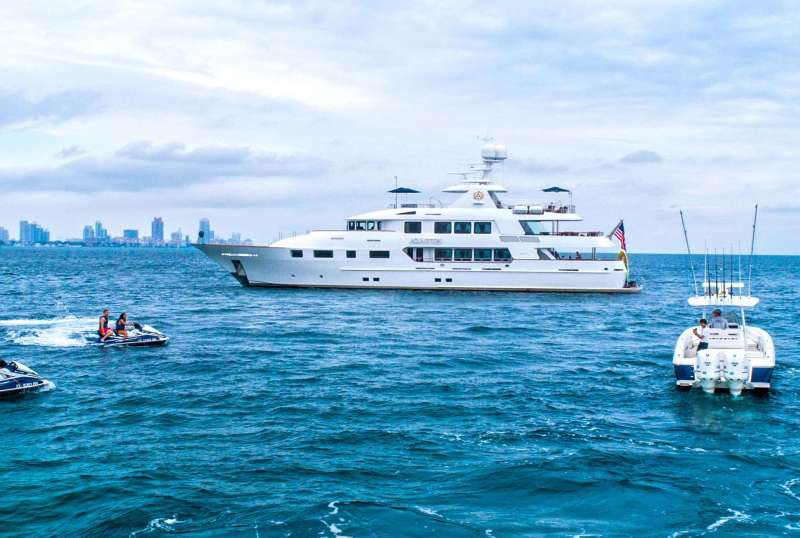 AQUASITION
From $150,000/week
5 cabins
142 ft
Trinity Yacht
10 guests
Refit: 2018
75 US Gall/Hr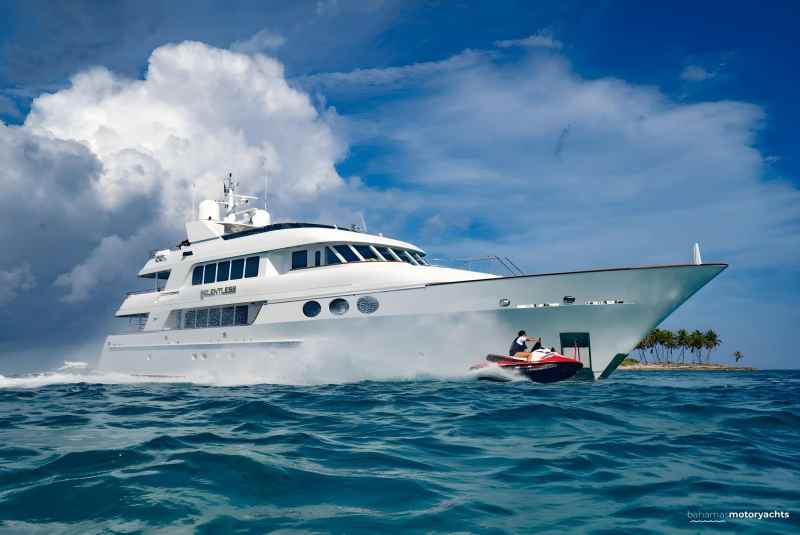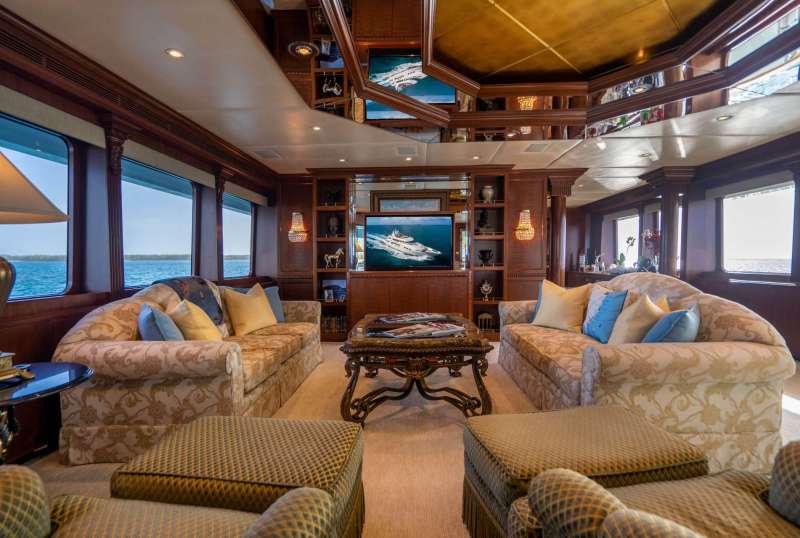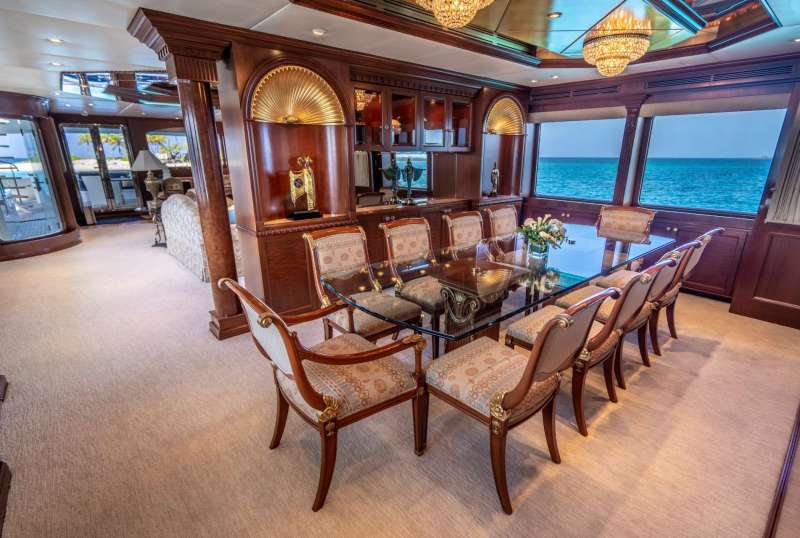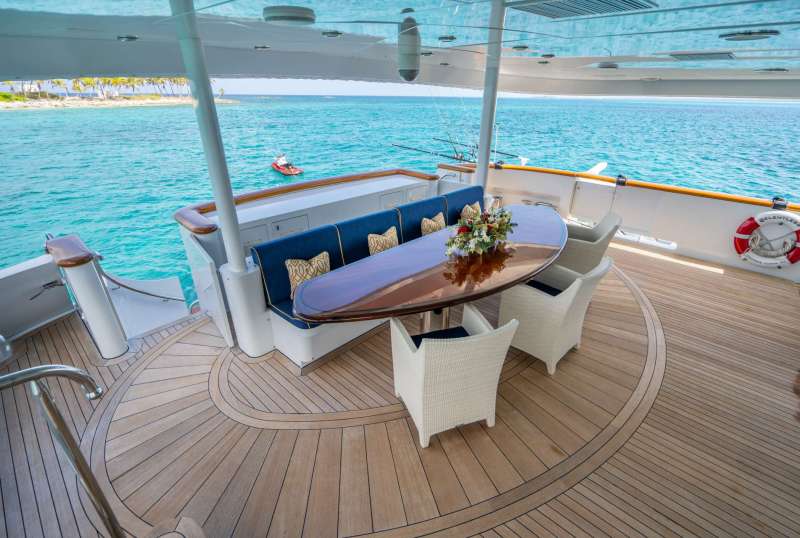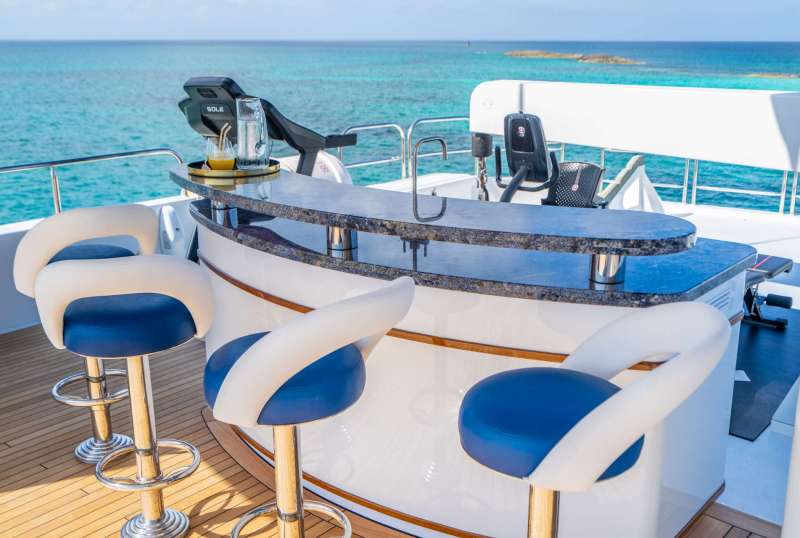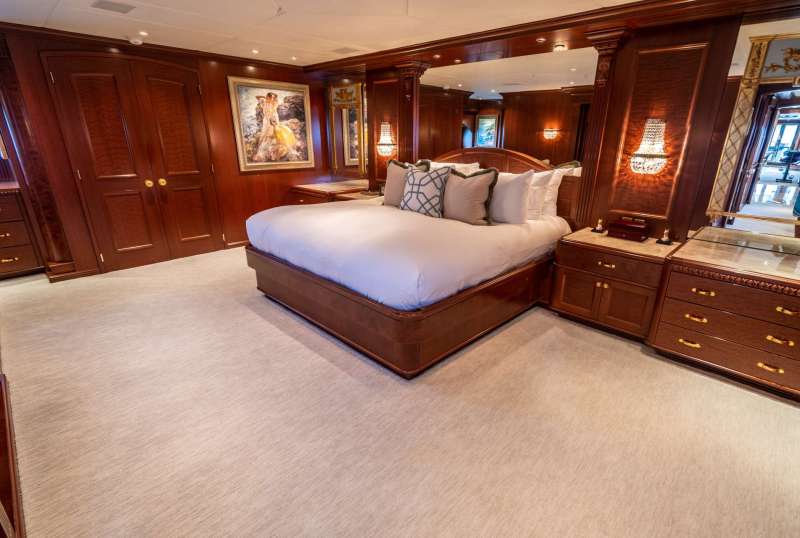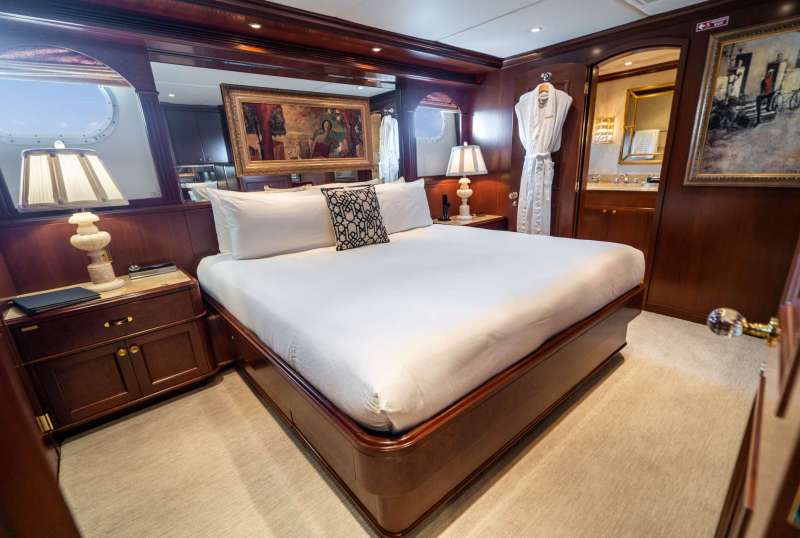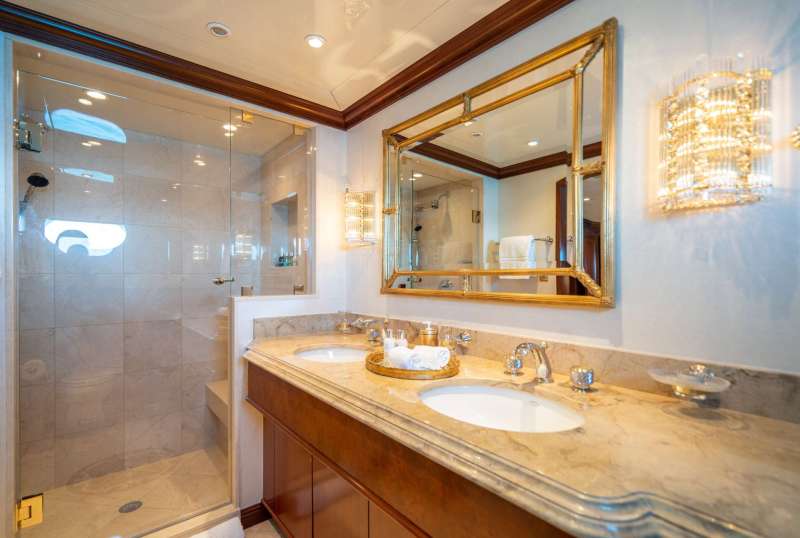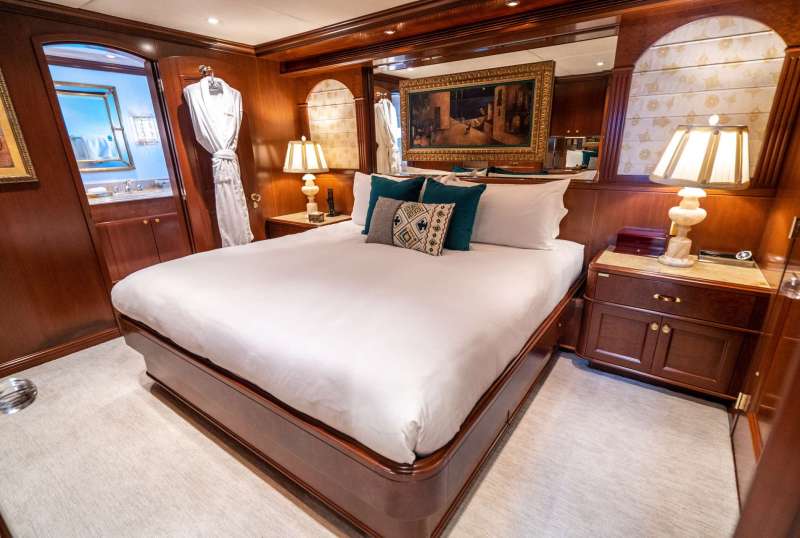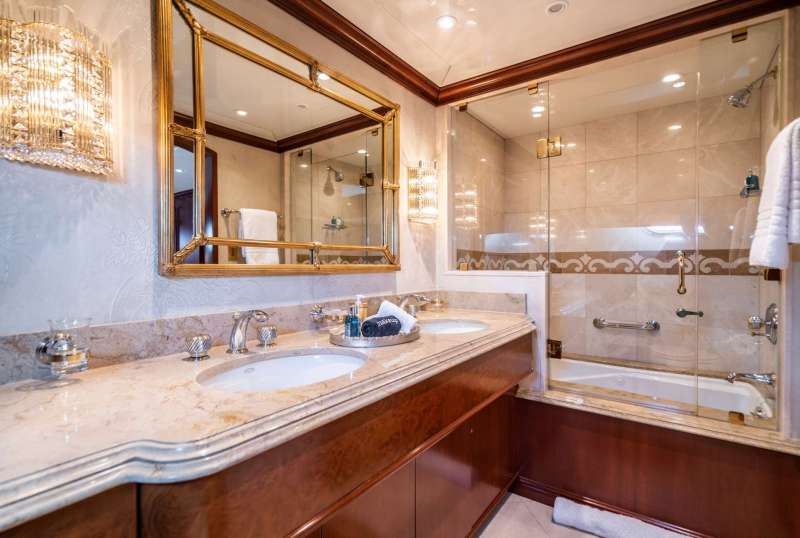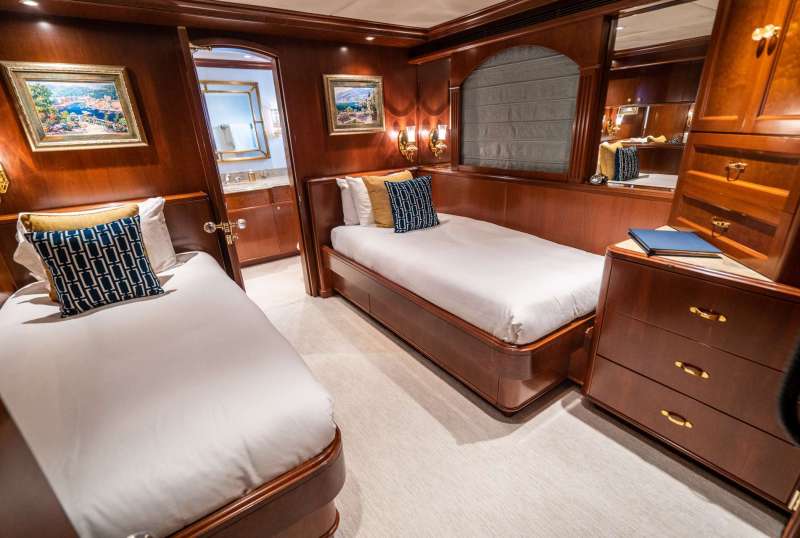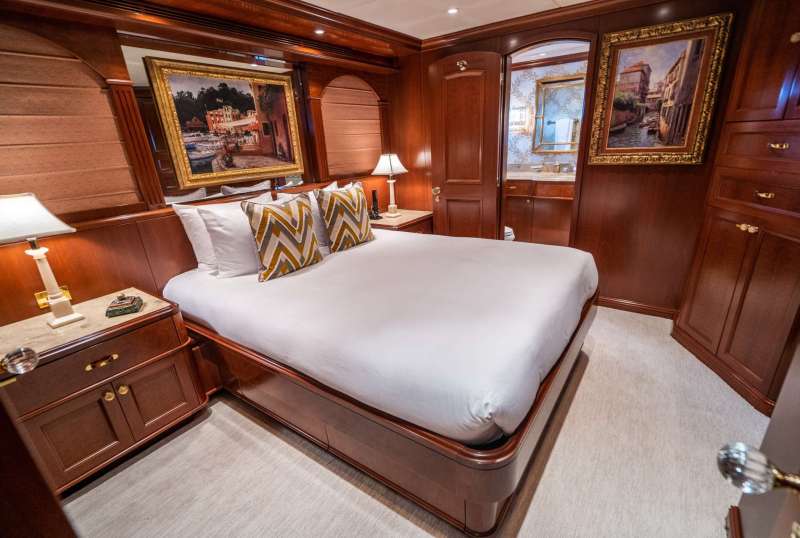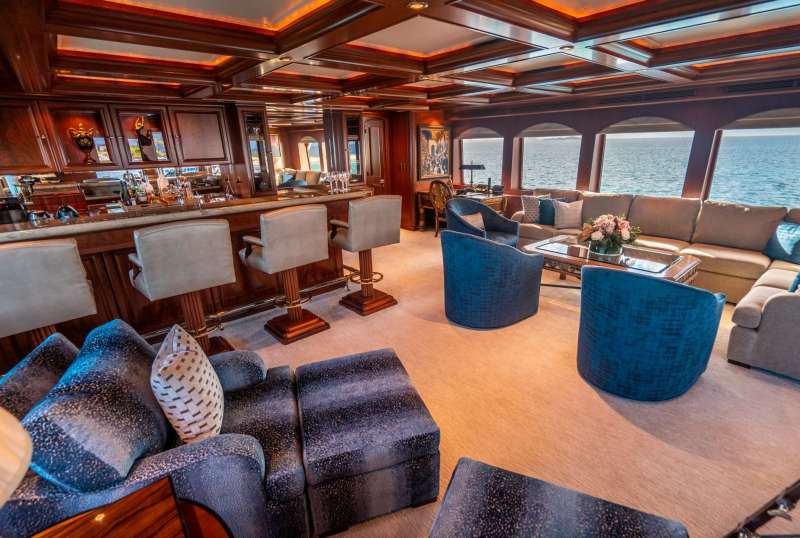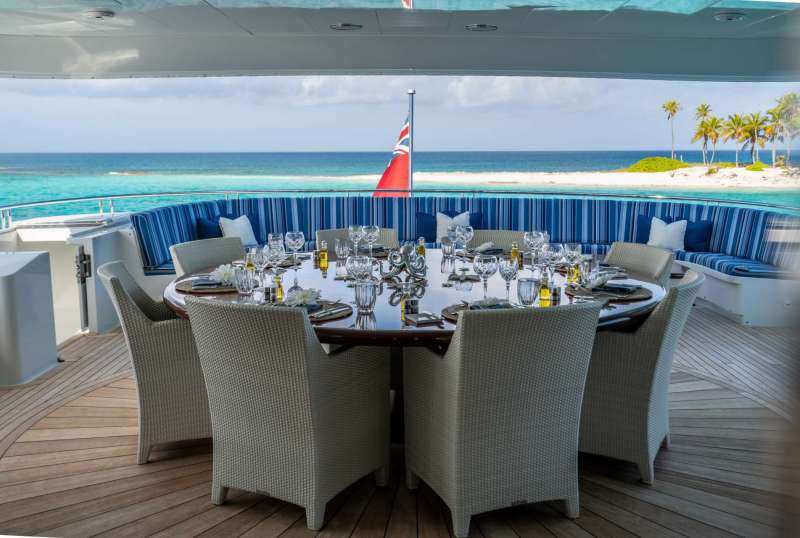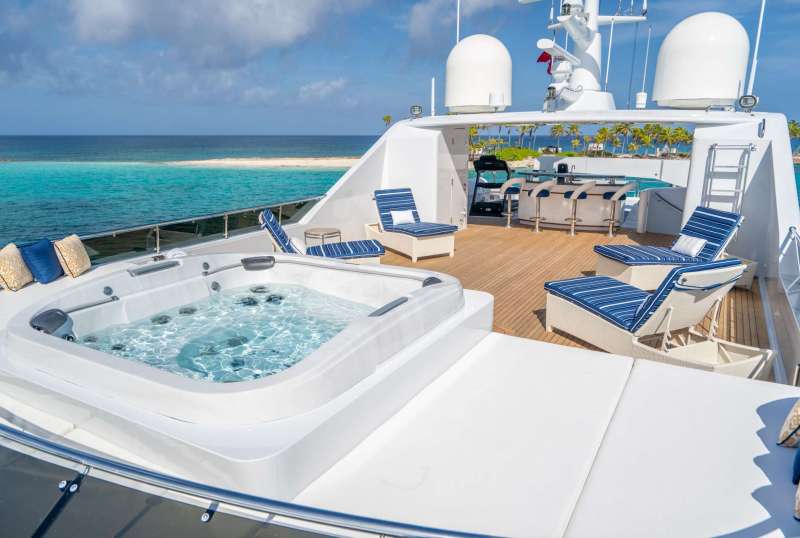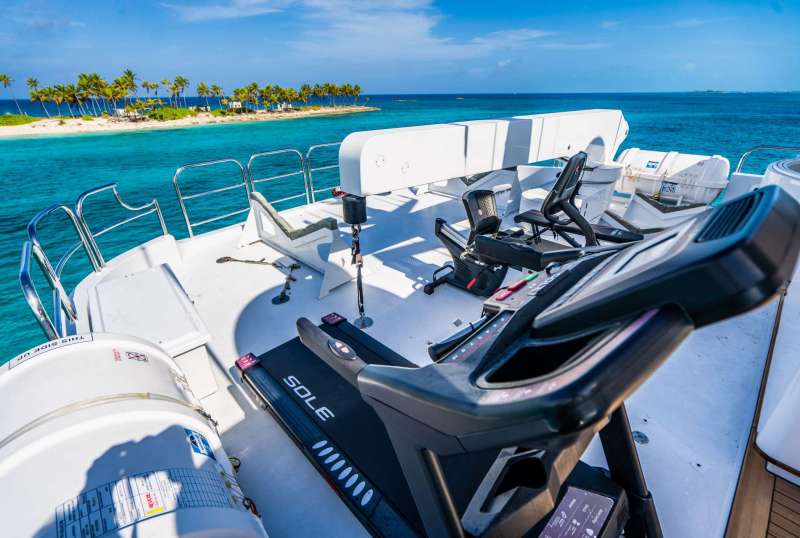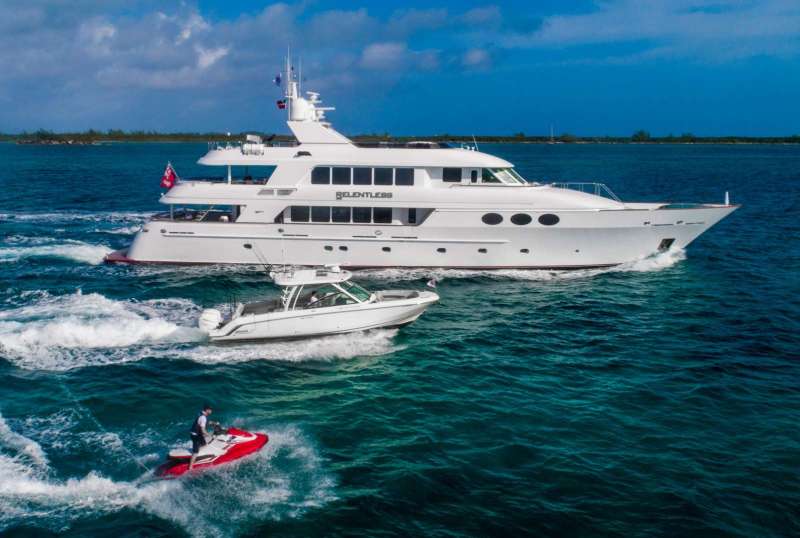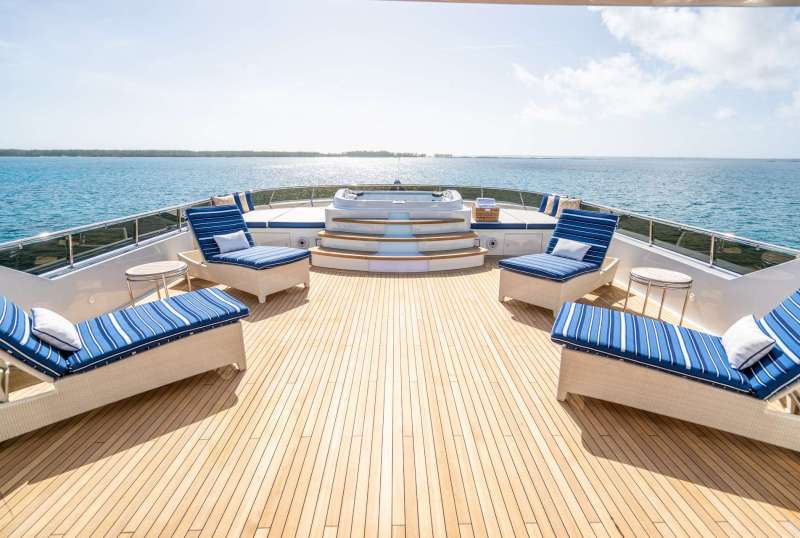 RELENTLESS
From $150,000/week
5 cabins
145 ft
Trinity
10 guests
Refit: 2019
100 US Gall/Hr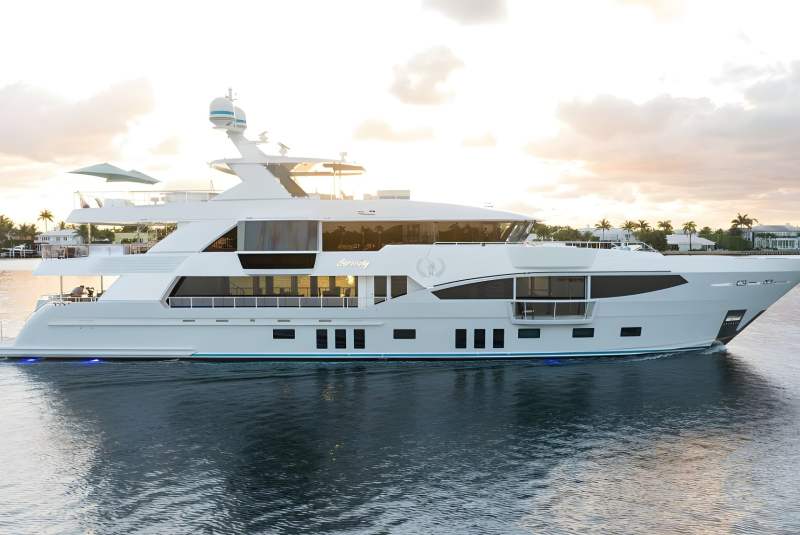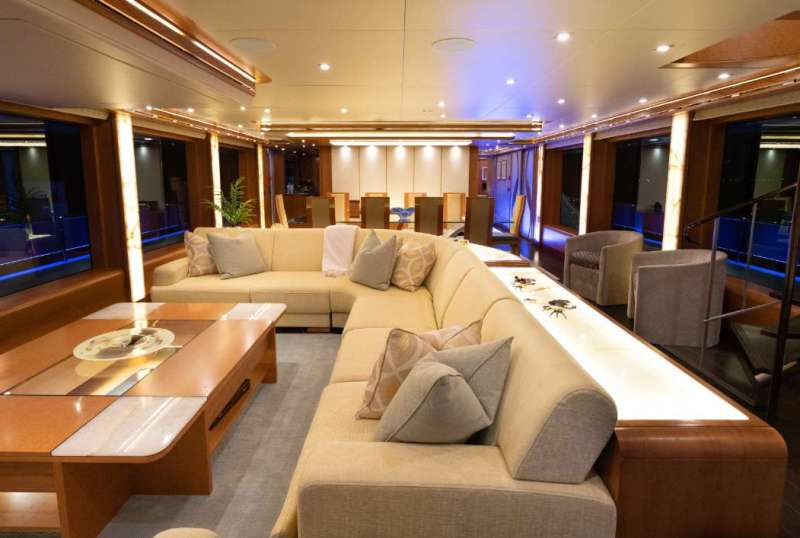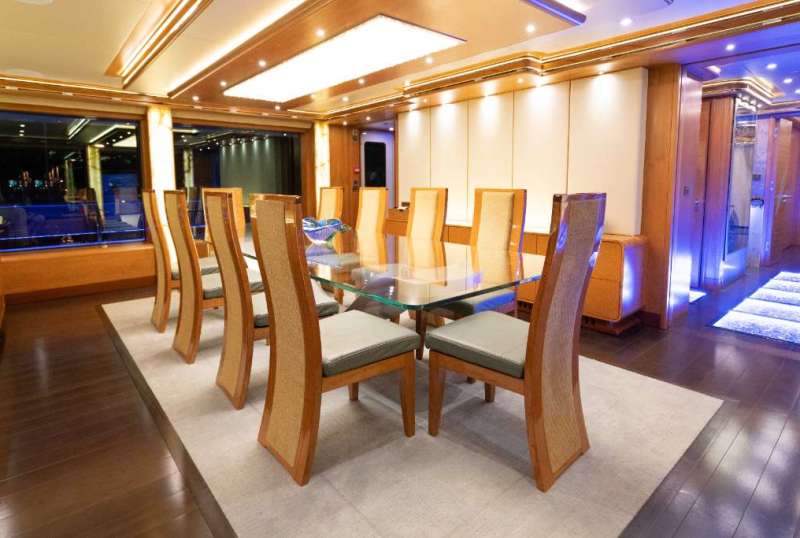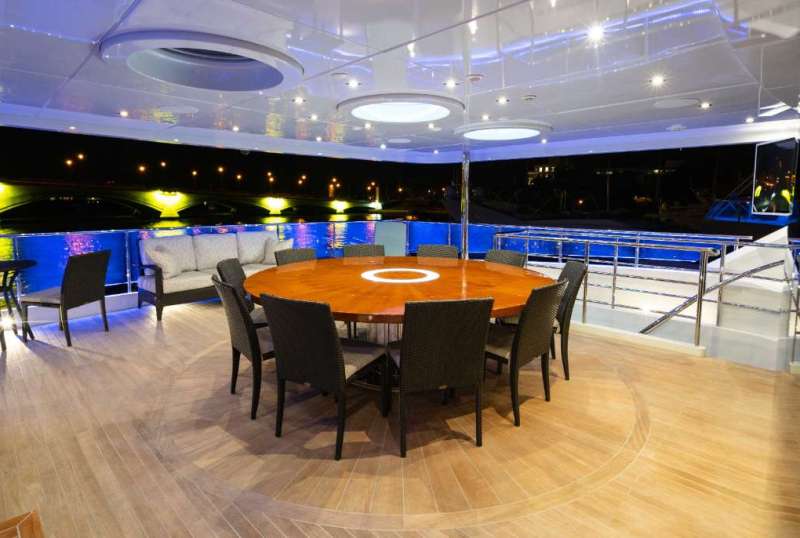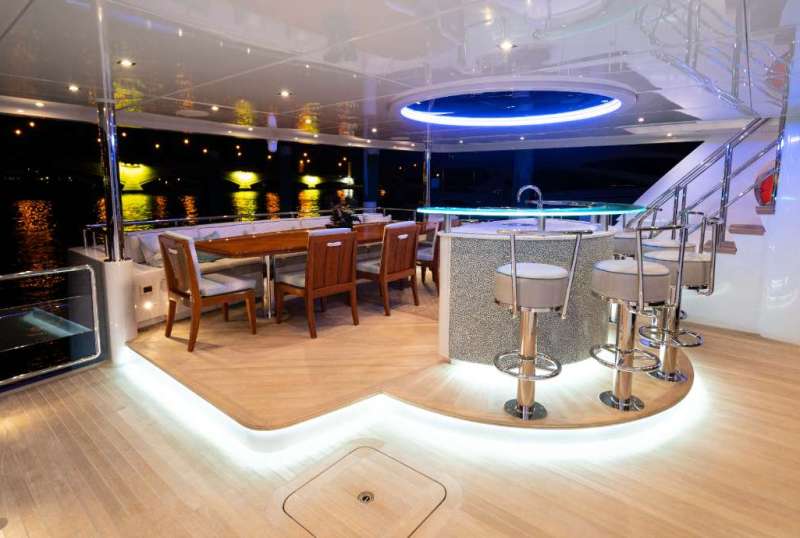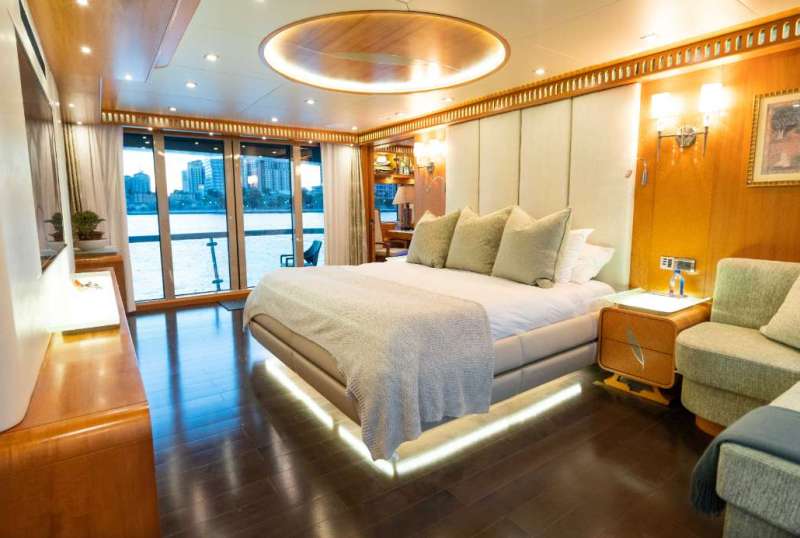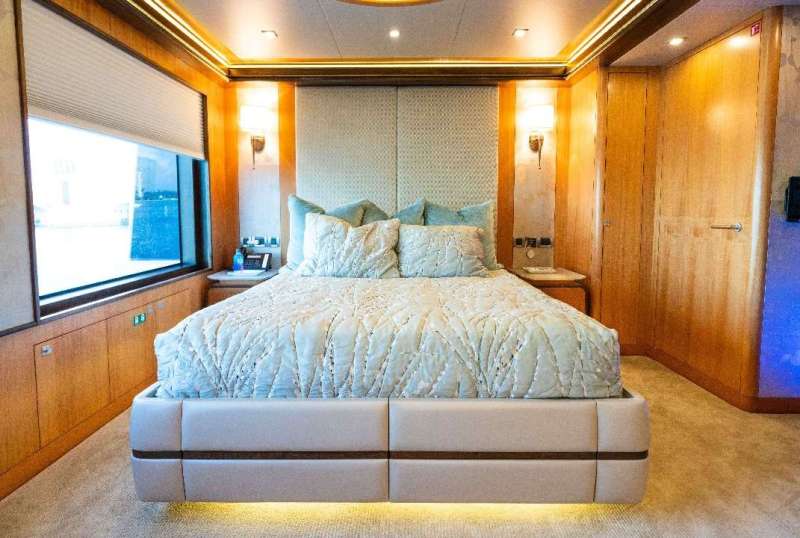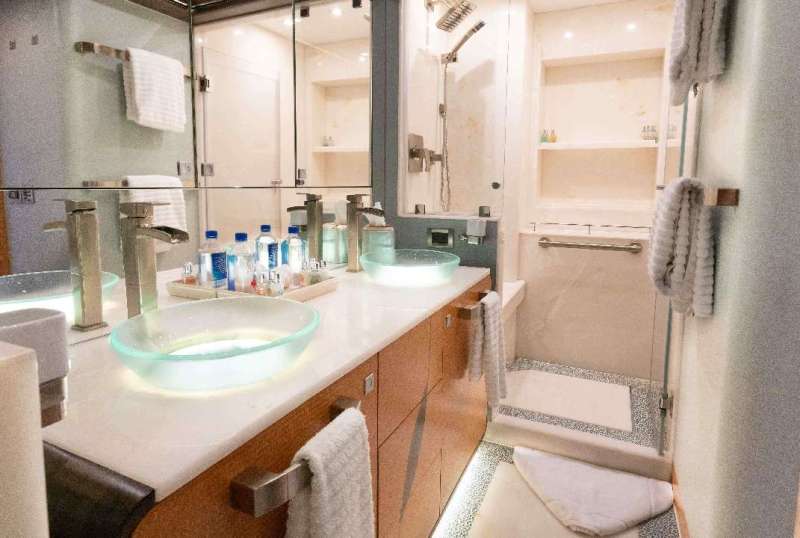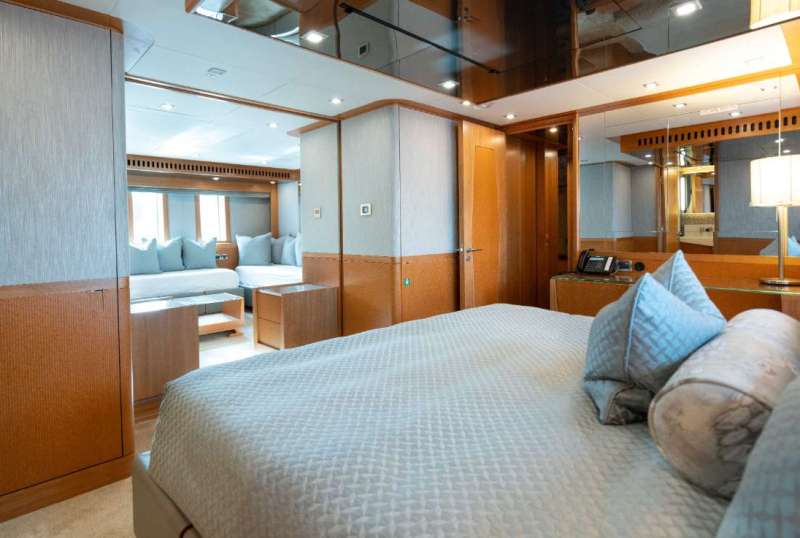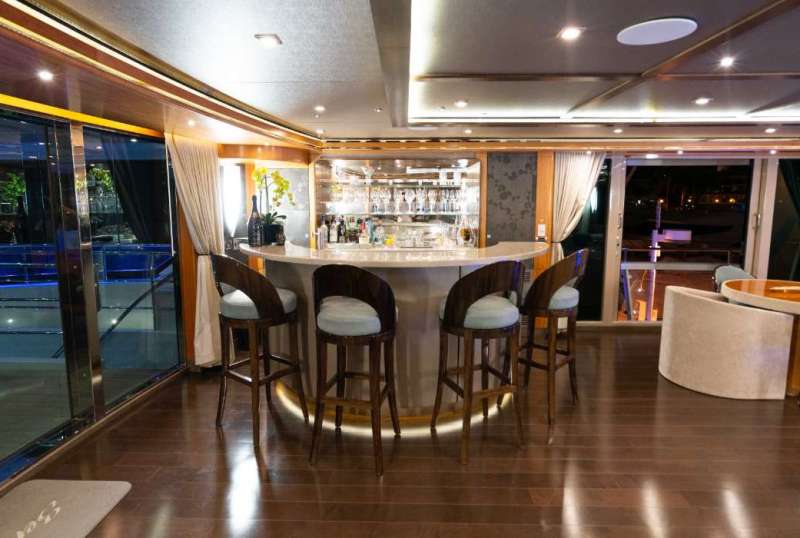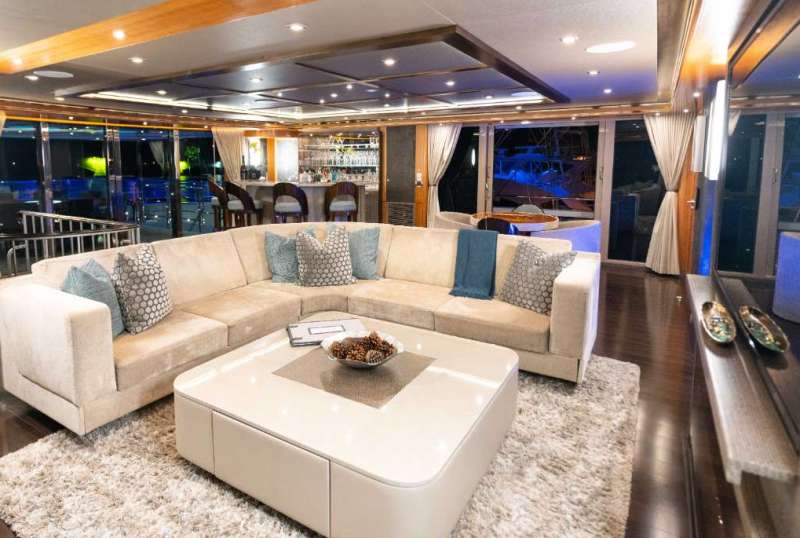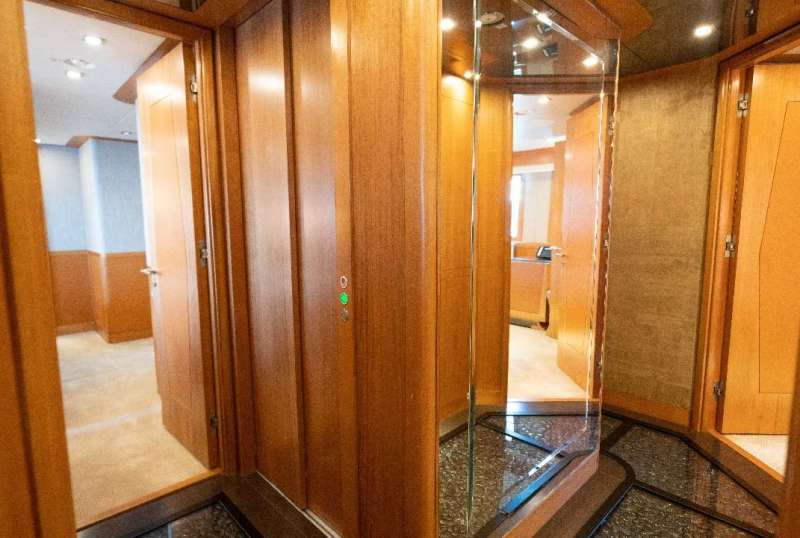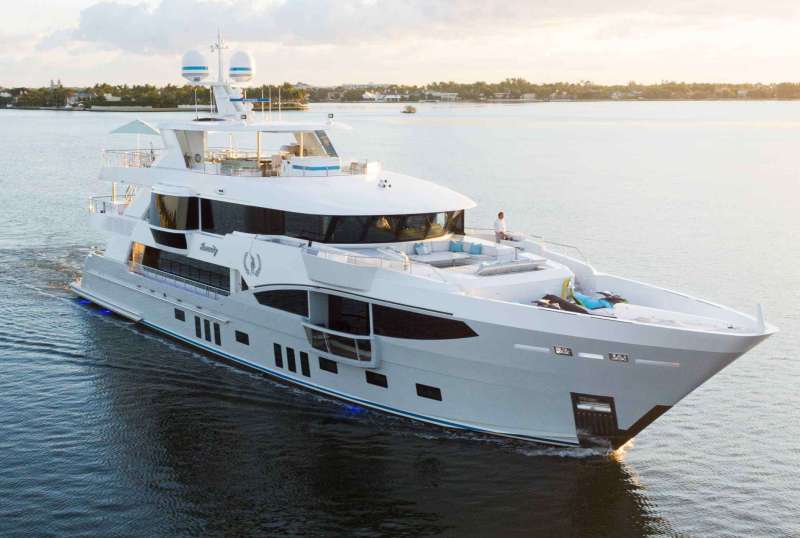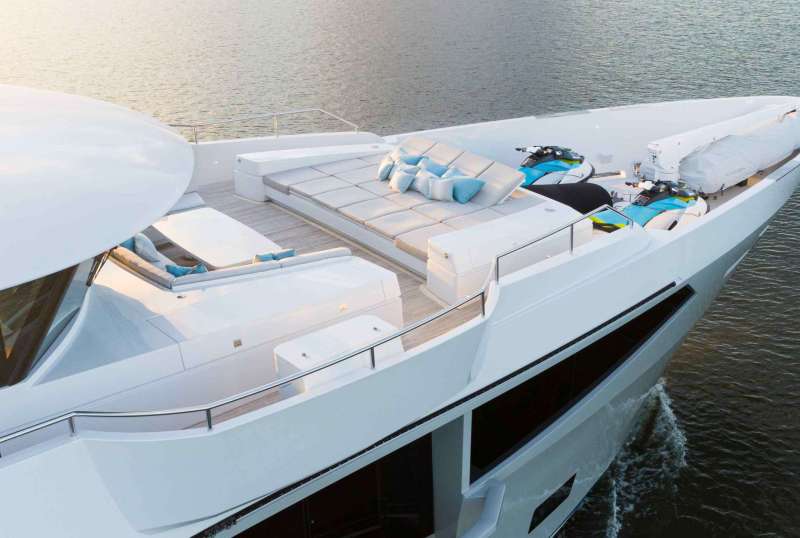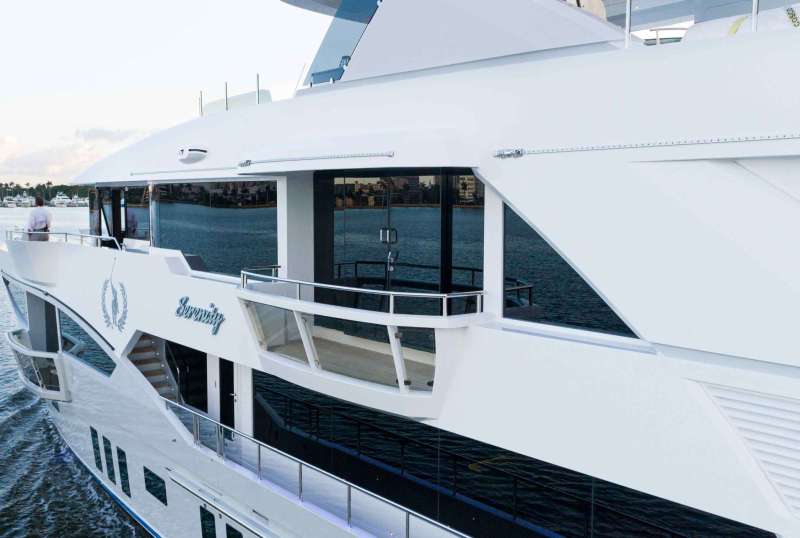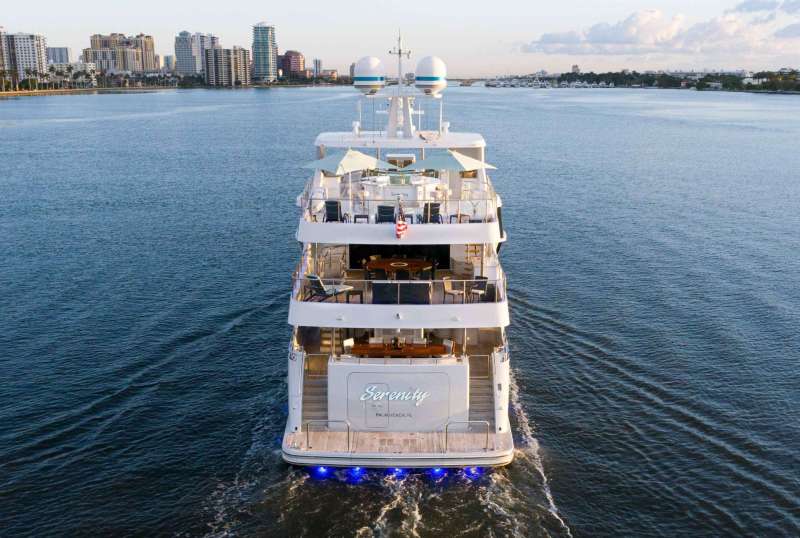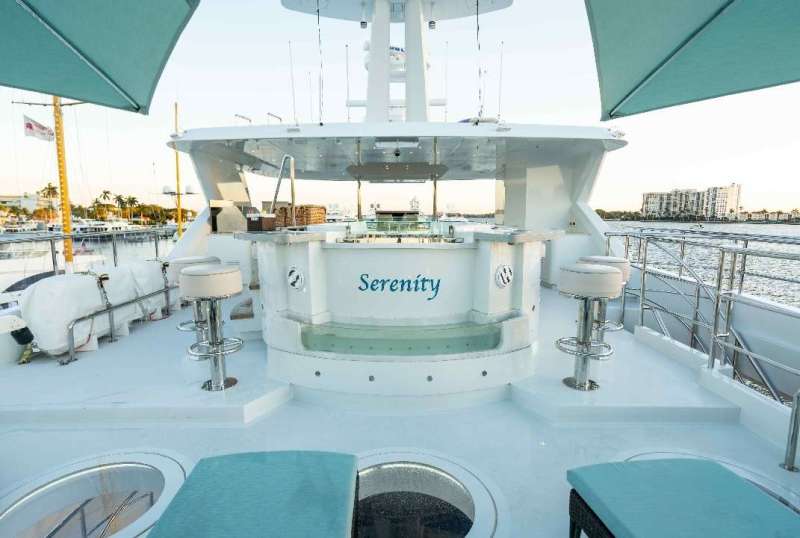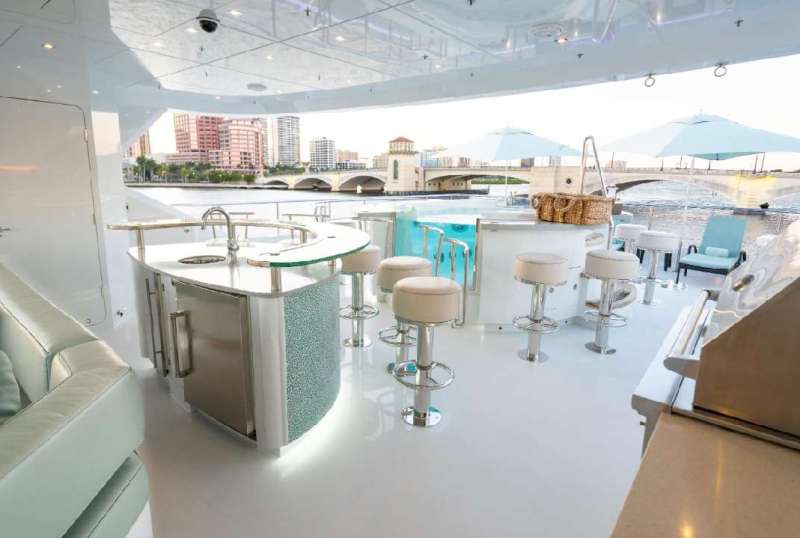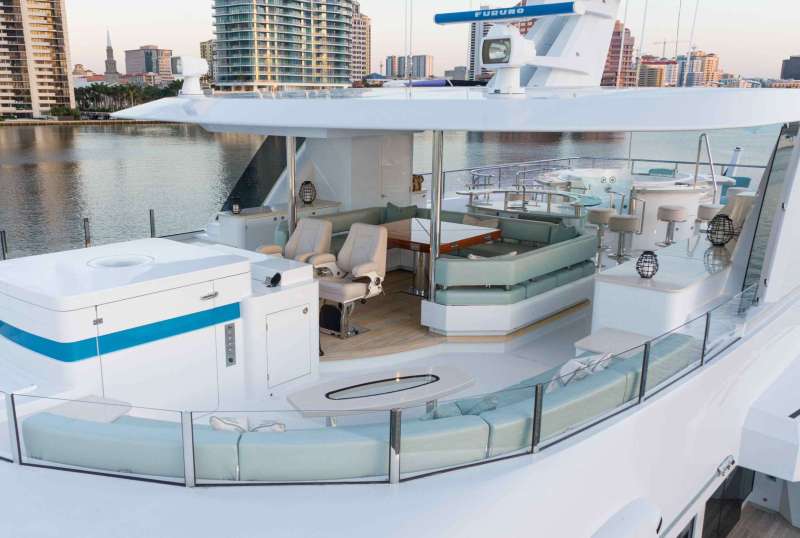 SERENITY
From $145,000/week
6 cabins
133 ft
IAG
12 guests
Refit: 2022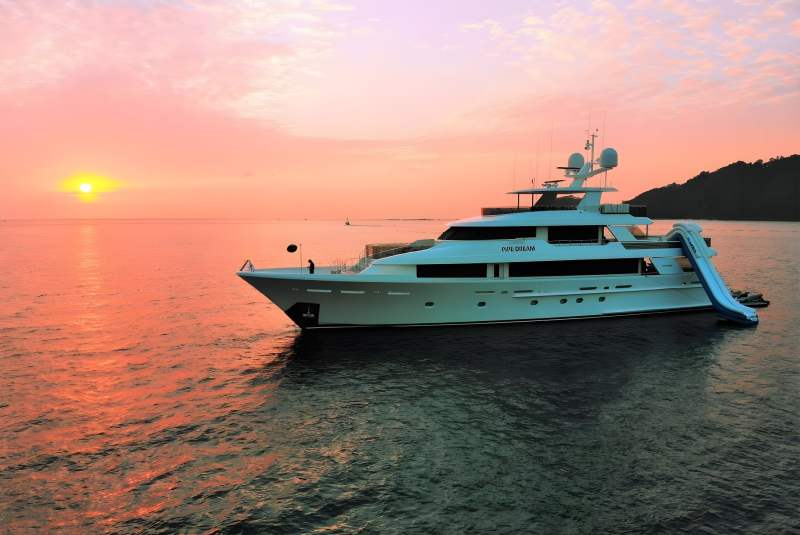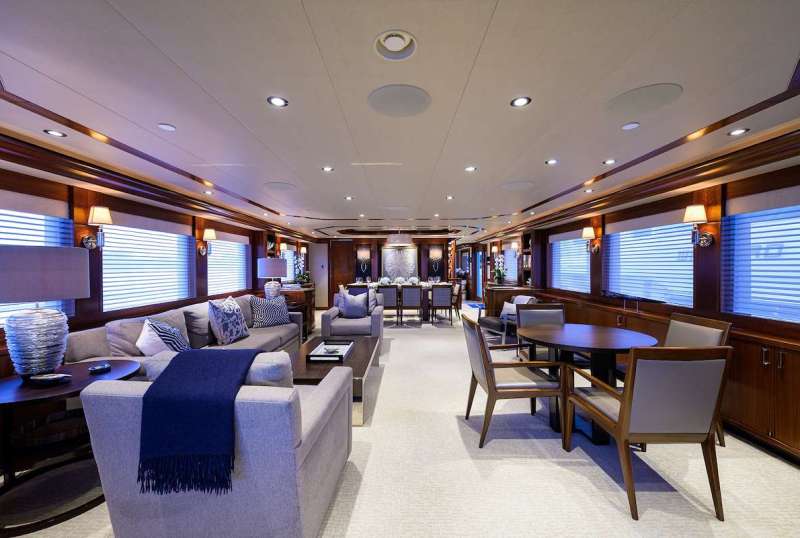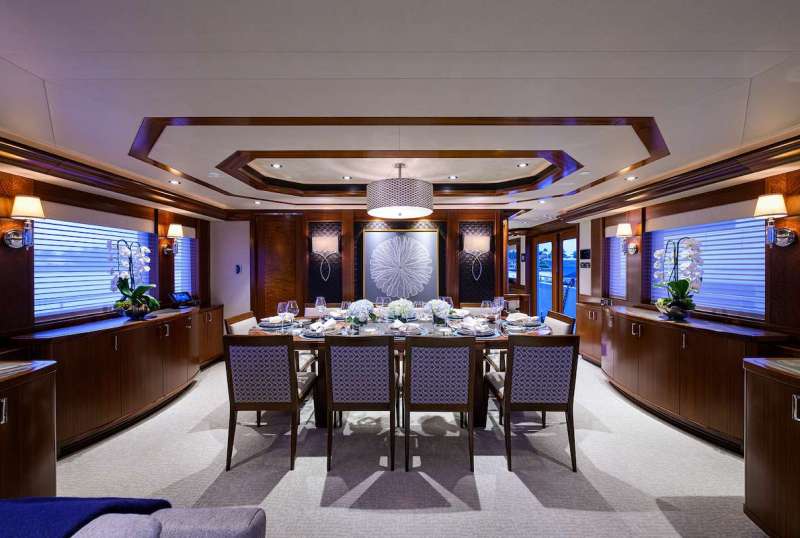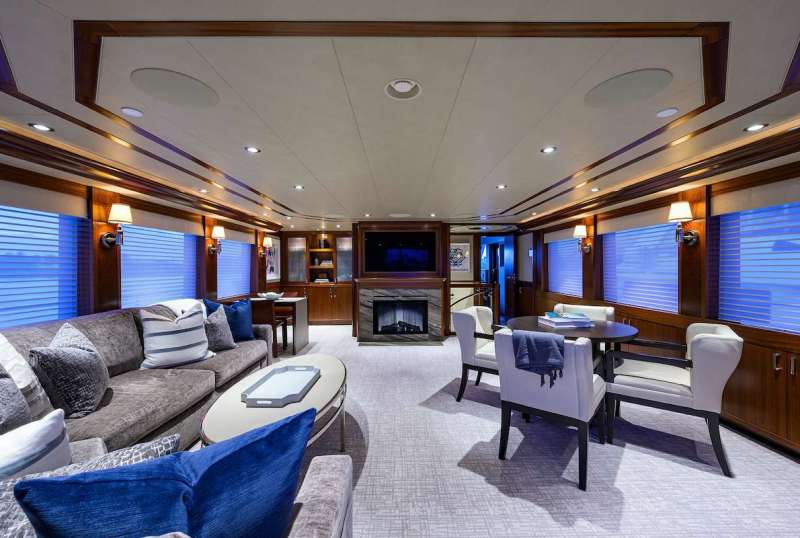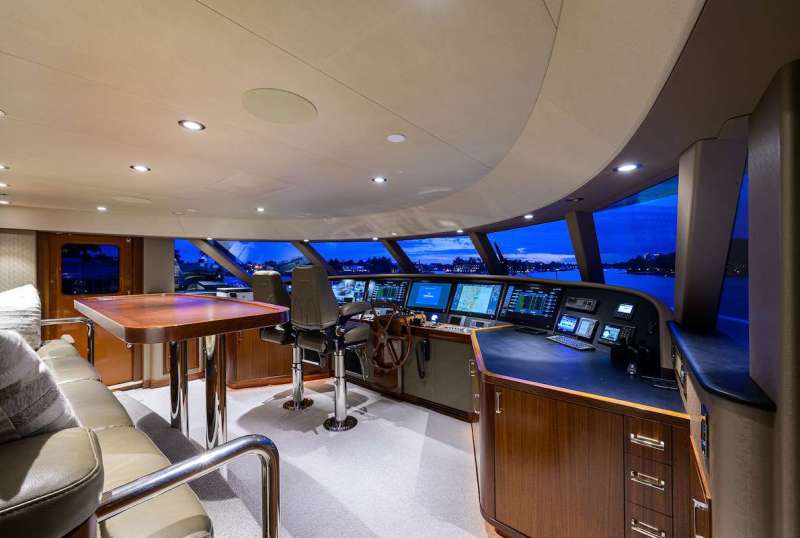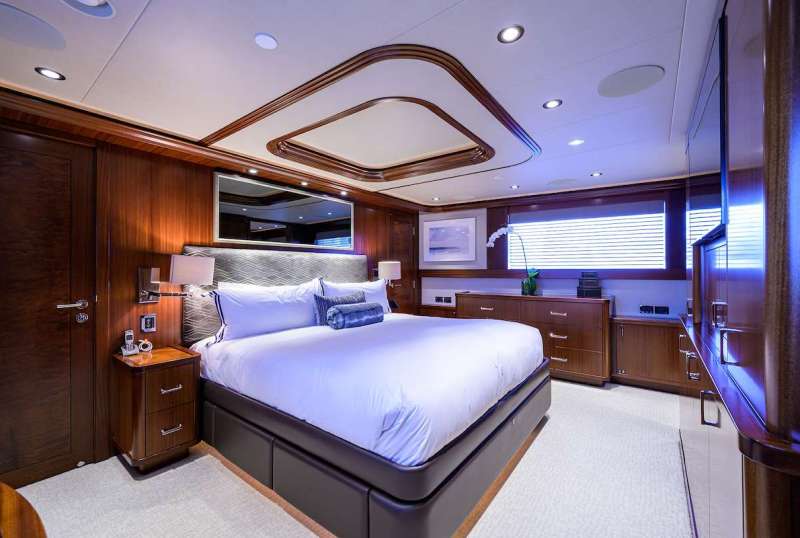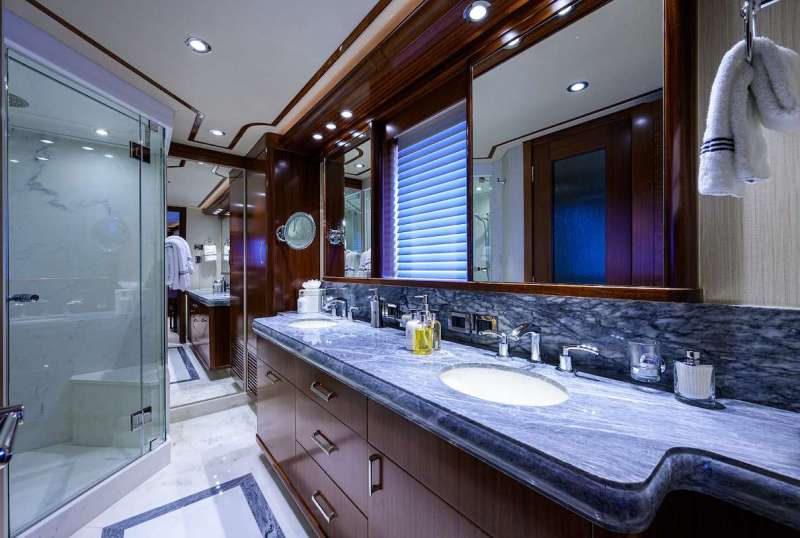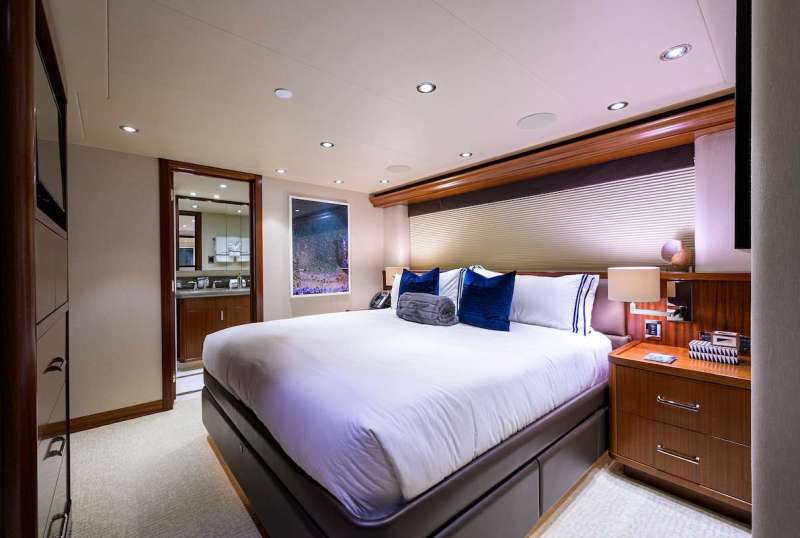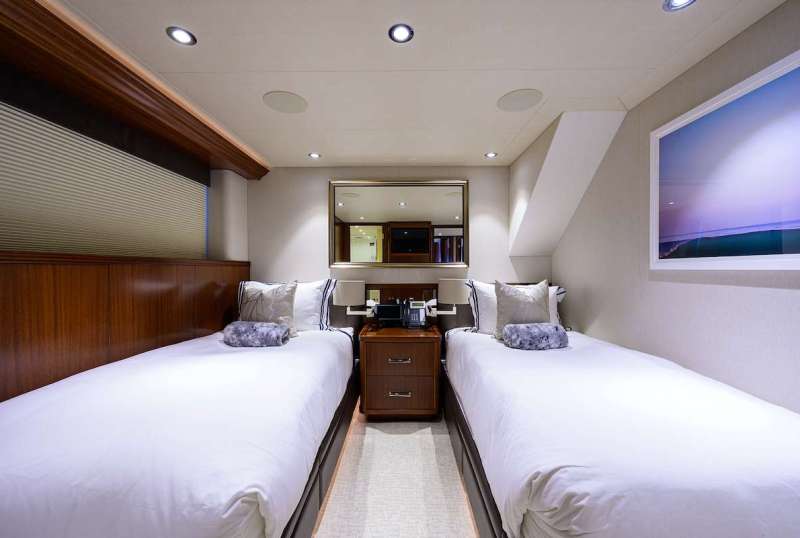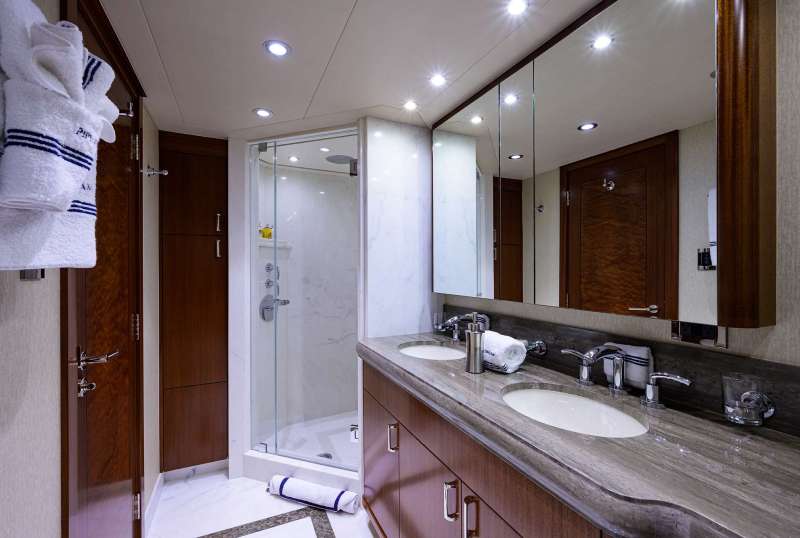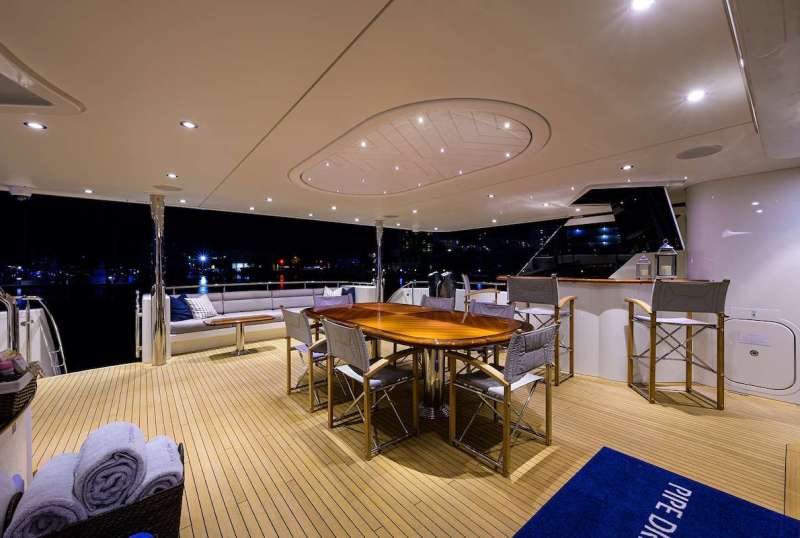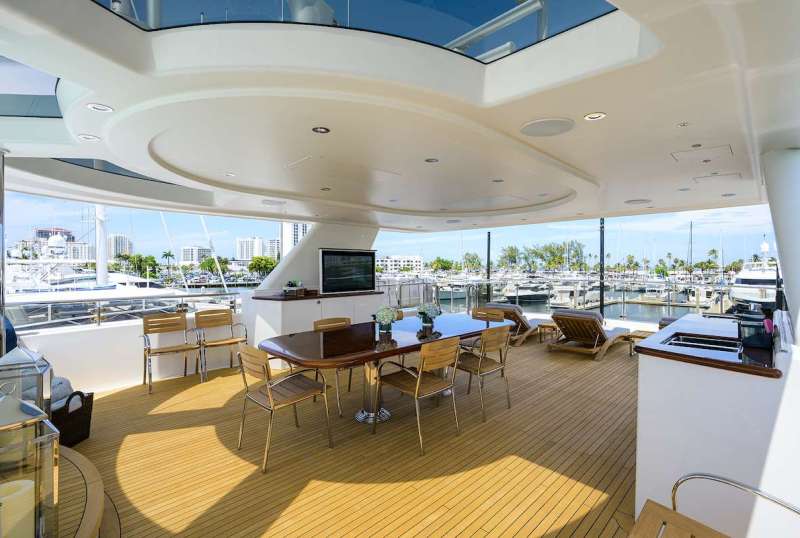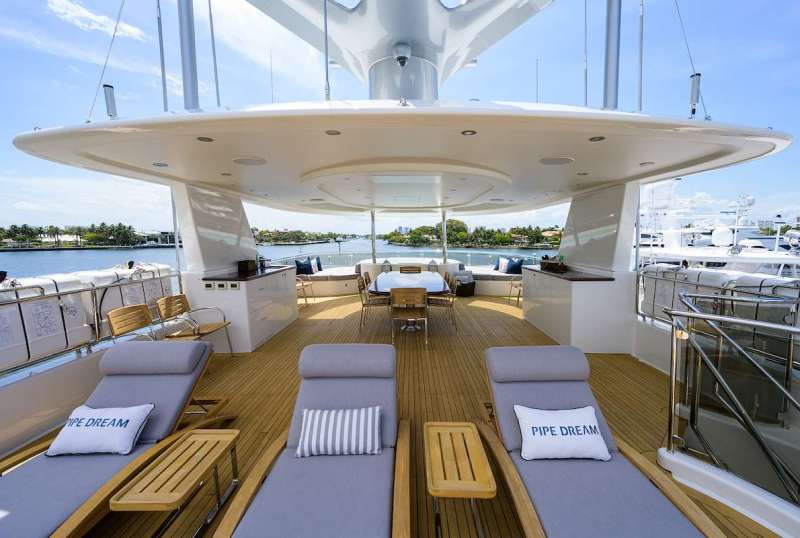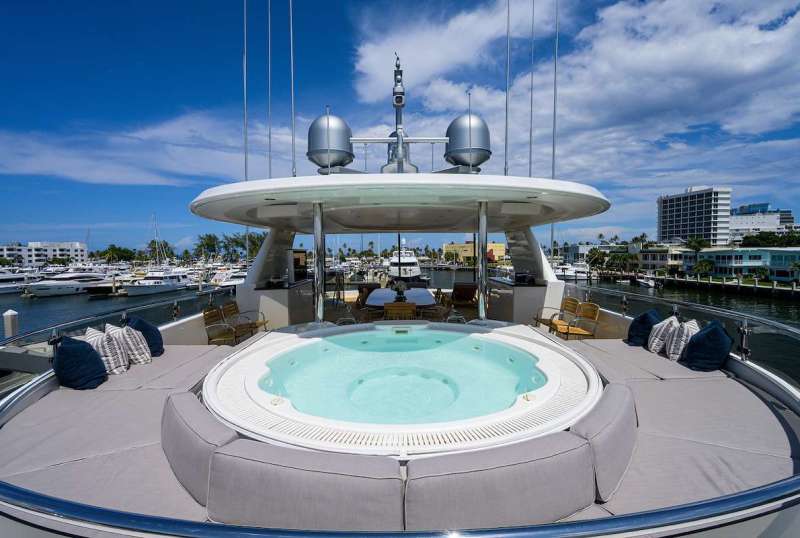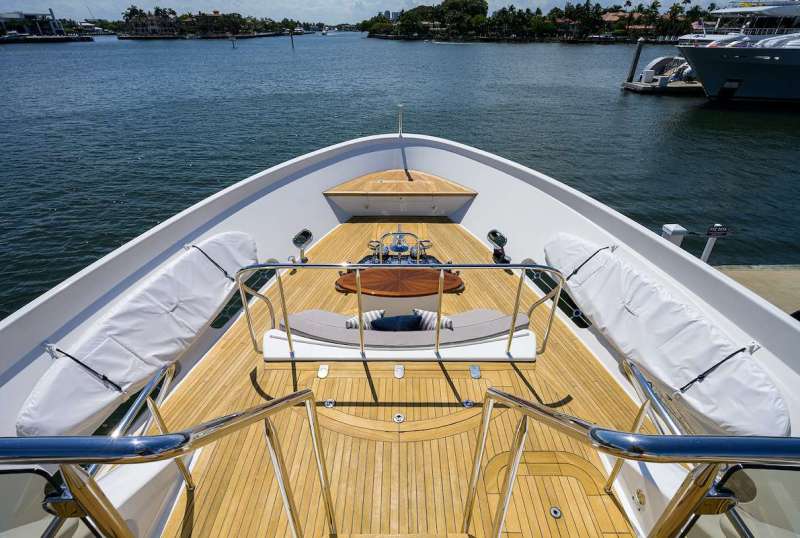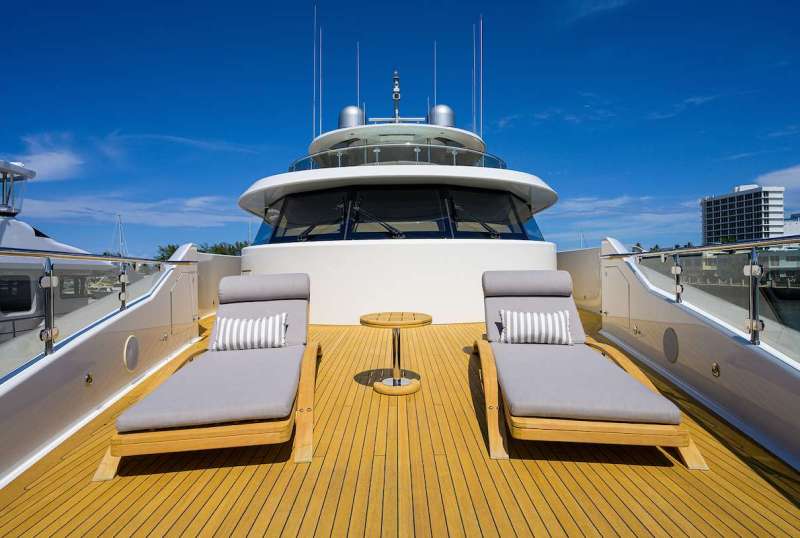 PIPE DREAM
From $140,000/week
5 cabins
130 ft
Westport
10 guests
Built: 2014
1800 rpm 18. US Gall/Hr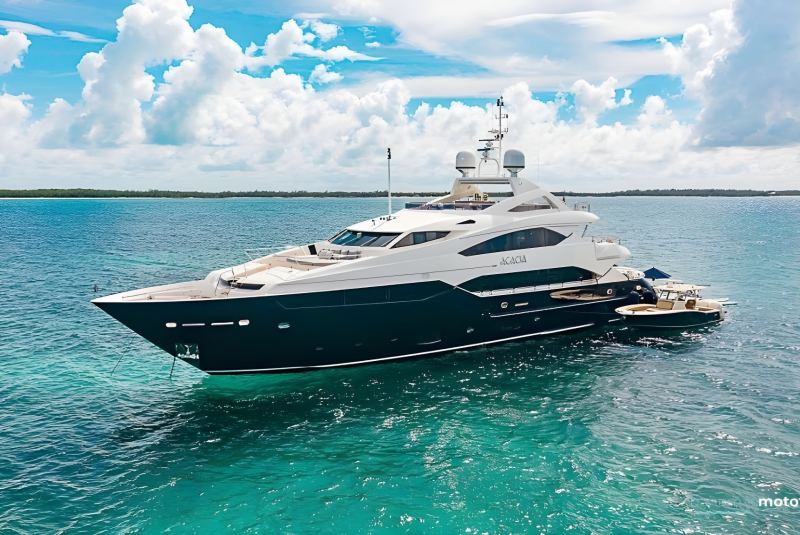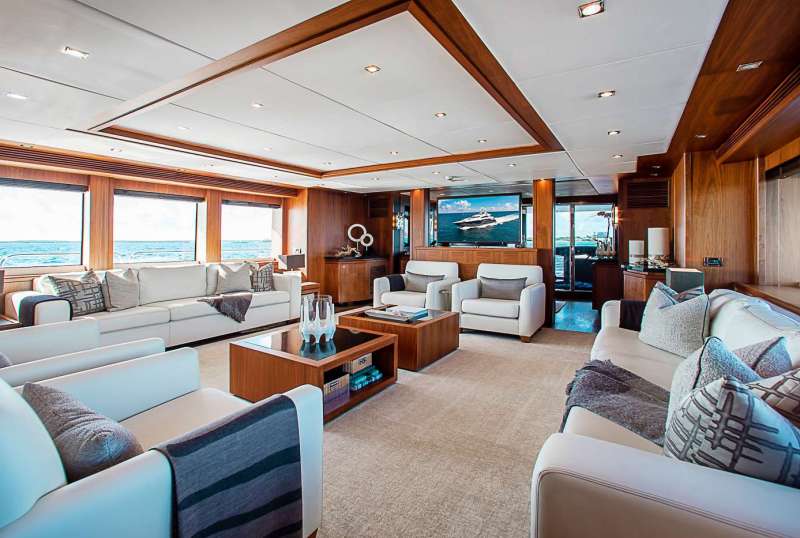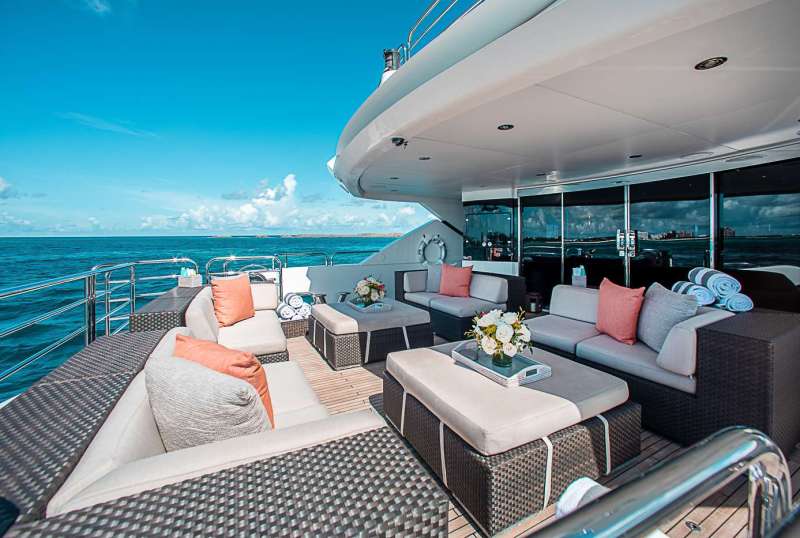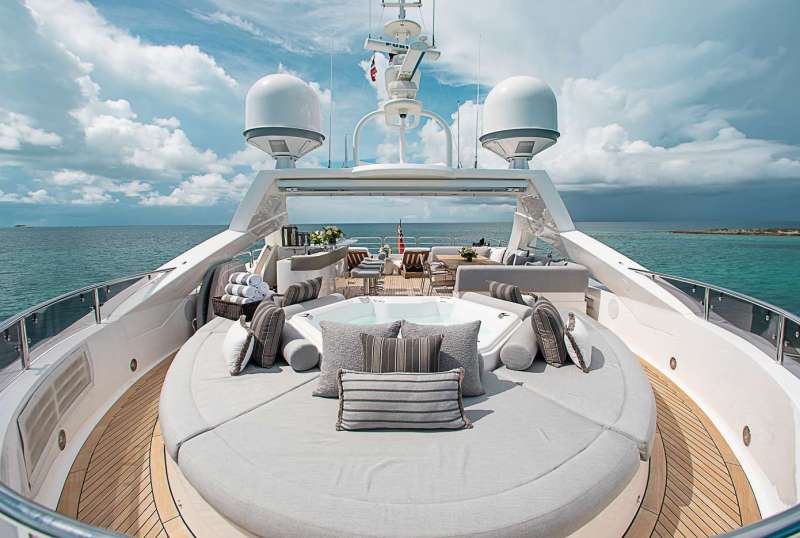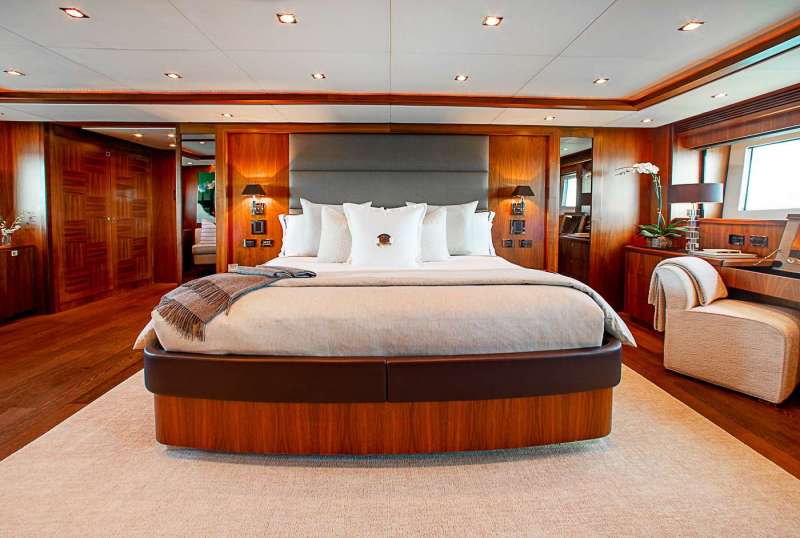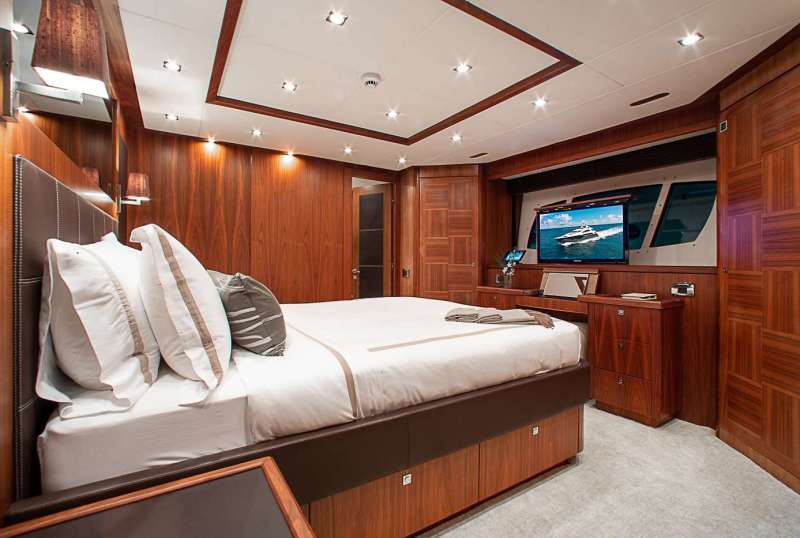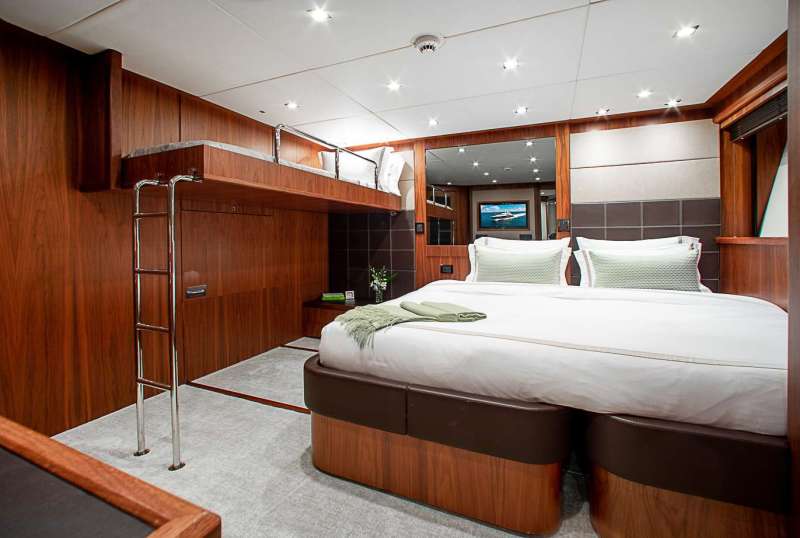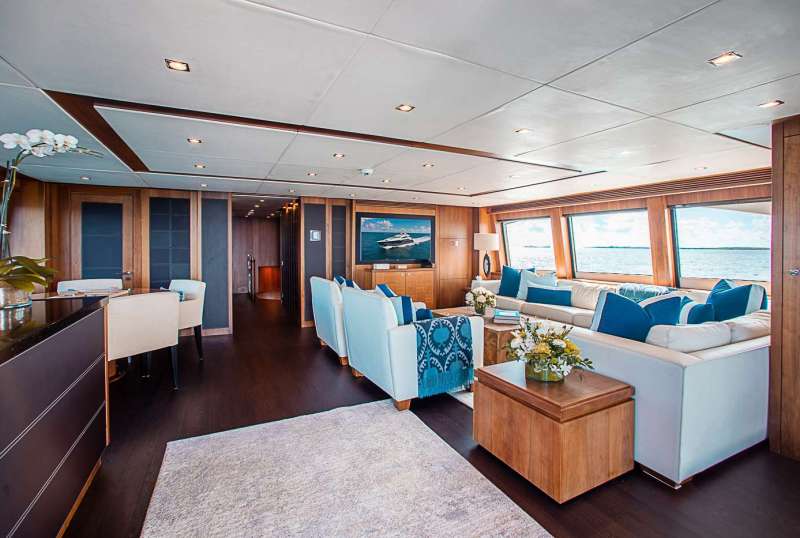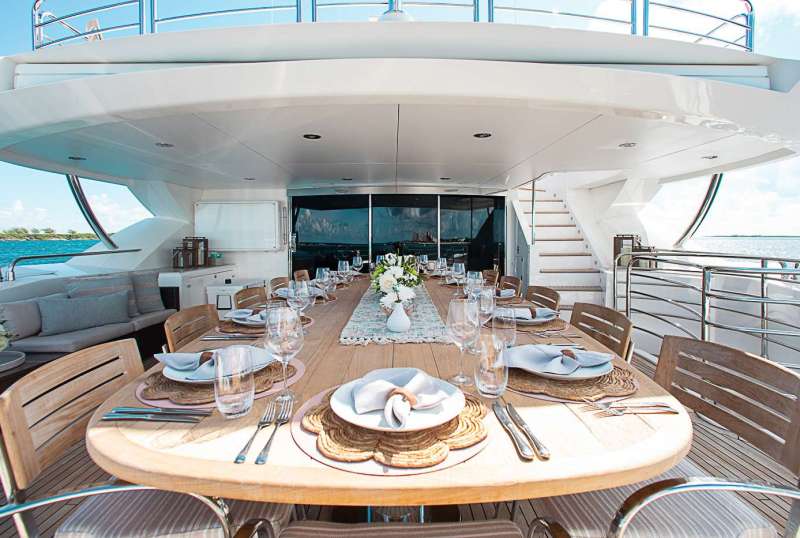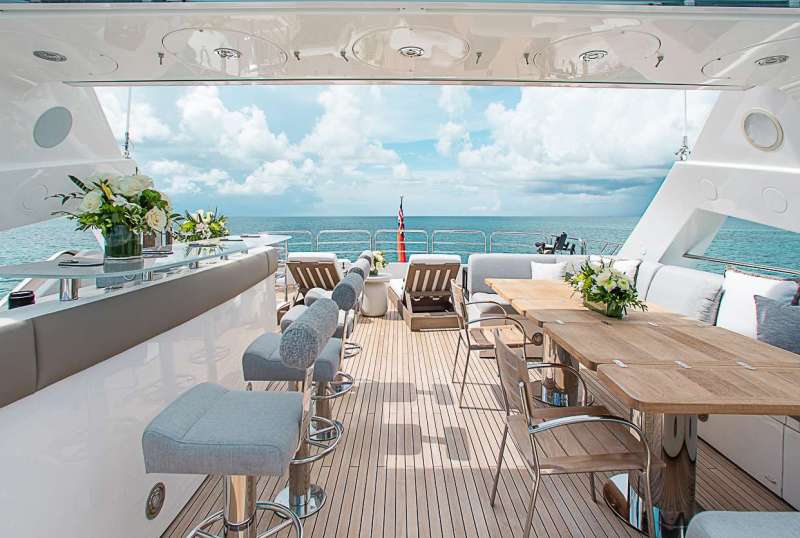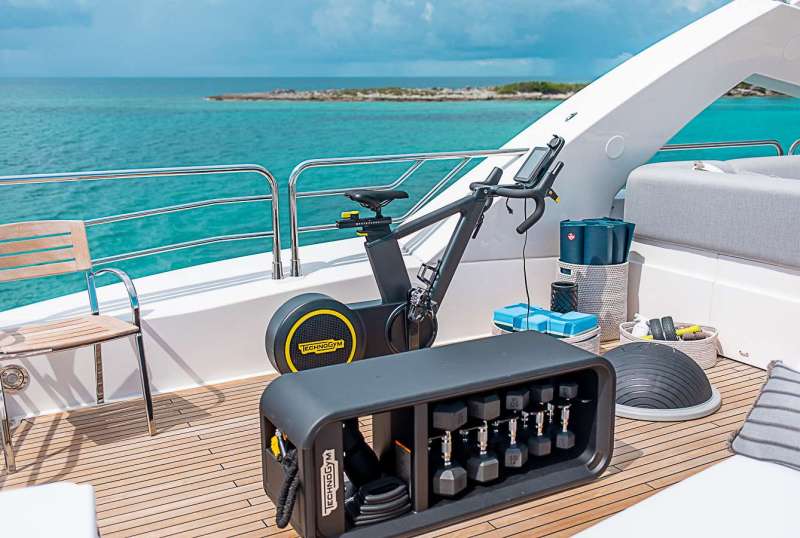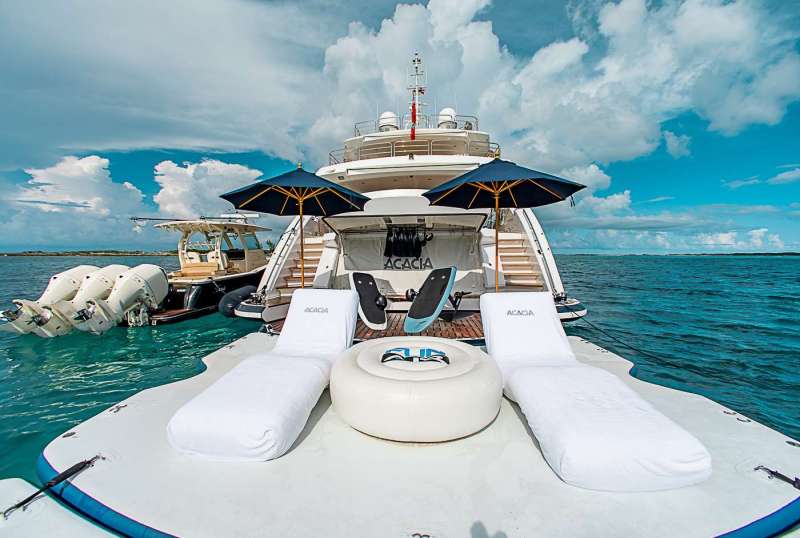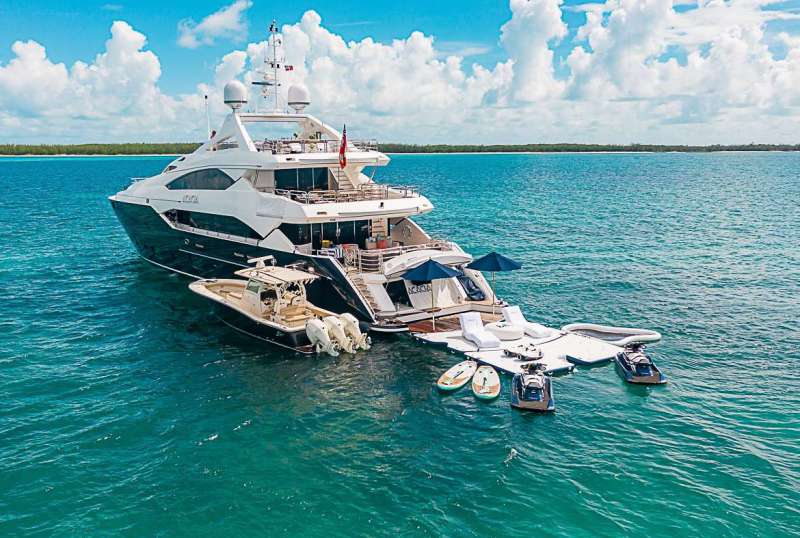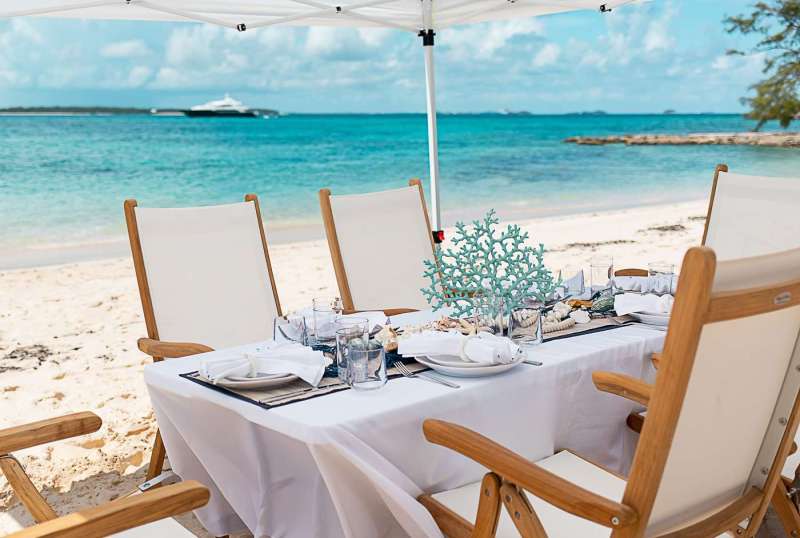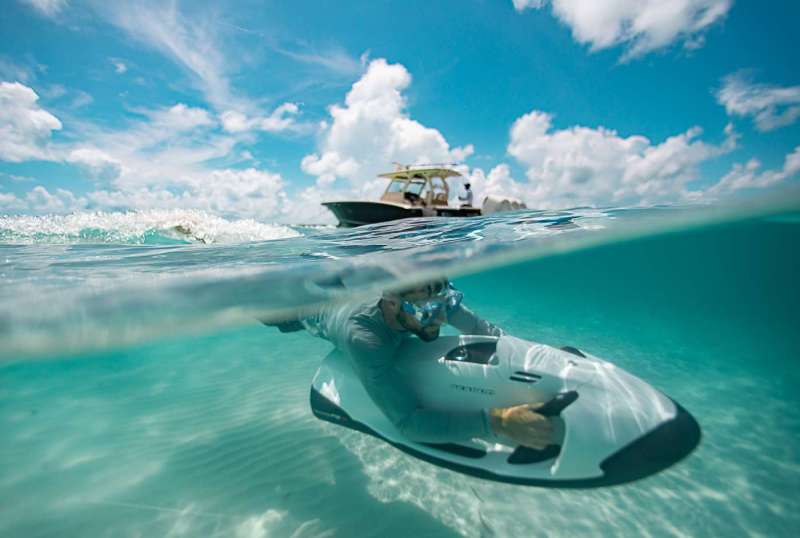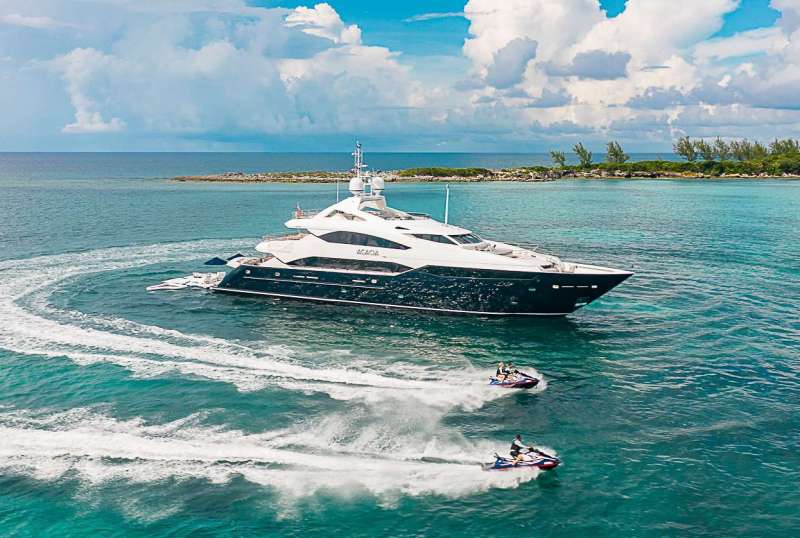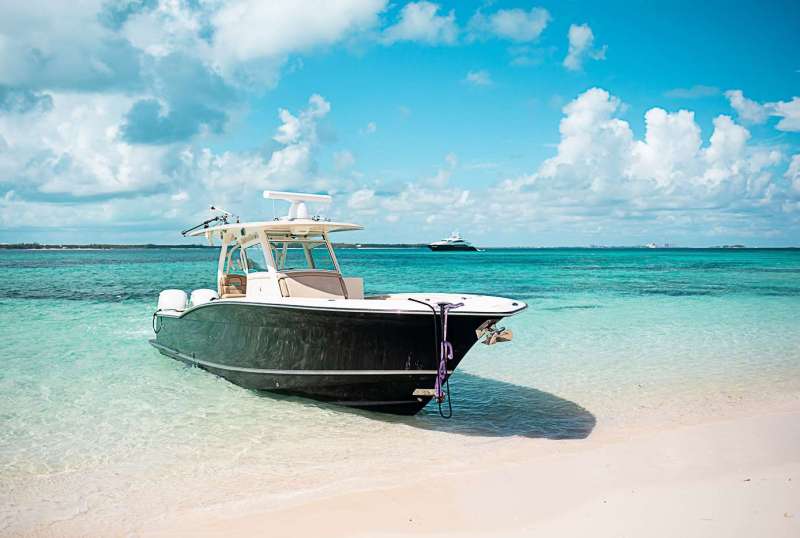 ACACIA
From $140,000/week
5 cabins
131 ft
Sunseeker
10 guests
Refit: 2022