Catalana Yacht Description
Catalana yacht is a 90.00 ft long motor yacht monohull and spends the summer and winter season in the Bahamas. It was built by Sunseeker in 2008. A refit was done in 2020. The yacht layout features 4 cabins and accommodates 8 guests. The cabin arrangement is following: 1 king cabin, 1 queen cabin, 2 twin cabins, 2 pullman cabins.
The motor yacht features 2 x Caterpillar C32, 1800 hp each 2 x Kohler generators, 33 KW each engines .
Accommodation
Sleeps 10 guests in 4 ensuite cabins.
- Master Cabin with king size bed
- VIP Cabin with queen size bed
- Cabin with twin beds and a pullman
- Cabin with twin beds and a pullman
Catalana Yacht Details
$48,000 - $56,000
Weekly price low-high season
60 US Gall/Hr
Consumption
Catalana yacht charter price

| # of charter days | Base Price | APA (deposit for provisioning, fuel, docking fees, etc) | Total | | Note |
| --- | --- | --- | --- | --- | --- |
| 14 day charter | 96,000$ to 112,000$ | 19,200$ to 33,600$ | 115,200$ to 145,600$ | | Discounts outside the main season are common. |
| 7 day charter | 48,000$ to 56,000$ | 9,600$ to 16,800$ | 57,600$ to 72,800$ | | Standard charter rate, base for all calculations. |
| 3 day charter | 24,000$ to 28,000$ | 4,800$ to 8,400$ | 28,800$ to 36,400$ | | The usual formula is the 7 day charter rate divided by 6, times the number of days (3). Boat policy might differ. 48,000$ / 6 * 3 days = 24,000$ |
| 1 day charter | 8,000$ to 11,200$ | 1,600$ to 2,800$ | 9,600$ to 14,000$ | | Please inquire, the possibility/availability of a 1 day charter needs to be verified. |

All prices are generated by a calculator and serve as a guide for new charterers. Any additional information of the Price Details section has priority over above. Availability is always subject to confirmation. Gratuity not included for it's discretionary character, usually 5%-25% of the Base Price.
Price Details
High season rate: $56,000
- Christmas and New Year's Weeks: $56,000 + 35% APA + 14% Bahamas Tax. *7 Night Minimum*
- Other weeks: $48,000 + 35% APA + 14% Bahamas Tax. *5 Night Minimum*
- Delivery fees from Miami may apply. Please inquire
- MYBA contracts
- Motivated owner to charter the yacht
- Christmas and New Year's Weeks: $56,000 + 35% APA + 14% Bahamas Tax. *7 Night Minimum*
- Other weeks: $48,000 + 35% APA + 14% Bahamas Tax. *5 Night Minimum*
- Delivery fees from Miami may apply. Please inquire
- MYBA contracts
- Motivated owner to charter the yacht
Price Terms
Plus Expenses
Amenities
Minimum Child Age:
2 y/o, inquire for less
Specifications
Turnaround:
48hs preferred, inq for less
Features
BBQ: Yes
AC: Full
Internet: Onboard WIFI
Cruising Speed: 12 knots
Max Speed: 28 knots
Diving Yacht offers Rendezvous Diving only
Air Compressor:
Not Onboard
Scuba On Board:
Yacht offers Rendezvous Diving only
Water Sports
Dinghy Size:
14 feet Williams Jet
Other Entertainment
- Portable BBQ for the beach
Crew
Captain Dominic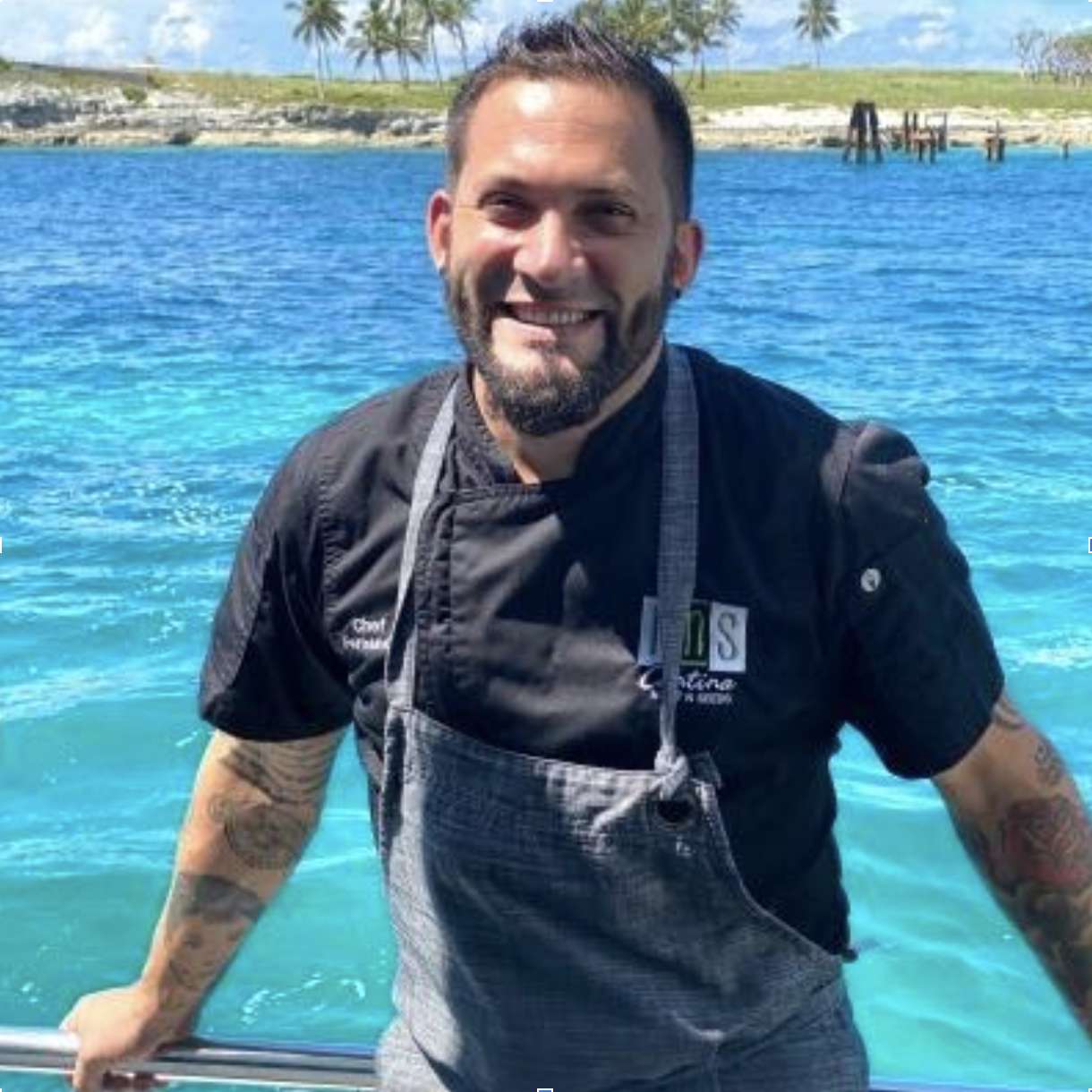 Chef Fernando
CAPTAIN: Dominic Strydom

Captain Dominic Strydom is from Johannesburg, South Africa, where he was raised in a large family – one of 5 kids - and as he grew up, discovered his passion for travel. After high school he worked as a graphics designer/ photographer in South Africa where he joined Carnival Cruise Lines as a graphics designer. In this role he created a new look for the brand and managed the printing and advertising operations onboard.

Seeing the beautiful yachts in St Thomas, Dominic made a decision to pursue training to become a yachtmaster. He worked as a mate/engineer on a 100ft yacht where he excelled and worked his way up to Captain. He went on to run two other charter vessels before joining Catalana, transitioning the yacht from private use to welcome charter guests.

Dominic has sailed extensively all the way up and down the USA East Coast, the Bahamas, Turks and Caicos, and the entire Caribbean from the Virgin Islands down to Grenada.

When he's not at sea, Dominic enjoys kite surfing, diving and motocross, and is looking forward to the arrival of a wee one and becoming a first-time dad.



CHEF: Fernando Gomez

Fernando Gomez grew up in the small town of Canelones, Uruguay and started his culinary journey at the early age of 14 as an apprentice to the pastry chefs at Maxinel, one of the largest and most popular bakeries in Uruguay. He eventually became manager of the entire baking operation.

With an unquenchable desire to develop his culinary skills, Chef Fernando went on to master his craft at the Crandon Institute of International Gastronomy where he received classic training and learned to perfect his culinary techniques in French, Italian, and Latin cuisines. He later moved to Greenwich, Connecticut where he continued to refine his skill set by working for a variety of American restaurants including: Hotel Americano, Rocking Raw Vegan, Sweetgrass Farm to Table, Jack's Steak House, and Bianco Rosso.

In 2009 Fernando had the opportunity to work with celebrity Chef Brian Aaron at Aaron's Catering in Miami where he learned the skills of serving high-end clients, such as Chris Bosh, the entire Miami Heat team, Sony music executives, the Kardashians and other celebrities. Now Chef Fernando is taking his talent out to sea, providing incredible culinary experiences to guests aboard luxury private yachts, broadening his reputation as an exceptionally talented chef for discriminating clientele.

Chef Fernando continues to follow his passion for food with great creativity and love for his craft. His specialties include Italian, French and Mediterranean cuisine as well as Asian and a variety of vegan options.



STEWARD: TBC

DECKHAND: TBC

Although the steward and deckhand may vary from charter to charter, they belong to a pool of 2-3 freelancers that perfectly know the boat. They all make a great team together with the Chef and Captain and high-standard service is ensured.
Gallery
molon35413string(0) ""
5997
http://www.centralyachtagent.com/snapins/json-ebrochure.php?idin=5997&uid=2395&user=2395
4
Power
N
8
Bahamas
Bahamas
90.00
20.6
6.10

- 1 x 2020 Jet ski season spark 2 up
- 1 x 2019 Jet Surf
- 2 x Seabobs
- 1 x Paddleboard
- 1 x tube
- 1 x party island 4 seater
- Snorkeling gear
- Beach toys
- Beach Gazebo set up with chairs
- 14" Williams Jet
a:35:{s:12:"salon_stereo";s:3:"Yes";s:8:"salon_tv";s:3:"Yes";s:6:"sat_tv";s:7:"Directv";s:17:"multimedia_system";s:3:"Yes";s:4:"nude";s:3:"Inq";s:5:"books";s:0:"";s:9:"crew_pets";s:2:"No";s:8:"pet_type";s:0:"";s:10:"guest_pets";s:2:"No";s:9:"camcorder";s:1:"0";s:14:"number_dine_in";s:0:"";s:11:"water_maker";s:10:"Yes, 50 ga";s:14:"water_capacity";s:0:"";s:9:"ice_maker";s:2:"No";s:14:"number_of_dvds";s:0:"";s:13:"number_of_cds";s:0:"";s:11:"board_games";s:1:"0";s:10:"sun_awning";s:1:"0";s:6:"bimini";s:1:"0";s:13:"special_diets";s:3:"Inq";s:6:"kosher";s:3:"Inq";s:3:"bbq";s:3:"Yes";s:12:"gay_charters";s:3:"Inq";s:17:"yachtNudeCharters";s:3:"Inq";s:10:"hairdryers";s:2:"No";s:22:"number_of_port_hatches";s:0:"";s:7:"smoking";s:12:"On deck only";s:11:"crew_smokes";s:3:"Inq";s:11:"children_ok";s:3:"Yes";s:17:"minimum_child_age";s:23:"2 y/o, inquire for less";s:9:"generator";s:0:"";s:8:"inverter";s:0:"";s:8:"voltages";s:9:"220 volts";s:7:"hammock";s:0:"";s:10:"windscoops";s:0:"";}
Full
Yes
Onboard WIFI
2 x Caterpillar C32, 1800 hp each 2 x Kohler generators, 33 KW each
2008
Sunseeker


- Master Cabin with king size bed
- VIP Cabin with queen size bed
- Cabin with twin beds and a pullman
- Cabin with twin beds and a pullman
Sleeps 10 guests in 4 ensuite cabins.
USD
$
48000
48000
56000
- Christmas and New Year's Weeks: $56,000 + 35% APA + 14% Bahamas Tax. *7 Night Minimum* - Other weeks: $48,000 + 35% APA + 14% Bahamas Tax. *5 Night Minimum* - Delivery fees from Miami may apply. Please inquire - MYBA contracts - Motivated owner to charter the yacht


Captain Dominic Strydom is from Johannesburg, South Africa, where he was raised in a large family – one of 5 kids - and as he grew up, discovered his passion for travel. After high school he worked as a graphics designer/ photographer in South Africa where he joined Carnival Cruise Lines as a graphics designer. In this role he created a new look for the brand and managed the printing and advertising operations onboard.

Seeing the beautiful yachts in St Thomas, Dominic made a decision to pursue training to become a yachtmaster. He worked as a mate/engineer on a 100ft yacht where he excelled and worked his way up to Captain. He went on to run two other charter vessels before joining Catalana, transitioning the yacht from private use to welcome charter guests.

Dominic has sailed extensively all the way up and down the USA East Coast, the Bahamas, Turks and Caicos, and the entire Caribbean from the Virgin Islands down to Grenada.

When he's not at sea, Dominic enjoys kite surfing, diving and motocross, and is looking forward to the arrival of a wee one and becoming a first-time dad.



CHEF: Fernando Gomez

Fernando Gomez grew up in the small town of Canelones, Uruguay and started his culinary journey at the early age of 14 as an apprentice to the pastry chefs at Maxinel, one of the largest and most popular bakeries in Uruguay. He eventually became manager of the entire baking operation.

With an unquenchable desire to develop his culinary skills, Chef Fernando went on to master his craft at the Crandon Institute of International Gastronomy where he received classic training and learned to perfect his culinary techniques in French, Italian, and Latin cuisines. He later moved to Greenwich, Connecticut where he continued to refine his skill set by working for a variety of American restaurants including: Hotel Americano, Rocking Raw Vegan, Sweetgrass Farm to Table, Jack's Steak House, and Bianco Rosso.

In 2009 Fernando had the opportunity to work with celebrity Chef Brian Aaron at Aaron's Catering in Miami where he learned the skills of serving high-end clients, such as Chris Bosh, the entire Miami Heat team, Sony music executives, the Kardashians and other celebrities. Now Chef Fernando is taking his talent out to sea, providing incredible culinary experiences to guests aboard luxury private yachts, broadening his reputation as an exceptionally talented chef for discriminating clientele.

Chef Fernando continues to follow his passion for food with great creativity and love for his craft. His specialties include Italian, French and Mediterranean cuisine as well as Asian and a variety of vegan options.



STEWARD: TBC

DECKHAND: TBC

Although the steward and deckhand may vary from charter to charter, they belong to a pool of 2-3 freelancers that perfectly know the boat. They all make a great team together with the Chef and Captain and high-standard service is ensured.";s:5:"photo";s:0:"";s:4:"size";s:1:"4";s:12:"captain_name";s:15:"Dominic Strydom";s:14:"captain_nation";s:13:"South African";s:12:"captain_born";s:1:"0";s:15:"captain_license";s:0:"";s:18:"captain_yr_sailing";s:1:"0";s:21:"captain_yr_chartering";s:1:"0";s:17:"captain_languages";s:21:"English & Spanish";s:9:"crew_name";s:14:"Fernando Gomez";s:16:"crew_nationality";s:9:"Uruguayan";s:12:"crew_license";s:0:"";s:15:"crew_yr_sailing";s:1:"0";s:18:"crew_yr_chartering";s:1:"0";s:7:"crewimg";a:2:{i:1;a:2:{s:3:"url";s:76:"https://www.centralyachtagent.com/yachtadmin/yachtlg/yacht5997/5997crew1.jpg";s:4:"desc";s:15:"Captain Dominic";}i:2;a:2:{s:3:"url";s:72:"https://www.centralyachtagent.com/yachtadmin/yachtlg/yacht5997/5997crew2";s:4:"desc";s:13:"Chef Fernando";}}}
a:16:{s:4:"info";s:3164:"CAPTAIN: Dominic Strydom
https://www.centralyachtagent.com/yachtadmin/yachtlg/yacht5997/5997brochure1.jpg
a:14:{i:2;a:2:{s:3:"url";s:80:"https://www.centralyachtagent.com/yachtadmin/yachtlg/yacht5997/5997brochure2.jpg";s:4:"desc";s:0:"";}i:3;a:2:{s:3:"url";s:80:"https://www.centralyachtagent.com/yachtadmin/yachtlg/yacht5997/5997brochure3.jpg";s:4:"desc";s:0:"";}i:4;a:2:{s:3:"url";s:80:"https://www.centralyachtagent.com/yachtadmin/yachtlg/yacht5997/5997brochure4.jpg";s:4:"desc";s:0:"";}i:5;a:2:{s:3:"url";s:80:"https://www.centralyachtagent.com/yachtadmin/yachtlg/yacht5997/5997brochure5.jpg";s:4:"desc";s:0:"";}i:6;a:2:{s:3:"url";s:80:"https://www.centralyachtagent.com/yachtadmin/yachtlg/yacht5997/5997brochure6.jpg";s:4:"desc";s:0:"";}i:7;a:2:{s:3:"url";s:80:"https://www.centralyachtagent.com/yachtadmin/yachtlg/yacht5997/5997brochure7.jpg";s:4:"desc";s:0:"";}i:8;a:2:{s:3:"url";s:80:"https://www.centralyachtagent.com/yachtadmin/yachtlg/yacht5997/5997brochure8.jpg";s:4:"desc";s:0:"";}i:9;a:2:{s:3:"url";s:80:"https://www.centralyachtagent.com/yachtadmin/yachtlg/yacht5997/5997brochure9.jpg";s:4:"desc";s:0:"";}i:10;a:2:{s:3:"url";s:81:"https://www.centralyachtagent.com/yachtadmin/yachtlg/yacht5997/5997brochure10.jpg";s:4:"desc";s:0:"";}i:11;a:2:{s:3:"url";s:81:"https://www.centralyachtagent.com/yachtadmin/yachtlg/yacht5997/5997brochure11.jpg";s:4:"desc";s:0:"";}i:12;a:2:{s:3:"url";s:81:"https://www.centralyachtagent.com/yachtadmin/yachtlg/yacht5997/5997brochure12.jpg";s:4:"desc";s:0:"";}i:13;a:2:{s:3:"url";s:81:"https://www.centralyachtagent.com/yachtadmin/yachtlg/yacht5997/5997brochure13.jpg";s:4:"desc";s:0:"";}i:14;a:2:{s:3:"url";s:81:"https://www.centralyachtagent.com/yachtadmin/yachtlg/yacht5997/5997brochure14.jpg";s:4:"desc";s:0:"";}i:15;a:2:{s:3:"url";s:81:"https://www.centralyachtagent.com/yachtadmin/yachtlg/yacht5997/5997brochure15.jpg";s:4:"desc";s:0:"";}}
http://www.cyabrochure.com/ebn/2395/pdhaX/5997/1
http://www.cyabrochure.com/ebn/2395/pdhaX/5997/3
a:24:{s:4:"tube";s:3:"Yes";s:6:"guests";s:1:"8";s:8:"maxspeed";s:8:"28 knots";s:11:"pref_pickup";N;s:12:"other_pickup";N;s:5:"draft";s:4:"6.10";s:14:"cruising_speed";s:8:"12 knots";s:7:"helipad";s:2:"No";s:2:"ac";s:4:"Full";s:8:"ac_night";s:3:"Yes";s:5:"built";s:4:"2008";s:10:"turnaround";s:28:"48hs preferred, inq for less";s:6:"cabins";s:1:"4";s:4:"king";s:1:"1";s:5:"queen";s:1:"1";s:6:"double";s:1:"0";s:6:"single";s:1:"0";s:4:"twin";s:1:"2";s:7:"pullman";s:1:"2";s:7:"showers";s:1:"4";s:6:"basins";s:1:"4";s:5:"heads";s:1:"0";s:14:"electric_heads";s:1:"4";s:7:"jacuzzi";s:2:"No";}
a:7:{s:4:"flag";s:7:"Jamaica";s:8:"homeport";s:9:"Miami, FL";s:13:"resort_course";s:0:"";s:12:"yacht_permit";s:1:"2";s:13:"yacht_license";s:1:"2";s:9:"yacht_mca";s:1:"0";s:15:"yacht_insurance";s:0:"";}
- Portable BBQ for the beach
a:22:{s:11:"dinghy_size";s:20:"14 feet Williams Jet";s:12:"kayaks_1_pax";s:1:"0";s:12:"kayaks_2_pax";s:1:"0";s:9:"dinghy_hp";s:0:"";s:13:"floating_mats";s:1:"0";s:10:"dinghy_pax";s:1:"4";s:13:"swim_platform";s:0:"";s:16:"water_skis_adult";s:1:"0";s:15:"boarding_ladder";s:0:"";s:15:"water_skis_kids";s:1:"0";s:14:"sailing_dinghy";s:0:"";s:8:"jet_skis";s:1:"1";s:11:"beach_games";s:3:"Yes";s:12:"wave_runners";s:1:"0";s:9:"kneeboard";s:1:"0";s:10:"windsurfer";s:1:"0";s:12:"snorkel_gear";s:1:"0";s:17:"underwater_camera";s:1:"0";s:7:"scurfer";s:1:"0";s:16:"underwater_video";s:1:"0";s:10:"wake_board";s:1:"0";s:11:"paddleboard";s:3:"Yes";}
1
1
0
0
2
2
2020
Yes
0
220 volts
Greece
60
12 knots
28 knots


- Master Cabin with king size bed
- VIP Cabin with queen size bed
- Cabin with twin beds and a pullman
- Cabin with twin beds and a pullman";s:14:"yachtHighPrice";s:11:"$56,000";s:13:"yachtLowPrice";s:11:"$48,000";s:21:"yachtHighNumericPrice";s:5:"56000";s:20:"yachtLowNumericPrice";s:5:"48000";s:19:"yachtCurrencySymbol";s:5:"$";s:13:"yachtCurrency";s:3:"USD";s:17:"yachtPriceDetails";s:281:"- Christmas and New Year's Weeks: $56,000 + 35% APA + 14% Bahamas Tax. *7 Night Minimum* - Other weeks: $48,000 + 35% APA + 14% Bahamas Tax. *5 Night Minimum* - Delivery fees from Miami may apply. Please inquire - MYBA contracts - Motivated owner to charter the yacht";s:14:"yachtTermsType";s:13:"Plus Expenses";s:17:"yachtTermsTypeNum";s:1:"2";s:11:"yachtVcrDvd";s:3:"Yes";s:16:"yachtSalonStereo";s:3:"Yes";s:11:"yachtNumDvd";s:0:"";s:11:"yachtNumCds";s:0:"";s:15:"yachtBoardGames";s:1:"0";s:13:"yachtNumBooks";s:0:"";s:14:"yachtCamCorder";s:1:"0";s:14:"yachtNumDineIn";s:0:"";s:14:"yachtSunAwning";s:1:"0";s:12:"yachtHammock";s:0:"";s:15:"yachtWindScoops";s:0:"";s:15:"yachtDeckShower";s:3:"Yes";s:11:"yachtBimini";s:1:"0";s:17:"yachtSpecialDiets";s:3:"Inq";s:11:"yachtKosher";s:3:"Inq";s:8:"yachtBBQ";s:3:"Yes";s:16:"yachtGayCharters";s:3:"Inq";s:17:"yachtNudeCharters";s:3:"Inq";s:14:"yachtHairDryer";s:2:"No";s:13:"yachtNumHatch";s:0:"";s:15:"yachtGuestSmoke";s:12:"On deck only";s:13:"yachtGuestPet";s:2:"No";s:20:"yachtChildrenAllowed";s:3:"Yes";s:16:"yachtMinChildAge";s:23:"2 y/o, inquire for less";s:14:"yachtGenerator";s:0:"";s:12:"yachtEngines";s:68:"2 x Caterpillar C32, 1800 hp each 2 x Kohler generators, 33 KW each";s:9:"yachtFuel";s:2:"60";s:13:"yachtInverter";s:0:"";s:13:"yachtVoltages";s:9:"220 volts";s:15:"yachtWaterMaker";s:10:"Yes, 50 ga";s:18:"yachtWaterCapacity";s:0:"";s:13:"yachtIceMaker";s:2:"No";s:11:"yachtDinghy";s:20:"14 feet Williams Jet";s:13:"yachtDinghyHp";s:0:"";s:14:"yachtDinghyPax";s:1:"4";s:15:"yachtAdultWSkis";s:1:"0";s:13:"yachtKidsSkis";s:1:"0";s:12:"yachtJetSkis";s:1:"1";s:12:"yachtWaveRun";s:1:"0";s:14:"yachtKneeBoard";s:1:"0";s:18:"yachtStandUpPaddle";s:3:"Yes";s:13:"yachtWindSurf";s:1:"0";s:16:"yachtGearSnorkel";s:1:"0";s:9:"yachtTube";s:3:"Yes";s:12:"yachtScurfer";s:1:"0";s:14:"yachtWakeBoard";s:1:"0";s:14:"yacht1ManKayak";s:1:"0";s:14:"yacht2ManKayak";s:1:"0";s:11:"yachtSeaBob";s:3:"Yes";s:15:"yachtSeaScooter";s:2:"No";s:17:"yachtKiteBoarding";s:0:"";s:24:"yachtKiteBoardingDetails";s:0:"";s:15:"yachtFishPermit";s:0:"";s:14:"yachtFloatMats";s:1:"0";s:17:"yachtSwimPlatform";s:0:"";s:19:"yachtBoardingLadder";s:0:"";s:18:"yachtDinghySailing";s:0:"";s:15:"yachtGamesBeach";s:3:"Yes";s:16:"yachtFishingGear";s:1:"0";s:17:"yachtFishGearType";s:0:"";s:16:"yachtNumFishRods";s:0:"";s:18:"yachtUnderWaterCam";s:1:"0";s:20:"yachtUnderWaterVideo";s:1:"0";s:19:"yachtGreenMakeWater";s:0:"";s:21:"yachtGreenReuseBottle";s:0:"";s:15:"yachtGreenOther";s:0:"";s:17:"yachtScubaOnboard";s:35:"Yacht offers Rendezvous Diving only";s:17:"yachtResortCourse";s:0:"";s:15:"yachtFullCourse";s:0:"";s:16:"yachtLicenseInfo";s:1:"-";s:15:"yachtCompressor";s:11:"Not Onboard";s:17:"yachtNumDiveTanks";s:1:"0";s:11:"yachtNumBCS";s:1:"0";s:12:"yachtNumRegs";s:1:"0";s:16:"yachtNumWetSuits";s:1:"0";s:15:"yachtNumWeights";s:1:"0";s:14:"yachtNumDivers";s:1:"0";s:13:"yachtNumDives";s:0:"";s:18:"yachtNumNightDives";s:1:"0";s:18:"yachtNumDiveLights";s:1:"0";s:13:"yachtDiveInfo";s:0:"";s:14:"yachtDiveCosts";s:0:"";s:9:"yachtPic1";s:80:"https://www.centralyachtagent.com/yachtadmin/yachtlg/yacht5997/5997brochure1.jpg";s:10:"yachtDesc1";s:0:"";s:9:"yachtPic2";s:80:"https://www.centralyachtagent.com/yachtadmin/yachtlg/yacht5997/5997brochure2.jpg";s:10:"yachtDesc2";s:0:"";s:9:"yachtPic3";s:80:"https://www.centralyachtagent.com/yachtadmin/yachtlg/yacht5997/5997brochure3.jpg";s:10:"yachtDesc3";s:0:"";s:9:"yachtPic4";s:80:"https://www.centralyachtagent.com/yachtadmin/yachtlg/yacht5997/5997brochure4.jpg";s:10:"yachtDesc4";s:0:"";s:9:"yachtPic5";s:80:"https://www.centralyachtagent.com/yachtadmin/yachtlg/yacht5997/5997brochure5.jpg";s:10:"yachtDesc5";s:0:"";s:9:"yachtPic6";s:80:"https://www.centralyachtagent.com/yachtadmin/yachtlg/yacht5997/5997brochure6.jpg";s:10:"yachtDesc6";s:0:"";s:9:"yachtPic7";s:80:"https://www.centralyachtagent.com/yachtadmin/yachtlg/yacht5997/5997brochure7.jpg";s:10:"yachtDesc7";s:0:"";s:9:"yachtPic8";s:80:"https://www.centralyachtagent.com/yachtadmin/yachtlg/yacht5997/5997brochure8.jpg";s:10:"yachtDesc8";s:0:"";s:9:"yachtPic9";s:80:"https://www.centralyachtagent.com/yachtadmin/yachtlg/yacht5997/5997brochure9.jpg";s:10:"yachtDesc9";s:0:"";s:10:"yachtPic10";s:81:"https://www.centralyachtagent.com/yachtadmin/yachtlg/yacht5997/5997brochure10.jpg";s:11:"yachtDesc10";s:0:"";s:10:"yachtPic11";s:81:"https://www.centralyachtagent.com/yachtadmin/yachtlg/yacht5997/5997brochure11.jpg";s:11:"yachtDesc11";s:0:"";s:10:"yachtPic12";s:81:"https://www.centralyachtagent.com/yachtadmin/yachtlg/yacht5997/5997brochure12.jpg";s:11:"yachtDesc12";s:0:"";s:10:"yachtPic13";s:81:"https://www.centralyachtagent.com/yachtadmin/yachtlg/yacht5997/5997brochure13.jpg";s:11:"yachtDesc13";s:0:"";s:10:"yachtPic14";s:81:"https://www.centralyachtagent.com/yachtadmin/yachtlg/yacht5997/5997brochure14.jpg";s:11:"yachtDesc14";s:0:"";s:10:"yachtPic15";s:81:"https://www.centralyachtagent.com/yachtadmin/yachtlg/yacht5997/5997brochure15.jpg";s:11:"yachtDesc15";s:0:"";s:10:"yachtPic16";s:0:"";s:11:"yachtDesc16";s:0:"";s:10:"yachtPic17";s:0:"";s:11:"yachtDesc17";s:0:"";s:10:"yachtPic18";s:0:"";s:11:"yachtDesc18";s:0:"";s:10:"yachtPic19";s:0:"";s:11:"yachtDesc19";s:0:"";s:11:"yachtLayout";s:0:"";s:18:"yachtFullEbrochure";s:48:"http://www.cyabrochure.com/ebn/2395/pdhaX/5997/3";s:14:"yachtFullRates";s:48:"http://www.cyabrochure.com/ebn/2395/pdhaX/5997/4";s:14:"yachtOtherToys";s:278:"- 14" Williams Jet
- 1 x 2020 Jet ski season spark 2 up
- 1 x 2019 Jet Surf
- 2 x Seabobs
- 1 x Paddleboard
- 1 x tube
- 1 x party island 4 seater
- Snorkeling gear
- Beach toys
- Beach Gazebo set up with chairs";s:19:"yachtOtherEntertain";s:28:"- Portable BBQ for the beach";s:16:"yachtCommunicate";s:0:"";s:15:"yachtSummerArea";s:7:"Bahamas";s:15:"yachtWinterArea";s:7:"Bahamas";s:12:"yachtShowers";s:1:"4";s:15:"yachtWashBasins";s:1:"4";s:10:"yachtHeads";s:1:"0";s:18:"yachtElectricHeads";s:1:"4";s:14:"yachtTpInHeads";s:3:"Yes";s:15:"yachtSampleMenu";s:0:"";s:13:"yachtMenu1Pic";s:0:"";s:13:"yachtMenu2Pic";s:0:"";s:13:"yachtMenu3Pic";s:0:"";s:13:"yachtMenu4Pic";s:0:"";s:13:"yachtMenu5Pic";s:0:"";s:13:"yachtMenu6Pic";s:0:"";s:13:"yachtMenu7Pic";s:0:"";s:13:"yachtMenu8Pic";s:0:"";s:13:"yachtMenu9Pic";s:0:"";s:14:"yachtMenu10Pic";s:0:"";s:9:"yachtCrew";s:1:"4";s:14:"yachtCrewSmoke";s:3:"Inq";s:13:"yachtCrewPets";s:2:"No";s:16:"yachtCrewPetType";s:0:"";s:16:"yachtCaptainName";s:15:"Dominic Strydom";s:18:"yachtCaptainNation";s:13:"South African";s:16:"yachtCaptainBorn";s:1:"0";s:15:"yachtCaptainLic";s:0:"";s:18:"yachtCaptainYrSail";s:1:"0";s:19:"yachtCaptainYrChart";s:1:"0";s:16:"yachtCaptainLang";s:21:"English & Spanish";s:13:"yachtCrewName";s:14:"Fernando Gomez";s:14:"yachtCrewTitle";s:4:"Chef";s:15:"yachtCrewNation";s:9:"Uruguayan";s:15:"yachtCrewYrBorn";s:1:"0";s:12:"yachtCrewLic";s:0:"";s:15:"yachtCrewYrSail";s:1:"0";s:16:"yachtCrewYrChart";s:1:"0";s:13:"yachtCrewLang";s:0:"";s:16:"yachtCrewProfile";s:3164:"CAPTAIN: Dominic Strydom

Captain Dominic Strydom is from Johannesburg, South Africa, where he was raised in a large family – one of 5 kids - and as he grew up, discovered his passion for travel. After high school he worked as a graphics designer/ photographer in South Africa where he joined Carnival Cruise Lines as a graphics designer. In this role he created a new look for the brand and managed the printing and advertising operations onboard.

Seeing the beautiful yachts in St Thomas, Dominic made a decision to pursue training to become a yachtmaster. He worked as a mate/engineer on a 100ft yacht where he excelled and worked his way up to Captain. He went on to run two other charter vessels before joining Catalana, transitioning the yacht from private use to welcome charter guests.

Dominic has sailed extensively all the way up and down the USA East Coast, the Bahamas, Turks and Caicos, and the entire Caribbean from the Virgin Islands down to Grenada.

When he's not at sea, Dominic enjoys kite surfing, diving and motocross, and is looking forward to the arrival of a wee one and becoming a first-time dad.



CHEF: Fernando Gomez

Fernando Gomez grew up in the small town of Canelones, Uruguay and started his culinary journey at the early age of 14 as an apprentice to the pastry chefs at Maxinel, one of the largest and most popular bakeries in Uruguay. He eventually became manager of the entire baking operation.

With an unquenchable desire to develop his culinary skills, Chef Fernando went on to master his craft at the Crandon Institute of International Gastronomy where he received classic training and learned to perfect his culinary techniques in French, Italian, and Latin cuisines. He later moved to Greenwich, Connecticut where he continued to refine his skill set by working for a variety of American restaurants including: Hotel Americano, Rocking Raw Vegan, Sweetgrass Farm to Table, Jack's Steak House, and Bianco Rosso.

In 2009 Fernando had the opportunity to work with celebrity Chef Brian Aaron at Aaron's Catering in Miami where he learned the skills of serving high-end clients, such as Chris Bosh, the entire Miami Heat team, Sony music executives, the Kardashians and other celebrities. Now Chef Fernando is taking his talent out to sea, providing incredible culinary experiences to guests aboard luxury private yachts, broadening his reputation as an exceptionally talented chef for discriminating clientele.

Chef Fernando continues to follow his passion for food with great creativity and love for his craft. His specialties include Italian, French and Mediterranean cuisine as well as Asian and a variety of vegan options.



STEWARD: TBC

DECKHAND: TBC

Although the steward and deckhand may vary from charter to charter, they belong to a pool of 2-3 freelancers that perfectly know the boat. They all make a great team together with the Chef and Captain and high-standard service is ensured.";s:14:"yachtCrewPhoto";s:0:"";s:13:"yachtCrew1Pic";s:76:"https://www.centralyachtagent.com/yachtadmin/yachtlg/yacht5997/5997crew1.jpg";s:13:"yachtCrew2Pic";s:72:"https://www.centralyachtagent.com/yachtadmin/yachtlg/yacht5997/5997crew2";s:13:"yachtCrew3Pic";s:0:"";s:13:"yachtCrew4Pic";s:0:"";s:13:"yachtCrew5Pic";s:0:"";s:13:"yachtCrew6Pic";s:0:"";s:13:"yachtCrew7Pic";s:0:"";s:13:"yachtCrew8Pic";s:0:"";s:13:"yachtCrew9Pic";s:0:"";s:14:"yachtCrew10Pic";s:0:"";s:14:"yachtCrew1Name";s:0:"";s:14:"yachtCrew2Name";s:0:"";s:14:"yachtCrew3Name";s:0:"";s:14:"yachtCrew4Name";s:0:"";s:14:"yachtCrew5Name";s:0:"";s:14:"yachtCrew6Name";s:0:"";s:14:"yachtCrew7Name";s:0:"";s:14:"yachtCrew8Name";s:0:"";s:14:"yachtCrew9Name";s:0:"";s:15:"yachtCrew10Name";s:0:"";s:15:"yachtCrew1Title";s:15:"Captain Dominic";s:15:"yachtCrew2Title";s:13:"Chef Fernando";s:15:"yachtCrew3Title";s:0:"";s:15:"yachtCrew4Title";s:0:"";s:15:"yachtCrew5Title";s:0:"";s:15:"yachtCrew6Title";s:0:"";s:15:"yachtCrew7Title";s:0:"";s:15:"yachtCrew8Title";s:0:"";s:15:"yachtCrew9Title";s:0:"";s:16:"yachtCrew10Title";s:0:"";s:9:"yachtFlag";s:7:"Jamaica";s:13:"yachtHomePort";s:9:"Miami, FL";s:14:"yachtWBasePort";s:9:"Miami, FL";s:8:"yachtRig";s:0:"";s:14:"yachtGrossTons";s:0:"";s:12:"yachtAcNight";s:3:"Yes";s:16:"yachtAcSurCharge";s:0:"";s:9:"yachtTubs";s:1:"0";s:20:"yachtLocationDetails";s:69:"M/Y Catalana is based in Miami but only does charters in the Bahamas.";s:10:"yachtTerms";s:5:"+ ALL";s:13:"yachtCaptOnly";s:0:"";s:15:"yachtSpecialCon";s:0:"";s:14:"yachtContracts";s:0:"";s:21:"yachtConsumptionUnits";s:10:"US Gall/Hr";s:10:"yachtRange";s:0:"";s:11:"yachtPermit";s:1:"2";s:12:"yachtLicense";s:1:"2";s:8:"yachtMca";s:1:"0";s:16:"yachtDeepSeaFish";s:0:"";s:10:"yachtSatTv";s:7:"Directv";s:9:"yachtIpod";s:3:"Yes";s:10:"yachtVideo";s:7:"Netflix";s:17:"yachtSailInstruct";s:0:"";s:13:"yachtInternet";s:12:"Onboard WIFI";s:16:"yachtCaptainOnly";s:0:"";s:16:"yachtBrokerNotes";s:37:"Motivated owner to charter the yacht.";s:15:"yachtInsCompany";s:0:"";s:11:"yachtPolicy";s:0:"";s:14:"yachtLiability";s:0:"";s:18:"yachtEffectiveDate";s:0:"";s:17:"yachtContractName";s:13:"Catalana LTD.";s:18:"yachtCoverageAreas";s:0:"";s:12:"yachtInsFlag";s:7:"Jamaica";s:16:"yachtInsHomeport";s:13:"St. Ann's Bay";s:11:"yachtRegNum";s:8:"JMP19120";s:14:"yachtConPhone1";s:17:"+1 (954) 228-3324";s:14:"yachtConPhone2";s:0:"";s:14:"yachtConPhone3";s:0:"";s:11:"yachtConFax";s:0:"";s:17:"yachtWaveConEmail";s:27:"[email protected]";s:13:"yachtConOther";s:22:"[email protected]";s:12:"yachtManager";s:14:"Ritzy Charters";s:16:"yachtManagerName";s:13:"Mariela Pesci";s:17:"yachtManagerPhone";s:17:"+1 (954) 228-5562";s:16:"yachtManagerToll";s:0:"";s:17:"yachtManagerEmail";s:22:"[email protected]";}
O:8:"stdClass":290:{s:7:"yachtId";s:4:"5997";s:9:"yachtName";s:8:"Catalana";s:17:"yachtPreviousName";s:0:"";s:9:"yachtLogo";s:0:"";s:9:"yachtType";s:5:"Power";s:11:"yachtLength";s:2:"90";s:13:"yachtPowerCat";s:1:"N";s:8:"sizeFeet";s:8:"90.00 Ft";s:9:"sizeMeter";s:7:"27.00 m";s:9:"yachtBeam";s:4:"20.6";s:10:"yachtDraft";s:4:"6.10";s:10:"yachtUnits";s:4:"Feet";s:8:"yachtPax";s:1:"8";s:11:"yachtCabins";s:1:"4";s:9:"yachtKing";s:1:"1";s:10:"yachtQueen";s:1:"1";s:17:"yachtSingleCabins";s:1:"0";s:17:"yachtDoubleCabins";s:1:"0";s:15:"yachtTwinCabins";s:1:"2";s:18:"yachtPullmanCabins";s:1:"2";s:10:"yachtRefit";s:4:"2020";s:12:"yachtHelipad";s:2:"No";s:12:"yachtJacuzzi";s:2:"No";s:8:"yachtGym";s:2:"No";s:16:"yachtStabilizers";s:6:"Anchor";s:14:"yachtElevators";s:2:"No";s:21:"yachtWheelChairAccess";s:2:"No";s:7:"yachtAc";s:4:"Full";s:15:"yachtPrefPickUp";s:15:"Nassau, Bahamas";s:16:"yachtOtherPickUp";s:9:"Miami, FL";s:15:"yachtTurnAround";s:28:"48hs preferred, inq for less";s:14:"yachtYearBuilt";s:4:"2008";s:12:"yachtBuilder";s:9:"Sunseeker";s:14:"yachtBrokerWeb";s:33:"http://www.viewyacht.com/catalana";s:12:"yachtUserWeb";s:48:"http://www.cyabrochure.com/ebn/2395/pdhaX/5997/1";s:13:"yachtVideoUrl";s:0:"";s:12:"yachtV360Url";s:0:"";s:16:"yachtCruiseSpeed";s:8:"12 knots";s:13:"yachtMaxSpeed";s:8:"28 knots";s:19:"yachtAccommodations";s:213:"Sleeps 10 guests in 4 ensuite cabins.
M/Y Catalana is based in Miami but only does charters in the Bahamas.
No
27.00 m
60
US Gall/Hr
- Christmas and New Year's Weeks: $56,000 + 35% APA + 14% Bahamas Tax. *7 Night Minimum* - Other weeks: $48,000 + 35% APA + 14% Bahamas Tax. *5 Night Minimum* - Delivery fees from Miami may apply. Please inquire - MYBA contracts - Motivated owner to charter the yacht
Plus Expenses
2
Ritzy Charters
http://www.cyabrochure.com/ebn/2395/pdhaX/5997/4
Inq
a:3:{s:16:"green_initiative";s:0:"";s:16:"reusable_bottles";s:0:"";s:19:"other_green_efforts";s:0:"";}
a:15:{s:5:"tanks";s:1:"0";s:9:"wet_suits";s:1:"0";s:15:"number_of_dives";s:0:"";s:11:"night_dives";s:1:"0";s:9:"dive_info";s:0:"";s:13:"communication";s:0:"";s:11:"full_course";s:0:"";s:14:"air_compressor";s:11:"Not Onboard";s:3:"bcs";s:1:"0";s:11:"weight_sets";s:1:"0";s:16:"number_of_divers";s:1:"0";s:20:"registrations_number";s:1:"0";s:11:"dive_lights";s:1:"0";s:10:"dive_costs";s:0:"";s:14:"scuba_on_board";s:35:"Yacht offers Rendezvous Diving only";}
a:4:{s:12:"fishing_gear";s:1:"0";s:17:"fishing_gear_type";s:0:"";s:4:"rods";s:0:"";s:16:"deep_sea_fishing";s:0:"";}
Jamaica
South African
Uruguayan
1
Yacht offers Rendezvous Diving only
1659361786
a:2:{s:7:"updated";i:1659477551;s:5:"links";a:0:{}}